Guide To Gluten Free Flours and Gluten Free Baking
This is the ultimate guide for Gluten Free flours and Gluten free baking! Below you'll find what it means to be Gluten Free, which flours to use, and what sweeteners to use. Sprinkled throughout are some of my favorite recipes! After being gluten free for 5 years, I have come to understand how to live a gluten free lifestyle. Disclaimer: I am not a doctor. Please consult your doctor before making any lifestyle or dietary changes. Additionally, seek medical advice about going gluten free or if you have Celiac disease.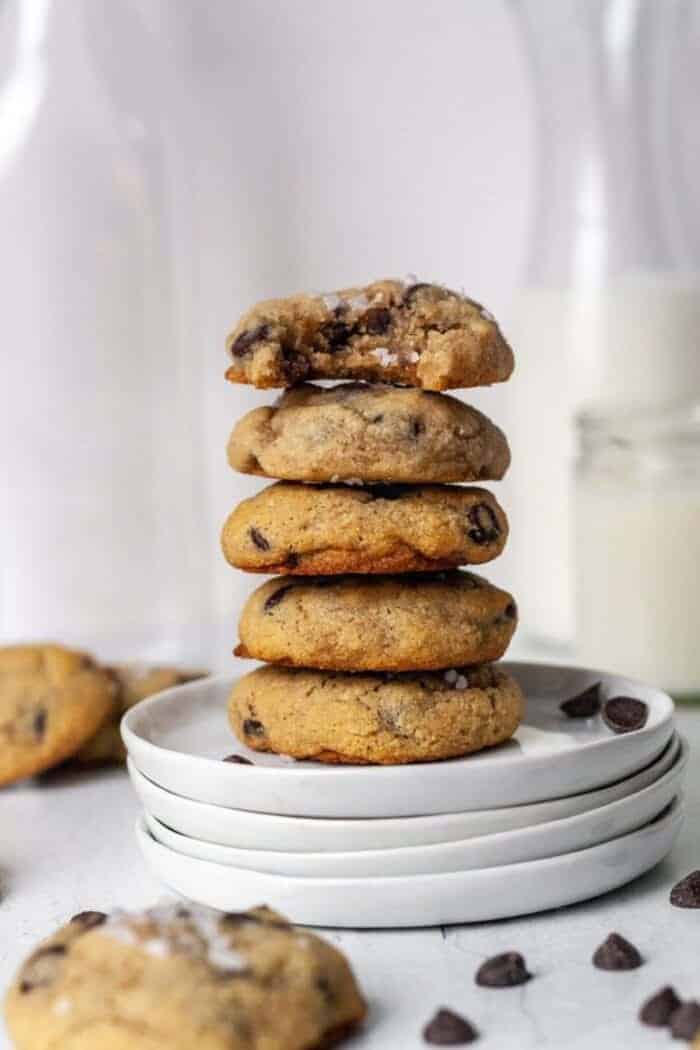 What does Gluten Free mean?
A gluten free diet consists of foods that are gluten free and wheat free. Gluten is the protein that is found in wheat. It's a binder that is used to hold foods together. Eating a Gluten Free diet means avoiding all foods that contain gluten or wheat. Gluten can be found in other grains such as wheat, rye, barley and malt.
Why do people go Gluten Free?
The biggest and most common reason people go Gluten Free is because it's the only way remedy to Celiac disease or gluten intolerance. Gluten is an inflammatory and can cause unwanted pain. Additionally, people can be gluten free for a number of different reasons.
The best Gluten Free flours for baking and cooking:
Gluten Free 1 to 1 Flour:
What it is:
Gluten Free 1 to 1 Flour is the closest substitute for All Purpose flour. This flour blend is made up of several different gluten free flours. These usually include: white rice flour, brown rice flour, potato starch, tapioca starch and xantham gum.
What is Xantham Gum?
Xantham gum is created from fermented sugar by a type of bacteria. It is oftentimes added to gluten free flour as a thickener or binder.
Pros:
In almost all cases, Gluten Free 1 to 1 Flour can replace All Purpose flour directly. Use the same amount of GF flour that the recipe calls for.
Cons:
Not Paleo or grain free. Can be dense and dry if overly used.
Recipes:
Since this blog is Paleo, I don't often use Gluten Free 1 to 1 Flour in my blog recipes. I use them from time to time, especially when baking for family and friends. My two favorites are Bob's Red Mill and King Arthur Flour.
Almond Flour:
What it is:
Almond flour is one of the most common grain and gluten free flours. It is made from ground up almonds. In most cases, it uses blanched almonds (no skin). Furthermore, almond meal is made from ground up almonds that uses the whole almond (with skin).
Pros:
Almond flour is one of the healthiest flours. It's high in protein and healthy fats and it's relatively easy to learn how to cook and bake with. In addition, this flour adds a hint of nutty and hearty flavor to whatever it's in.
Cons:
It's less dense than traditional flour, so more is needed.
Conversion:
Almond flour is significantly less absorbent than traditional wheat flour or Gluten Free 1 to 1 Flour. Therefore, more is often needed. What is the conversion for Almond Flour to All Purpose Flour? Usually about double the almond flour is needed. If a recipe calls for 1 cup of AP Flour, try using 2 cups almond flour. In conclusion, all recipes are different and baking with gluten free flours is an experiment.
Recipes:
I bake most often with almond flour. My Paleo Chocolate Chip Cookies, Paleo Blonde Brownies and Paleo Chocolate Chip Banana Bread all use almond flour. There are a ton of desserts where I use almond flour!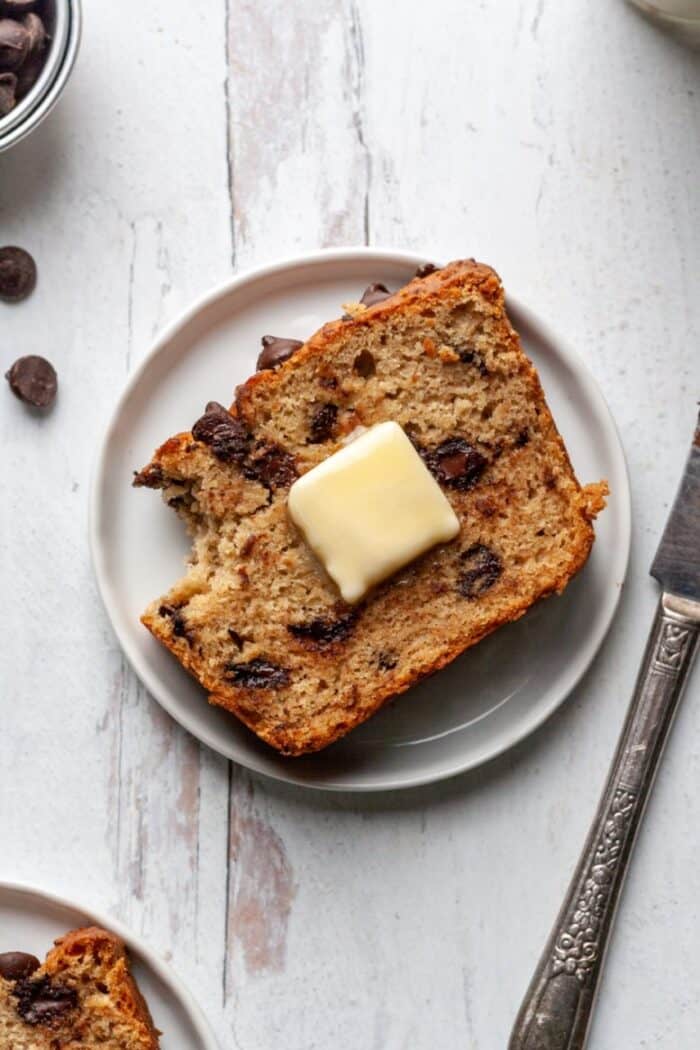 Coconut Flour:
What it is:
Coconut flour is another common grain free baking flour. Coconut is extremely absorbent, so a little bit goes a long way! This flour is made from the meat of coconuts. Once coconut milk has been squeezed from coconut meat, the milk is dried. Then, the milk is ground into a fine flour.
Pros:
Coconut flour adds a subtle hint of sweetness to baked goods. It's delicious! In addition, a little bit goes a long way. When used in combination with almond flour, it creates a great texture for desserts. It is also nut free!
Cons:
Coconut flour is VERY absorbent and the learning curve can be steep!
Conversion:
When substituting, use about 1/3 cup of coconut flour for almond flour. When substituting for AP flour, use 1/3 cup of coconut flour and add 1 egg. Again, every recipe is different but this is what has worked well in the past for me.
Recipes:
Hands down my favorite coconut flour recipe is my Paleo Brownie Cookies!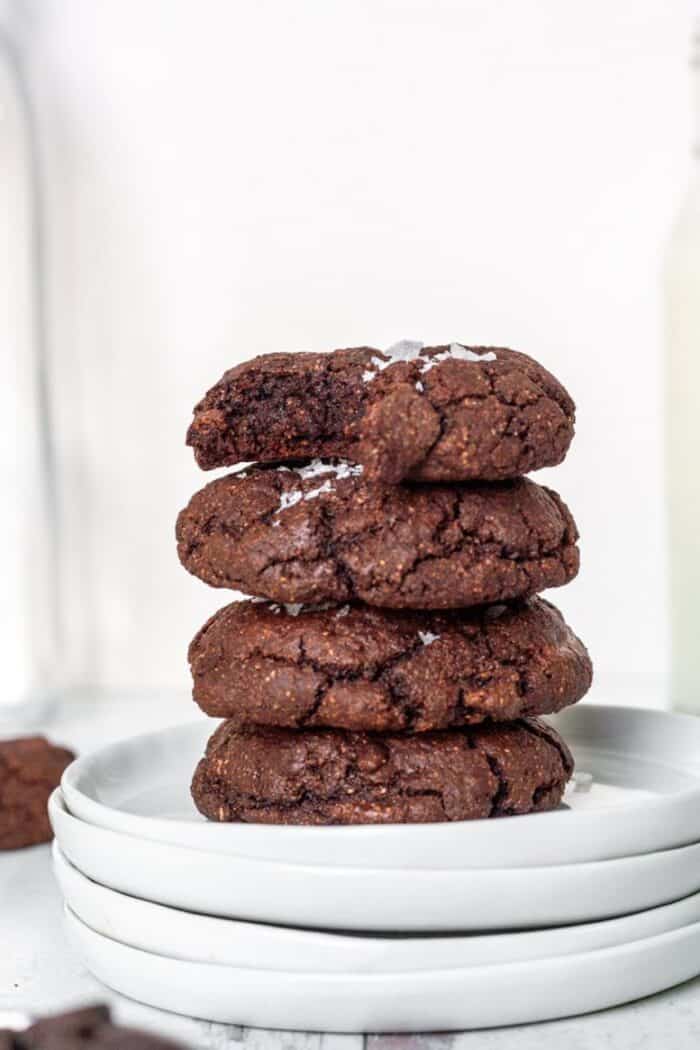 Arrowroot Starch/Tapioca Flour:
What it is:
Arrowroot starch/four and tapioca flour are very similar. Arrowroot is extracted from arrowroot plant roots. Tapioca is extracted from the cassava root. Both are VERY similar to cornstarch. In fact, they are almost the exact same as cornstarch, but they're Paleo and Whole30 approved as well.
Pros:
Arrowroot starch/flour and tapioca flour are neutral in taste. They are great for thickening soups, stews, and sauces.
Cons:
With baking, they're usually used in combination with another flour. Unless you're talking about my Fudgy Brownies!
Conversion:
Substitute directly for cornstarch.
Recipes:
These recipes all use tapioca flour: Fudgy Paleo Brownies, Orange Cranberry Muffins, Vegan Blackberry Apricot Cobbler.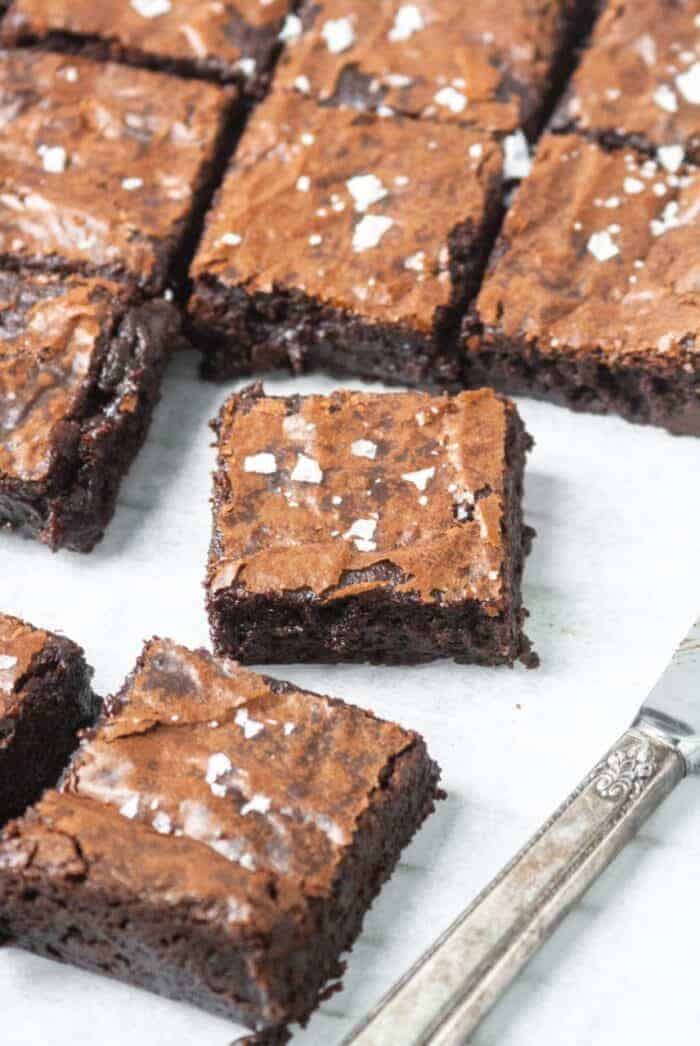 Cornstarch:
Cornstarch is gluten free, but I often don't use it. I prefer Arrowroot or Tapioca flour (see above).
Rice Flour:
Rice flour is made from milled rice. It's a very common gluten free flour and can be used in both sweet and savory recipes.
Oat Flour:
Oat flour is made from ground up oats. To keep this gluten free, buy gluten free oat flour or add gluten free oats to a food processor or blender.
Cassava Flour:
Cassava flour is from ground up cassava root. It's gluten free and nut free! The flavor is slightly nutty and earthy. In addition, it is a great substitute for wheat flour. It has a similar texture and density of white flour. It has slowly become a favorite flour of mine. Check out my Cassava Flour Brownies, Cassava Flour Pancakes, Cassava Flour Waffles and Cassava Flour Banana Bread!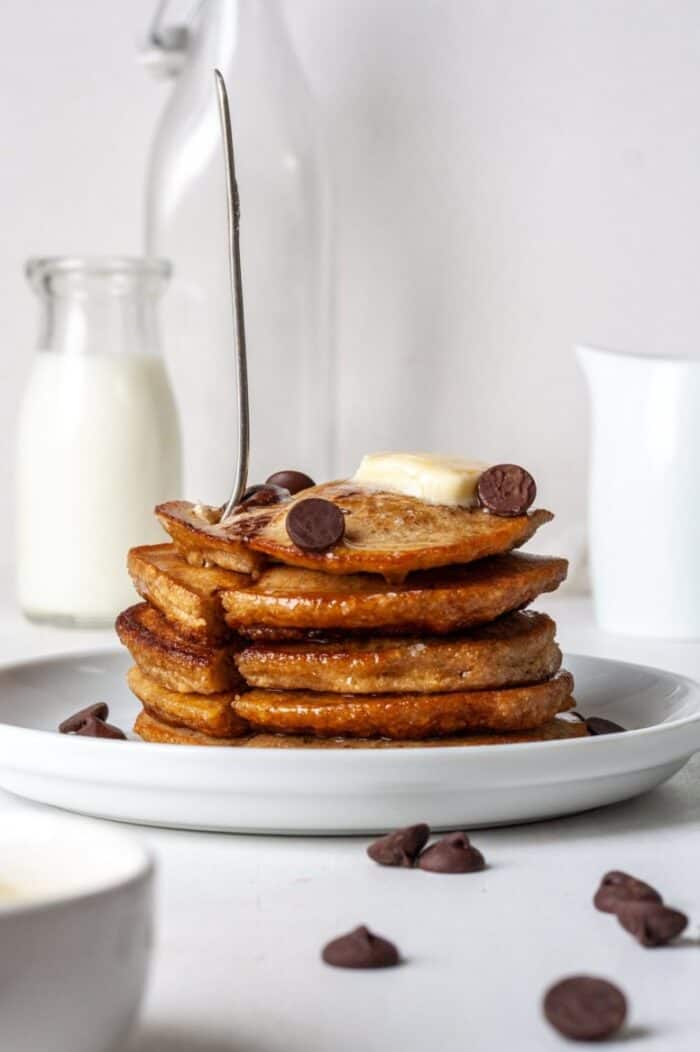 Tigernut Flour:
Tiger nut flour is an up and coming gluten free flour.  It's gluten free and nut free.  Tiger nuts aren't actually nuts; they are a small root vegetable native to Africa.  This gluten free and low carb flour has just started to become popular. This Tigernut butter is just like almond butter, but nut free!
The best Gluten Free flours for baking and cooking:
Most Gluten Free recipes call for a combination of two or more of these flours.
Cookies:
A common gluten free flour combination for cookies is almond flour and coconut flour. This is because the combination of these flours most closely replicates traditional cookies. I have purposely made some recipes Nut Free such as my Brownie Cookies, which use only coconut flour.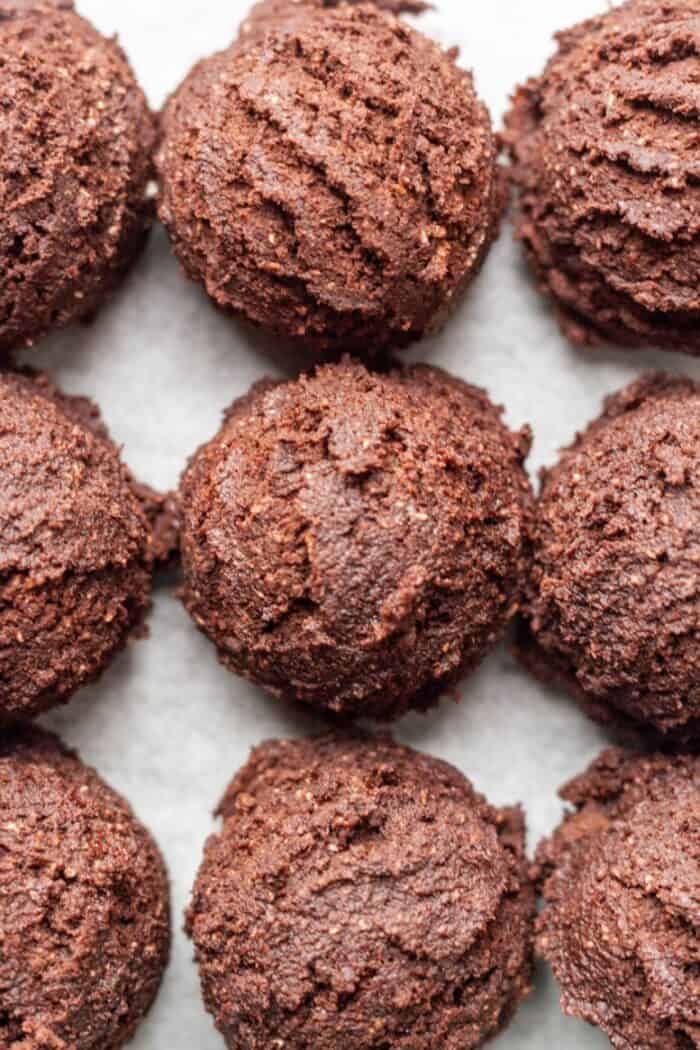 Brownies:
A classic fudge brownie uses just tapioca starch or cornstarch. Some of my other brownie recipes use a combination of almond flour and coconut flour.
Bars:
Bar recipes, such as Blonde Brownies or Pecan Pie Bars, primarily use almond flour. Occasionally, coconut flour is added as well. Almond flour works well in bar recipes because it doesn't dry them out.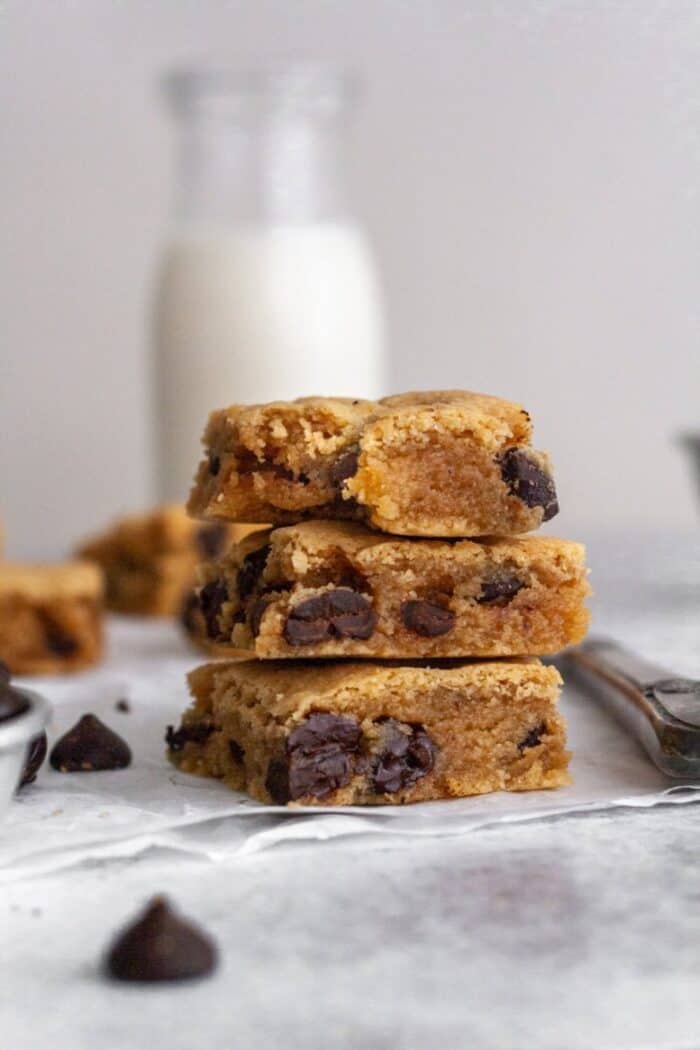 Breads:
Bread recipes use different flours. My Zucchini Chocolate Chip Bread uses just almond flour, my Double Chocolate Banana Bread uses almond and tapioca flour, and Chocolate Zucchini Bread uses almond, coconut and tapioca. I have tested these recipes several times each and these are the best results!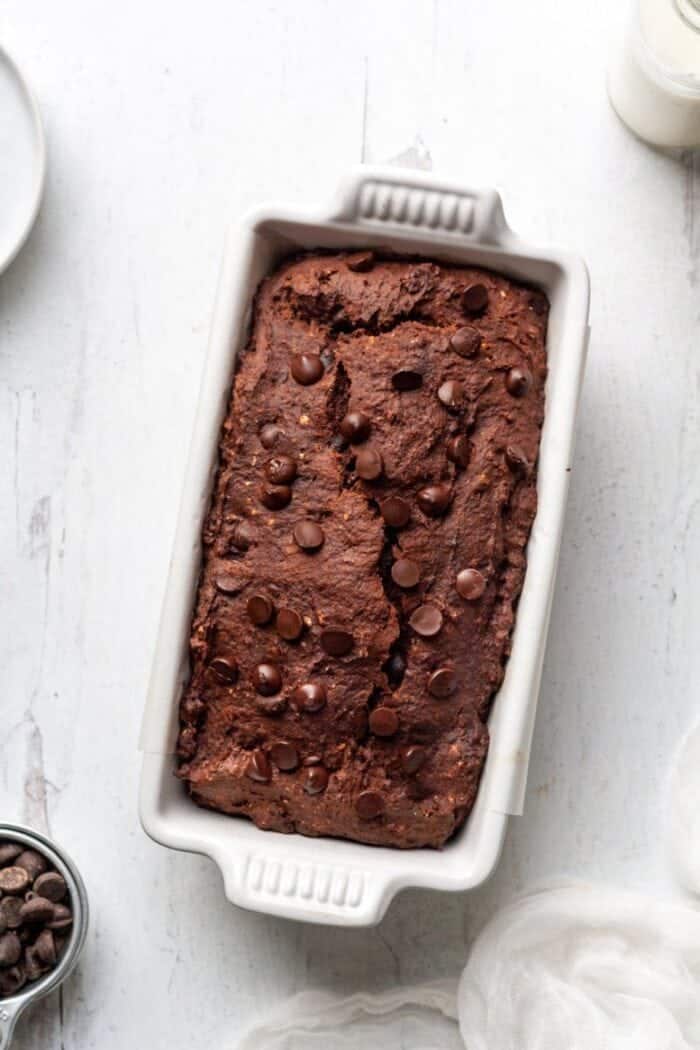 Muffins:
Similar to breads, muffins use different flours for different reasons. The most common are almond, coconut and tapioca flour. For example, see my Paleo Orange Cranberry Muffins.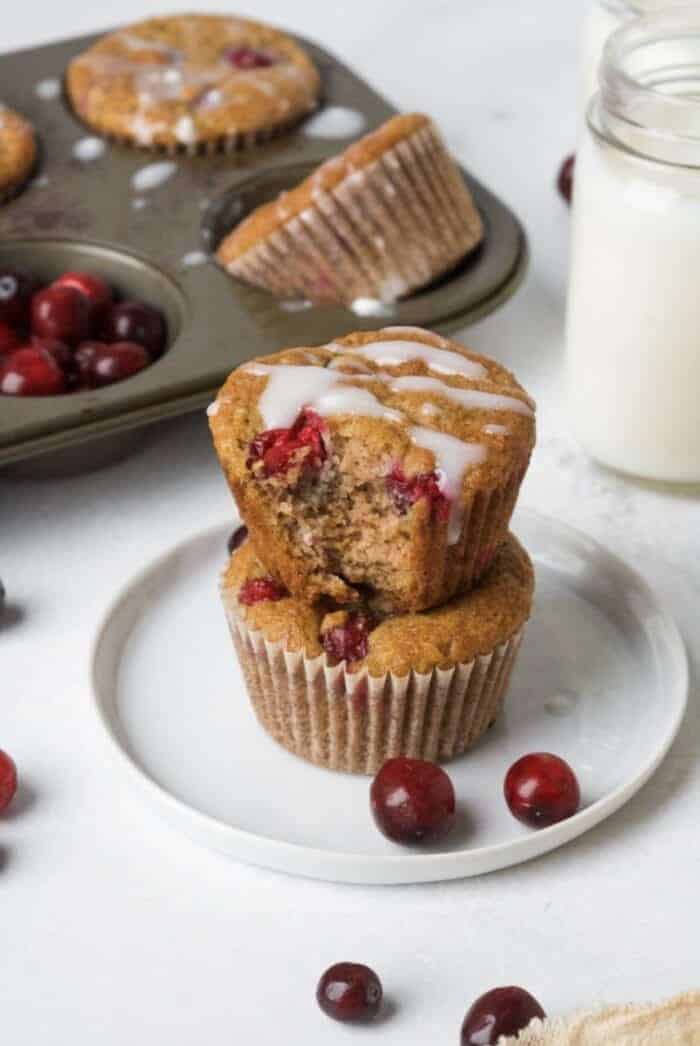 Cakes:
Cakes are complex baking projects! My Carrot Cake and Hummingbird cake use almond, coconut and tapioca flour. These flours are used together in order to achieve the perfect texture.
Soups/Stews/Sauces:
The BEST way to thicken soups, stews and sauces is with tapioca flour or arrowroot starch. Use sparingly – a little bit goes a long way! I use to thicken Whole30 Gravy as well as many other soups.
Breading/Frying:
Since tapioca flour/arrowroot starch is similar to cornstarch, it's great for breading. A little bit of almond flour does wonders as well! For example, my Whole30 Chicken Parmesan and Whole30 Onion Rings both use these to get that signature breading texture.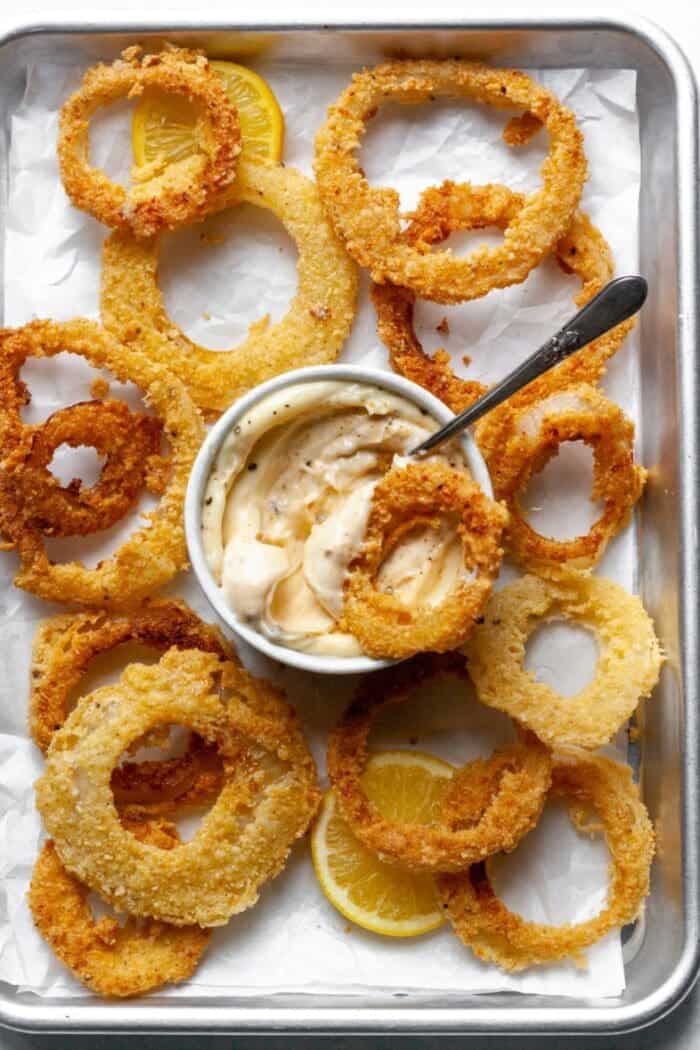 Meatballs:
Both tapioca flour and almond flour are great for meatballs! The tapioca flour helps to bind the meatballs together and the almond flour acts like the breadcrumbs.
Meatloaf:
Meatloaf is similar to meatballs in the sense that almond flour and tapioca flour are best!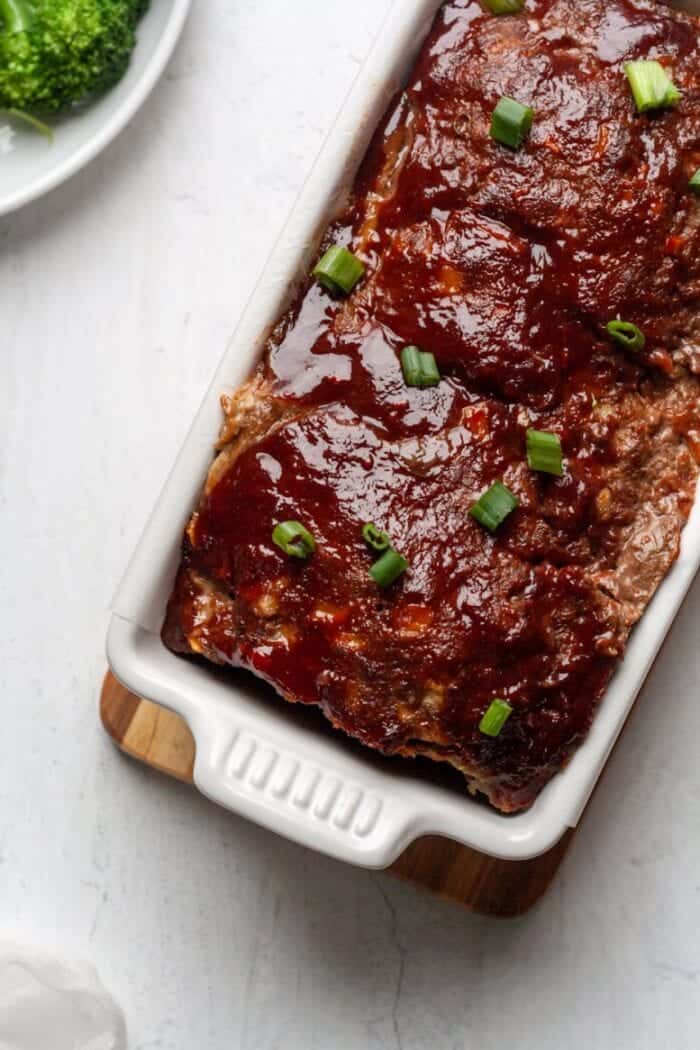 Sweeteners:
Both white sugar and brown sugar are gluten free. Others include coconut sugar, maple sugar, maple syrup, honey, agave, and dates.
Maple Syrup vs Honey:
Maple syrup and honey are both common gluten free liquid sweeteners. I prefer the taste of maple syrup so that's what I use more often than not. Maple syrup is also Vegan whereas honey is not.
Granulated Sweetener vs Liquid Sweeteners:
Both coconut sugar and maple sugar can be used in place of white and brown sugars when baking. Since they're darker than white sugar in color, your baked goods might appear slightly darker than normal.
It's not necessarily "better" or "healthier" to use a granulated sweetener versus a liquid sweetener. When recipe testing, I will decide what type of sweetener to use based on other ingredients used, baked good type, taste, etc. For cookies, I typically use granulated since that's what cookies are traditionally made with. For breads or muffins that I want to keep moist, I'll opt for a liquid sweetener.
Gluten Free Cooking and Baking Fats and Oils:
The below fats and oils are all naturally gluten free!
Grass Fed Butter:
Grass fed butter is a great cooking and baking fat because of its signature flavor.
Ghee:
What is ghee? Ghee is clarified butter. Ghee is made by cooking down butter until all of the milk solids can be removed. In addition, it is a great Whole30 and Paleo option that still gives that signature butter flavor. Say hello to these Whole30 Mashed Sweet Potatoes!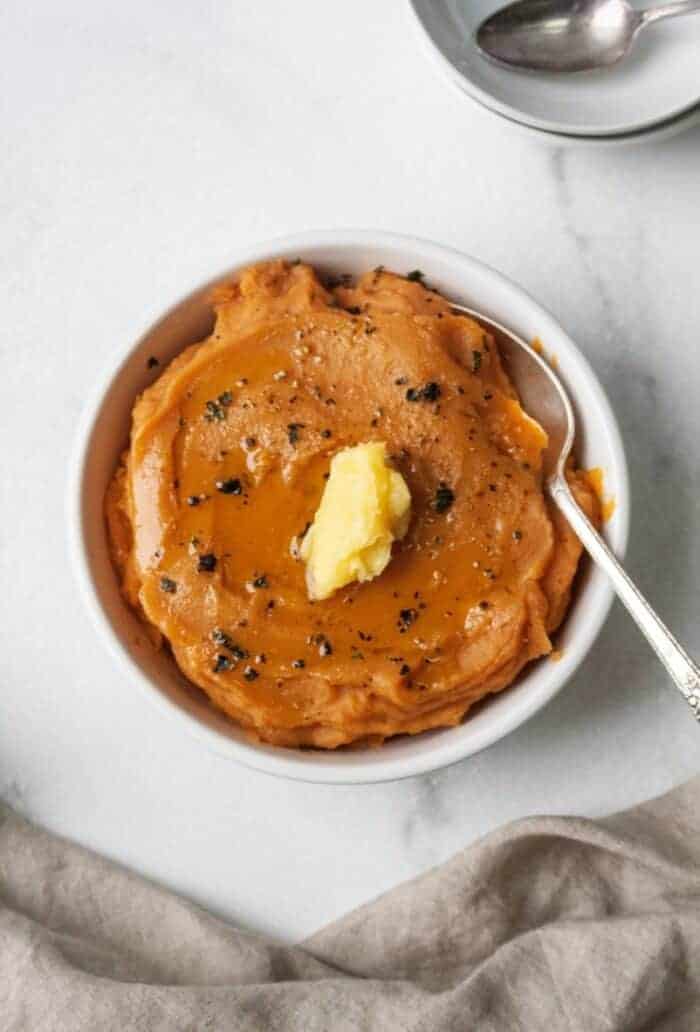 Coconut Oil:
Coconut oil is an oil derived from the milk, kernels and meat of coconuts. It's Vegan, Whole30 and Paleo. Its smoke point is 350 degrees Fahrenheit and is great for baking and sautéing. Coconut oil is liquid when warmed and solid when cold, similar to butter. Moreover, refined coconut oil has no coconut flavor, whereas unrefined coconut oil has a slight coconut taste.
Olive Oil:
Olive oil has been used for centuries and is a liquid fat derived from olives. Since its smoke point is 410 degrees Fahrenheit, it is best used for sautéing and pan frying.
Gluten Free Flours and Baking: Conclusion
In conclusion, being gluten free does NOT mean lack of flavor. Gluten free flours have a learning curve, but they can work wonders! There are so many awesome gluten free recipes, products and helpful tips out there today. After reading this, I hope you're able to tackle some gluten free recipes with confidence!