WHOLE30 MASHED SWEET POTATOES
(WHOLE30, GLUTEN FREE, GRAIN FREE, DAIRY FREE, PALEO)
Sweet potatoes are their own food group in my mind! They are one of the most versatile foods: I eat them topped with fruit and almond butter for breakfast, in the form of fries for lunch or dinner, and in many other delicious ways. They are also equally as delicious mashed. I've never been a big fan of mashed potatoes for some reason, but these mashed sweet potatoes hit the spot every single time. They're thick, a little creamy, and so cozy. These are the perfect side dish!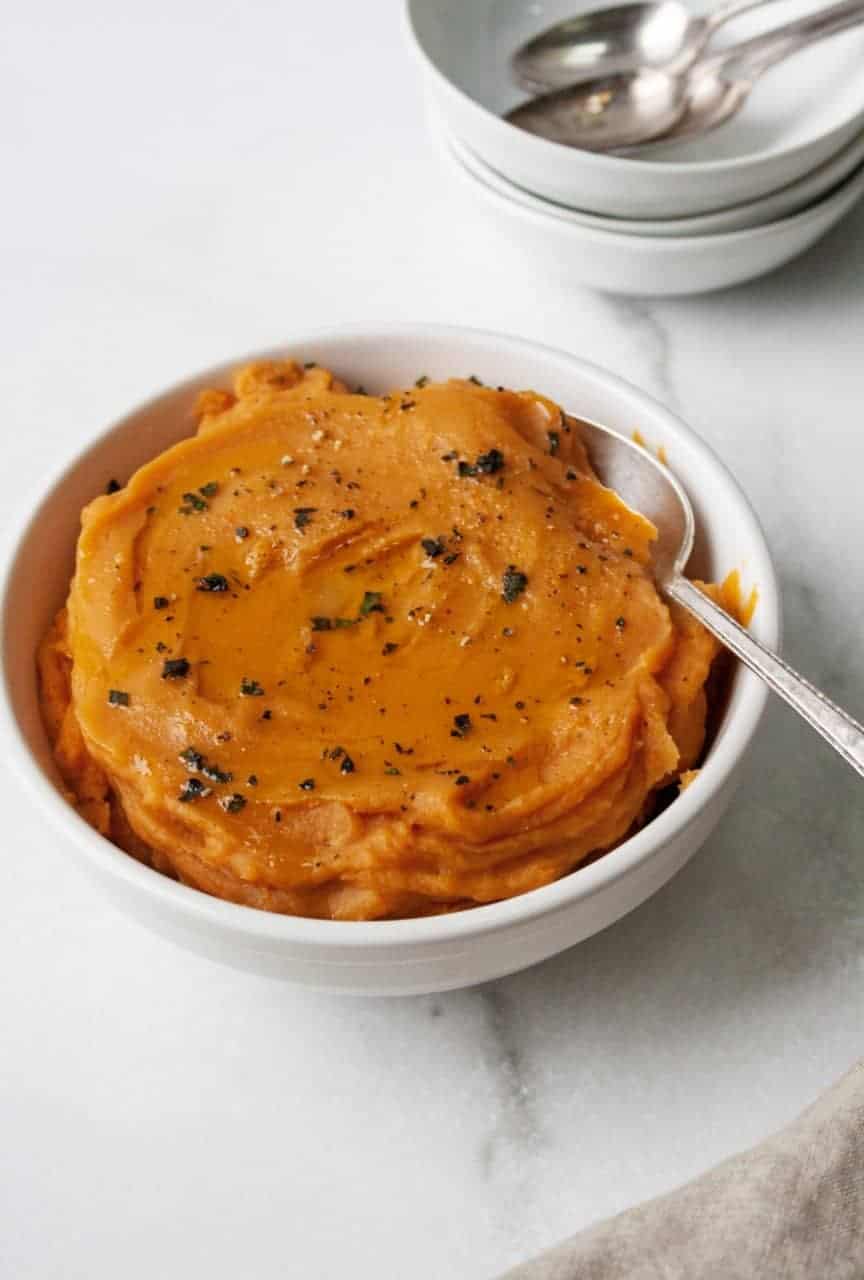 These mashed sweet potatoes are incredibly easy to make. We will start by wrapping the sweet potatoes in aluminum foil. Pierce each sweet potato with a fork several times. This allows the sweet potatoes to breathe while baking. Bake for 45 minutes at 400 degrees Fahrenheit or until potatoes are fork tender. If using larger sweet potatoes, they might need closer to an hour. To check if the potatoes are done, very carefully remove them from the oven and open aluminum foil. If the potatoes are soft when poked with a fork, they are done.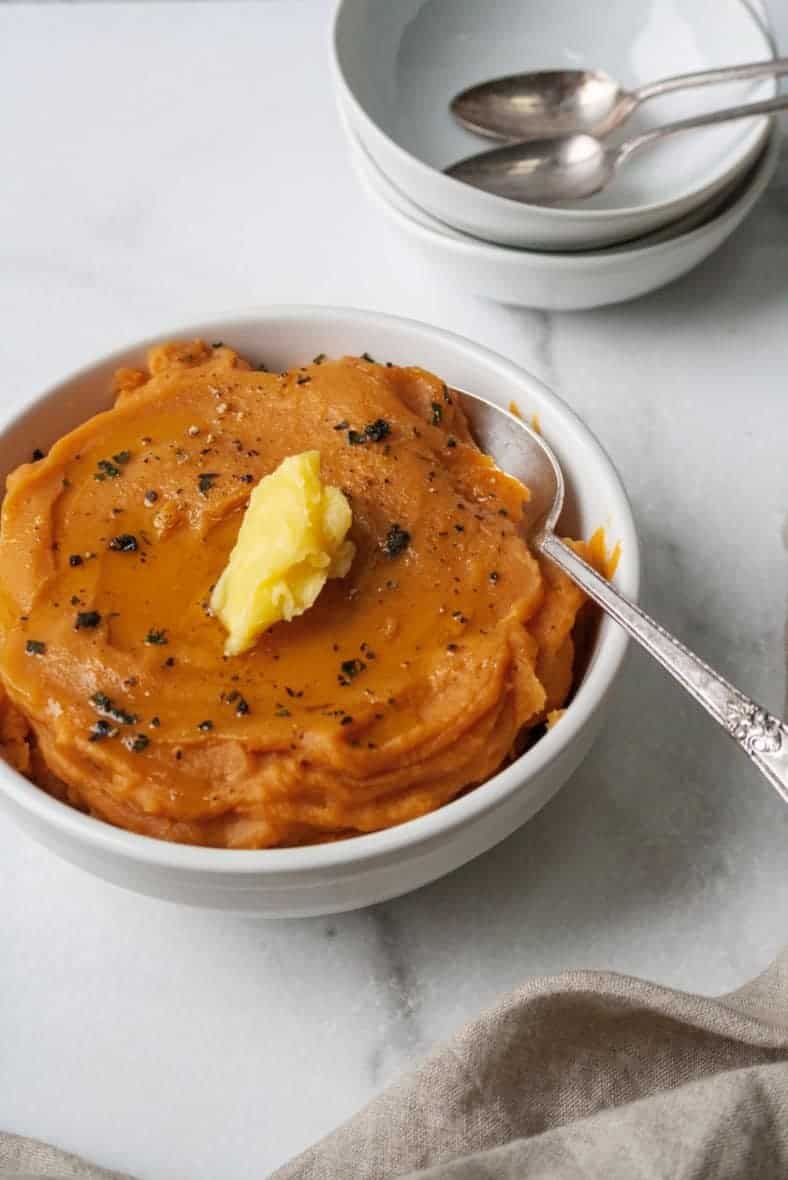 Once the potatoes are done, very very carefully remove the potato flesh from the skin. Discard the skin and add the potatoes to a large mixing bowl. Stir in the ghee and your seasonings. Use cinnamon and/or nutmeg for a sweeter mashed potato and use ground pepper for a savory option. The ghee will easily melt because the sweet potatoes are still warm. Add contents of the mixing bowl to a large blender and blend until smooth and creamy. Alternatively, use an immersion blender to blend together. You can use a potato masher for a slightly thicker and chunkier result.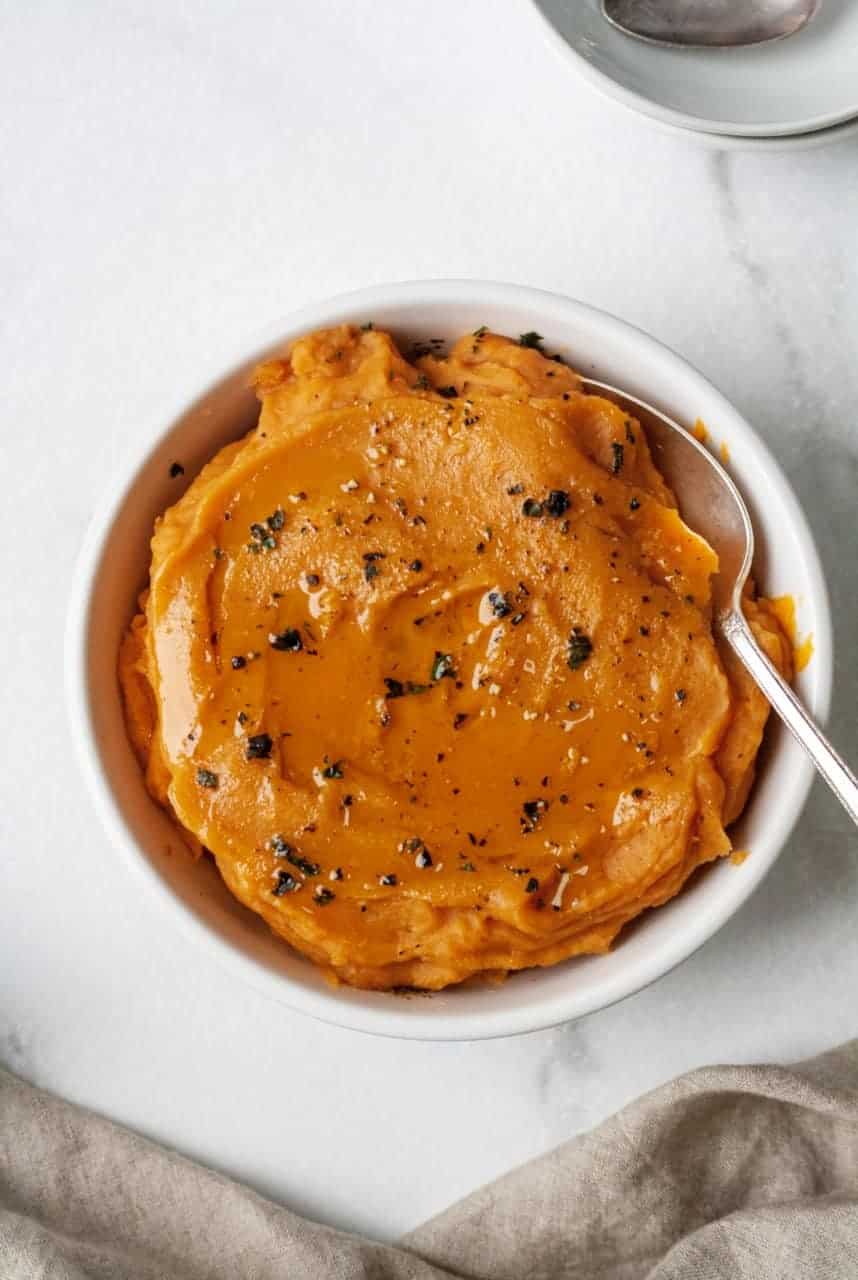 These mashed sweet potatoes have become one of my favorite side dishes!  They pair well with everything from chicken to steak.  My very favorite way to enjoy them is with my Whole30 Instant Pot Short Ribs.  These potatoes are just so smooth and creamy – they melt in your mouth.  The ghee adds the perfect buttery flavor while the subtle seasonings add just the right amount of flavor.  Comfort food at its best! Try these Vegan Mashed Potatoes too.
Prep Time: 5 minutes
Cook Time: 45 minutes
Total Time: 50 minutes
Course: Lunch, Dinner
Servings: 4 servings
Ingredients:
4 large sweet potatoes
2 TBL ghee
1 tsp cinnamon
Pinch nutmeg (optional)
Directions:
Preheat oven to 400 degrees Fahrenheit. Wrap each sweet potato in aluminum foil. Take a fork and pierce several small holes in each sweet potato through the foil.
Line potatoes on a baking sheet with parchment paper.
Bake for 45 minutes or until fork tender.
Very carefully (they're hot!) remove skins from potatoes. Add flesh of potatoes to a large mixing bowl.
Add in ghee and cinnamon (and nutmeg if preferred). For a savory option, use ground pepper and sea salt instead.
Using a blender or immersion blender, blend everything together. You can also use a potato masher, which will result in slightly more thick potatoes.
Enjoy!