Dairy Free Whole30 Bacon Ranch Potato Salad
This Whole30 Potato Salad is about to become your new favorite side dish! This dairy free potato salad recipe took me from potato salad skeptic to potato salad lover. It's super easy, creamy, crispy, and savory!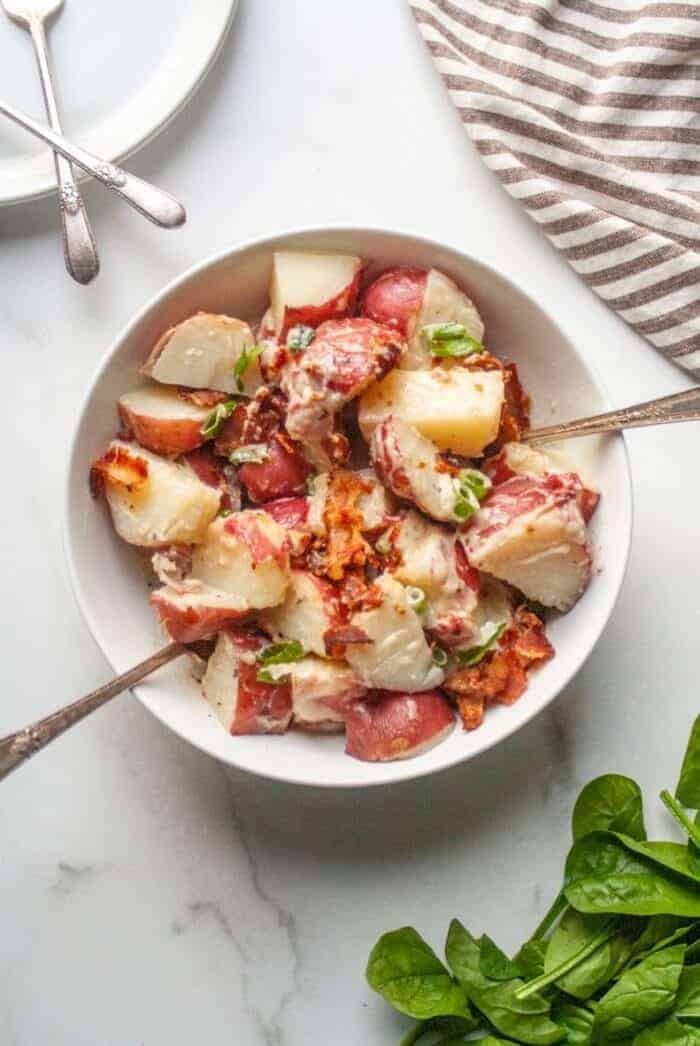 In all honesty, I never understood the allure of potato salad… until I tried this recipe! I serve it at every summer BBQ, the Fourth of July, and my dad loves it for any occasion!
Why This Whole30 Potato Salad Recipe Works
Like I said above, this Whole30 potato salad converted me. Here's what I love about it:
This super creamy dairy free potato salad is made with only a handful of ingredients.
Adding bacon makes everything better.
This potato salad comes together in less than 30 minutes total.
It works well with a bunch of different dishes: steaks, grilled chicken, fish.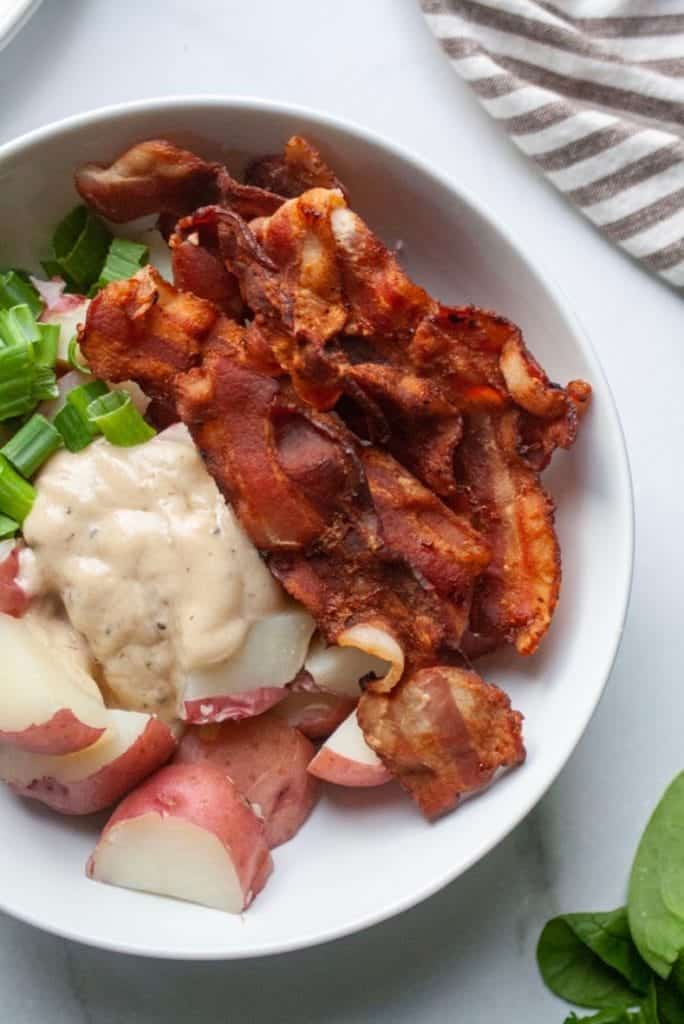 Recipe Steps
Step 1
Boil whole potatoes in pot for 15 to 20 minutes. Remove from heat when fork tender.
Step 2
Next, drain potatoes. Run under cold water for 1 minute.
Step 3
Chop potatoes into 1 each pieces and add to a large mixing bowl. Then, add remaining ingredients.
Step 4
Finally, stir until everything is coated in ranch dressing, being careful not to mash the potatoes. Serve!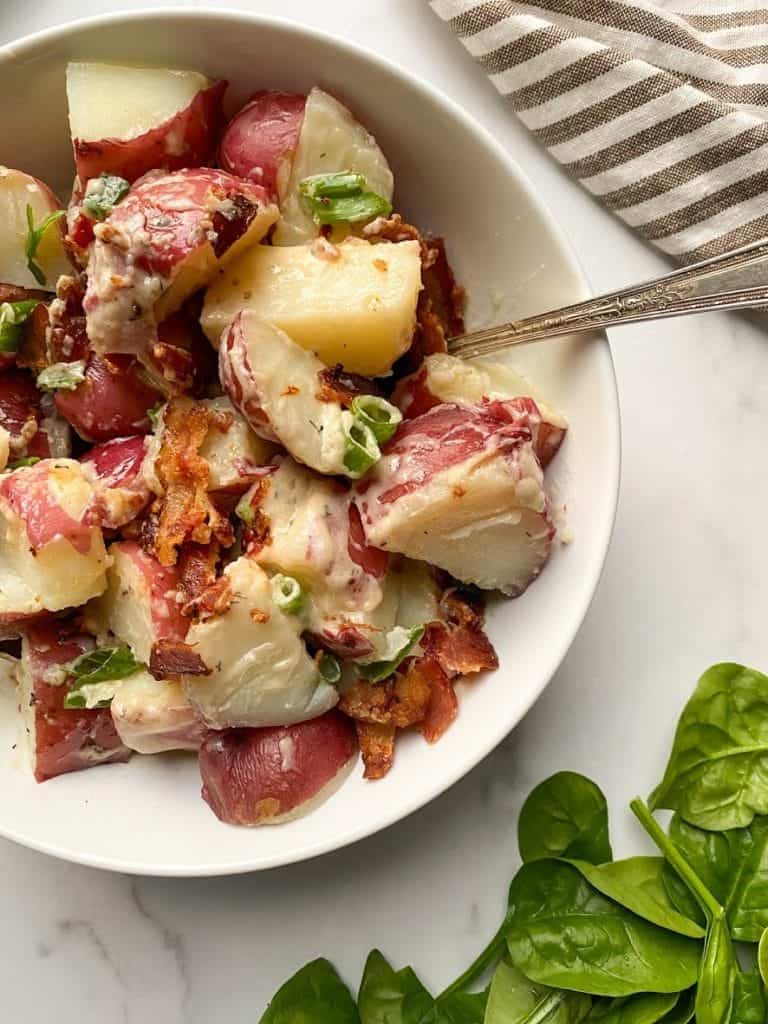 Frequently Asked Questions (FAQs):
Should I cut potatoes before boiling for potato salad?
No, do not cut potatoes before boiling in this Whole30 potato salad. I find that slicing before boiling leads to mushy and watery potatoes.
How do you make potato salad from scratch?
Potato salad is super easy from scratch! Follow the steps above for a foolproof homemade recipe.
How do I make potato salad better?
Add bacon of course!
Does potato salad contain dairy?
Yes, potato salad traditionally contains dairy. This version is completely dairy free and Whole30 approved. For more recipes, see my Dairy Free recipe page and my Ultimate guide to Whole30!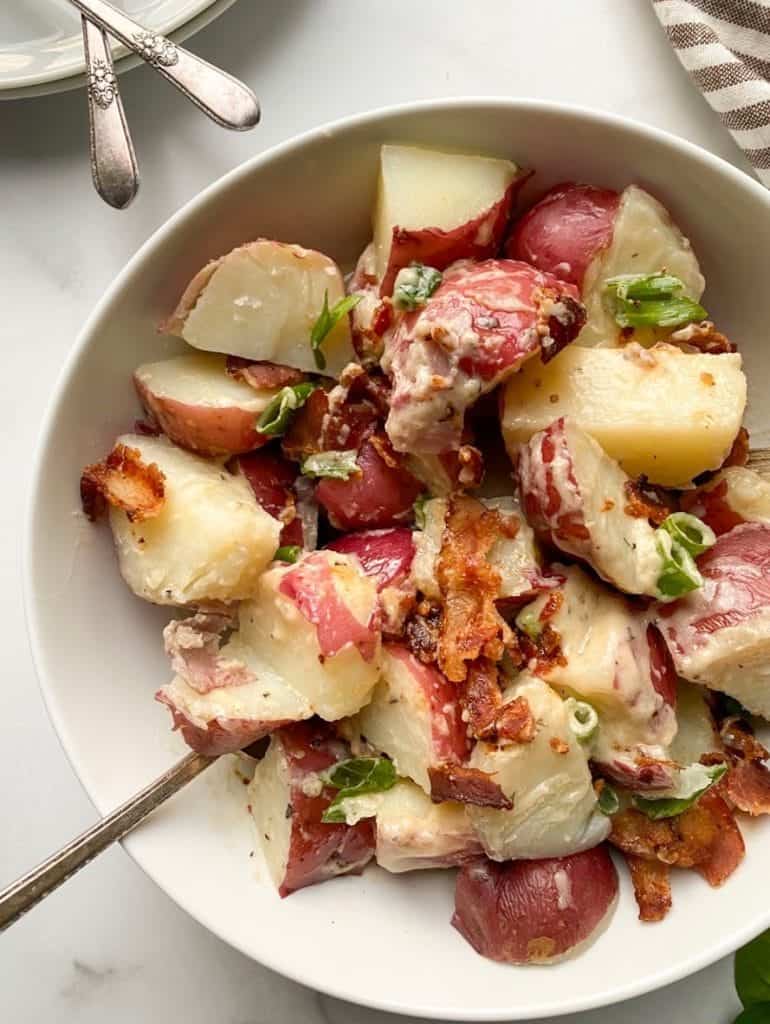 You May Also Like:
If you make this recipe, I'd love to see it! You can find me on Instagram, Facebook, and Pinterest. I'd love for you to follow along!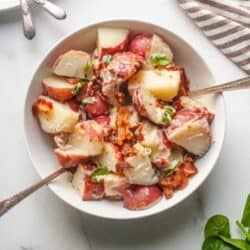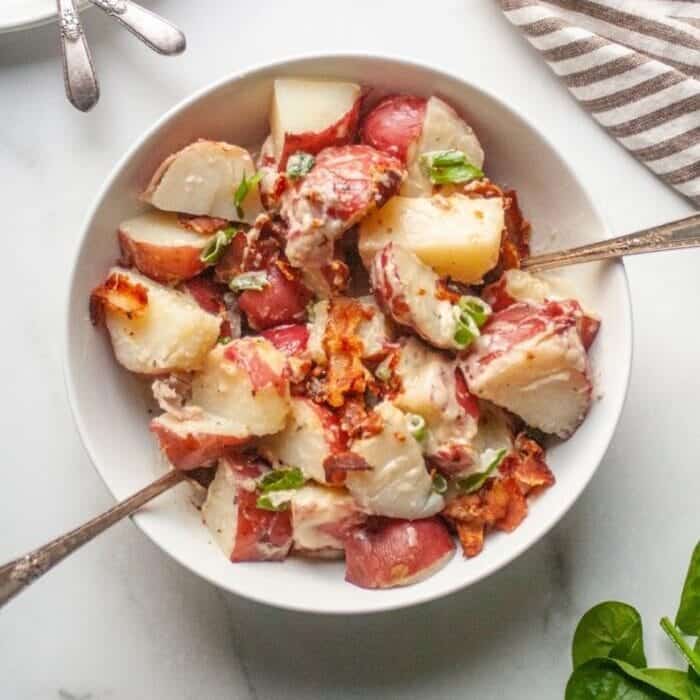 Get the Recipe:

Dairy Free Whole30 Bacon Ranch Potato Salad
This Dairy Free Whole30 Bacon Ranch Potato Salad is light, fresh, creamy and healthy. The potatoes are perfectly tender. The crispy bacon balances out the creamy dressing. This is a great healthy side dish or light meal!
Ingredients
Instructions
First, whole potatoes with skin to a large pot. Boil for 15 to 20 minutes or until fork tender.

Remove from heat. Drain potatoes. Then, rinse potatoes under cold water for 1 minute.

Chop potatoes into 1 inch pieces (or smaller if desired). Crumble bacon.

Add all ingredients to a large bowl. Toss potatoes until coated.
Notes
Boil potatoes until fork tender.  Remove from heat before they're mushy.
I suggest cooking bacon until crispy.
Carefully toss potato salad together until coated.  Be careful not to mush potatoes.
Store in an airtight container in the fridge for up to 3 days.
Calories:
295
kcal
,
Carbohydrates:
18
g
,
Protein:
3
g
,
Fat:
24
g
,
Saturated Fat:
4
g
,
Trans Fat:
1
g
,
Cholesterol:
17
mg
,
Sodium:
545
mg
,
Potassium:
482
mg
,
Fiber:
2
g
,
Sugar:
2
g
,
Vitamin A:
87
IU
,
Vitamin C:
11
mg
,
Calcium:
28
mg
,
Iron:
1
mg
Have you signed up for my free newsletter? You can sign up here to receive healthy meal plans and new recipes!