PALEO BLACK FOREST CUPCAKES
(GRAIN FREE, GLUTEN FREE, DAIRY FREE, PALEO)
Every summer I look forward to eating cherries.  I get so excited the first time they are back in stock at my local grocery store.  It's an unofficial kickoff to summer in my food world.  I love cherries in any dish, just as a snack, on top of salads, but my very favorite way to eat cherries is with chocolate!  These cupcakes combine my love of chocolate with my love of cherries and they're just SO good.  A soft and fluffy chocolate cupcake is filled with a sweet cherry filling and topped with smooth homemade frosting.  What's not to love?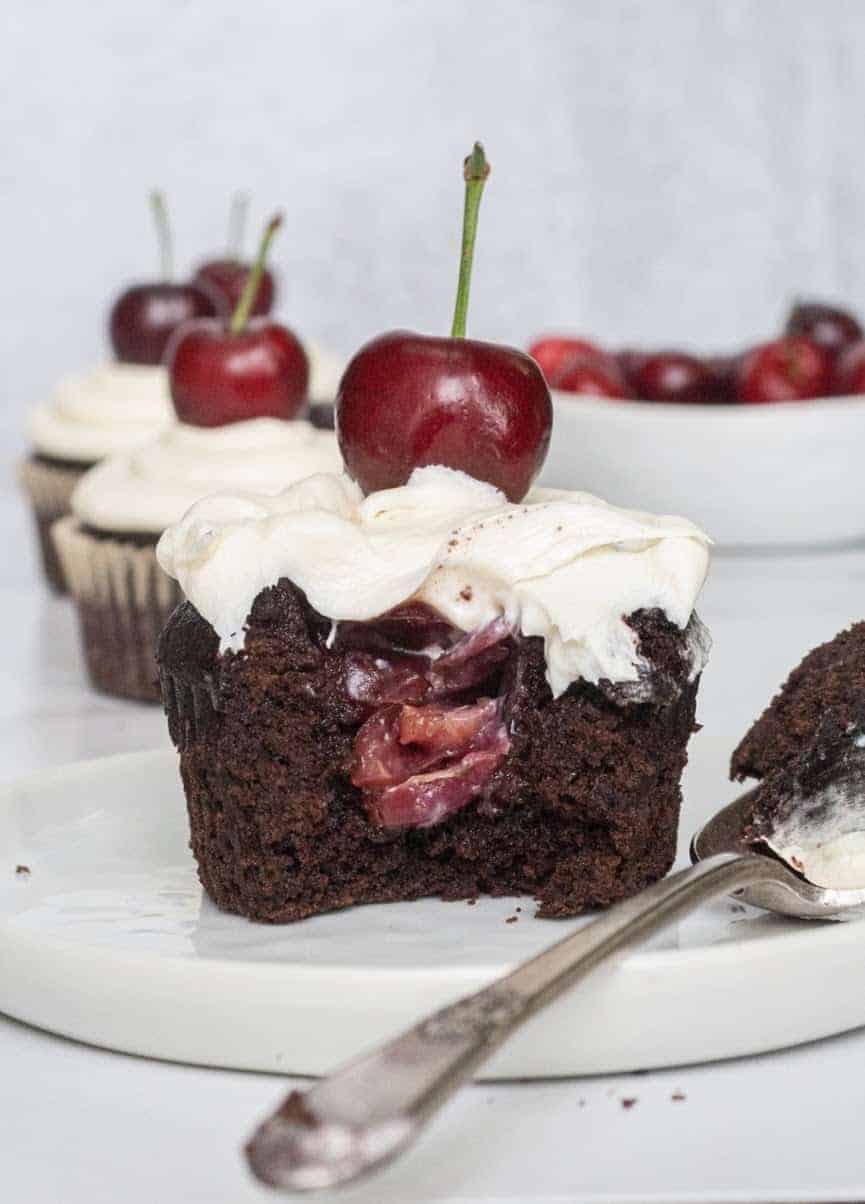 The first step in these cupcakes is to make the batter.  I used almond and tapioca flour to achieve that perfect consistency.  They're light and fluffy but filled with just the right amount of density.  There is no shortage of cocoa powder which provides a rich and deep chocolate flavor to the cupcakes.  Once the batter is mixed, these bake for about 16-18 minutes.  I always check mine around the 15 minute mark.  Once a toothpick inserted has come out clean, these cupcakes are done baking.  Meanwhile, make the cherry filling.  This is done easily over the stovetop.  Cherries, lemon juice, maple syrup and vanilla combine for a sweet and thick cherry filling.  If you find that your mixture isn't as thick as you'd like it, you can feel free to add a little bit of tapioca flour into the skillet.  This will really thicken it quickly.  Once your filling has reached your desired consistency, remove from heat and set aside until you're ready to assemble.  To make the frosting, whip the ingredients together until a smooth and thick frosting consistency has been reached.  I always use my KitchenAid for this, but a whisk and a good arm workout later, and you'll get there!  To assemble these, simply scoop out a small amount of the cupcake using a small spoon or teaspoon.  I just go in from the top and scoop out a small amount.  Fill these with the cherry filling and frost them!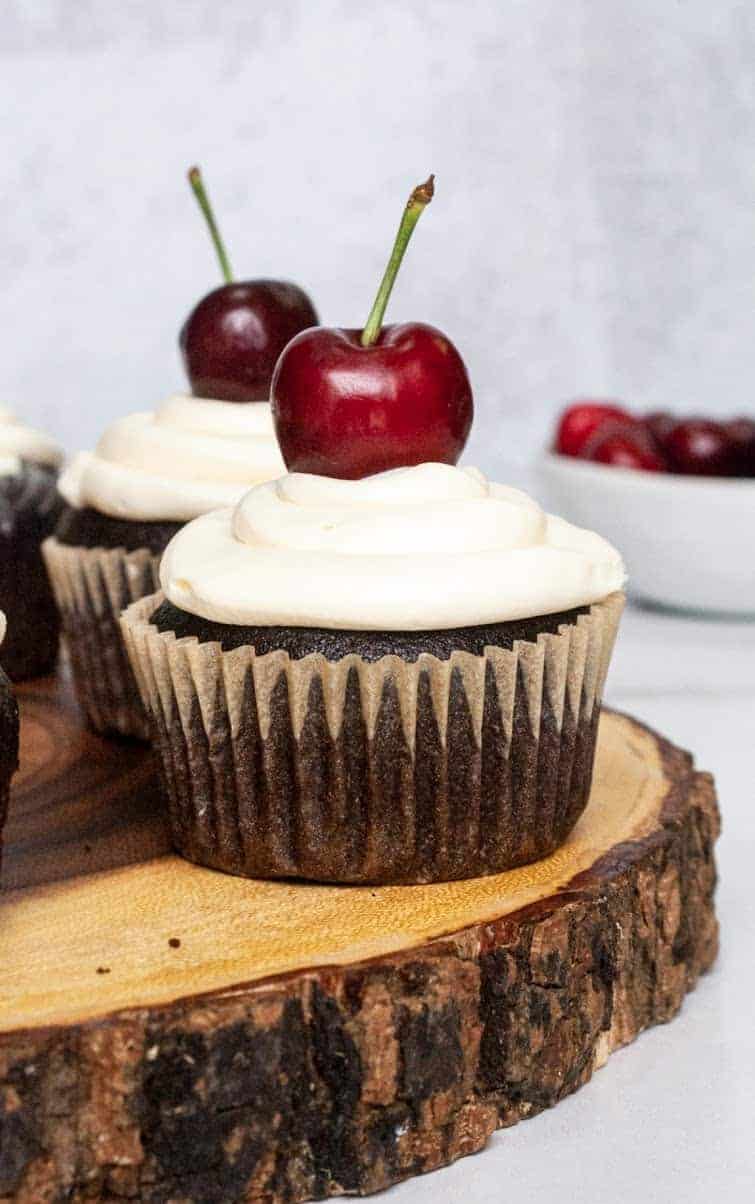 There is nothing subtle about these cupcakes: from the rich and decadent cupcake to the sweet cherry filling to the smooth and creamy frosting.  They are definitely a showstopper!  These cupcakes are fun and fancy for any celebration, but I also enjoy them on any normal day.  They're as fun in the summer with fresh cherries as they are during the holidays.  Make these today and surprise your family and friends with just how delicious a healthy baked good can be!
Prep Time: 10 minutes
Cook Time: 16-18 minutes
Total Time: 26-28 minutes
Course: Dessert, Snack
Servings: 12 cupcakes
Ingredients:
CUPCAKES:
1.5 cups almond flour
1/4 cup tapioca flour
1/2 cup cocoa powder
4 eggs
1/2 cup coconut milk
1 tsp vanilla
1 tsp baking soda
2/3 cup coconut sugar
1 TBL maple syrup
1/2 cup ghee, melted
Pinch sea salt
FILLING:
1/2 cup frozen cherries
1/2 tsp lemon juice
2 TBL maple syrup
1/2 tsp vanilla
Optional: 1 tsp tapioca flour
FROSTING:
1 can full fat coconut cream, chilled
2 TBL maple syrup
1 tsp vanilla
Directions:
Preheat oven to 350 degrees Fahrenheit and line a muffin tray with liners.
To make the cupcake batter, combine flours and cocoa powder.  Stir to combine.  Add in eggs and coconut milk and mix.  Add in remaining ingredients and stir until combined.
Using a cookie scoop, fill cupcake liners about 3/4 of the way full with batter.  Bake for about 16-18 minutes or until a toothpick inserted comes out clean.
While the cupcakes are baking, make the cherry filling.  Add the ingredients to a skillet over low heat.  Cook until cherries are melted and mixture begins to thicken.  If you want a really thick mixture, whisk in the optional teaspoon of tapioca flour to the skillet.  Cook only until warmed and thickened.  Remove from heat.
To make the frosting, add chilled coconut milk (ONLY the hardened part on top, discard excess water) to your KitchenAid or a large mixing bowl.  Add in maple syrup and vanilla.  Whip until light and fluffy.
To assemble: using a teaspoon or small spoon, scoop out a small portion of the middle of each cupcake.  Add in cherry filling.  Frost each cupcake with frosting.
Enjoy!