Gluten Free Starbucks Menu Items
Starbucks Coffee has some great gluten free menu items! From delicious breakfast options, to seasonal holiday drinks, to classic coffees, Starbucks has something for everyone. Although they cannot guarantee their products are completely gluten free, they do have several options that are made without gluten.
Disclaimer: Starbucks can change their menu and ingredients list at any time. Please ask your local coffee shop about menu ingredients and gluten. In addition, Starbucks states that they cannot guarantee any of their menu items are completely free from allergens. This includes milk, eggs, soy, gluten, peanuts, nuts and more. Starbucks uses shared equipment to prepare foods and drinks. For this reason, Celiacs and those with a severe gluten allergy may want to consider another establishment.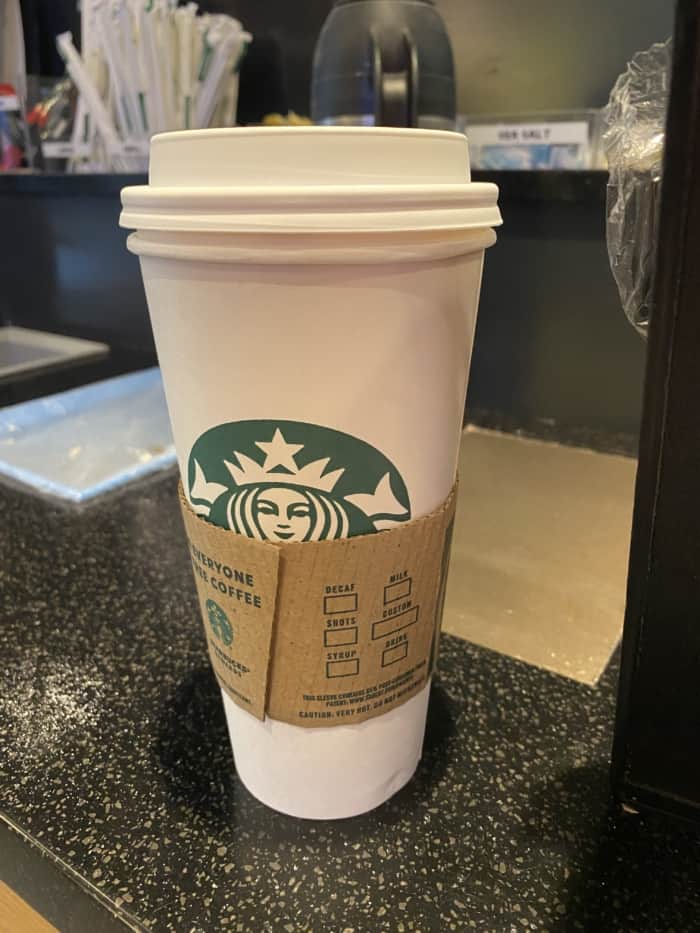 What is Starbucks?
In 1971, Starbucks opened their first coffee shop in Seattle. This shop was located in Pike Place Market. The first store offered freshly roasted coffee, tea and flavor from around the globe.
In 1982 and 1983, New York Howard Schultz suggested bringing the flavors of Italy coffee to Starbucks. Then in 1987, Starbucks workers switched from brown aprons to green aprons. A new chapter was born.
After that, Starbucks opened stores in Vancouver and Chicago. From there, stores opened in California, Washington D.C. and New York. In Japan in 1996, the first store opened.
Later, Starbucks spread to Europe in 1998 and China in 1999.
Today, there are over 35,000 Starbucks stores. The United States is home to over 15,000 of them. Starbucks serves millions of people every week.
Top Gluten Free Items & Products
There are some healthy and tasty gluten free items at Starbucks. They are broken out by menu item below.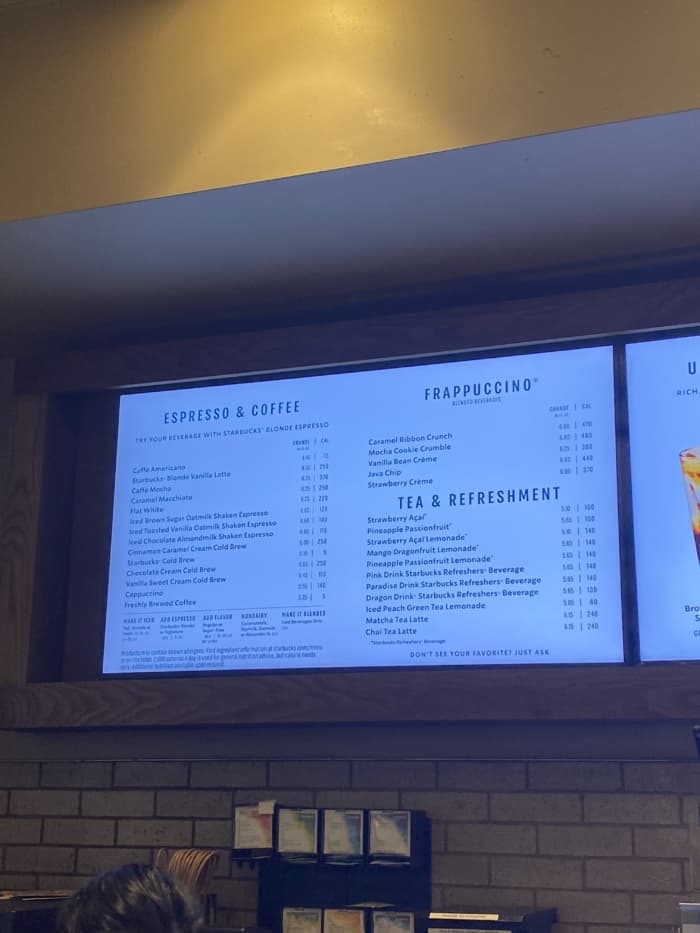 Coffee Drinks
Coffee is what Starbucks does best! This classic coffee shop is known worldwide for their freshly roasted coffee.
Most of their classic coffee drinks are gluten free. Here are the gluten free coffee drinks at Starbucks.
Blonde Roast

Caffè Misto
Clover Brewed Coffees
Cold Brew (all flavors)
Cold Brew Latte
Dark Roast Coffee
Decaf Pike Place® Roast
Filter Coffee
Freshly Brewed Coffee
Iced Coffee
Nitro Cold Brew
Nitro with Caramel Cold Foam
Nitro with Cold Foam
Pike Place® Roast
White Chocolate Mocha
Espresso Drinks
Starbucks offers many espresso drinks made without gluten. Do not order any drinks with the oat milk. According to the Starbucks Allergen Menu, their oat milk contains gluten.
Here are the Starbucks gluten free espresso drinks.
Americano
Caffè Mocca
Cappuccino (Hot or Iced)
Caramel Macchiato
Cinnamon Dolce Latte
Coconut Milk Latte
Coconut Mocha (Hot or Iced)
Cold Foam Iced Cappuccino
Cordusio
Cortado
Espresso con Panna
Espresso Macchiato
Flat White
Hazelnut Macchiato
Honey Almondmilk Flat White
Hot or Iced Caffè Latte
Hot or Iced Espresso
Hot or Iced Latte Macchiato
Peru Flat Piccino
Starbucks Reserve® Dark Chocolate Mocha
Starbucks Reserve® Hazelnut Bianco Latte
Starbucks Reserve® Latte
Vanilla Latte
White Caffè Mocha
White Chocolate Mocha
Frappuccinos
Starbucks Frappuccinos are blended iced coffees. They are made with a cream base, ice, flavored syrup, whipped cream and spices. Grocery stores and convenience stores often sell them by the bottle.
Thankfully, Frappuccinos are made without gluten. Do not order the Java Chip Frappuccino however. Java chips contain gluten.
Here are the gluten free Starbucks Frappuccinos.
Café Vanilla Frappuccino
Caramel Frappuccino
Chocolate Frappuccino
Coconut Mocha Frappuccino
Coffee Frappuccino
Mocha Frappuccino
Peppermint Mocha Frappuccino
White Chocolate Mocha Frappuccino
White Mocha Frappuccino
Vanilla Matcha Frappuccino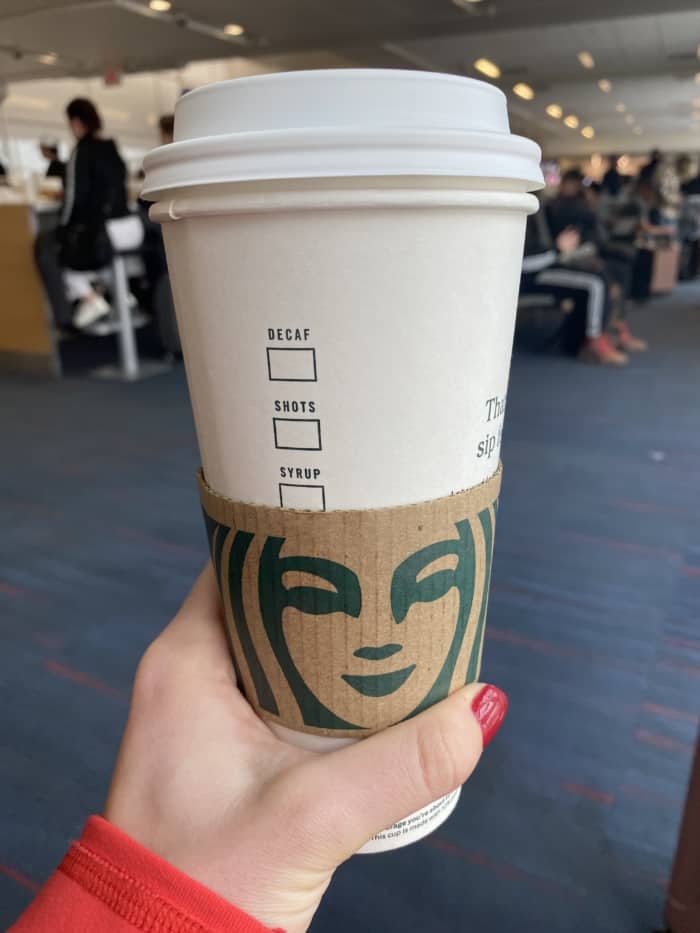 Teas
In addition to having an expansive coffee selection, Starbucks has a long list of tea offerings. Many of these teas can be ordered iced or hot. Tea is naturally gluten free, but be aware of syrups or other add ins.
Here is the list of gluten free tea drinks at Starbucks.
Black Tea (Hot or Iced)
Chai Tea (Hot or Iced)
Chai Tea Latte (Hot or Iced)
Chamomile Blend (Hot or Iced)
Earl Grey Tea (Hot or Iced)
Emperor's Clouds & Mist Green Tea
Green Tea (Hot or Iced)
Iced Black Tea Lemonade
Iced Green Tea Lemonade
Iced Mango Black Tea Lemonade
Iced Mango Iced Tea
Iced Matcha Lemonade
Iced Passion Tango Tea
Iced Passion Tango Tea Lemonade
Iced Peach Green Tea
Iced Peach Green Tea Lemonade
Iced Shaken Hibiscus Flavored Herbal Blend
Iced Shaken Hibiscus Flavored Herbal Blend Lemonade
Jasmine Orange Tea (Hot or Iced)
Jade Citrus Mint Brewed Green Tea
London Fog Tea Latte (Hot or Iced)
Matcha Tea Latte (Hot or Iced)
Mint Blend Tea (Hot or Iced)
Mint Citrus Flavored Green Tea Blend
Mint Majesty Herbal Tea
Peach Tranquility Herbal Tea (Hot or Iced)
Royal English Breakfast Tea Latte (Hot or Iced)
Spearmint Green Tea (Hot or Iced)
Vanilla Matcha Tea Latte
Starbucks Refreshers
You might recognize Starbucks refreshers from their bright colors! They are sweet, fun, and somewhat whimsical. Many of the refreshers are gluten free.
Here is a list of Starbucks gluten free refreshers.
Dragon Drink
Kiwi Starfruit Lemonade Refresher
Kiwi Starfruit Refresher
Mango Dragonfruit Lemonade Refresher
Mango Dragonfruit Refresher
Pink Drink
Star Drink
Strawberry Açaí Lemonade Refresher
Strawberry Açaí Refresher
Very Berry Hibiscus Lemonade Refresher
Very Berry Hibiscus Refresher
Violet Drink
Bakery Items
Starbucks carries many freshly baked pastries and desserts. Unfortunately, most of these contain gluten. In fact, it is difficult to find gluten free bakery options at Starbucks.
The only certified gluten free option is the Marshmallow Dream Bar. This bar is similar to a Rice Krispies treat. Although it is gluten free, it does contain milk and dairy.
I have found some gluten free brownies at Starbucks before. However, not every location carries them. Try these Gluten Free Brownies, Vegan Brownies or Healthy Brownies!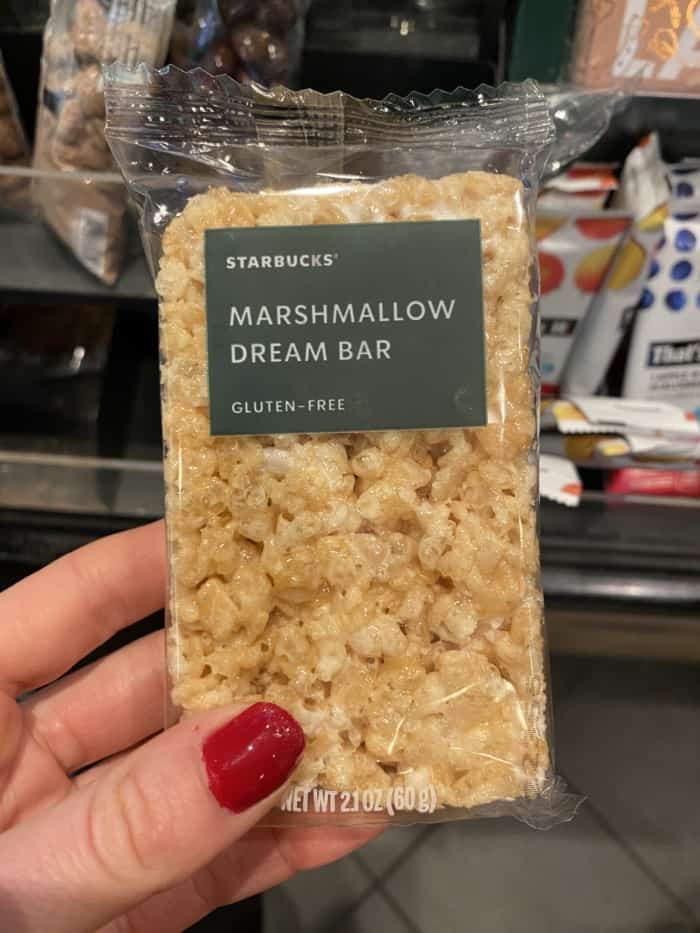 Bottled Drinks
Starbucks sells bottled versions of some of their drinks. Here are the ones that are gluten free.
Stay away from the caramel flavored bottled drinks. Those contain gluten or wheat.
Bottled Water
Clover Brewed Coffee
Coffee Traveler
Decaf Pike Place Roast
Evolution Fresh Defense Up
Evolution Fresh Orange Juice
Pike Place Roast
Starbucks Bottled Cold Brew Coffee
Starbucks Bottled Frappuccinos (EXCEPT caramel)
Starbucks DoubleShot Energy Plus (EXCEPT caramel)
Starbucks Bottled Frappuccinos (EXCEPT caramel)
Vivanno Smoothies
Snacks & Other
Although Starbucks is known for their coffees and teas, they have a variety of snacks and side dishes. These are great for pairing with your favorite beverage.
Some of these are made without gluten, but are not considered certified gluten free. Please be careful, check ingredients lists, and ask your barista.
Please note, the egg bites are made without gluten, but are not certified gluten free. If you have an allergy or Celiac disease, it is best to stay away from the Starbucks egg bites.
Dark Cherry Yogurt Parfait
Deluxe Fruit Blend Salad
Greek Yogurt Parfait
Hippeas Chickpea Chips
Justin's Peanut Butter Cups
KIND Bars
Strawberry and Blueberry Yogurt Parfait
Perfect Bars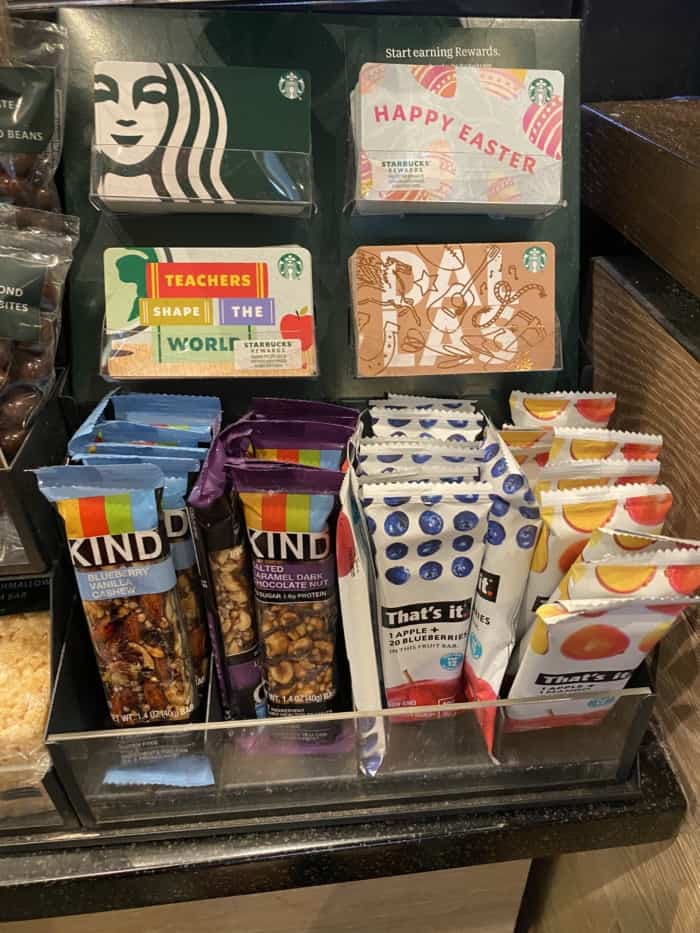 Syrups
Many Starbucks drinks can come with syrups, milks and powders. These add ins are mostly gluten free! They add flavor to many beverages.
This is the list of gluten free syrups at Starbucks.
Almond Dairy Alternative
Almond Syrup
Caramel Drizzle
Caramel Syrup
Cinnamon Powder
Cinnamon Syrup
Chocolate Powder
Coconut Dairy Alternative
Coconut Syrup
Hazelnut Syrup
Heavy Cream
Mango Syrup
Mocha Drizzle
Mocha Sauce
Nutmeg Powder
Peach Syrup
Peppermint Syrup
Simple Syrup
Single Cream
Strawberry Sauce
Sugar-Free Caramel Syrup
Sugar Free Hazelnut Syrup
Sugar Free Vanilla Syrup
Soy Dairy Alternative
Whipped Cream
Whipping Cream
White Chocolate Sauce
Vanilla Sugar
Vanilla Syrup
Vanilla Bean Sugar Topping
Dairy Free at Starbucks
There are many dairy free menu items at Starbucks. Starbucks may change their menu at any given time. Please ask before ordering.
Most of the menu items at Starbucks are dairy free. Here a few things to avoid.
Obviously, milk and cream contain dairy. Do not consume if you have a dairy allergy or you are lactose intolerant.
In addition, avoid any sandwiches or snacks containing cheese.
The Starbucks egg bites contain cottage cheese. Therefore, they contain dairy.
The bagels are dairy free, but not gluten free. Be sure to have them toast the bagels without butter.
Although the pumpkin loaf is not gluten free, it is dairy free! For homemade, try this Easy Pumpkin Bread, this Vegan Pumpkin Bread, or this Gluten Free Pumpkin Bread.
Vegan at Starbucks
Many of the dairy free options are also vegan friendly.
Like the dairy free options, be aware of milk, cheese, eggs and cream.
Surprisingly, the plain bagels, cinnamon raisin bagels and everything bagels are vegan. They are not gluten free however.
Many of the chips and oatmeals are vegan as well.
Double check ingredients labels before consumption. Ingredients can always change.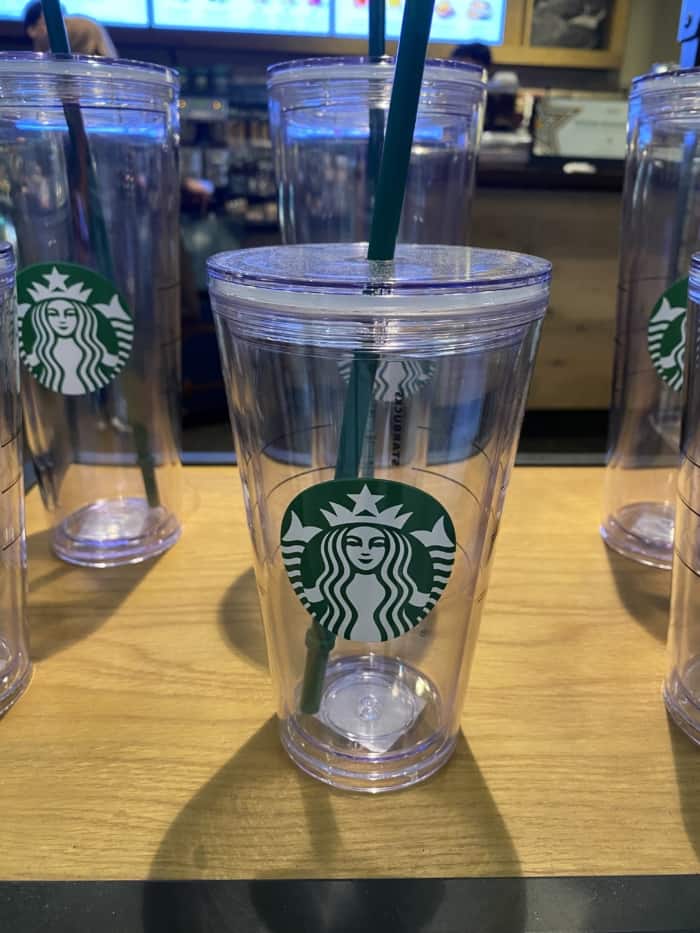 Frequently Asked Questions
Can Celiacs drink Starbucks?
Although Starbucks is not certified gluten free, there are many options. Only a select few items are certified gluten free. Celiacs must be extra careful of cross contamination.
What sandwich is gluten free at Starbucks?
There are no sandwiches at Starbucks that are gluten free.
Does Starbucks have a gluten free bagel?
No, there is no Starbucks gluten free bagel.
Are egg bites at Starbucks Celiac safe?
The Starbucks egg bites are made without gluten. Be careful of cross contamination. Have your server use different tongs to prevent contamination.
Does Starbucks have gluten free oatmeal?
Starbucks oatmeal is not certified gluten free.
Is oat milk from Starbucks gluten free?
No unfortunately, the oat milk from Starbucks is not gluten free.
Conclusion
In conclusion, Starbucks has countless menu items that are made without gluten or wheat. However, they warn about cross contamination in their coffee shops.
Therefore, it is not completely safe for those with Celiac or gluten allergies to eat at Starbucks.
Check out these Trader Joe's Gluten Free Products!
If you enjoyed this article, I would really appreciate a comment! You can find me on Instagram, Facebook, and Pinterest. In addition, I would love for you to follow along! Join my exclusive Facebook Group for a behind the scenes look.