Keto Deviled Eggs Recipe Without Mayonnaise
These Keto deviled eggs are smooth, creamy, and the perfect little bite! These no mayo deviled eggs are packed with bold flavors, healthy ingredients, and without mayonnaise. They are always a huge hit with friends and family!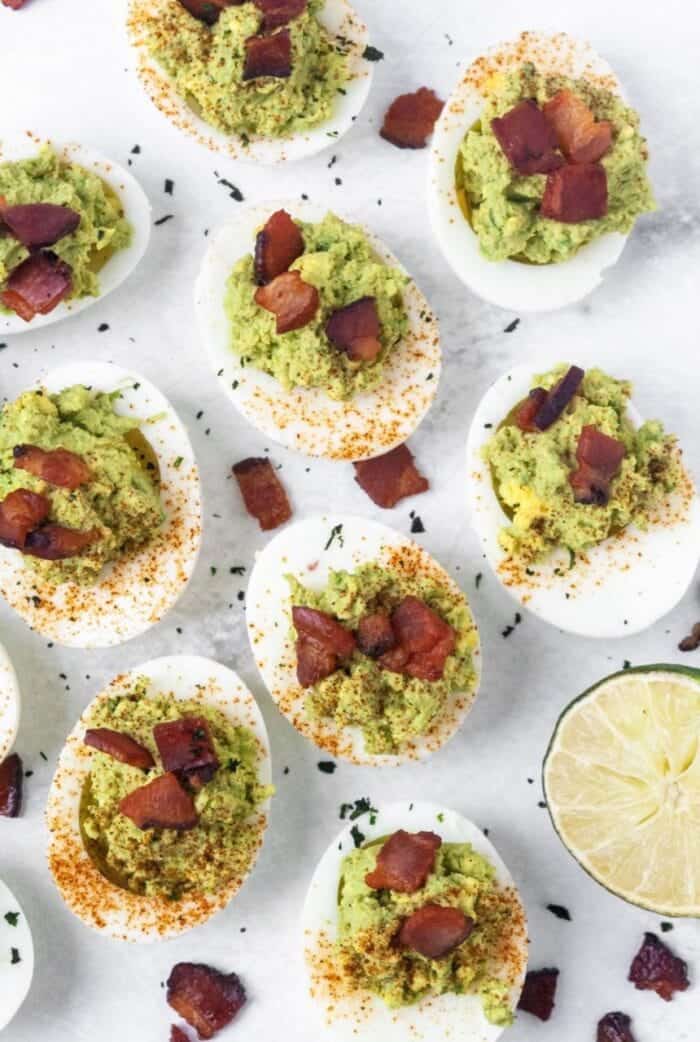 These Keto Deviled Eggs are super easy and great for so many occasions! They are a family tradition at Easter but honestly? I make these all year long. These Paleo deviled eggs are made with avocado and bacon for extra flavor and texture!
Why This Recipe Works
This recipe is incredibly straightforward and foolproof. Here's why:
These Keto Deviled Eggs require only a few ingredients.
Adding the avocado to the egg filling makes these extra creamy! The avocado replaces mayonnaise.
The crumbled bacon on top adds the perfect amount of crunch and crisp.
Since the filling is blended together, no need to worry about adding certain ingredients at certain times or achieving the perfect texture. Let your blender do the work for you!
This recipe is significantly healthier because it is made without mayonnaise.
This recipe is Whole30 friendly, Paleo, Keto, low carb, gluten free, dairy free, and sugar free.
Check out this Whole30 Egg Salad for another delicious recipe!
Ingredients & Substitutions
These are the ingredients and substitutions for Keto deviled eggs. Scroll down to the recipe card for the full recipe.
The hard boiled eggs are the most important part of these Paleo deviled eggs without mayo. Use hard boiled eggs, not soft boiled eggs, for best results. Make it super easy with these Air Fryer Hard Boiled Eggs.
These no mayo deviled eggs rely on creamy avocado for the filling. Use ripe avocado for best results.
The garlic powder and sea salt add a touch of flavor. Feel free to adjust the amounts to suit your taste.
The squeeze of fresh lime juice adds a punch of zesty flavor! Feel free to omit if desired.
Crispy bacon adds the perfect amount of crunch to this deviled eggs recipe without mayonnaise. Be sure to use sugar free bacon.
Recipe Steps
Step 1
To make Keto deviled eggs, first peel each cooled hard boiled egg. Then, carefully slice in half.
Step 2
Blend egg yolks, avocado, garlic powder, sea salt and lime juice together.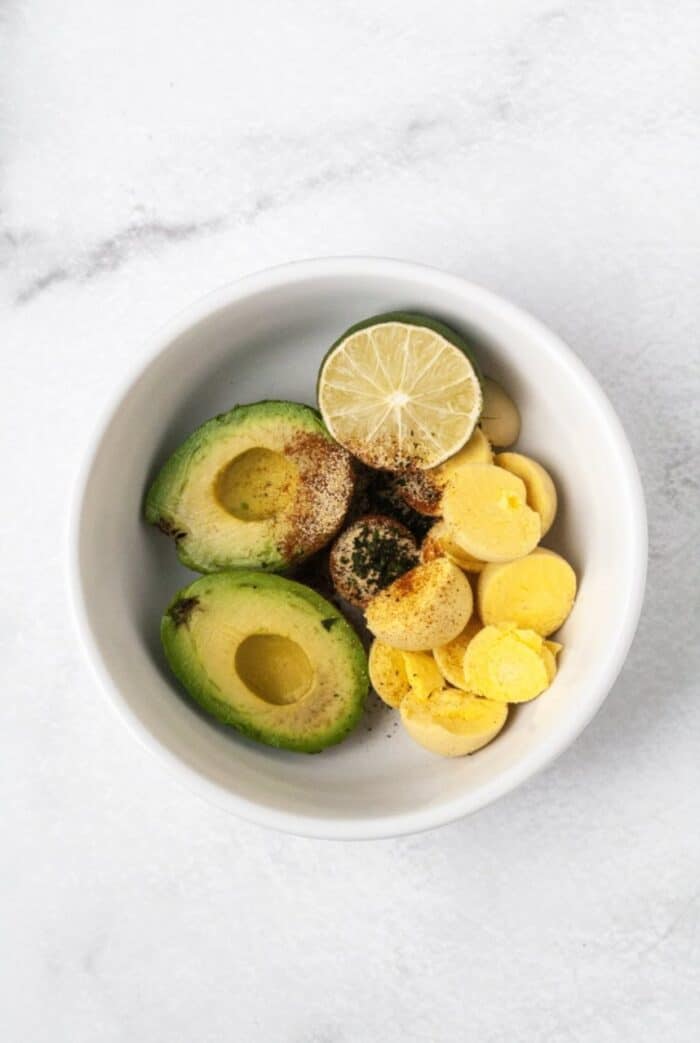 Step 3
Pipe or spoon blended mixture into each egg white half.
Step 4
Finally, top with crumbled cooked bacon and a sprinkle of paprika.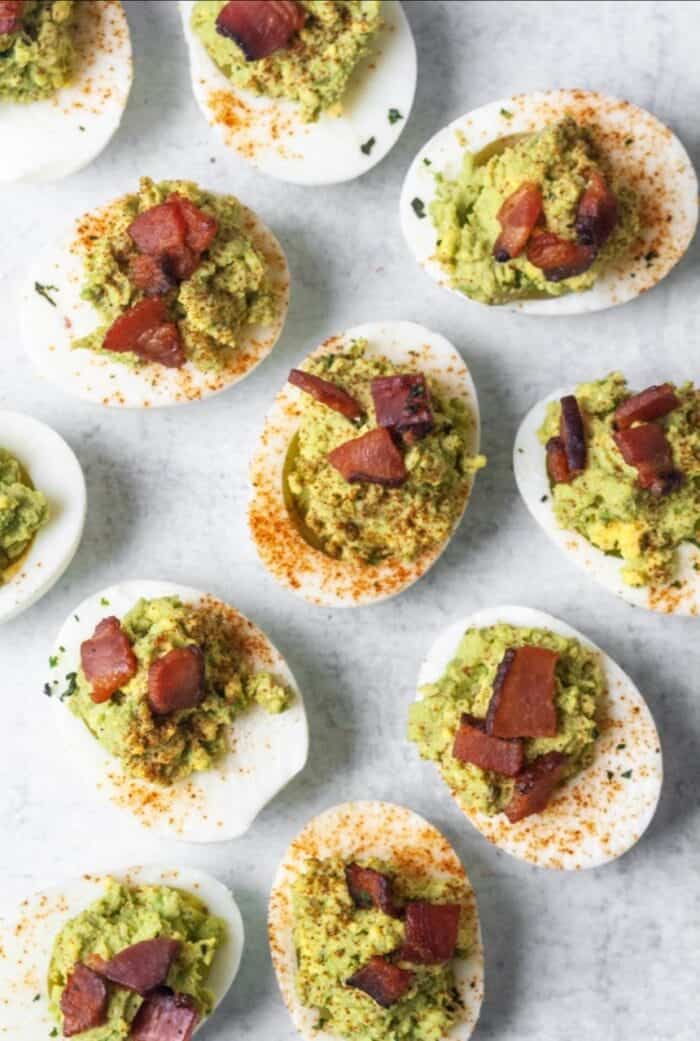 Expert Tips and Tricks
For best results, use hard boiled eggs. The yolks are creamy and smooth this way!
Use cooled or chilled hard boiled eggs. Freshly boiled eggs will not slice as easily.
Ripe avocado yields a creamy filling.
Cook bacon until very crispy. In addition to adding flavor, the bacon adds a crunch factor.
Use a piping bag for the filling. It is easier and more aesthetically pleasing.
Filling
Unlike traditional recipes, these Paleo deviled eggs without mayonnaise use avocado.
A ripe avocado yields a smooth and creamy deviled egg filling!
Mix the filling ingredients together until combined. Then add to a piping bag and get to work.
Frequently Asked Questions (FAQs)
Can you make deviled eggs without mayonnaise?
Yes! These Paleo Deviled Eggs contain no mayonnaise. Avocado is a heart healthy fat that is both creamy and delicious!
How many carbs are in Keto deviled eggs?
There are zero net carbs in these Keto Deviled Eggs. Each Deviled Egg has 1 carbohydrate and 1 gram of fiber, therefore they have zero net carbs. Additionally, there is no added sugar.
How far ahead can I make them?
To make Deviled Eggs ahead of time, boil eggs and refrigerate until ready to eat. Then, make filling and serve.
What if I do not have a piping bag?
Use a spoon to add filling to egg white halves. No piping bag is necessary!
Are these Paleo?
Yes, these are Whole30 approved, Paleo, gluten free, dairy free and sugar free.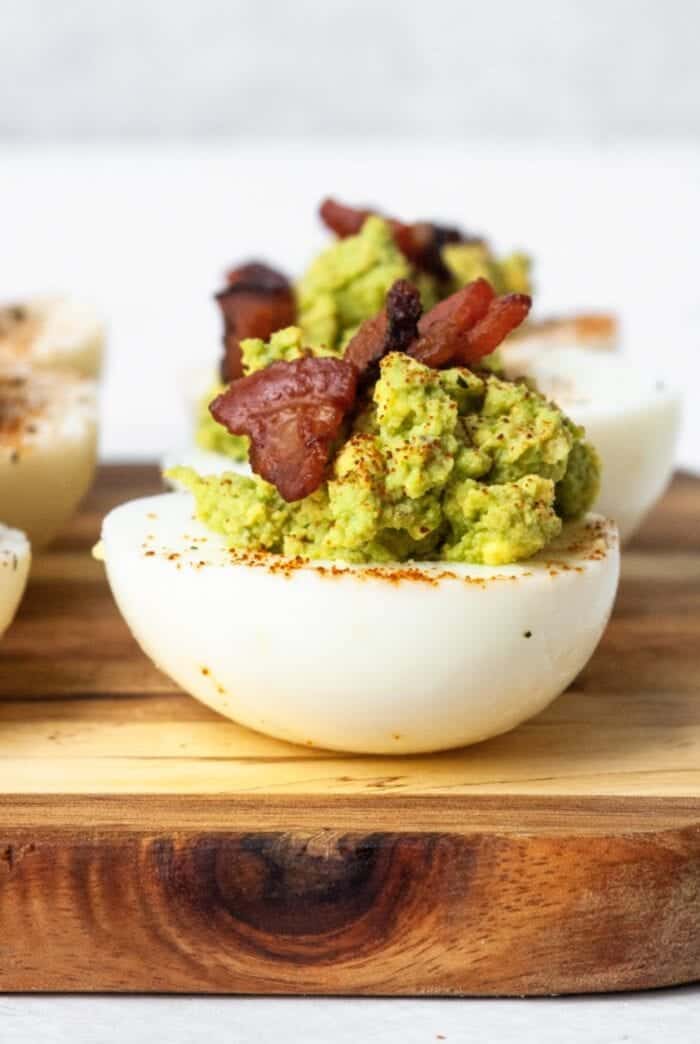 You May Also Like
If you make this Keto deviled eggs recipe, I'd love to see it! You can find me on Instagram, Facebook, and Pinterest. I'd love for you to follow along! For more ideas, check out these Whole30 Recipes.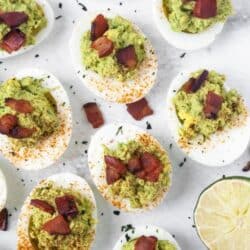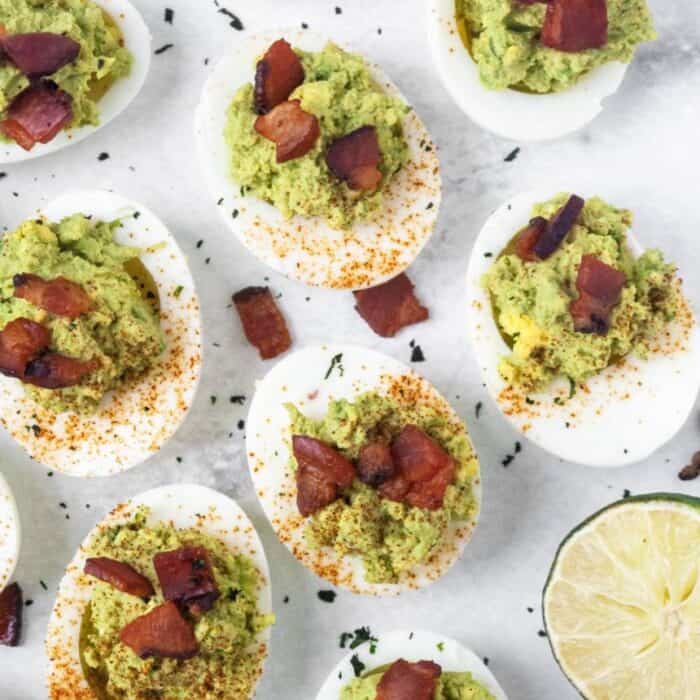 Get the Recipe:
Keto Deviled Eggs
These Keto Deviled Eggs are made with avocado and bacon! They are hearty, savory and healthy. These deviled eggs are Whole30 approved and Paleo and they are smooth and creamy!
Ingredients
Instructions
First, peel each hard boiled egg. Discard egg shells.

Carefully slice each hard boiled egg in half. Scoop out egg yolks.

Add egg yolks, avocado flesh, garlic powder, sea salt and lime juice to a blender. Blend until smooth and creamy.

Next, add mixture to a piping bag. Pipe mixture into the egg white halves. Alternatively, spoon each mixture into egg halves.

Lastly, top crumbled bacon on top. Sprinkle with paprika if possible.
Notes
Use cooled hard boiled eggs.  It's more difficult to slice through a warm hard boiled egg.
Use sugar free bacon for Whole30.
Calories:
64
kcal
,
Carbohydrates:
1
g
,
Protein:
4
g
,
Fat:
5
g
,
Saturated Fat:
1
g
,
Trans Fat:
1
g
,
Cholesterol:
96
mg
,
Sodium:
56
mg
,
Potassium:
70
mg
,
Fiber:
1
g
,
Sugar:
1
g
,
Vitamin A:
141
IU
,
Vitamin C:
1
mg
,
Calcium:
14
mg
,
Iron:
1
mg
Love these Keto deviled eggs? You can sign up here to receive healthy meal plans and new recipes!