WHOLE30 AVOCADO CHICKEN SALAD
(GLUTEN FREE, GRAIN FREE, DAIRY FREE, PALEO, KETO-FRIENDLY)
One of my favorite combos is chicken and avocado.  It's hearty, savory, and tasty.  Add in some bacon and it's over the top delicious!  This easy Whole30 Avocado Chicken Salad is made with just a few ingredients: avocado, chicken, and bacon.  Feel free to add in some seasonings, a squeeze of lime juice, or anything else you'd like.  This is just the base for a really good chicken salad!  It's become one of my favorite lunches; it's really great on top of some almond flour crackers.  I don't like spending a ton of time making an elaborate lunch, which means this simple and straightforward recipe comes in handy.  I usually have some leftover chicken on hand throughout the week, but even if you don't, this salad comes together quickly.  It's filled with healthy proteins and fats which will keep you satisfied and full for hours.  It's creamy, hearty and just so delicious!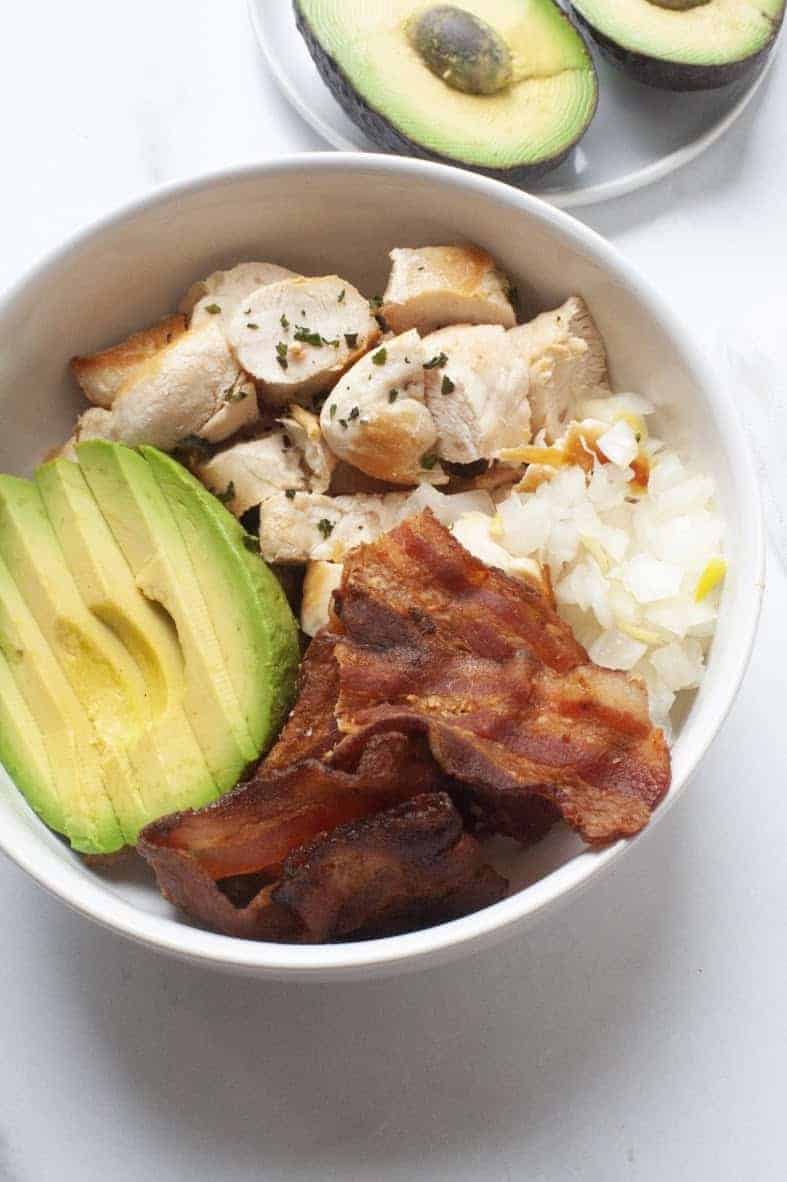 To make this avocado chicken salad, you'll need four main ingredients: avocado, chicken, onion and bacon.  I like my avocados to be slightly soft to the touch before I eat them.  This way, they're still a vibrant green inside but they are also creamy.  Nothing worse than an avocado that isn't yet ripe or is past due.  For the chicken, any kind works.  I almost always have some grilled or baked chicken in my fridge as leftovers to throw in.  If you don't have any on hand, grill or bake some of your own and toss it in.  For the bacon here, I like mine to be pretty crispy.  This adds a nice crunchy and balances out the creamy avocado.  You can totally stop at just those three ingredients and mix them together.  I usually add a pinch of onion and garlic powder and a squeeze of lime juice for a touch of extra flavor.  Totally your call!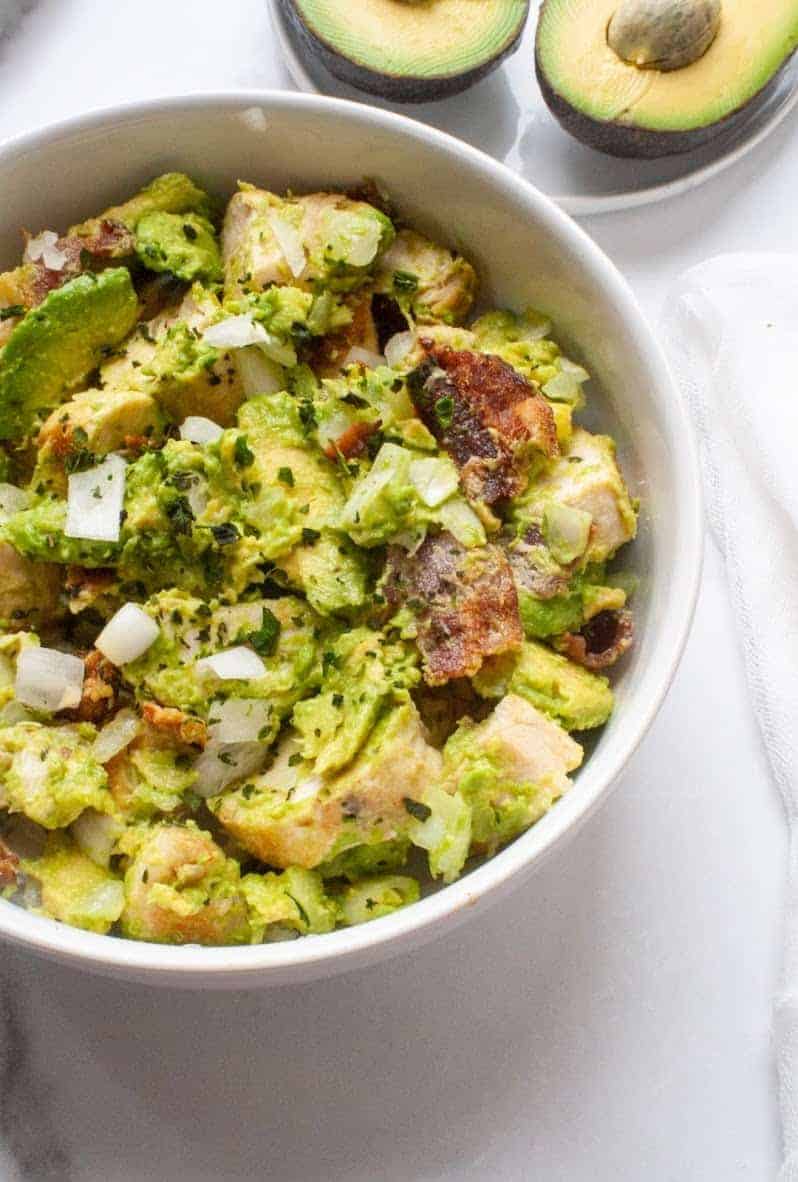 This is hands down my go to lunch on busy days or days when I want something that's equally easy and delicious.  I love that it's packed with healthy and hearty ingredients – I'm never hungry after!  It's great fuel for the rest of the day.  If you're looking for a quick and easy lunch that's filled with the best flavors, look no further!
Prep Time: 5 minutes
Cook Time:  0 minutes
Total Time: 5 minutes
Course: Lunch, Dinner
Servings: 4 servings
Ingredients:
2 large chicken breasts, cooked and shredded
5-6 pieces of bacon, cooked and crumbled (sugar free for Whole30)
2 large avocado, flesh removed
1/4 cup white onion, diced small
Pinch onion powder
Pinch garlic powder
Lime juice, optional
Basil, to garnish
Directions:
Add shredded chicken, cooked bacon, and flesh of avocado to a bowl.  Add seasonings. Mix to combine.
Add in a squeeze of lime juice if desired.  Garnish with basil.
Note: leftovers don't keep for more than 24 hours in the fridge due to the avocado.