Easy Whole30 Taco Soup
This Whole30 Taco Soup recipe is the easiest and most flavorful stovetop soup! This soup has all the bright and bold flavors of a taco but in soup form. Moreover, the leftovers are even better the next day! This Whole30 Chicken Tortilla soup has similar flavors and is equally as delicious. In addition, this soup is great for any night of the week. Furthermore, this is a favorite for both kids and adults!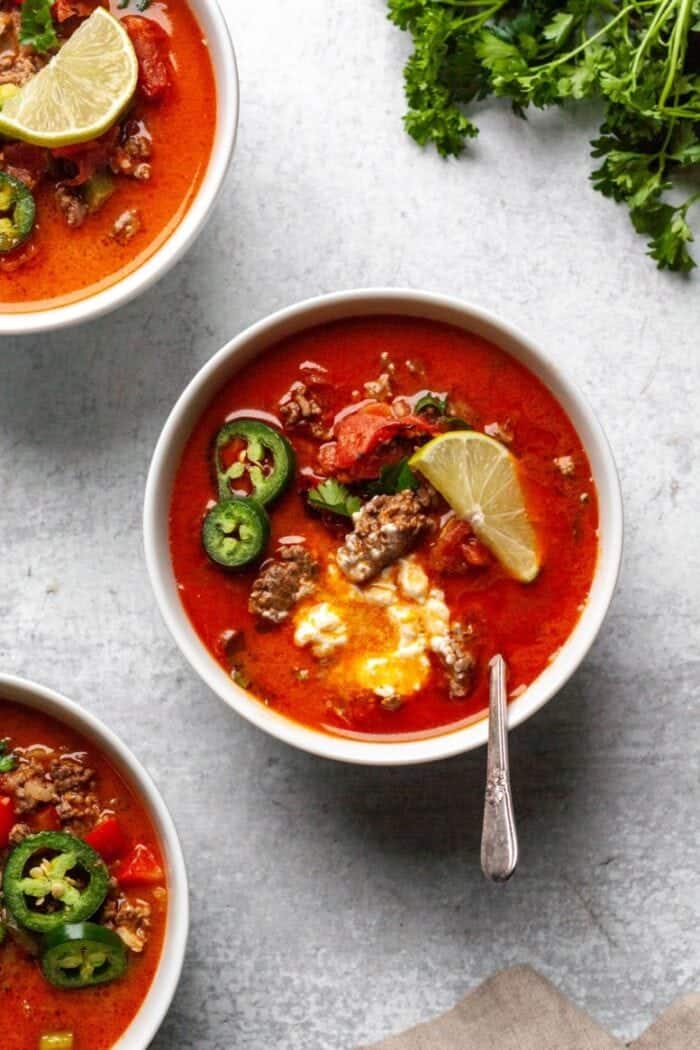 Ingredients
ONION & PEPPERS: The diced onions and peppers add a pop of color and flavor to this soup. In addition, they provide a hearty flavor and nutritional boost!
GROUND BEEF: The ground beef adds a hearty flavor to this Whole30 Taco Soup recipe. Substitute ground chicken or turkey if desired.
DICED TOMATOES: Check labels to make sure the diced tomatoes don't have added sugars or preservatives for Whole30.
CHICKEN BROTH: See note below for finding Whole30 compliant chicken broths.
COCONUT CREAM: Coconut cream is a dairy free alternative to heavy cream and milk. In addition, it adds the creamy texture to this soup.
OTHER INGREDIENTS: olive oil, minced garlic, paprika, ground pepper, cumin, lime juice, jalapeños, cilantro
How to Make
Step 1
To make Whole30 Taco Soup, preheat olive oil in a large skillet or Dutch oven over medium heat. Then, add in diced onions and peppers and cook for 5 minutes.
Step 2
Next, add in ground beef and minced garlic. Then, use a spatula to break apart meat.
Step 3
After meat is browned and crumbly, add remaining ingredients except jalapeños and cilantro. Mix together.
Step 4
Then, simmer for 15 to 20 minutes.
Step 5
Finally, remove from heat and garnish with jalapeños and cilantro.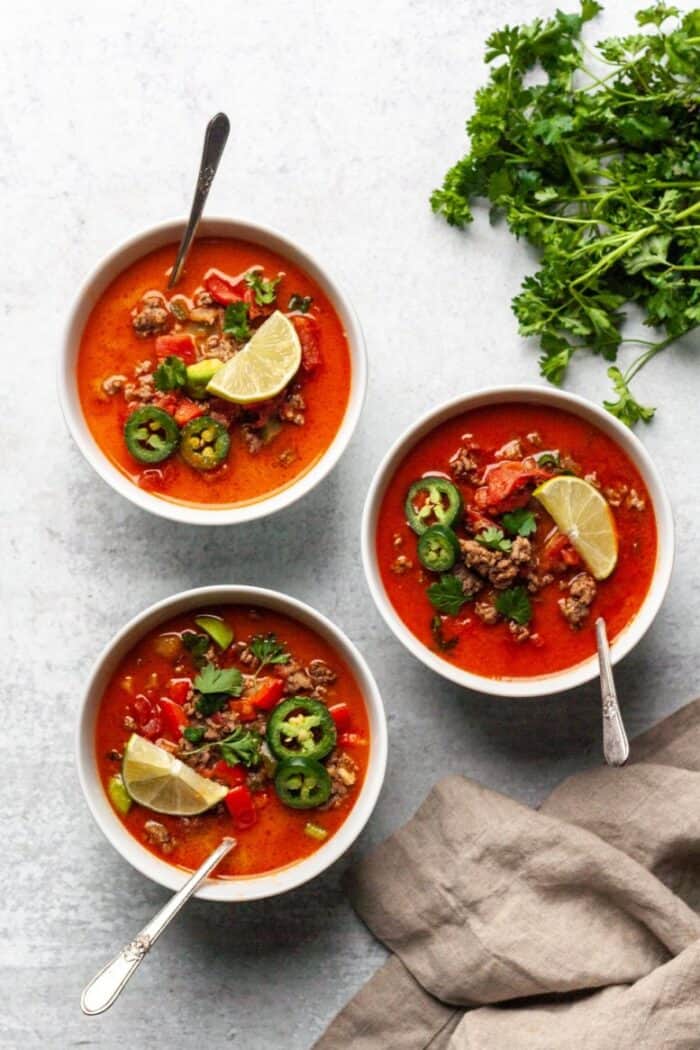 Whole30 Soups
If soup is made with all Whole30 compliant ingredients, then the soup itself is Whole30. Some of my favorite Whole30 soups are: Vegetable Pork Soup, Chicken Tortilla Soup, Buffalo Chicken Soup and Butternut Squash Soup. For another fun idea, check out this Whole30 Taco Salad!
Is Chicken Broth Allowed on Whole30?
Some chicken broth is allowed on Whole30. Some compliant brands include Bonafide Provisions, Kettle & Fire, and Pacific Foods. In addition, be sure to check labels for added sugars and preservatives.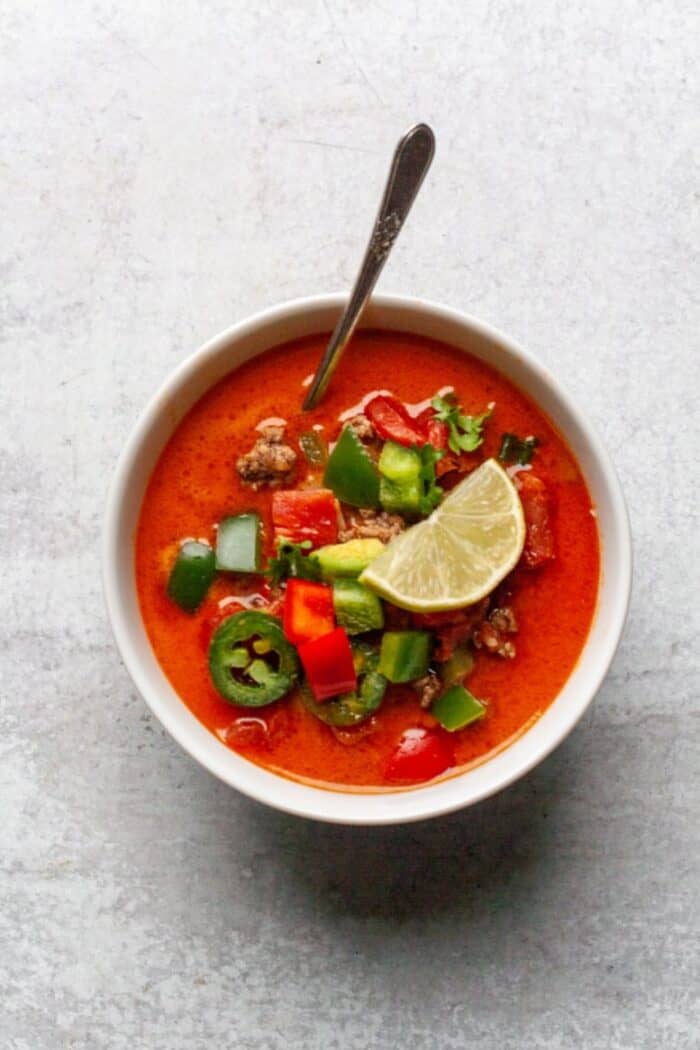 How to Store
If there are leftovers, store in an airtight container in the fridge for up 4 days.
You May Also Like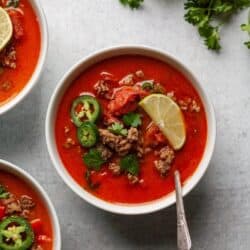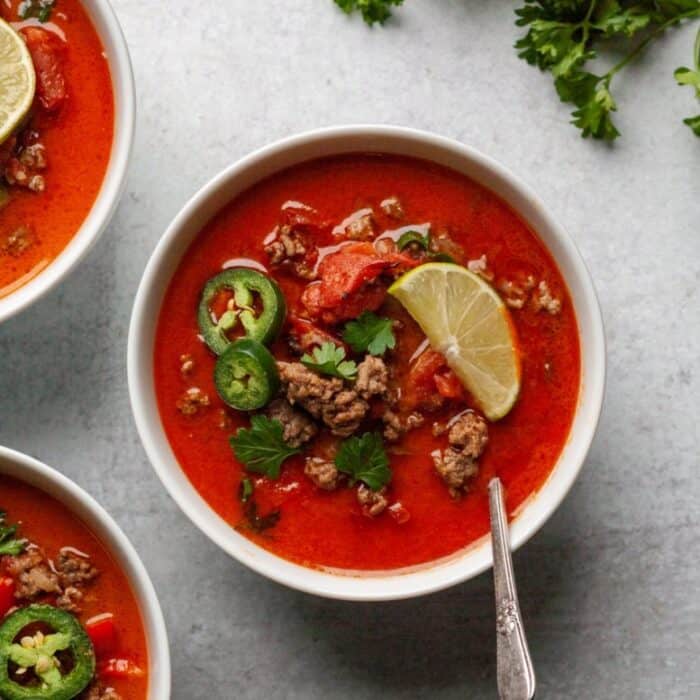 Get the Recipe:
Whole30 Taco Soup
This Whole30 Taco Soup is filled with bold and spicy flavors. This soup is made in one pan on the stovetop, making it perfect for any night of the week. It's a soup that both kids and adults love!
Ingredients
Instructions
To make this Whole30 Taco Soup, heat olive oil in a Dutch oven or large skillet over medium heat.

Add in onion, red pepper and green pepper and cook for 5 minutes.

Add minced garlic and ground beef to skillet. Use a spatula to break up the meat.

Once meat has browned, discard any excess grease and add in remaining ingredients except jalapeños and cilantro.

Next, simmer on low heat for 15 minutes.

Finally, remove from heat and serve. Garnish with jalapeños and cilantro if desired.
Calories:
497
kcal
,
Carbohydrates:
11
g
,
Protein:
23
g
,
Fat:
41
g
,
Saturated Fat:
19
g
,
Trans Fat:
1
g
,
Cholesterol:
81
mg
,
Sodium:
868
mg
,
Potassium:
841
mg
,
Fiber:
3
g
,
Sugar:
4
g
,
Vitamin A:
688
IU
,
Vitamin C:
58
mg
,
Calcium:
84
mg
,
Iron:
5
mg
More Whole30 Stovetop Meals!