WHOLE30 BALSAMIC PORK CHOPS
(WHOLE30, GLUTEN FREE, GRAIN FREE, DAIRY FREE, PALEO)
I know pork chops have a reputation of being dry, boring and just not exciting. I promise you – this pork chop recipe will change the way you view pork chops! It's absolutely not boring, is tender and flavorful, and is a nice change of pace. This pork is crispy on the outside and is extra tender in the middle. A simple and flavorful sauce really elevates the overall flavor of this dish. The best part? It really couldn't be easier! There's no need to be intimidated by pork chops. This recipe is straightforward and packs a ton of flavor. Let's get started!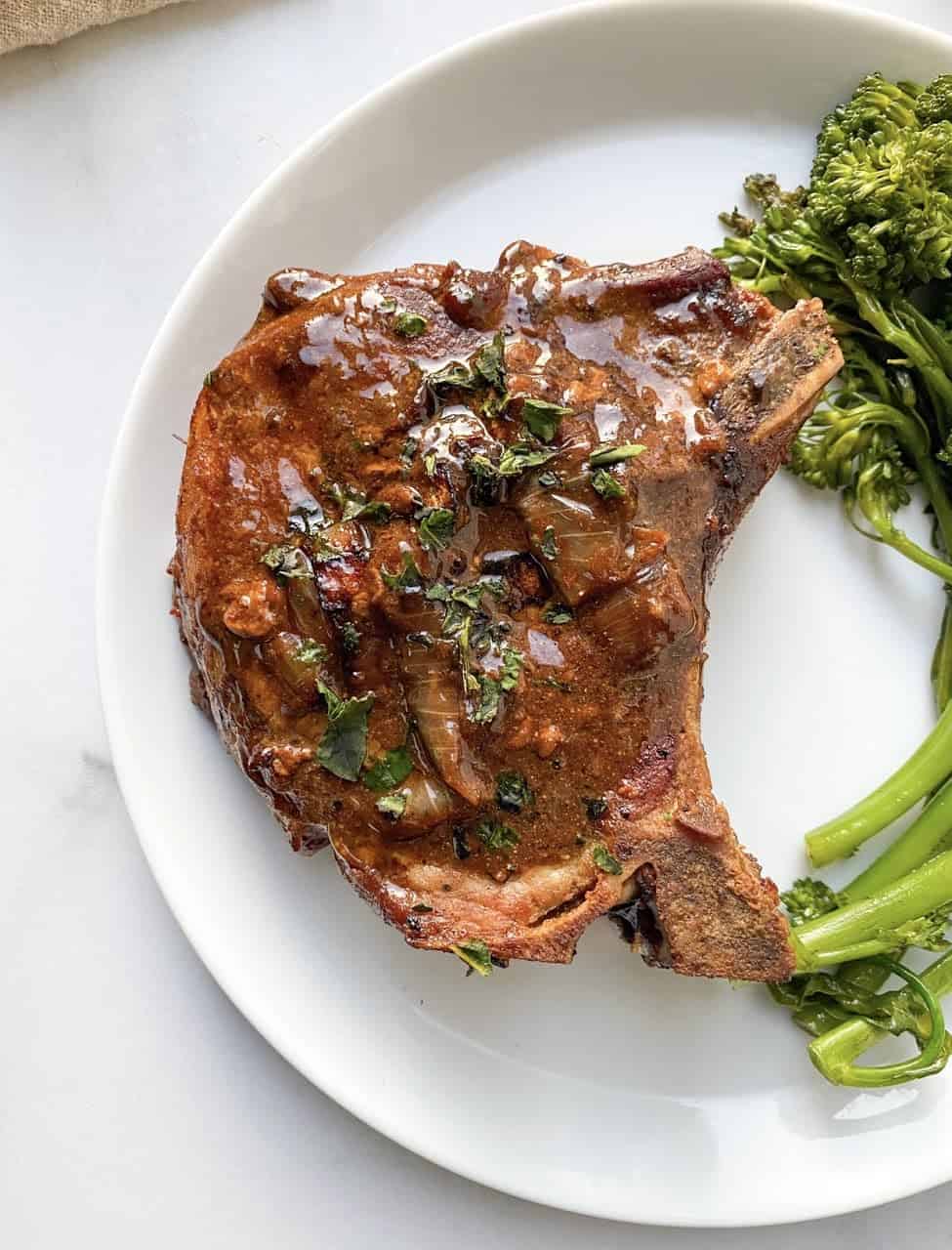 The first step is choosing a solid cut of meat. I really recommend Porter Road. They are the highest quality meat I've ever tasted! With pork chops, you don't want to skimp on quality. This is the brand I recommend, but use whatever you have on hand. Once you're ready to get started, pat the pork chops dry with paper towels. This will allow the cast iron skillet to really sear the pork. After the pork chops sear on both sides, add in the onions and then the sauce. This sauce is made with only a few ingredients but it's hearty and savory. I let everything cook together so that the flavors really marry. Once the pork has reached an internal temperature of at least 145 degrees Fahrenheit, you have the option to mix in some tapioca flour to thicken the sauce. Otherwise, it's time to serve! I like to keep my side dishes simple because the pork chops are the real showstopper here. I love roasted veggies, cauliflower rice or a simple side salad.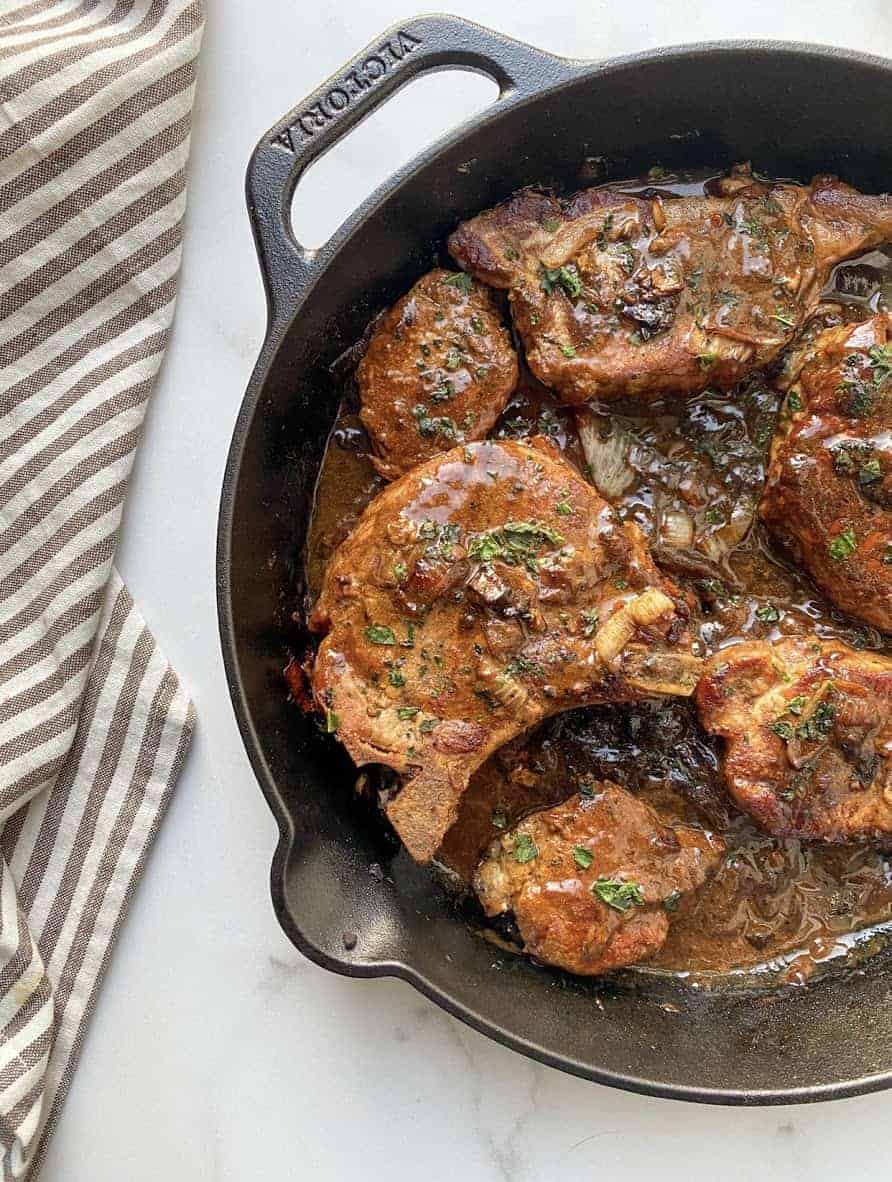 These pork chops are a fun and flavorful way to switch up your dinner! They're filled with a ton of flavor and will be sure to impress your friends and family! These pork chops are robust enough for the winter months but they're fresh enough for summer. You really can't go wrong!
Prep Time: 10 minutes
Cook Time: 30-35 minutes
Total Time: 40-45 minutes
Course: Lunch, Dinner
Servings: 4-6
Ingredients:
4 pork chops (I recommend and love Porter Road)
2 TBL ghee or olive oil
1 tsp ground pepper
1 tsp sea salt
1 white onion, chopped
1/2 cup chicken broth
1 tsp minced garlic
1/3 cup balsamic vinegar
1 TBL ground mustard
Optional: 1 TBL tapioca flour
Directions:
Using paper towels, pat pork chops dry. Season with salt and pepper. Add ghee or olive oil to a cast iron skillet over medium heat on the stovetop.
Place pork chops in skillet and let sear for 4-5 minutes. Flip and allow to cook for 4-5 minutes on the other side.
Add onions to the skillet and allow to cook for 3-4 minutes, until soft. Add more ghee or olive oil if necessary.
In a small mixing bowl, combine chicken broth, minced garlic, balsamic vinegar, and ground mustard. Stir to combine.
Pour sauce over pork chops and bring to a light boil. Allow to boil for 5-6 minutes then reduce heat to a simmer.
Allow pork to simmer in sauce for about 15-20 minutes. Cook until pork is at least 145 degrees Fahrenheit in the middle.
Optional: if you want a thick sauce, remove 1/4 cup of the sauce in the pan to a small mixing bowl. Mix in 1 TBL tapioca flour. Pour over pork chops.
Enjoy!