WHOLE30 CHICKEN TORTILLA SOUP
(WHOLE30, GRAIN FREE, GLUTEN FREE, DAIRY FREE, PALEO)
I have a few requirements when it comes to making and eating a soup.  First and foremost, it has to be filled with tons of flavor. No boring soup over here!  Second, it has to have a number of different textures and flavors.  Again, I don't do well with a boring soup.  And third, it has to have some sort of tender meat.  Chicken has become my favorite choice of protein for soups because it soaks up flavor like no other.  This chicken tortilla soup is filled with flavor, has many different textures and has my favorite protein!  It's a win win all around.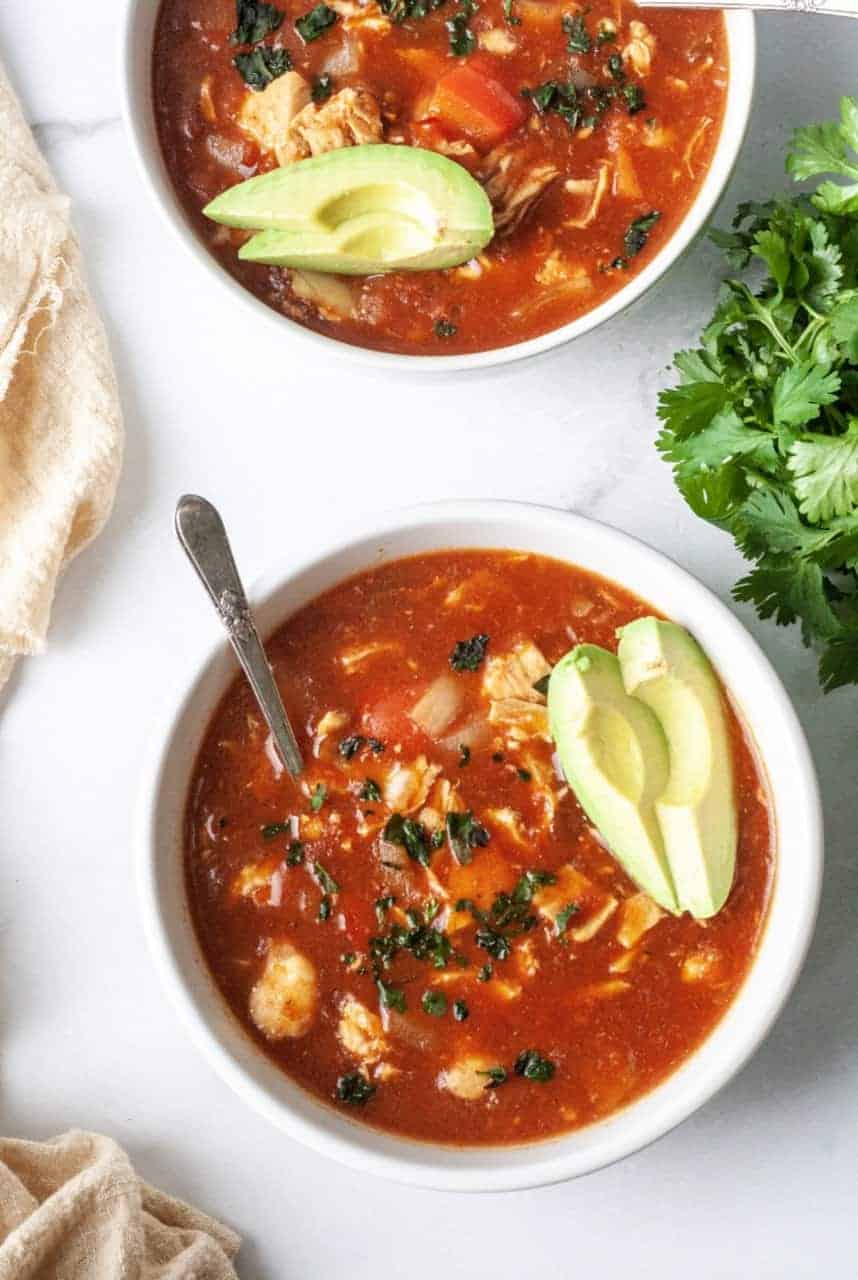 I love that this soup comes together quickly and easily.  First, we will cook the chicken in some olive oil.  Once the chicken is cooked through, the veggies are added.  I used red peppers and onions here.  After a few minutes, the veggies will start to soften.  After that, just simply add the remaining ingredients and stir together.  Bring this to a boil and then reduce heat to low and let it simmer.  This time simmering allows the flavors to marry.  I let mine simmer for about 20 minutes but feel free to let it simmer on very low heat for up to an hour.  The chicken will become very tender and the veggies will be very soft.  If you want an extra creamy soup, add in some coconut milk before removing from heat.  Once the soup has simmered, remove from heat and ladle into bowls.  I like to top mine with fresh creamy avocado to help balance the heat of the soup.  A little cilantro adds a pop of flavor and color.  Both are totally optional!  I also sometimes add a chopped jalapeño for some real heat.  This soup will stay fresh in the fridge for 4-5 days.  It's also freezer friendly!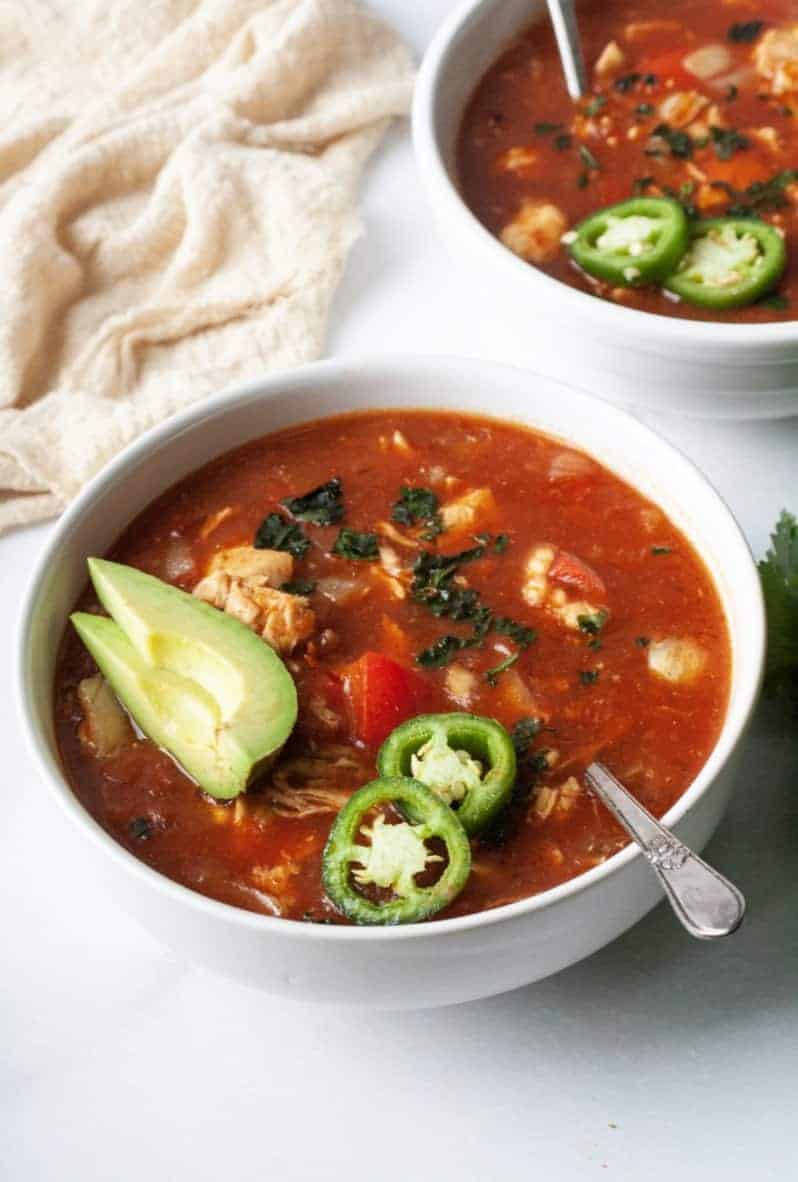 I have always enjoyed and appreciated spicy foods and this soup is no exception!  It's a little bit spicy, so flavorful, and creamy.  It's family friendly, kid approved, and makes for delicious leftovers.  I actually prefer this soup as leftovers because allowing it to sit overnight allows the flavors to incorporate.  I eat this soup year round!  It's a hearty comfort food in the winter and a spicy and unexpected combo in the summer.  I hope you make this super easy and flavor filled soup!
Prep Time: 5 minutes
Cook Time: 30 minutes
Total Time: 35 minutes
Course: Lunch, Dinner
Servings: 8 servings
Ingredients:
2-3 lbs chicken thighs, cut into 1 inch cubes
2 TBL olive oil
1/2 cup onion, chopped finely
1 red pepper, diced
3 cups chicken broth
1 cup diced tomatoes (don't discard sauce)
1 6 ounce can tomato paste
1 TBL tapioca flour
1 TBL ground cumin
1 TBL paprika
1 tsp lime juice
Pinch sea salt
Pinch ground pepper
1/3 to 1/2 cup full fat coconut milk (optional)
Cilantro, to garnish
Jalapeños, to garnish
Avocado, to garnish
Directions:
Add olive oil and chicken thighs (cut into 1 inch cubes) to a skillet over medium heat.  Cook for 3-4 minutes each side, until cooked through.
Add in chopped onion, red pepper and garlic.  Cook for 3-4 minutes, until vegetables begin to soften.
Add all remaining ingredients (except coconut milk and garnishes) to skillet.  Stir to combine.  Bring to a boil then let simmer for 20 minutes or so.  Using two forks, shred the chicken as much or as little as desired.
If desired, stir in coconut milk for an extra creamy soup.
Top soup with cilantro, jalapeños and avocado if desired.