Vegan Banana Pudding From Scratch (Gluten Free)
This Vegan Banana Pudding is creamy, thick and bursting with fresh banana flavor! This pudding has the texture and feel of classic pudding, but it is made with healthier ingredients. Made entirely from scratch, this homemade Vegan pudding is naturally sweetened and great for breakfast, a snack or dessert!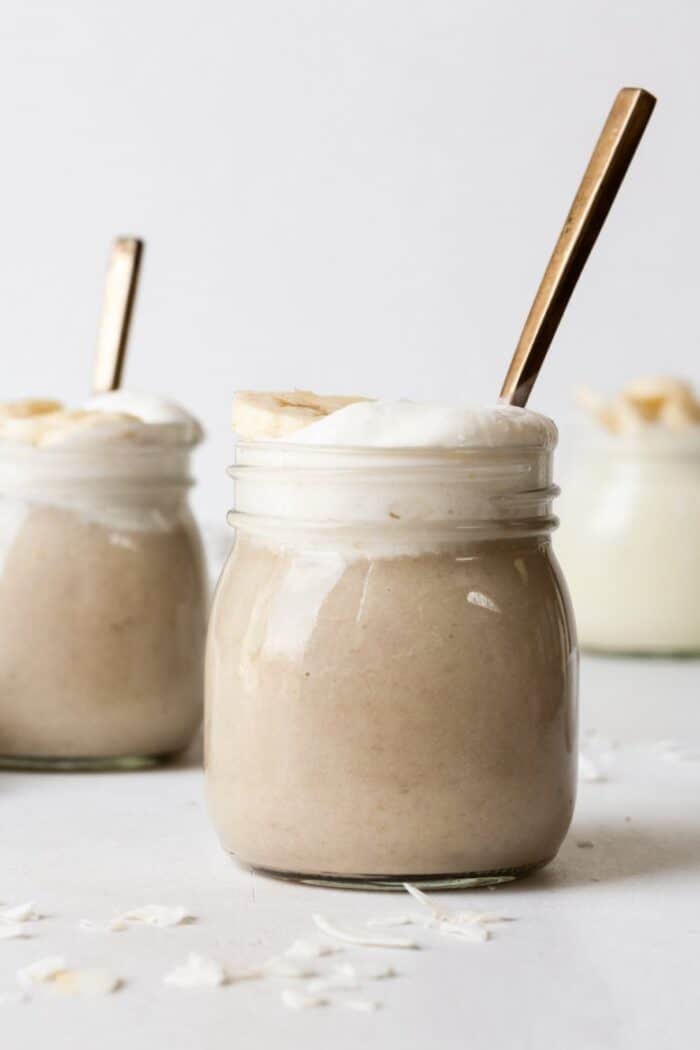 Why You'll Love This Recipe
This Vegan Banana Pudding is so creamy and thick!
It is made with only 5 healthy ingredients.
There are no added sugars, preservatives or additives.
This pudding is made without cornstarch, and it is corn free.
Unlike most puddings, this recipe is Vegan. For more recipes, see my Vegan recipes page.
In addition, this recipe is made with no tofu, no cashews, no eggs and no heavy cream.
This recipe is Paleo, Grain Free, Gluten Free, Dairy Free, Vegan, and Added Sugar Free.
What is Banana Pudding?
Banana pudding is a dessert that traditionally features a sweet vanilla custard. This custard is usually layered with cookies, Vanilla wafers or ladyfingers, and sliced bananas. A meringue or whipped cream is the topping. In this case, this Vegan Banana Pudding is simply banana flavored pudding. It can be layered with sliced banana, nuts, whipped coconut cream, or even chocolate chips!
Recipe Steps
Step 1
First, blend bananas in blender until smooth.
Step 2
In a bowl, combine tapioca flour and canned coconut milk until no clumps remain.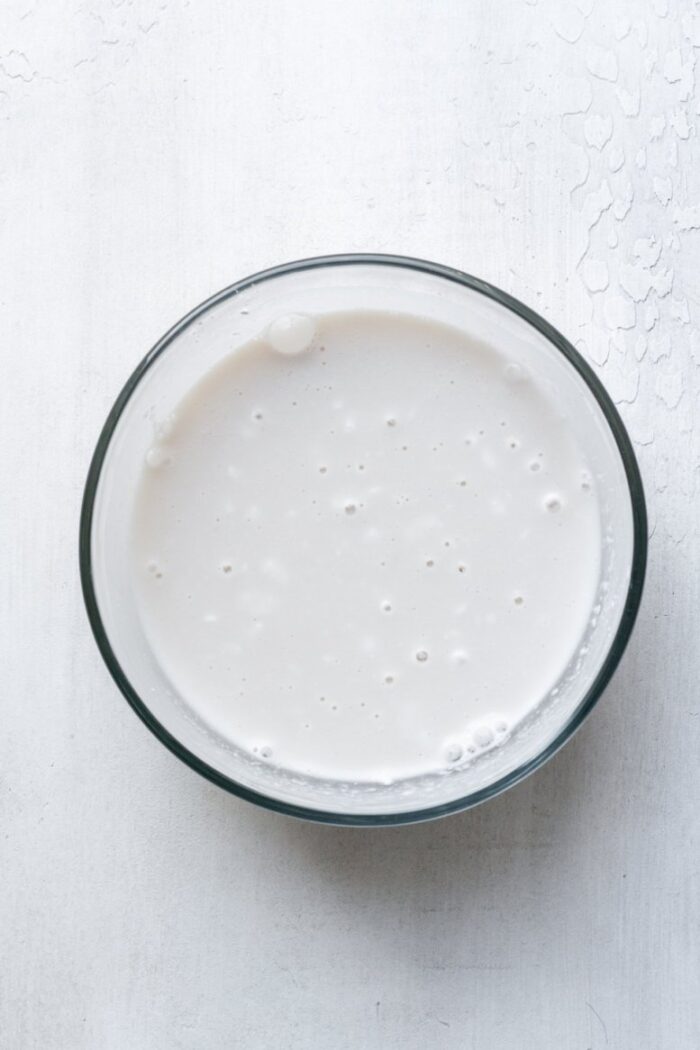 Step 3
Add blended bananas, coconut milk mixture, and vanilla extract to a skillet over low heat.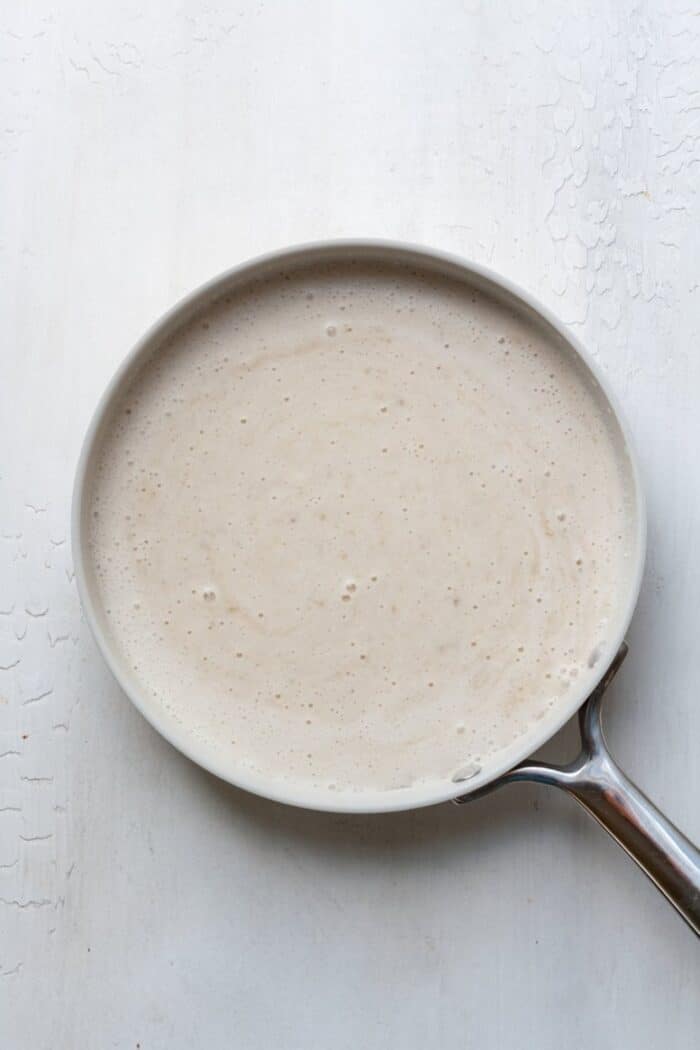 Step 4
Whisk consistently for 8 to 10 minutes or until thickened.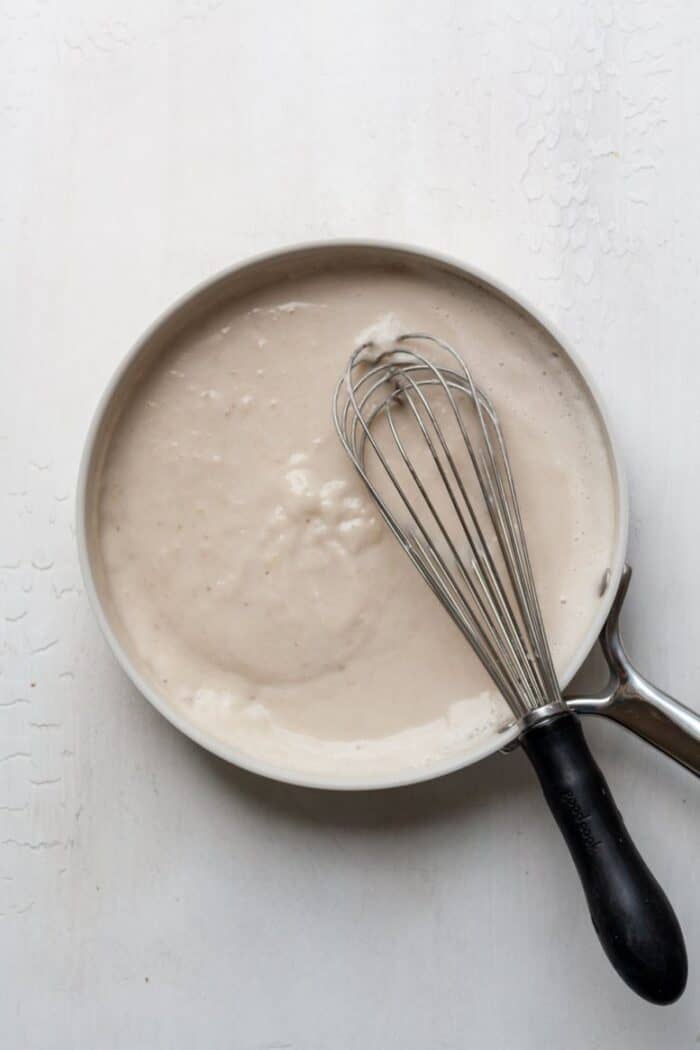 Step 5
Once thickened, either serve warm or refrigerate for at least 2 hours for a thicker result.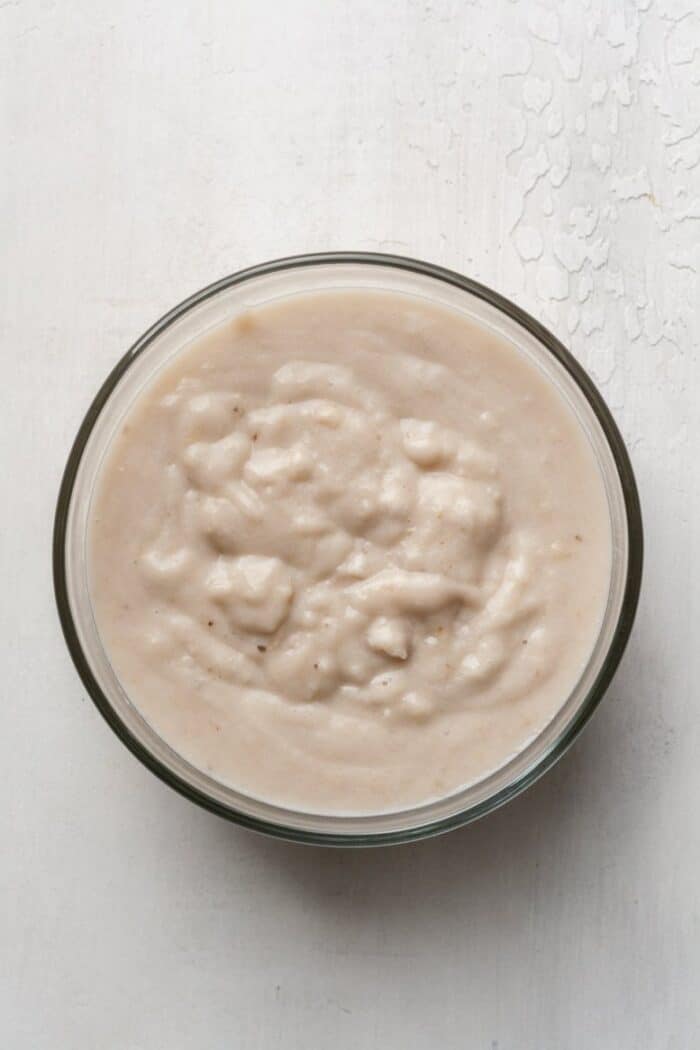 Step 6
Store pudding in fridge.
Frequently Asked Questions
How do you make Vegan Banana Pudding from scratch?
Vegan banana pudding can be easily made from scratch. This recipe outlines the steps to making the homemade version.
Can you use almond milk in pudding?
Almond milk will yield a less creamy version of banana pudding.
Is Jello pudding mix Vegan?
The Jello pudding mix contains no animal products, but it prompts you to add milk. As prepared, Jello pudding is NOT Vegan.
Can you freeze this?
I would not suggest freezing this pudding. It can be frozen and then thawed, but the consistency is slightly thrown off.
Expert Tips
Blended bananas yield a much smoother result.
I highly suggest using canned coconut milk because it is thicker and creamier than other Vegan milks. I do not suggest using a thin milk like almond milk or cashew milk.
While cooking, whisk constantly to prevent burning.
If mixture is starting to boil, reduce heat.
Pudding will lightly bubble while cooking; this is normal.
If not serving warm, store in fridge for at least 2 hours to thicken. The longer it is refrigerated, the thicker it will be.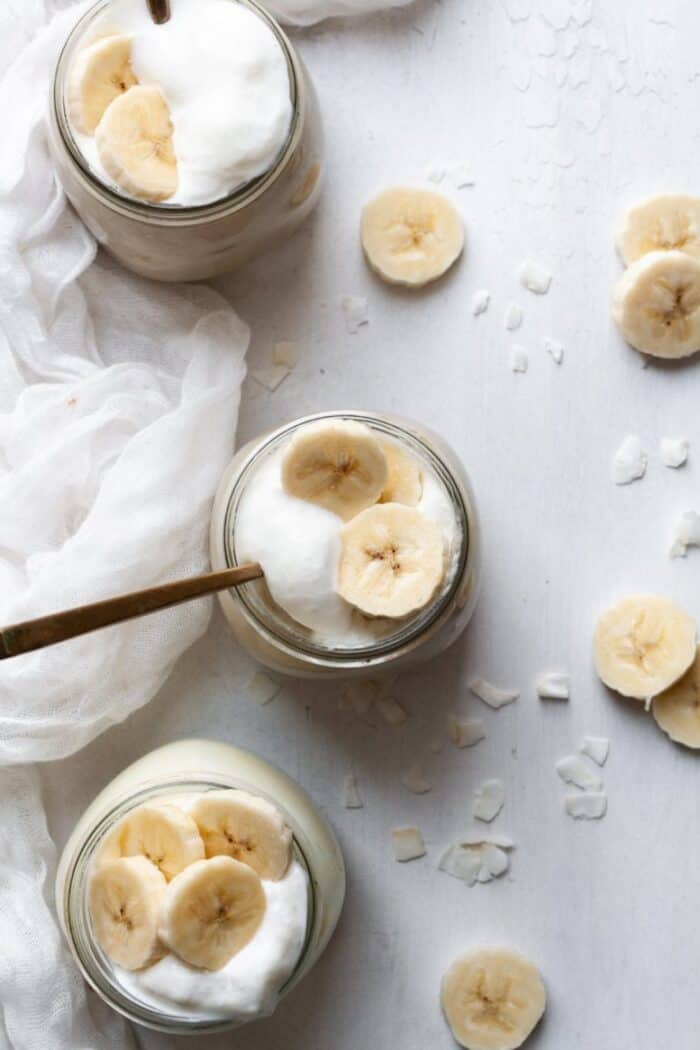 What Can I Use for Natural Food Coloring?
This Vegan banana pudding is very gray and neutral in color. To achieve a more yellow color, there are several different ways to naturally color it. Two of the most common yellow dyes are turmeric and mustard which would NOT taste great in this pudding.
Consider adding a little bit of cashew butter or peanut butter to the pudding while cooking for a yellow color. Peanut powder will also add some color. This will alter the flavor slightly, but provide some color. I also suggest adding some sliced bananas on top while serving!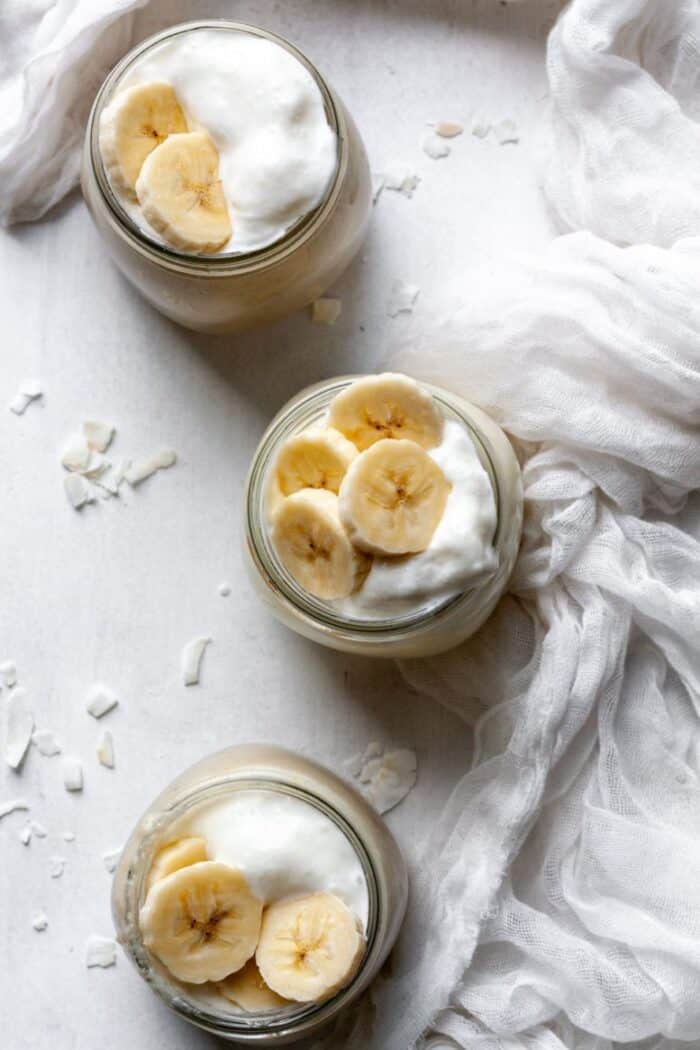 You May Also Like
If you make this recipe, I would love to see it! You can find me on Instagram, Facebook, and Pinterest. I would love for you to follow along!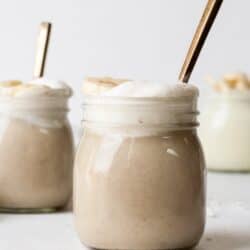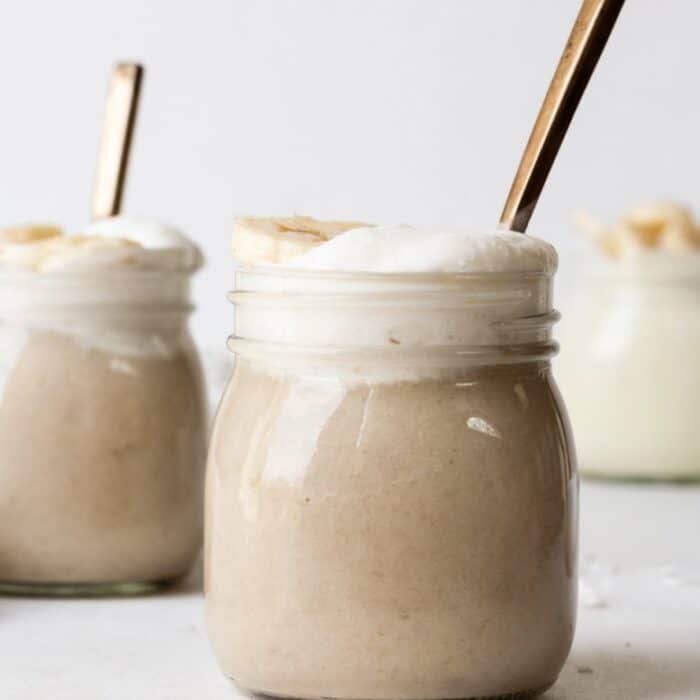 Get the Recipe:
Vegan Banana Pudding From Scratch (Gluten Free)
This Vegan Banana Pudding from scratch is so smooth and creamy! This easy recipe is made with only 5 ingredients. It has the perfect amount of sweetness and natural banana flavor!
Ingredients
Instructions
First, add peeled bananas to a blender. Blend until smooth.

In a bowl, mix together canned coconut milk and tapioca flour until completely smooth and no clumps remain.

Add blended banana, milk mixture, vanilla extract and maple syrup to a skillet over low heat.

Whisk consistently for 8 to 10 minutes, or until banana pudding begins to thicken. Depending on heat level, it may thicken after only 5 minutes.

Once thickened, place pudding in a bowl. Serve warm immediately or refrigerate for at least 2 hours, up to overnight.

Finally, once pudding has thickened to your liking, serve!
Notes
I highly recommend blending the bananas for a smoother and creamier result.  Mashed bananas will lead to lumpy pudding.
Shake canned coconut milk before opening.  Then, pour into measuring cup before use.
Whisk constantly to prevent burning.
Pudding may thicken as quickly as 5 minutes depending on heat level and strength of stovetop.
Once pudding has thickened, either serve immediately warm or refrigerate for a thicker result.
Honey can be used in place of maple syrup for a non Vegan option.
This pudding is neutral in color.
See above for ways to achieve a more yellow color.
Store pudding in an airtight container in the fridge for up to 4 days.
Calories:
312
kcal
,
Carbohydrates:
32
g
,
Protein:
3
g
,
Fat:
22
g
,
Saturated Fat:
19
g
,
Sodium:
15
mg
,
Potassium:
463
mg
,
Fiber:
3
g
,
Sugar:
16
g
,
Vitamin A:
36
IU
,
Vitamin C:
7
mg
,
Calcium:
28
mg
,
Iron:
2
mg
Have you signed up for my free newsletter? You can sign up here to receive healthy meal plans and new recipes!