Paleo Pumpkin Muffins with Streusel Topping
(GRAIN FREE, GLUTEN FREE, DAIRY FREE, PALEO)
These are the best muffins I've ever made – gluten free or not!  I am not being dramatic or saying this lightly; these are truly my favorite muffins to date.  Pumpkin happens to be one of my favorite flavors year round and these muffins just took my pumpkin obsession to a new level.  These muffins are soft and fluffy and the crumble topping will send you over the edge.  The soft texture of the muffins works perfectly alongside the slightly crispy crumbly topping.  Notes of cinnamon, pumpkin pie spice and coconut sugar are tasted throughout.  I promise you, you need to make these!  My family absolutely loved them.  If you're a sucker for pumpkin and dark chocolate, you would love my Flourless Paleo Pumpkin Muffins!  Either way, when pumpkin is involved, you can't go wrong!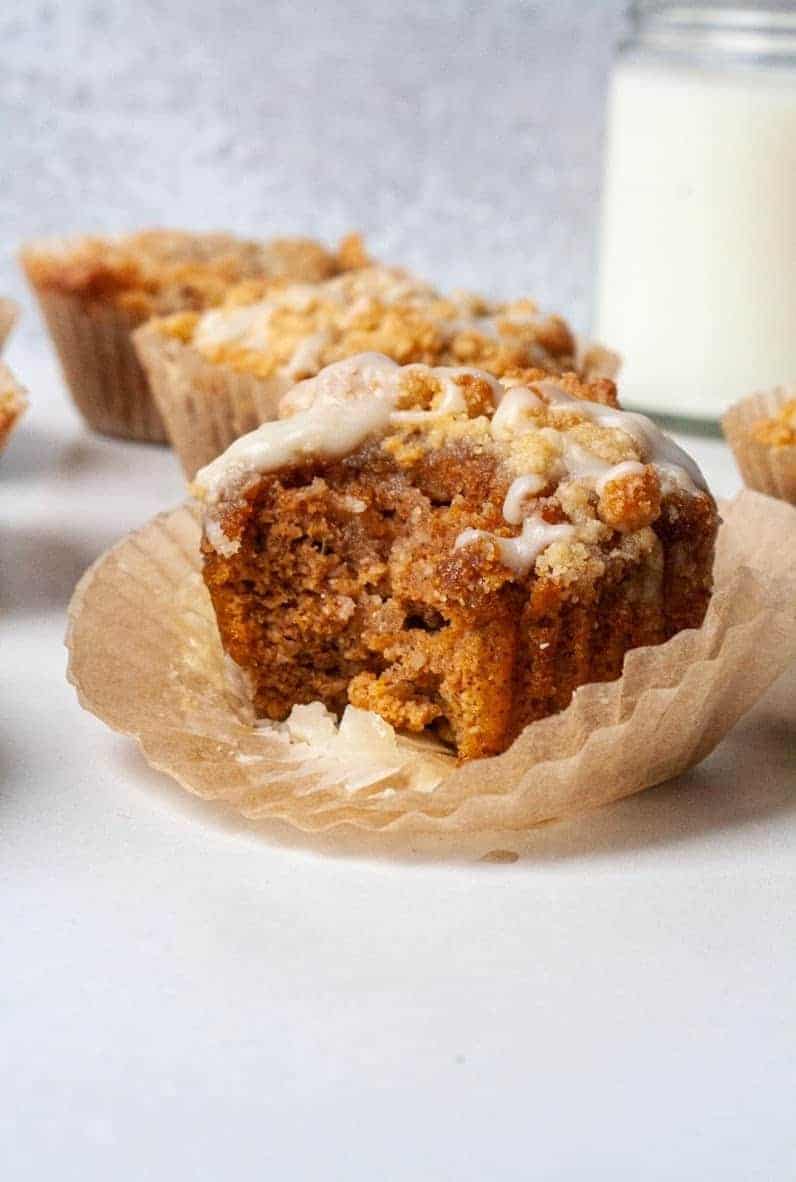 HOW TO MAKE PUMPKIN STREUSEL MUFFINS
These muffins have a substantial list of ingredients but they're actually super easy to prepare.  Start by making the crumble topping.  Once all the ingredients are combined, use your hands to help break up the cubes of butter and ensure everything is mixed.  You can also use a fork or pastry cutter but I've found using clean dry hands works best.  The butter should be broken up and the mixture crumbly.  After, stick that mixture in the fridge.  To make the muffins, add the ingredients to a large mixing bowl to combine.  The batter will be smooth.  Then, pour batter into lined muffin tins about 3/4 of the way to the top.  Next, remove topping from fridge and spoon about a tablespoon of it on top of each muffin.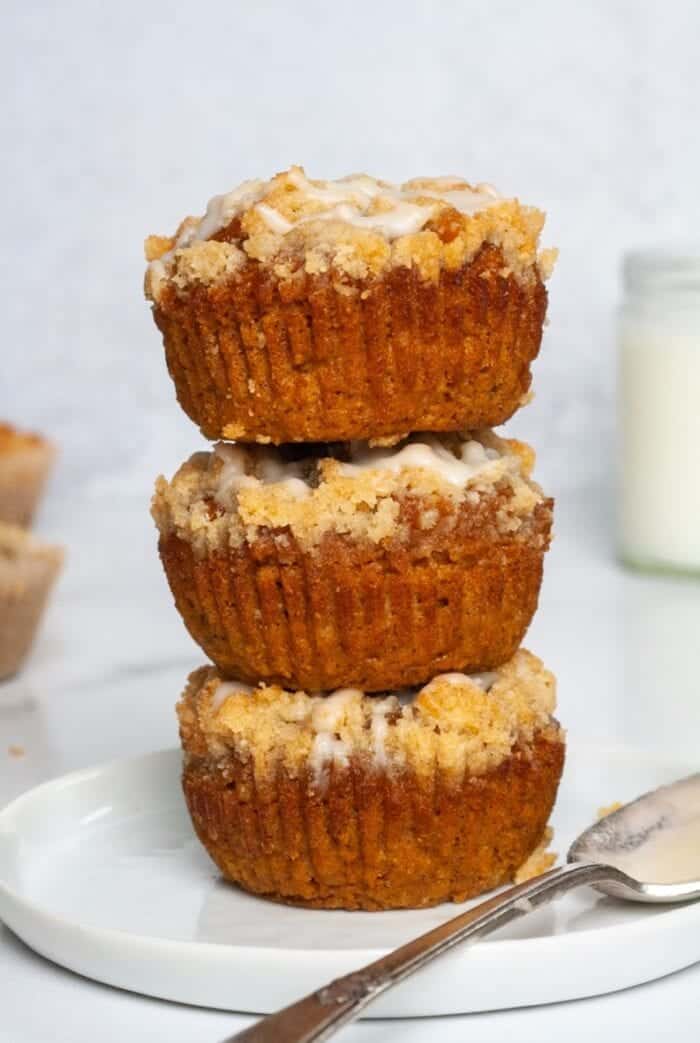 TIPS AND TRICKS
Then it's time to bake!  I found the sweet spot to be about 21 to 22 minutes of bake time.  This allows the muffins to cook through without getting too dry.  Lastly, make the glaze!  This is done by simply melting the ingredients together and pouring over each muffin.  The glaze will be runny after it's melted but due to the coconut oil and coconut butter, it will solidify at room temperature.  Store these muffins on your countertop for 3 to 4 days or in your fridge for 4 to 5 days for best results.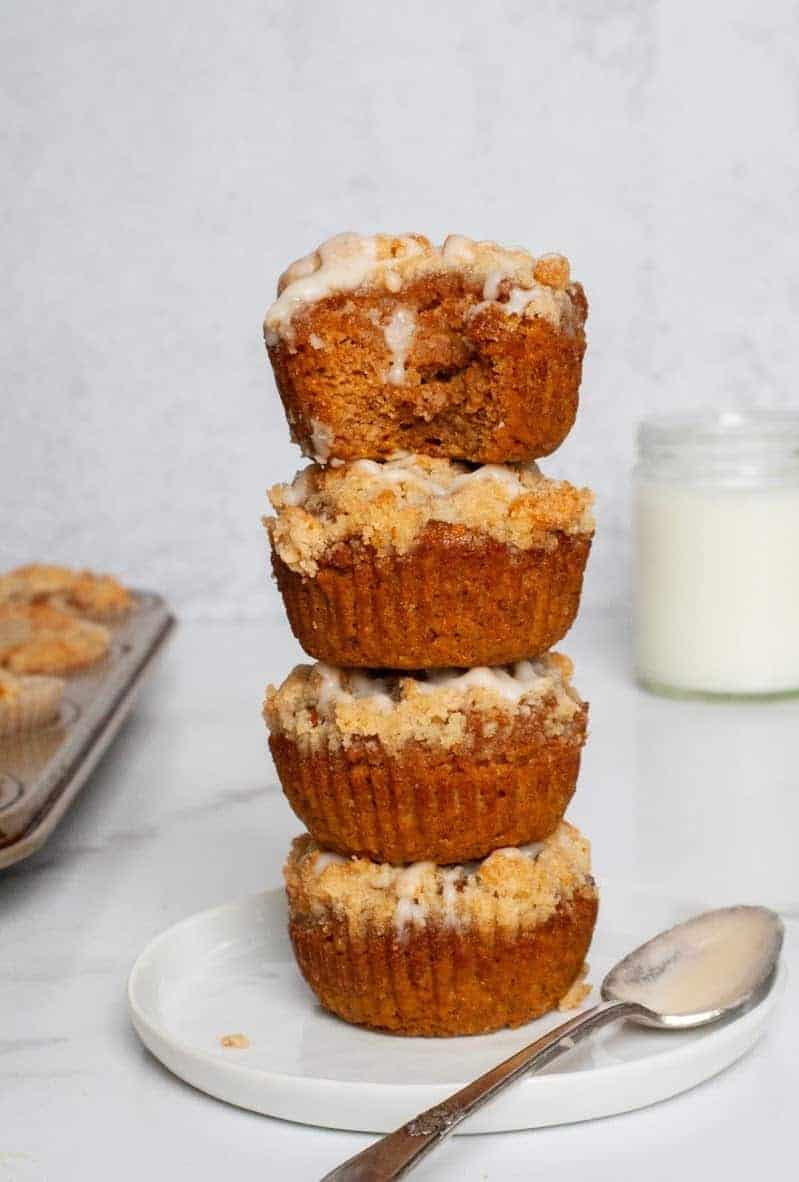 These healthy muffins truly taste like a dessert!  I love that they're filled with hearty and wholesome ingredients (making them perfect for a fun breakfast) but they're totally sweet enough for dessert.  They're the perfect pick me up.  I hope you enjoy these muffins as much as I do!  If you are looking for the bread version, check out this Paleo Pumpkin Bread!
Prep Time: 10 minutes
Cook Time: 22 minutes
Total Time: 32 minutes
Course: Dessert, Snack
Servings: 12 muffins
Ingredients:
MUFFINS:
2 cups almond flour
1/2 cup tapioca flour
3 TBL coconut flour
1/3 cup coconut sugar
1 tsp baking soda
2 tsp cinnamon
1 tsp pumpkin pie spice
Pinch nutmeg
3 TBL full fat coconut milk
3 eggs, room temperature
1 tsp vanilla
1 cup pumpkin purée
1/2 cup coconut oil, melted
TOPPING:
2/3 cup almond flour
1/4 cup coconut sugar
1 tsp cinnamon
Pinch pumpkin pie spice
1/4 cup grass fed butter, cold (chilled and solid ghee or coconut oil work too)
GLAZE:
1/4 cup coconut butter
1 TBL coconut oil
1 TBL maple syrup
Directions:
Preheat oven to 350 degrees Fahrenheit and line a muffin tin with muffin liners.
Prepare the crumb topping first.  Chop butter into small cubes.  Combine all ingredients in a mixing bowl.  I like to use my hands to break up the butter but using a fork or pastry cutter will work as well.  Once crumbly, refrigerate crumb topping dough while you make the muffin batter.
In a large mixing bowl or KitchenAid, combine almond, coconut and tapioca flours.  Gently mix until combined.  Next, add remaining ingredients and stir until combined.
Using a cookie scoop or ice cream scoop, add muffin batter into muffin liners.  I filled mine about 3/4 of the way to the top.  Next, top each muffin with a tablespoon or so of crumble topping.
Bake for 21-22 minutes or until a toothpick inserted comes out clean.  Then, allow to cool 10 minutes in the muffin pan then transfer to a cooling rack.
Lastly, to make the glaze, melt the glaze ingredients together in a microwave in 30 second increments until melted and smooth, stopping to stir in between.  Pour glaze over muffins.