PALEO GARLIC HERB TURKEY BURGERS
(GLUTEN FREE, GRAIN FREE, DAIRY FREE)
#AD Grilled burgers are a regular occurrence in my house.  In the warmer weather, there is nothing better than a smoky grilled burger.  During the winter months, I rely on my beloved indoor grill for that same grilled flavor.  From hamburgers to turkey burgers and everything in between, there is simply nothing better than grilling season!  Turkey burgers can sometimes be a little bland – the key is adding a really good combination of seasoning.  I came across this McCormick Grill Mates Roasted Garlic and Herb Seasoning  at my local Walmart, which ended up being PERFECT.  Huge notes of garlic really hit the spot!  I love using spices and seasonings as a way to elevate flavor in an easy way.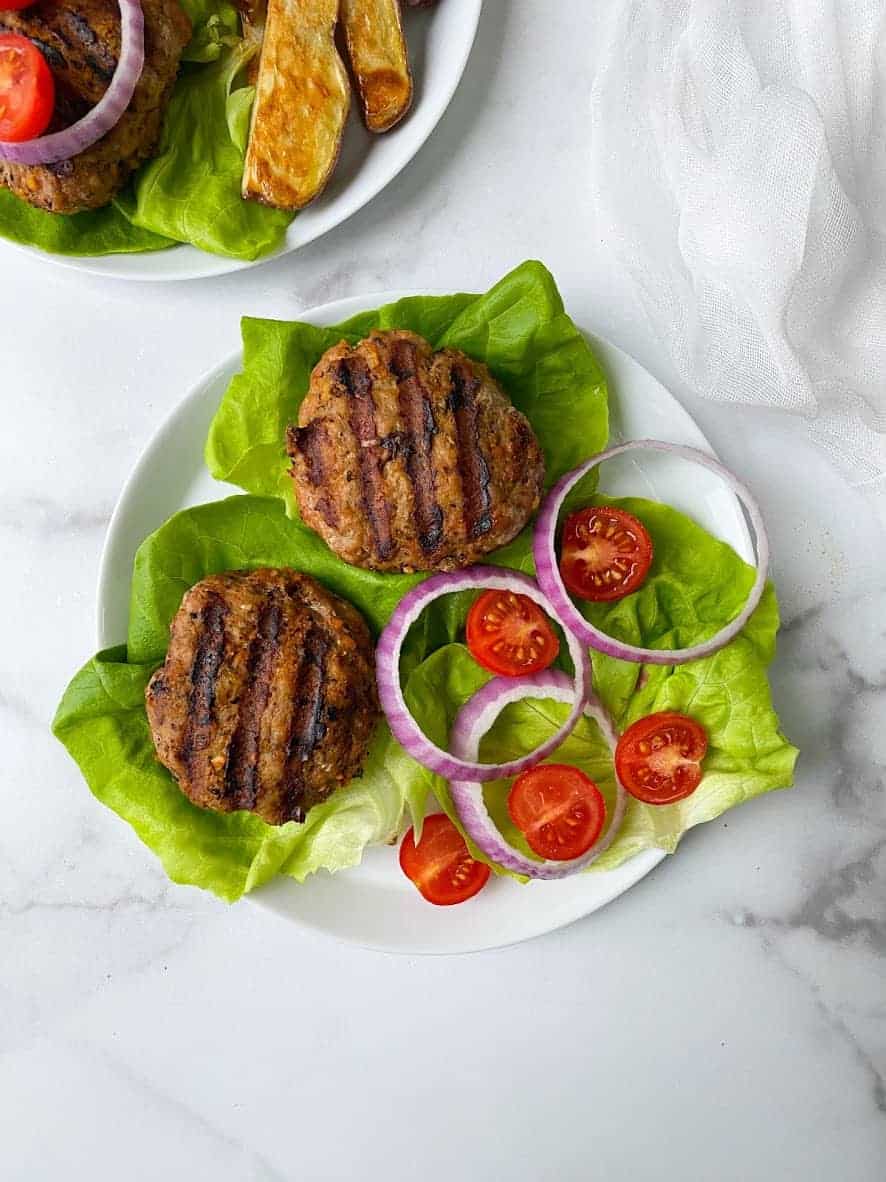 After preheating your grill, simply mix the ground meat with the seasonings and you're good to go! This will make about 4 large burgers or 6 small burgers. I grill mine for about 5-6 minutes on each side; this allows a nice char on both sides and allows them to cook through. Unlike with ground beef, you do NOT want any pink in the middle. Make sure these are cooked thoroughly. For turkey burgers, you want the internal temperature to be at least 165 degrees F.
These turkey burgers are foolproof and couldn't be any easier! Just some ground meat, seasonings and you're all set. They're great for backyard BBQs, a family gathering or just a fun and easy weeknight dinner. I like to pair mine with some homemade fries but they really go with everything. Simple, easy and flavorful!
Prep Time: 10 minutes
Cook Time: 25 minutes
Total Time: 35 minutes
Course: Lunch, Dinner
Servings: 4-6
Ingredients:
1.5 pounds ground turkey
2 TBL McCormick Grill Mates Roasted Garlic and Herb Seasoning 
1/4 tsp ground pepper
1/4 tsp sea salt
Onion, to garnish
Tomato, to garnish
Butter lettuce, for lettuce wraps
Directions:
Preheat grill or indoor grill to 400 degrees Fahrenheit.
In a large mixing bowl, combine ground turkey and seasonings. Once mixed, form 4-6 turkey burgers depending on your size preference.
Once grill is heated, grill turkey burgers 4-5 minutes each side. Turkey burgers are done when there is no pink in the middle. For turkey burgers, internal temperature should be at least 165 degrees F.
Serve over butter lettuce and garnish with onion and tomato if desired.
Enjoy!