WHOLE30 SAUSAGE PEPPERS AND ONIONS
(WHOLE30, GLUTEN FREE, GRAIN FREE, DAIRY FREE, PALEO)
There's nothing better than a quick, easy and delicious meal!  Bonus points if it's healthy too.  This sausage with peppers and onions comes together in minutes and packs quite the flavor punch.  The peppers and onions are roasted in the oven which gives them a soft and tender texture.  Meanwhile, the sausage is grilled which gives an extra smoky flavor.  This meal is super easy to make and is made with pantry and freezer staples.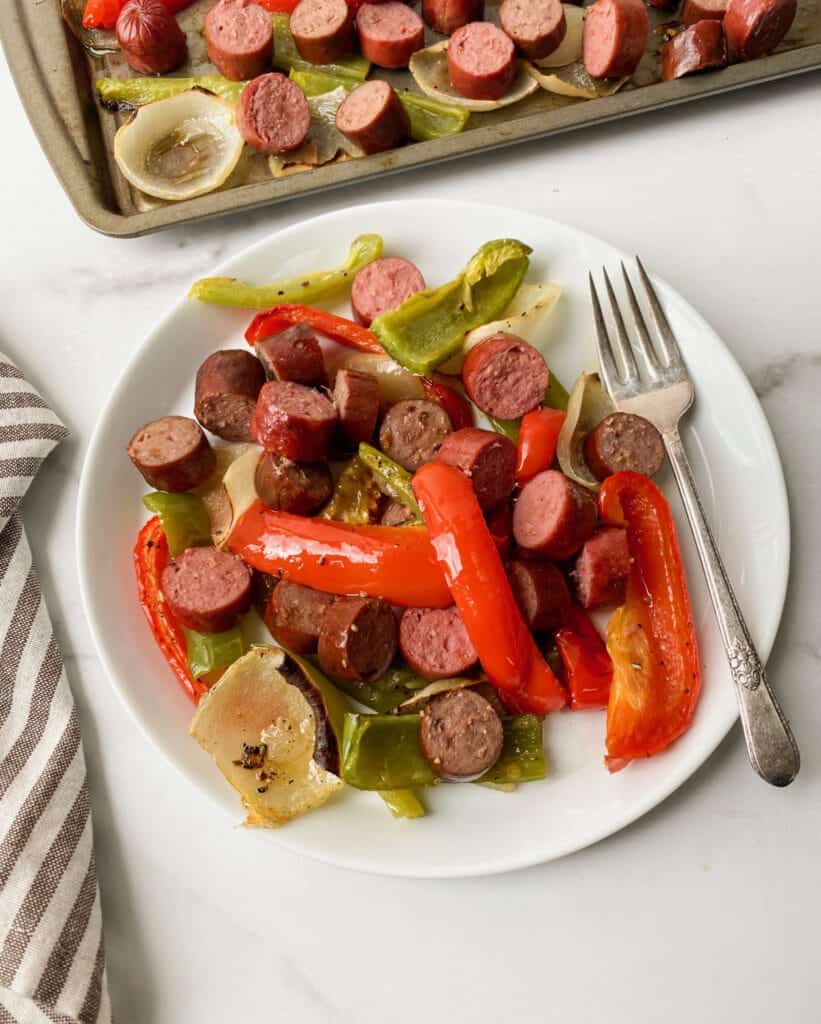 The first step in this sheet pan meal is to cut up the vegetables.  You'll want the peppers and onions to be relatively the same size so that they cook uniformly. I used red and green peppers but yellow or orange would work just as well – use whichever are your favorites.  These will roast for about 25-30 minutes in the oven.  You'll know they're done when the edges of the peppers start to brown and the vegetables look soft and tender.  If you prefer a more crunchy veggie, reduce the baking time to about 20 or so minutes.  While the vegetables are roasting, fire up your grill!  I actually used my indoor grill but an outdoor grill works well too.  The sausages take only 4 or 5 minutes on each side so I like to start grilling them when the vegetables are about halfway done roasting.  This way, everything is hot and ready at the same time.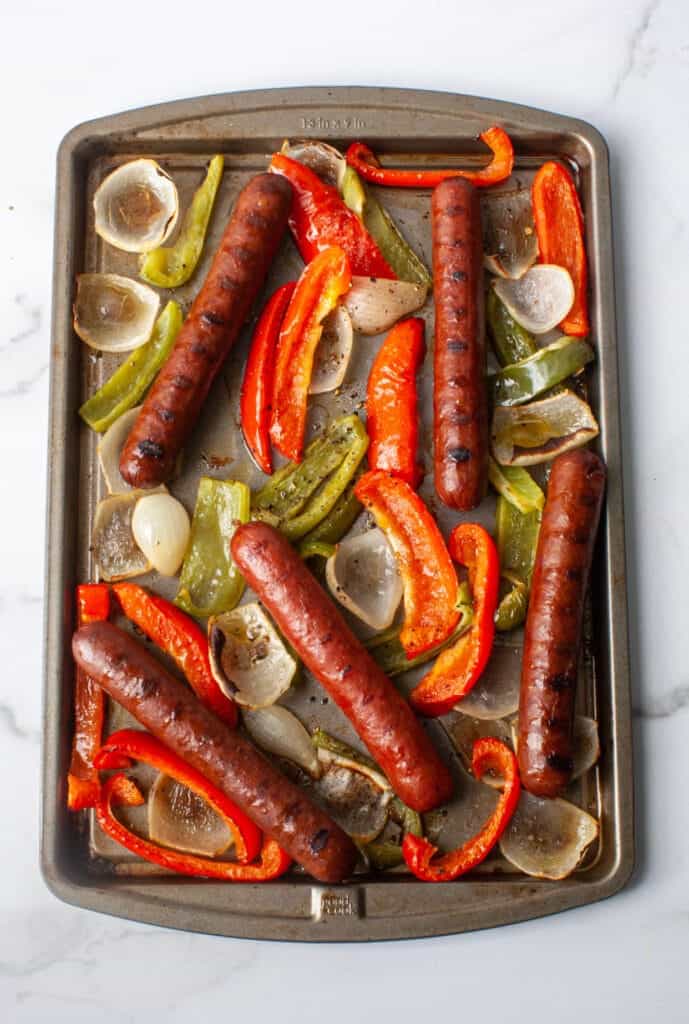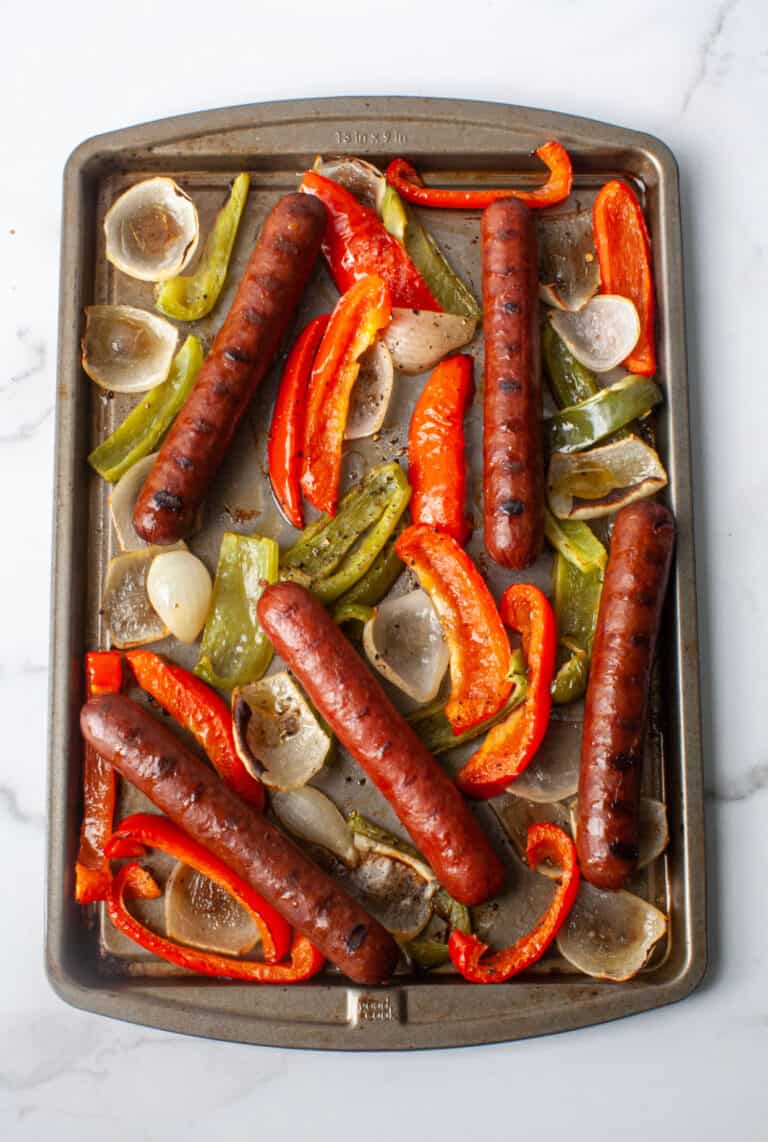 This sausage with peppers and onions is such an easy and delicious lunch or dinner.  It requires very few ingredients and is foolproof.  It's the perfect quick lunch or fun backyard BBQ dinner.  Since it's so easy, it's great for busy weeknights.  I like to make a double batch and have the leftovers on hand for grab and go lunches.  If you're looking for a meal that's both convenient and healthy, this is it!
Prep Time: 10 minutes
Cook Time: 25-30 minutes
Total Time: 35-40 minutes
Course: Lunch, Dinner
Servings: 4
Ingredients:
6 sausages (I used Teton Waters Ranch)
1 large red pepper, chopped
1 large green pepper, chopped
1 onion, sliced
2 TBL olive oil
Pinch sea salt, optional
Pinch pepper, optional
Directions:
Preheat oven to 400 degrees Fahrenheit.  Chop peppers and onion.  Toss vegetables with olive oil.  
Lay vegetables on baking sheet.  Sprinkle with sea salt and pepper (optional).  Bake for 25-30 minutes or until vegetables are soft and tender.
Meanwhile, preheat grill to 400 degrees.  Grill sausages for 4-5 minutes per side.
Serve grilled sausage alongside peppers and onions.
Enjoy!