Paleo Dark Chocolate Banana Protein Smoothie
This Paleo Dark Chocolate Banana Protein Smoothie is so thick, creamy and chocolaty! It tastes like chocolate soft serve ice cream, but it is made with healthy ingredients. This Paleo chocolate protein smoothie is healthy enough for breakfast and sweet enough for dessert!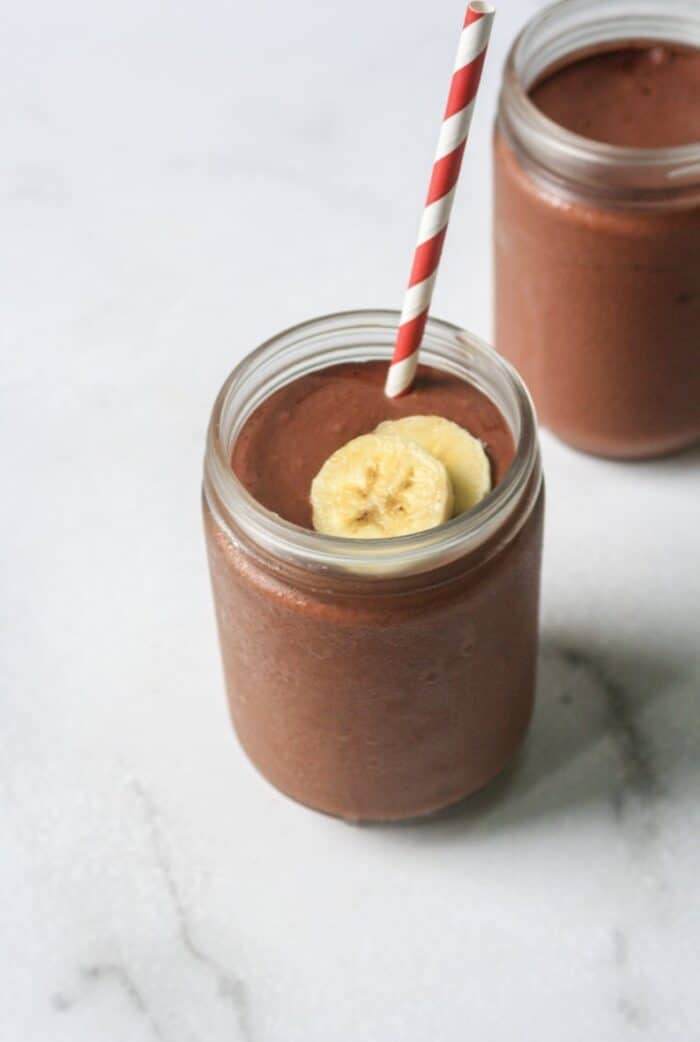 Why You'll Love This Smoothie
This Paleo dark chocolate smoothie comes together in 5 minutes.
It is a great healthy on the go meal or snack.
This chocolate banana protein smoothie can be enjoyed any time of the day.
This smoothie is easily customizable.
For a breakfast option, check out my Low FODMAP Blueberry Smoothie!
Get a serving of leafy greens without even realizing it!
It tastes like ice cream.
Check out my Whole30 Homemade Almond Milk for a creamy option.
This recipe is Paleo, Gluten Free, Dairy Free, and can be easily made Vegan.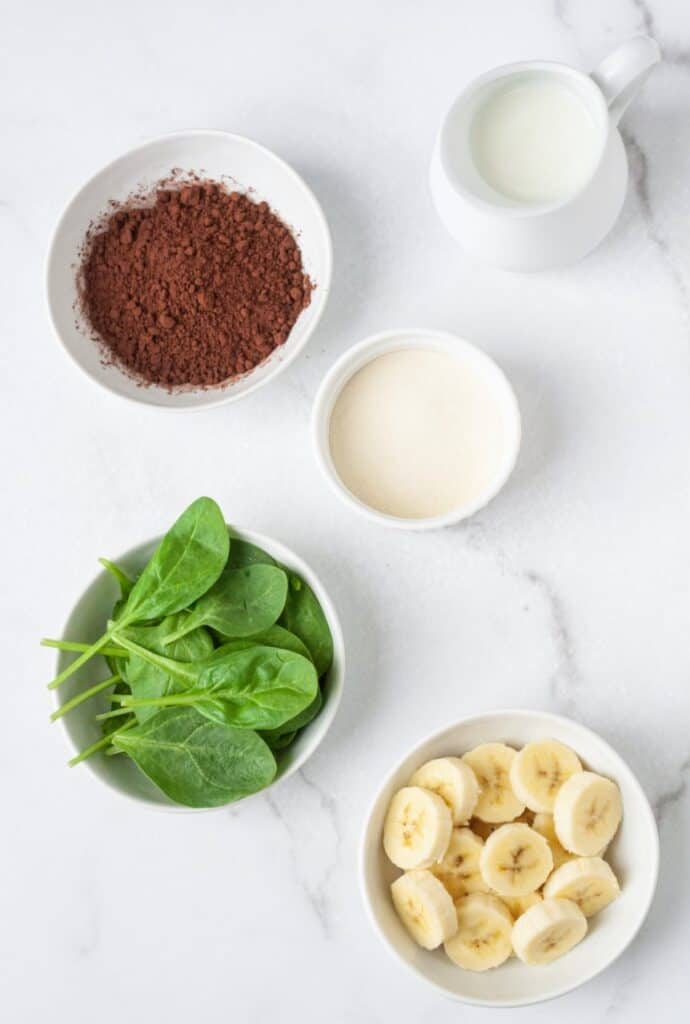 How To Make
Step 1
First, add all ingredients to a blender.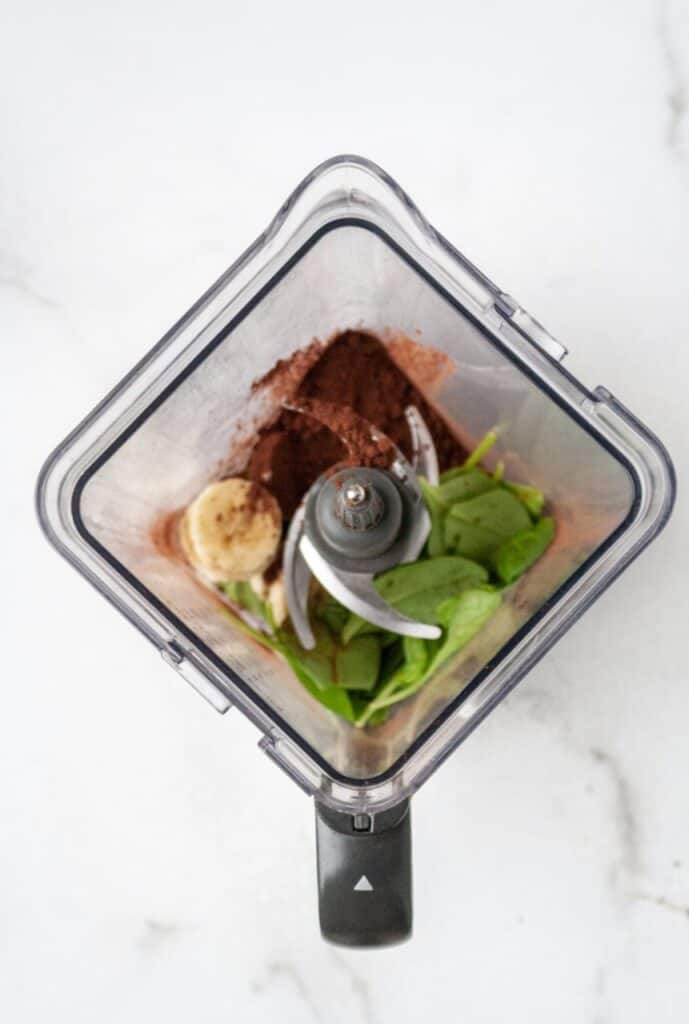 Step 2
Blend on high for 15 to 20 seconds or until smooth and creamy.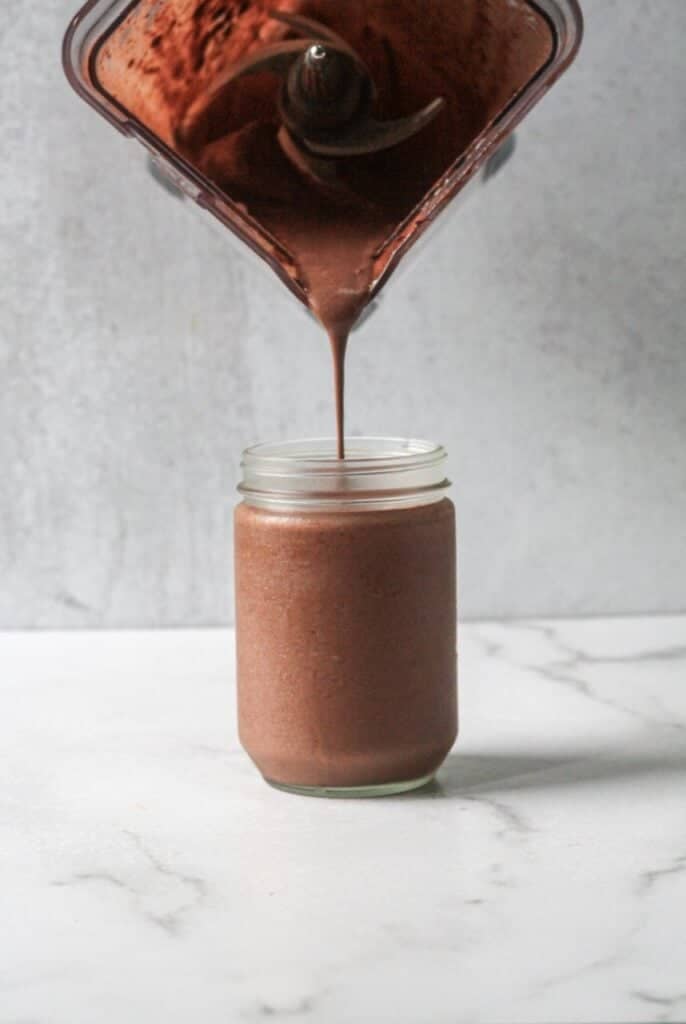 Step 3
Finally, serve and enjoy this Paleo Dark Chocolate Smoothie!
How To Make A Thicker Smoothie
To make a thick smoothie, use both frozen banana and frozen spinach. If using frozen spinach, use about 1/4 cup. In addition, the frozen spinach will yield a much thicker smoothie.
Use less milk for a thicker smoothie. The more milk added, the thinner the smoothie will become.
Depending on the protein powder you use, this can help make the smoothie thicker. I suggest Nuzest Vanilla for a plant based option and Ancient Nutrition Collagen for an animal protein option.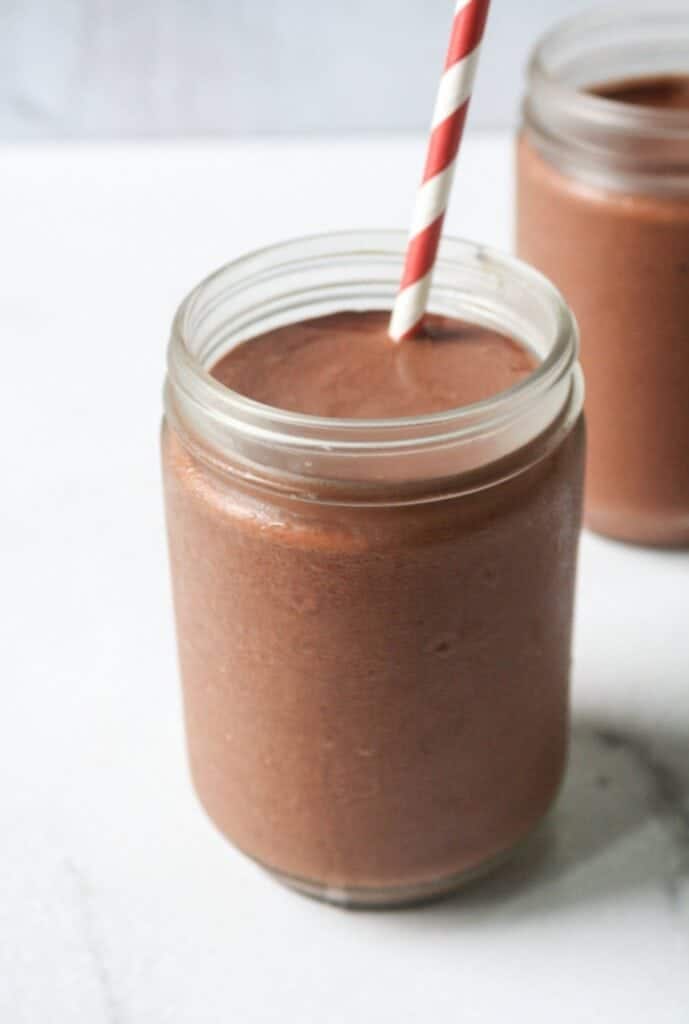 Adding Protein to Smoothies
There are several different ways to add protein to a smoothie! The first and most obvious way is protein powder. There are so many different options for protein powders.
Besides protein powder, add protein through nuts, nut butter, seeds and chia seeds. If you tolerate dairy free, Greek yogurt is a great way to add protein. In addition, spinach naturally contains about 6 grams of protein per cup, so increase spinach for added protein. These Banana Protein Muffins are another great protein filled idea!
Kale is another leafy green that naturally contains protein. It has about 4 grams or protein per cup. Feel free to substitute the spinach for kale in this Paleo dark chocolate banana protein smoothie.
Frequently Asked Questions (FAQs)
Can I have protein shakes on the Paleo diet?
Some protein shakes are Paleo, but most on the market are not Paleo friendly. Check ingredients to be sure they are grain free, gluten free, and sugar free.
Can you have smoothies on Paleo?
If the smoothie ingredients are Paleo, then the smoothie is fine.
Is almond milk allowed on Paleo?
Yes, almond milk is allowed on Paleo. Almond milk is a great dairy free milk alternative.
Are smoothies better with milk or water?
Smoothies are much more creamy and thick with milk than water. I do not suggest making this smoothie with water.
Can I use any type of milk?
Sure! Dairy free milk is great for Paleo, but this smoothie can be made with cow's milk as well. I have tried this using macadamia nut milk, cashew milk and coconut milk with great results.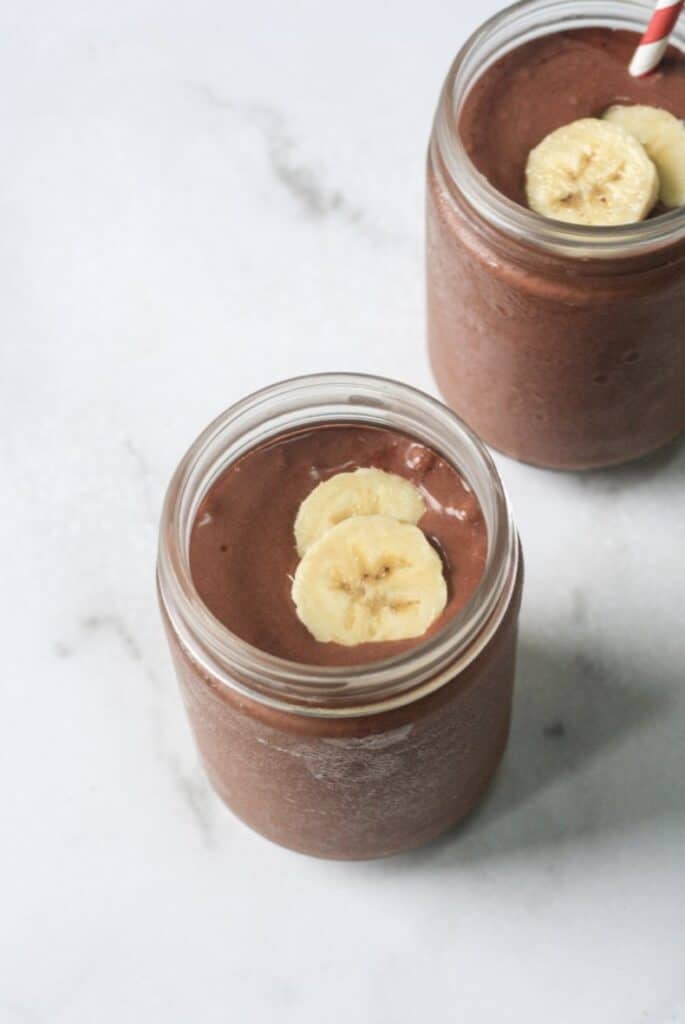 You May Also Like
If you make this recipe, I would love to see it! You can find me on Instagram, Facebook, and Pinterest. I would love for you to follow along! Check out more ideas on my Breakfast Recipes page and see my Healthy Snickers Smoothie.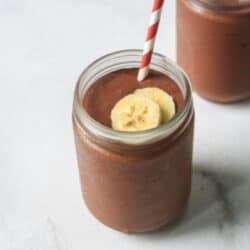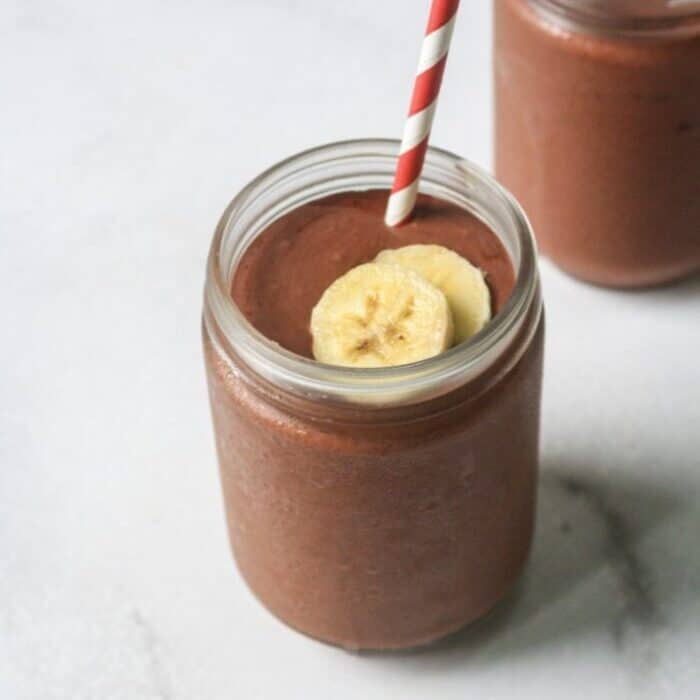 Get the Recipe:
Paleo Dark Chocolate Banana Protein Smoothie
This Paleo Dark Chocolate Banana Protein Smoothie is thick, creamy, and so easy! This healthy chocolate smoothie tastes just like chocolate soft serve ice cream. It is made with healthy ingredients but tastes like a decadent dessert!
Ingredients
1

frozen banana

½

cup

milk of choice

1

large handful spinach

,

about 1 cup unpacked

2

tbsp

dark cocoa powder

protein powder

,

optional
Instructions
First, add all ingredients to a blender.

Blend on high until smooth, about 15 to 20 seconds.

Finally, pour into a cup and enjoy!¼
Notes
Sliced frozen banana will blend more easily than a full frozen banana.
I use homemade almond milk, but any milk will work.  Canned coconut milk will make this smoothie VERY thick.
Use up to 1 cup of milk for a thinner smoothie.
For a thicker smoothie, use frozen spinach.  If using frozen spinach, use no more than 1/4 cup.  Frozen spinach is much more dense than loose leaf spinach.
Protein powder is optional.  I like Nuzest for a plant based option and Ancient Nutrition Collagen.
I always use Hershey's Dark Cocoa Powder but any cocoa powder will work.
This recipe makes one large smoothie.  
The nutrition facts do not include protein powder.
Calories:
146
kcal
,
Carbohydrates:
33
g
,
Protein:
4
g
,
Fat:
3
g
,
Saturated Fat:
1
g
,
Sodium:
167
mg
,
Potassium:
580
mg
,
Fiber:
7
g
,
Sugar:
15
g
,
Vitamin A:
169
IU
,
Vitamin C:
11
mg
,
Calcium:
170
mg
,
Iron:
2
mg
Have you signed up for my free newsletter? You can sign up here to receive healthy meal plans and new recipes!