PALEO VEGAN ALMOND JOY BITES
(VEGAN, GLUTEN FREE, DAIRY FREE, PALEO)
Only 4 ingredients and 5 minutes are required to make these Paleo Vegan Almond Joy Bites!  They couldn't be easier but don't overlook them.  They are the perfect little bite – filled with chocolate and coconut, varying flavors and textures, and they contain protein!  I have always enjoyed the taste of Almond Joy bars and these totally satisfy that craving.  I love keeping them in the refrigerator for a quick grab and go snack.  Disclosure: this post is sponsored by Octonuts, but all thoughts and opinions are my own! #Ad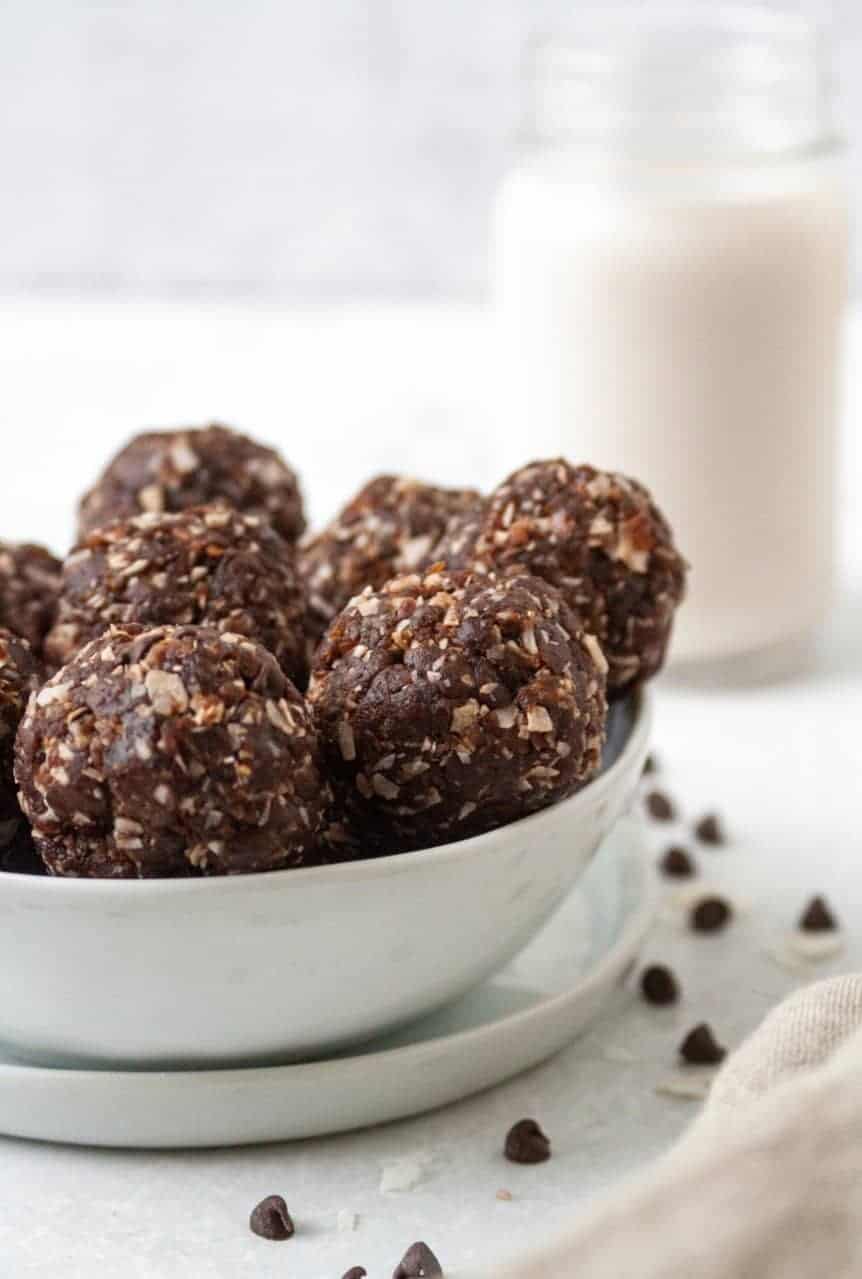 Like I said above, these really couldn't be easier!  Add the pitted dates, almond protein powder (or preferred protein powder), cocoa powder, and coconut flakes to a food processor or blender.  Blend until the mixture is crumbly.  I used a high speed food processor and the mixture was crumbly within 10 seconds.  Continue blending until you achieve the texture in the photo below.  Once it's crumbly, form the mixture into 1 inch balls.  If they're not holding together, return the contents to your blender and add more pitted dates.  The dates really help bind everything together.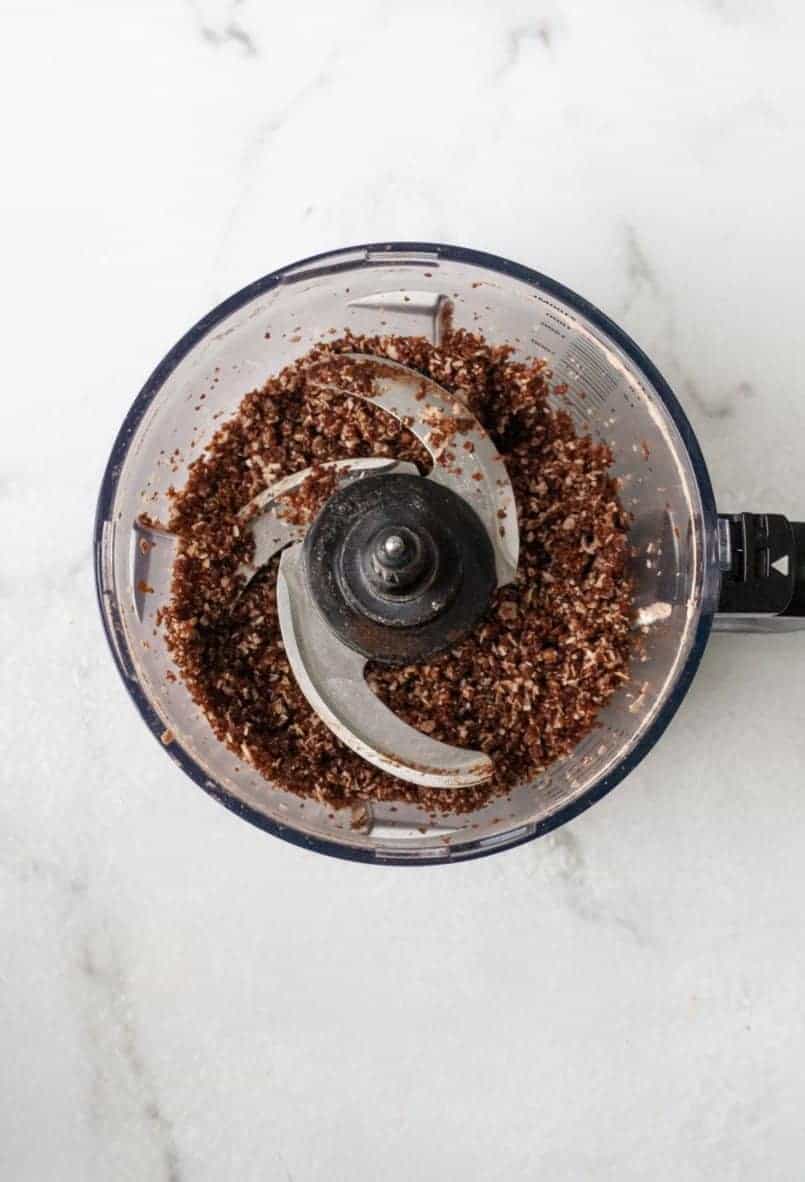 Once the bites have been formed, set aside on a plate.  An optional (but highly recommended) step is to roll the bites around in a small bowl of mini chocolate chips.  Simply add mini chocolate chips to a small bowl or ramekin.  Then place each energy bite in the bowl and roll it around until coated in chocolate chips.  Then place them it back on a plate or in an airtight container and continue for each energy bite.  Once they're all coated in chocolate chips, add the plate or container to the refrigerator.  This helps them become a little more firm.  After about 15 minutes or so, remove from the fridge and dig in!
These Almond Joy Bites are a fun little snack or afternoon pick me up.  They taste like dessert but they're made with good for you ingredients.  They're great chilled from the refrigerator but I also LOVE them straight from the freezer.  I have always loved the chocolate and coconut pairing (as evidenced by my beloved Paleo Vegan Magic Cookie Bars) and these are no exception.  If you're headed out for the day, pack a few of these as a healthy and delicious snack.  You're going to love them!
Prep Time: 5 minutes
Cook Time: 0 minutes
Total Time: 5 minutes
Course: Lunch, Dinner
Servings: 12 bites
Ingredients:
1 cup dates, pitted
2 TBL Octonuts almond protein powder
1/3 cup cocoa powder
1/3 cup unsweetened coconut flakes
1/4 cup mini chocolate chips, optional
Directions:
Add all ingredients to a blender or food processor.  Blend until crumbly.
Using your hands, form mixture into 1 inch balls.  Refrigerate 15-20 minutes before serving.
Note: if the energy balls aren't holding together, add more dates to the blender.  The dates help to bind them together.