WHOLE30 INSTANT POT SHORT RIBS
(WHOLE30 FRIENDLY, GRAIN FREE, GLUTEN FREE, DAIRY FREE, PALEO)
Short ribs are one of the most tender and flavorful cuts of meat. I enjoy ordering them at restaurants but never worked up the courage to make them at home until now! I was a little nervous about how to perfectly cook them. My beloved pressure cooker came to the rescue. These short ribs are bursting with flavor and they fall off the bone. They're incredibly easy to make but they taste fancy and sophisticated. Using a pressure cooker really speeds up the process, making these short ribs perfect for any night of the week.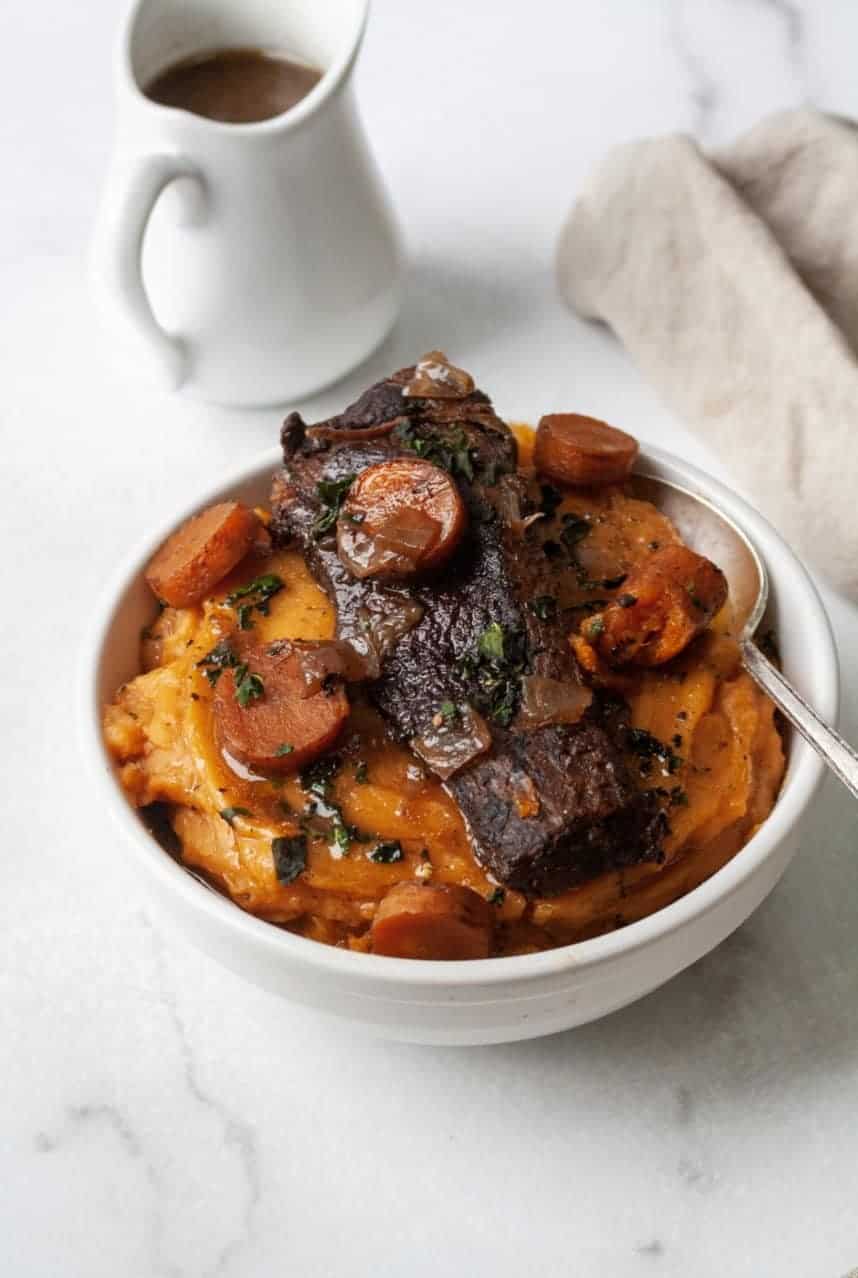 The first step in creating the perfect short ribs is to sear them in some olive oil. Add some olive oil to your pressure cooker and sear the short ribs for 2-3 minutes on each side. This gives them a little bit of extra color and flavor. Remove them from the pot before adding in the carrots and onions. These sauté for only a couple of minutes before the short ribs and the remaining ingredients are added. The tart cherry juice is used in place of a red wine here; it adds a ton of flavor and is Whole30 compliant. I find this tart cherry juice at my local grocery store. Secure the pressure cooker lid in place and cook for 40 minutes on high pressure cook.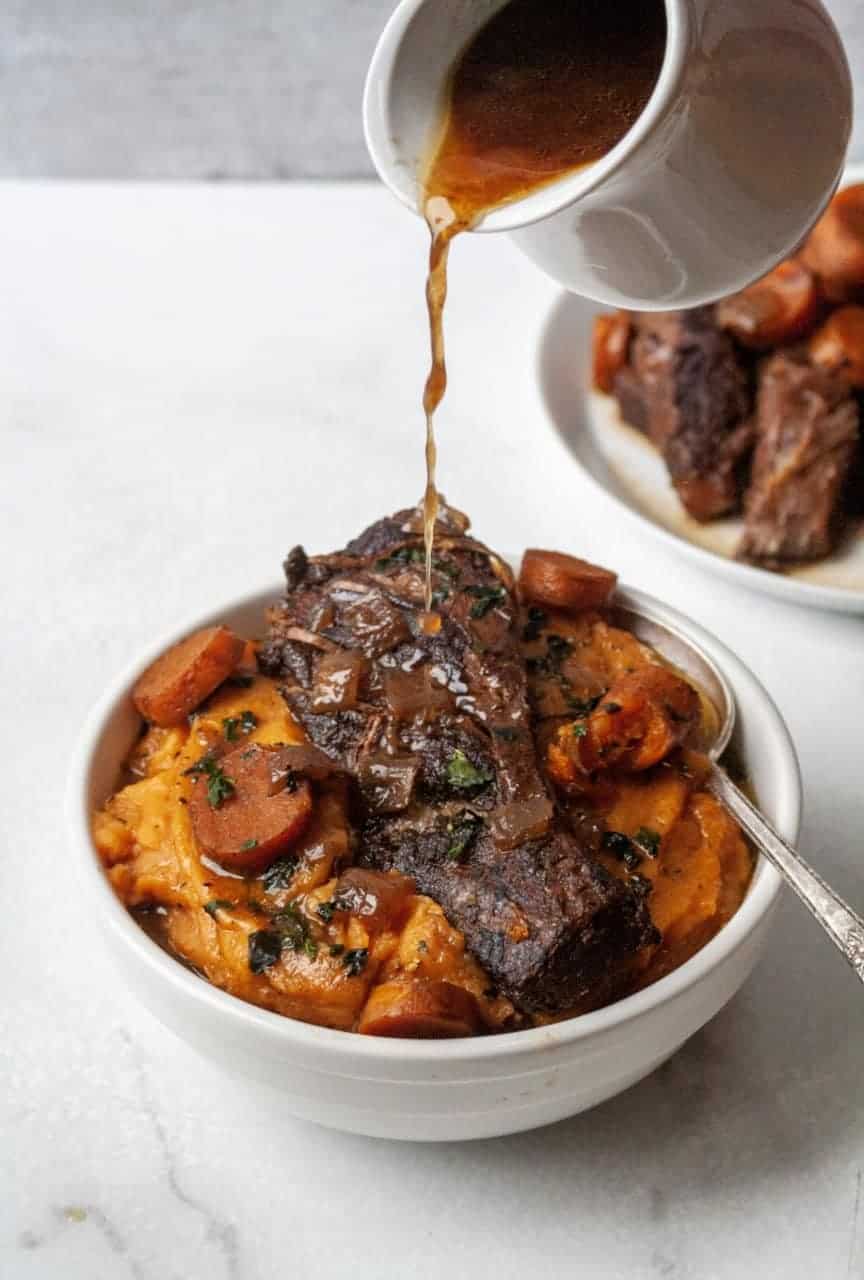 After 40 minutes, allow the pressure cooker to sit untouched for 10 minutes. Then, manually release the remaining pressure by switching the top valve over to Vent. Be VERY careful. The steam coming out of the valve is extremely hot. I like to switch the valve over using oven mitts. The gravy in the pot is pretty thin; to thicken it, remove some of the liquid into a small bowl. Mix in the tapioca flour and pour the contents of the small bowl into the pressure cooker. Stir for a few minutes, until gravy is thickened. Serve short ribs over mashed sweet potatoes. You can see my recipe for the sweet potatoes HERE. If you prefer regular mashed potatoes, that recipe is HERE.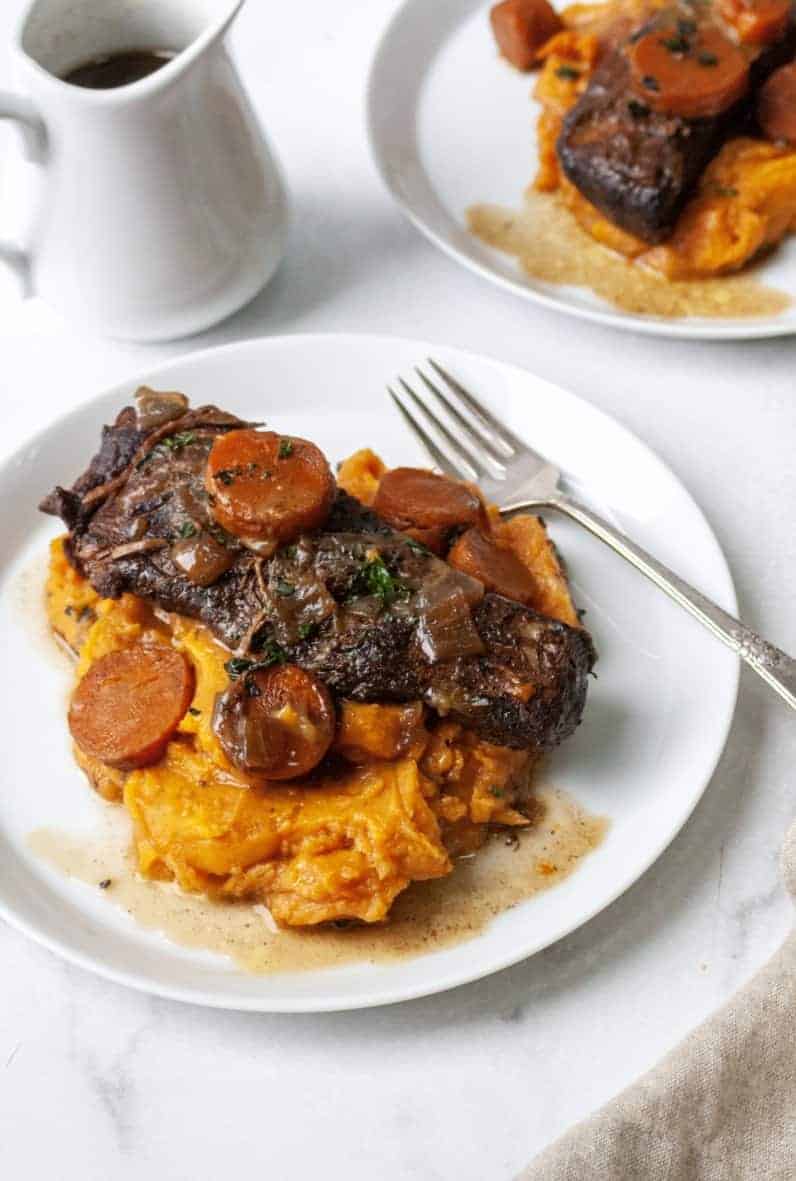 These short ribs are foolproof!  They are extremely tender and they have such a depth of flavor.  They melt in your mouth!  If you've never navigated cooking short ribs at home, don't fear.  This recipe is straightforward and easy to understand.  If you have cooked short ribs before, then what are you waiting for?  Jump on in! Check out my Instant Pot Hot Dogs for another pressure cooker recipe!
Prep Time: 10 minutes
Cook Time: 40 minutes
Total Time: 1 hour
Course: Lunch, Dinner
Servings: 6 servings
Ingredients:
3 pounds short ribs, bone in (I love Porter Road)
2 TBL olive oil
1/2 cup white onion, chopped
3 large carrots, chopped
2 cups tart cherry juice (no sugar added)
2 TBL beef broth
2 TBL minced garlic
1 TBL onion powder
1/2 tsp ground pepper
2 TBL tapioca flour, optional
Mashed sweet potatoes (see recipe HERE)
Basil, optional garnish
Directions:
Turn your pressure cooker on sauté mode. Add in olive oil. Sear short ribs on each side for 2-3 minutes. Once browned on all sides, press cancel and remove ribs from pot.
Add in chopped onion and carrots. Press sauté and cook for 2-3 minutes. Press cancel.
Add in cherry juice, beef broth, minced garlic, onion powder and pepper. Add back in short ribs. Secure lid on pressure cooker. Pressure cook for 40 minutes. Once timer goes off, allow pot to sit for 10 minutes untouched.
After 10 minutes, manually release the remaining pressure by switching the valve to Vent.
Carefully open lid. To make a thicker gravy, remove 1/4 cup of the sauce inside the pot to a small bowl. Mix in tapioca flour and return to the pot.
Stir until thickened.
Serve short ribs over mashed sweet potatoes. Garnish with basil if desired.