WHOLE30 CAULIFLOWER FRIED RICE
(WHOLE30, GLUTEN FREE, GRAIN FREE, DAIRY FREE, PALEO, VEGETARIAN)
This super and easy and flavorful cauliflower fried rice is a staple! It is incredibly easy to make and works well for breakfast, lunch or dinner. Using cauliflower rice allows for some extra nutrients and veggies and adds a nice subtle flavor. This fried rice is a little bit creamy, a little bit crunchy and just so delicious. I've had this with eggs for breakfast, with some chicken on top for lunch and as a side dish with dinner. It's versatile, always so tasty and just plain fun. It is made with ingredients you can feel good about; no food coma here. You'll never need takeout fried rice again!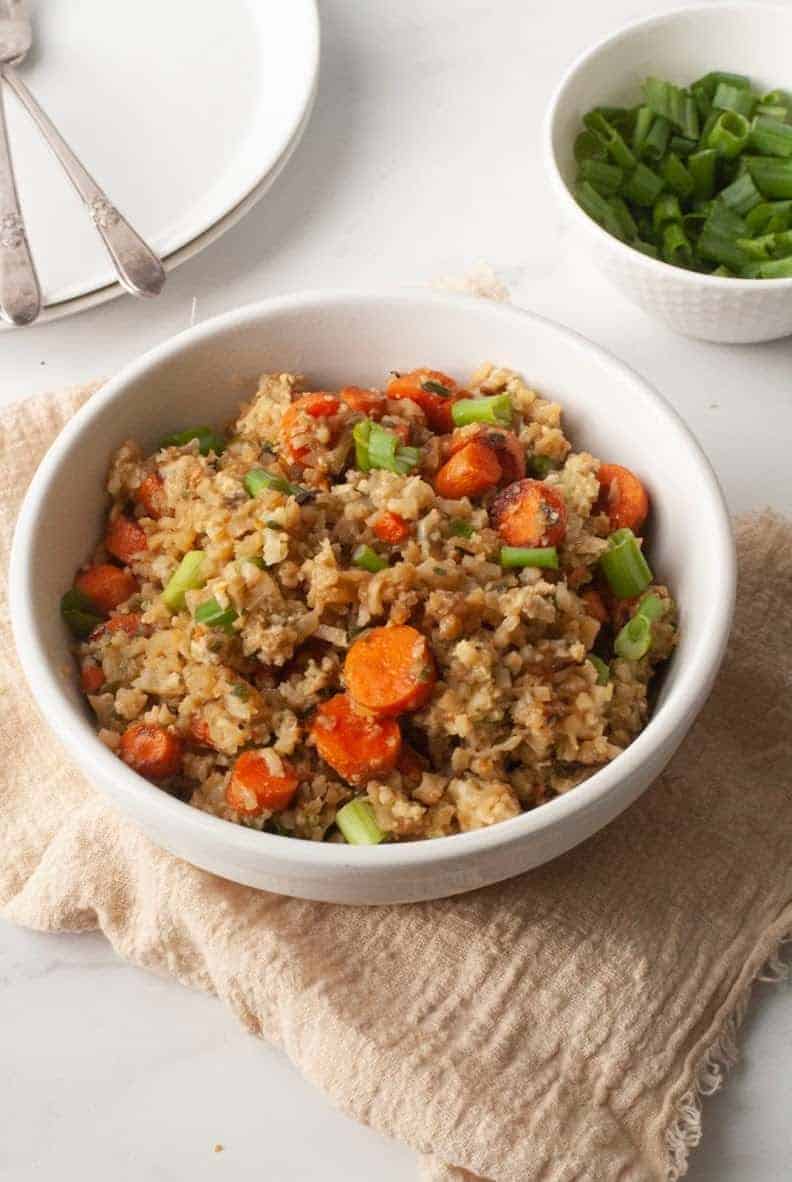 The first step in this cauliflower fried rice is to cook the carrots and onions until they're soft. I personally prefer my carrots on the softer side, so I let them cook about 5-6 minutes. If you desire a crisper carrot, reduce the time to 3-4 minutes. After that, we will add the riced cauliflower (I buy this pre-made but feel free to buy a head of cauliflower and pulse it through your blender), peas and garlic to the pan. This is the point when your house will start to smell amazing! After that all cooks up together, add the rest of the ingredients and you're good to go. The cooking time is only about 12 minutes from start to finish which makes this the perfect on the go meal or quick weeknight dinner. It's great with chicken, ground turkey or pork mixed in. Feel free to add your favorite veggies as well!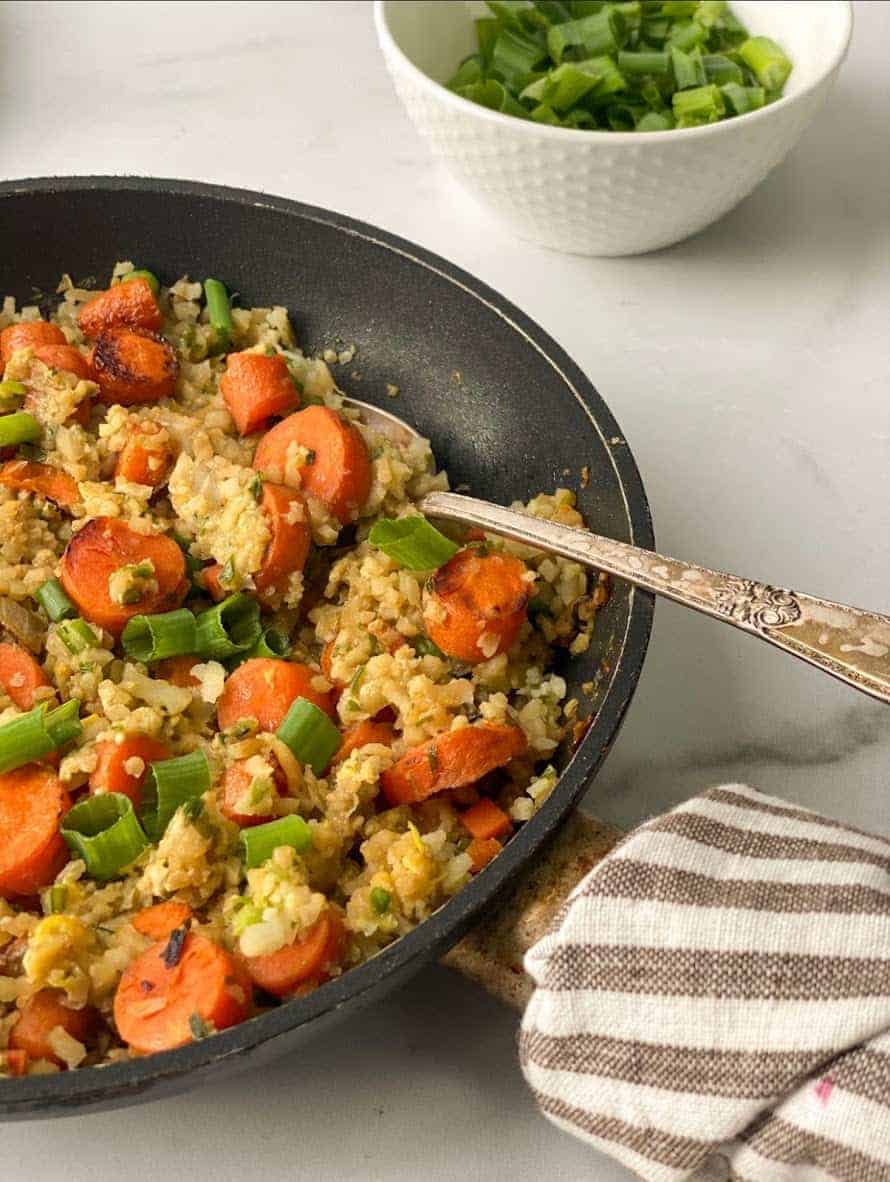 I was never a huge fan of fried rice growing up, but this cauliflower fried rice is absolutely delicious. I never thought I'd see the day where something made from cauliflower was better than the "original" version but now I'm convinced. This cauliflower fried rice is a great recipe to meal prep to have on hand throughout the week. Since it's so versatile, it can be used in several different ways. I hope you enjoy this as much as I do!
You May Also Like:
Prep Time: 10 minutes
Cook Time: 12 minutes
Total Time: 22 minutes
Course: Breakfast, Lunch, Dinner
Servings: 4
Ingredients:
2-3 large carrots, chopped (about 1/2 cup)
4 cups riced cauliflower
2 TBL minced garlic
1/4 cup peas
1/4 cup onion, diced
1/4 cup green onion, chopped
2 eggs
Pinch ground pepper
2 TBL olive oil
1/2 cup Big Tree Farms Coconut Aminos
Directions:
Add olive oil to a skillet over medium heat. Add the carrots and onion to the pan. Cook 5-6 minutes until soft and tender.
Add cauliflower, garlic and peas to the pan. Cook for 2-3 minutes.
Add whisked eggs to the pan and continue stirring until scrambled.
Add green onion, coconut aminos and pepper and turn to low for 2-3 minutes. Stir to combine.
Enjoy!