WHOLE30 TRUFFLE FRIES
(WHOLE30, GRAIN FREE, GLUTEN FREE, DAIRY FREE, PALEO)
If I had to name my favorite side dish for any meal, it would have to be some sort of potato. This is clearly evident based on the number of potato recipes I have on my blog (which can be seen here). I decided to try out a new potato recipe when making these truffle fries. I was pleasantly surprised when I realized just how much I loved these. Usually I'm team sweet potato but these fries were the perfect combination of hearty and flavorful.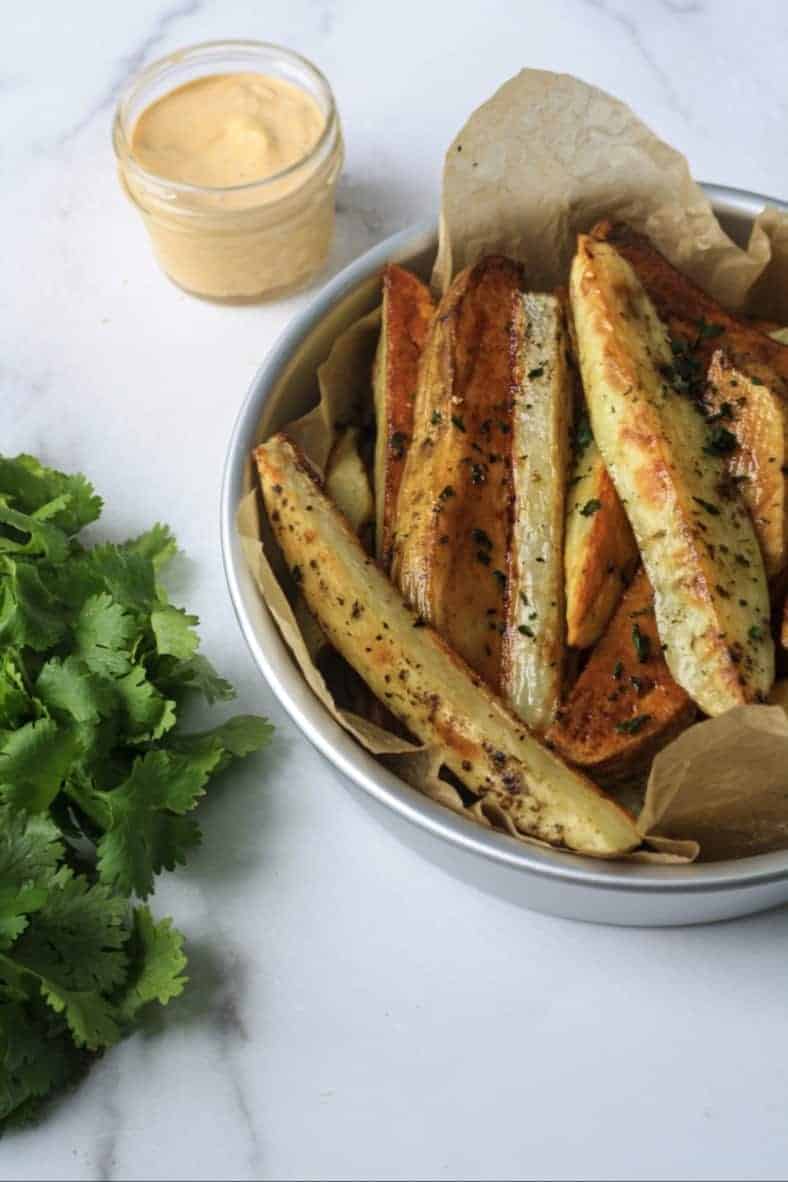 These fries couldn't be any easier considering just how much flavor they have! I have made them in both my air fryer and oven and both methods are foolproof. To make these fries, slice your potatoes lengthwise to make long fry shapes. You can cut them differently if preferred but this way, they'll look like traditional fries. Place fries in a large mixing bowl and add in the olive oil and seasonings. Gently toss the contents of the bowl until the potatoes are all covered in oil and seasonings. Spread out this mixture evenly on a parchment lined baking sheet. Bake for 10 minutes, flip fries over, and bake for another 10. This allows them to become crispy on the outside and soft and warm on the inside. Truly the best of both worlds! I like to serve mine warm from the oven. They are piping hot! If you have extra, store in a Tupperware in the fridge. To reheat, spray a pan with nonstick spray and cook for about 5-7 minutes at 400 degrees Fahrenheit. The sauce comes together quickly and easily since it only has two ingredients! Simply mix the Ranch and hot sauce together until combined. It has a little kick but it's extra creamy. The perfect dipping sauce for these fries!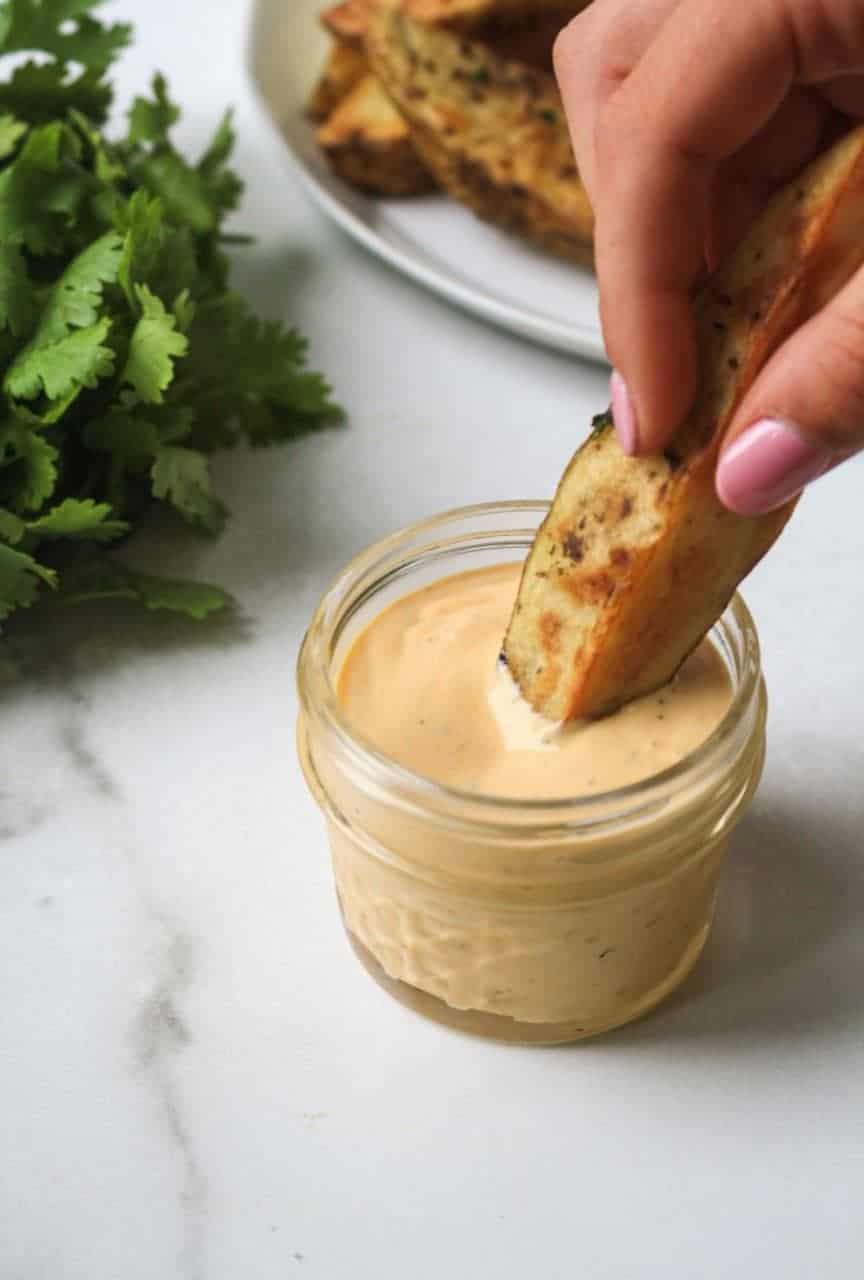 I am so excited to add another great fry recipe to my arsenal.  These fries have that perfect crispy exterior with that melt in your mouth interior.  They're super easy but they pack quite the flavor punch.  I love how much boldness the truffle zest adds.  It's an easy and delicious way to add a ton of flavor to potatoes!  Serve these with your next dinner, backyard BBQ or as a fun side dish. Check out my Air Fryer Frozen Chicken Wings for another delicious appetizer!
Prep Time: 10 minutes
Cook Time: 20 minutes
Total Time: 30 minutes
Course: Lunch, Dinner
Servings: 4 servings
Ingredients:
2 large potatoes
2 TBL olive oil
1 TBL truffle zest (I used Sabatino Truffle Zest)
1 tsp ground pepper
1 tsp sea salt
1 tsp garlic powder
1/4 cup hot sauce
1/4 cup Whole30 Ranch, divided
Directions:
Preheat oven or air fryer to 400 degrees Fahrenheit. Line a baking sheet with parchment paper and set aside.
Chop potatoes lengthwise into long fry shapes. In a large mixing bowl, add potatoes, olive oil, truffle seasoning, ground pepper, salt and garlic powder.
Gently toss until all potatoes are covered in olive oil and seasonings.
Spread potatoes across the baking sheet and spread out so they aren't overlapping.
Bake for 10 minutes. Flip potatoes and bake for another 10 minutes.
To make the dipping sauce, combine hot sauce and Ranch in a small bowl.
Enjoy!