PALEO STRAWBERRY SHORTCAKES
(GRAIN FREE, GLUTEN FREE, DAIRY FREE, PALEO)
There is just something about strawberry shortcakes that screams summer to me!  They're light and fresh and filled with the sweetest strawberries.  Growing up, I used to love my grandmother's strawberry shortcakes.  She always made the dough from scratch and had the freshest and juiciest strawberries to go on top.  She oftentimes made this for family gatherings in the summer and on the Fourth of July.  They quickly became a favorite of mine.  It's no surprise that I'm a huge chocolate lover but I can make an exception for these; they're THAT good!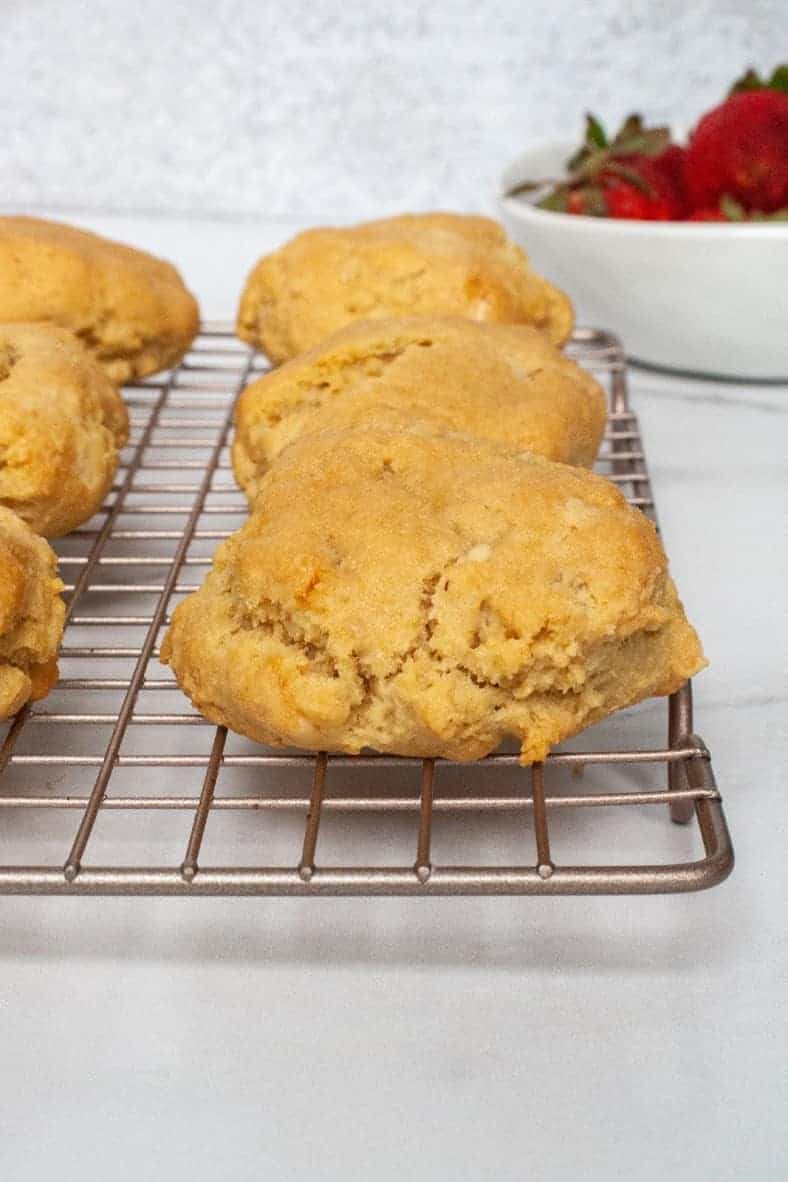 When creating a Paleo version, I knew that getting the right consistency with the biscuits was crucial.  The shortcakes are the base of this dessert and they must stand up to juicy strawberries and whipped coconut cream.  They had to be soft and fluffy but sturdy enough for the job.  I used a combination of almond and tapioca flour to achieve the right texture.  Almond flour is my favorite Paleo baking flour because it's hearty, slightly nutty, and I think it's the easiest to bake with.  Tapioca flour adds a nice crispy consistency and also helps to bind baked goods together.  The biscuits come together pretty easily.  They are not overly sweet; they're only sweetened with a touch of honey.  I purposely made them this way because the sweetness of the strawberries should take the cake here – no pun intended.  Once the biscuits are baked and cooled, it's time to assemble these fun little desserts!  Cut each biscuit lengthwise and top with strawberries and coconut whipped cream.  Super simple and absolutely delicious!  If you're making these ahead of time, don't add the strawberries or whipped coconut cream to the biscuits until it's time serve.  If you're planning to save some in the fridge as leftovers, keep the biscuits separate from the strawberries and whipped coconut cream to prevent them from getting soggy.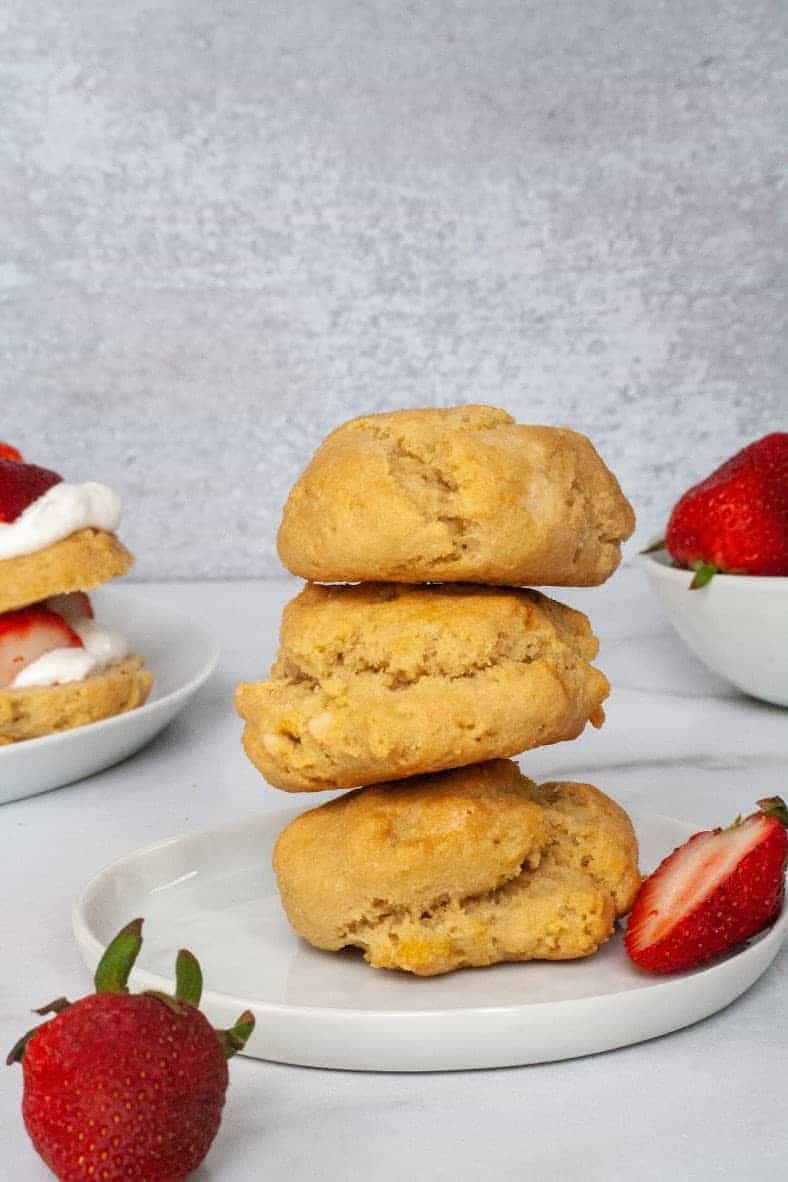 These strawberry shortcakes are whimsical, fun, and just plain awesome!  I was pleasantly surprised how much the biscuits resembled my grandmother's original version.  They're light and fluffy and have just the right amount of sweetness.  These shortcakes would be a showstopper at your next gathering, BBQ or family dinner!
Prep Time: 10 minutes
Cook Time: 30 minutes
Total Time: 40 minutes
Course: Dessert, Snack
Servings: 8 servings
Ingredients:
2 cups almond flour
2 TBL tapioca flour
1 tsp baking soda
2 eggs, room temperature
2 TBL olive oil
2 TBL honey
1 tsp vanilla
1 cup strawberries
Squeeze lemon juice
1 tsp coconut sugar
Whipped coconut milk cream (see note below)
Directions:
In a small bowl, add diced strawberries, squeeze of lemon juice and coconut sugar.  Place in fridge to marinate while making biscuits.
Preheat oven to 350 degrees and line a baking sheet with parchment paper.
In a large mixing bowl, combine almond flour, tapicoa flour, and baking soda.  Slowly mix in eggs.  Add olive oil, honey and vanilla.  Stir to combine.
Using your hands, gently scoop dough into 2.5-3 inch round discs.  Place each onto the baking sheet.  These should be about 1-1.5 inch tall.
Bake for about 14-15 minutes or until the tops begin to crack and turn slightly golden.
Allow shortcakes to cool completely.
To assemble, cut each biscuit in half.  Add desired amount of strawberries and whipped coconut cream.
Note: to make coconut whipped cream, I added a can (13 ounces) of full fat coconut cream to a KitchenAid.  I added a spoonful of honey and 1 teaspoon of vanilla and whipped it for 2 minutes.