Gluten Free Whoopie Pies (Paleo)
These Gluten Free Whoopie Pies are a fun classic New England dessert! They feature two chocolate mini cakes with a homemade frosting between. These Paleo Whoopie Pies are such a fun dessert!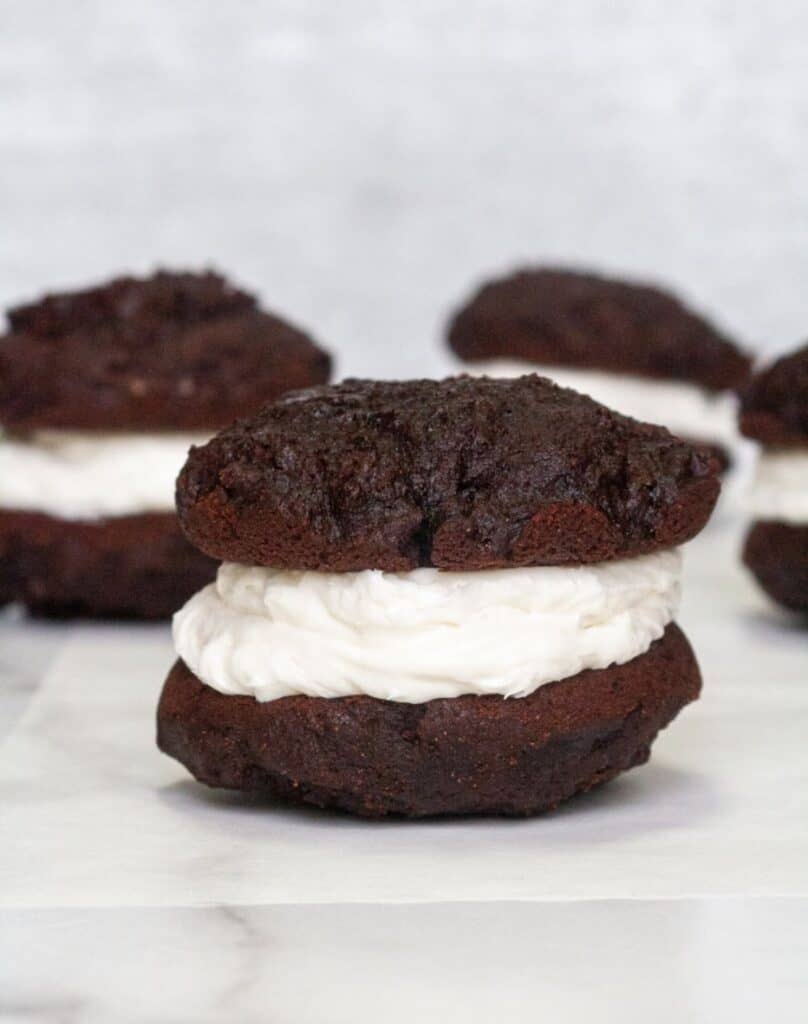 Why You'll Love This Recipe
Whoopie Pies are a unique and unforgettable dessert!
The chocolate cakes are so chocolaty and delicious.
A simple frosting takes this treat from good to great.
They are a traditional New England dessert but great for any occasion.
This recipe makes Whoopie pies seem easy!
It is Paleo, grain free, dairy free and gluten free.
What is a Whoopie Pie?
Whoopie Pies are a classic New England baked good! They have two chocolate round mini cakes with a marshmallow creme filling.
They can be classified as cookies, pies, sandwiches, and cakes. The most common flavor is chocolate cakes with vanilla filling. Other flavors include gingerbread, pumpkin, and red velvet.
The chocolate cakes taste like a mix between a cookie and a cake. The filling is typically a light and fluffy marshmallow flavor.
Maine, Pennsylvania, Virginia, Massachusetts and New Hampshire have previously been declared the origin of this dessert. In addition, they are known as a popular Amish dessert.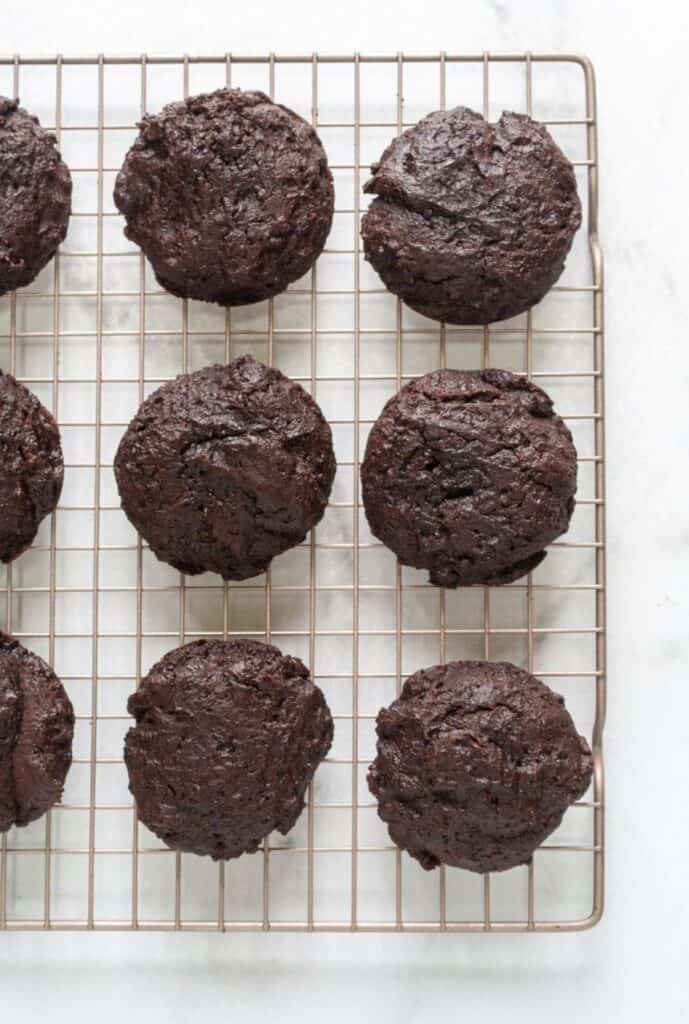 How To Make
Step 1
First, make Whoopie pies. Preheat oven to 350 degrees Fahrenheit. Line a baking sheet with parchment paper.
Step 2
Combine dry ingredients.
Step 3
Then, stir in wet ingredients. Mix until combined.
Step 4
Scoop balls of dough onto lined baking sheet.
Step 5
Bake for 10 to 12 minutes or until middle is set.
Step 6
Cool for 10 minutes on pan. Then remove to a cooling rack to finish cooling completely.
Step 7
Once cooled, make filling. Beat ingredients together until light and fluffy.
Step 8
Finally, assemble. Spread filling on half of the pies. Top with other half of the pies to form sandwiches.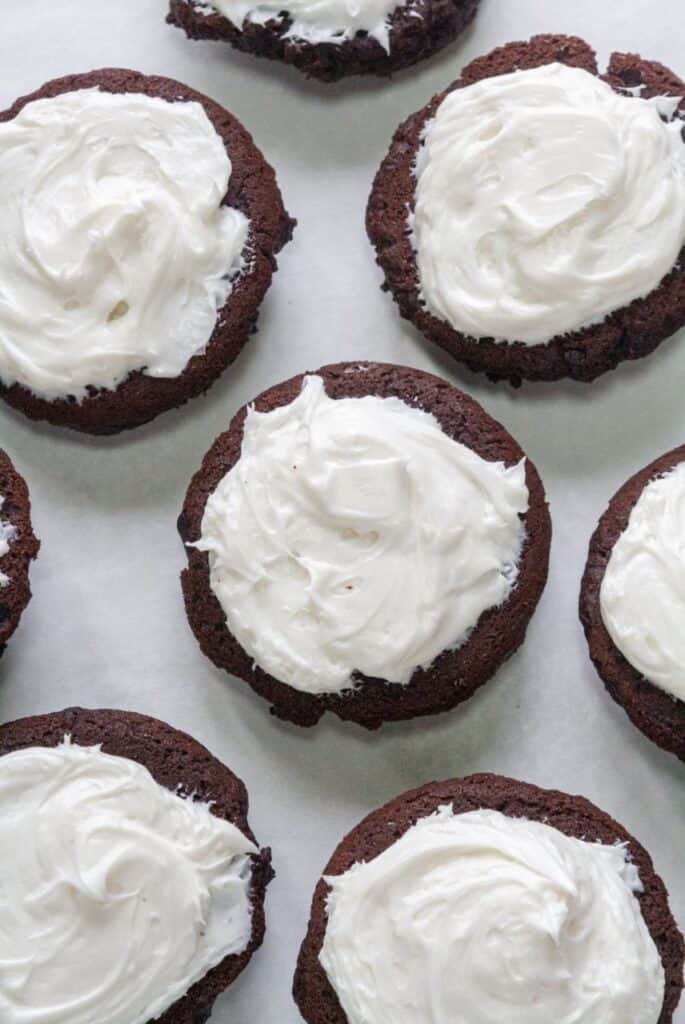 Expert Tips and Tricks
Bake the cakes until they are no longer gooey. They should not be gooey, but do not bake them until they are dry. Once the middle is set and no longer jiggly, remove from oven.
Leave several inches of room between the balls of dough before baking. These cakes will spread!
Once baked, allow cakes to cool before moving to a cooling rack. They are slightly delicate.
Once cakes are FULLY cooled, then make frosting.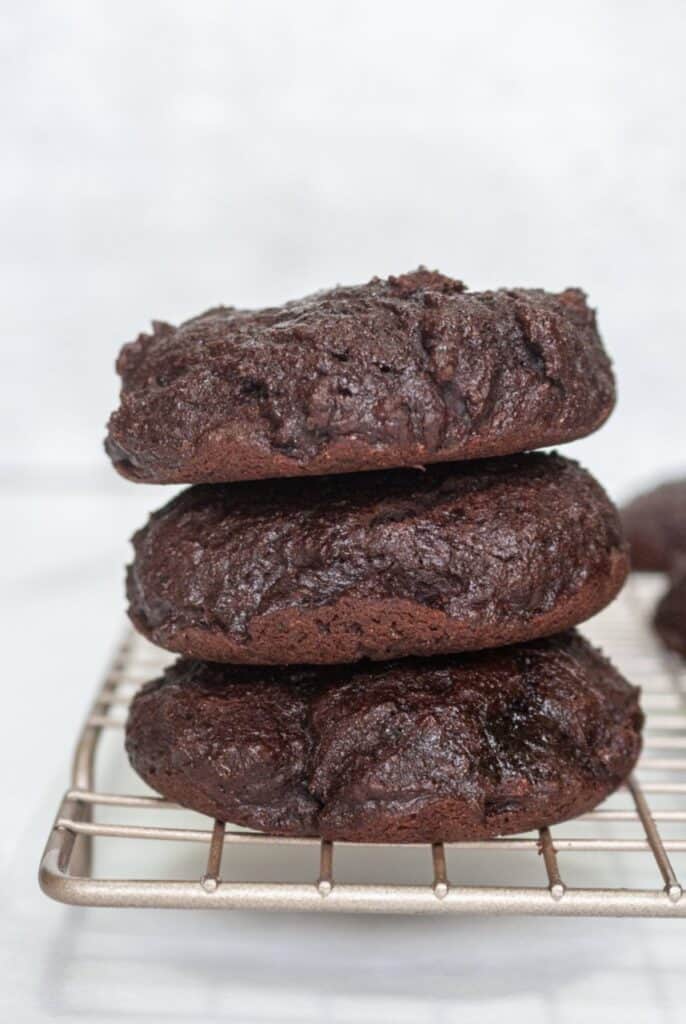 Whoopie Pie Filling
The key to the filling is to use chilled full fat coconut milk. This is super thick and creamy! Shake the can before use and dump all its contents into stand mixer.
Whip for 1 to 2 minutes or until light and fluffy.
Since this is a healthier recipe, the filling does not contain any butter or marshmallows. For a more traditional flavor, feel free to use a less healthy option!
Frequently Asked Questions
Are Whoopie Pies gluten free?
Unfortunately traditional Whoopie pies are not gluten free. This recipe is though!
What do they taste like?
Whoopie pies taste like two mini chocolate cakes with frosting in the middle. The cakes are like a mix between a cookie and a cake.
What is the difference between a moon pie and a Whoopie pie?
Moon pies are more cookie like, whereas Whoopie pies are more cake like. Moon pies also feature graham crackers, while Whoopie pies do not.
Can I use a Whoopie pie pan?
Sure! I have this Whoopie pie pan and love it. Spray with nonstick spray before use. Check pies after 8 minutes for doneness.
Can you freeze these?
I do not suggest freezing the entire Whoopie pie. If needed, freeze the cakes. Then thaw and make frosting as needed.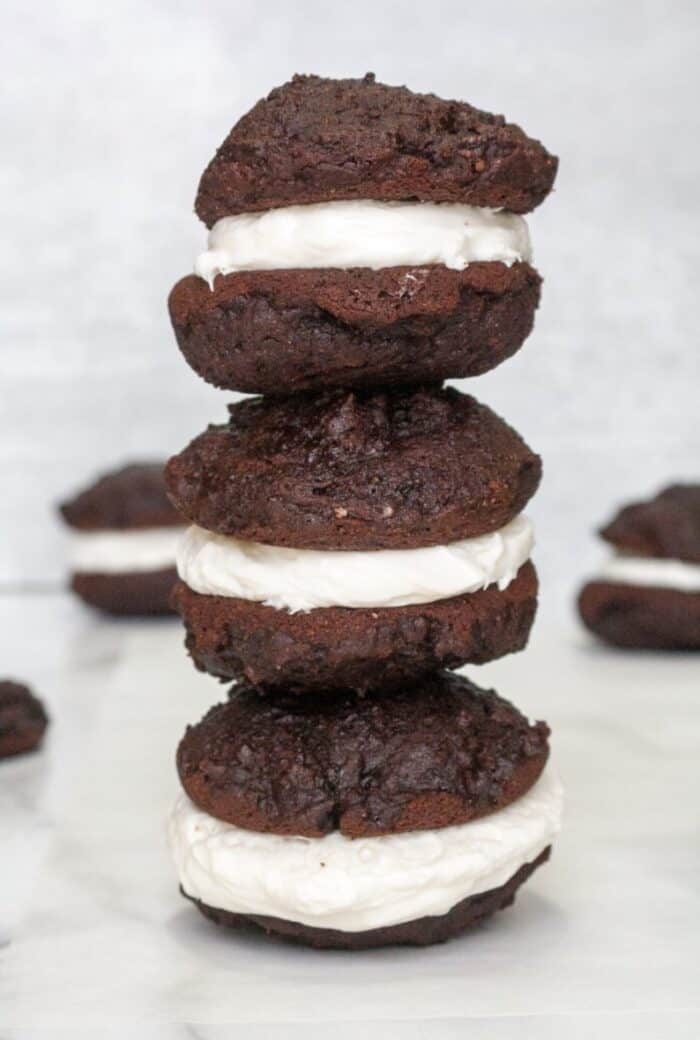 You May Also Like
If you make this recipe, I would really appreciate a review! You can find me on Instagram, Facebook, and Pinterest. I would love for you to follow along!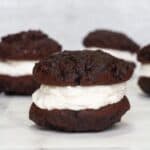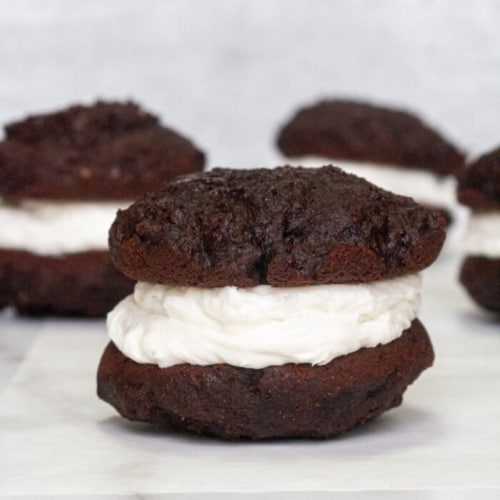 Get the Recipe:
Gluten Free Whoopie Pies (Paleo)
These Gluten Free Whoopie Pies are fun and flavorful! Two chocolate cakes are sandwiched together with a homemade "marshmallow creme" filling. This New England classic dessert is great for any occasion!
Ingredients
Instructions
First, make the Whoopie Pies. Preheat oven to 350 degrees Fahrenheit. Line a baking sheet with parchment paper.

In a large mixing bowl, combine dry ingredients: almond flour, cocoa powder, maple sugar and baking soda. Stir to combine.

Add in melted coconut oil, vanilla extract, maple syrup and eggs. Stir to combine.

Use a cookie scoop to scoop balls of dough onto lined baking sheet. Keep several inches between balls of dough to allow room to spread.

Bake for 10 to 12 minutes or until set in the middle. Allow to cool on the pan for 10 minutes before removing to a wire rack to finish cooling.

To make frosting, combine all frosting ingredients in a stand mixer or KitchenAid. Whip until light and fluffy.

To assemble, spread frosting on one completely cooled Whoopie pie. Add another pie on the other side, creating a sandwich.
Notes
Mix Whoopie pie dough until completely mixed.
Bake until little pies are set in the middle and no longer gooey.
Cool completely before making frosting.
Whip frosting until light and fluffy.
If making ahead of time, I recommend storing the pies and frosting separately until time to eat.  Then, assemble.
Store leftovers in the fridge.
Use full fat coconut cream from a can.  This is typically found in the Asian aisle.  I use the brand Thai.
If desired, loosely packed brown sugar can replace maple sugar.
This recipe makes around 20 little pies, which are sandwiched together to make 10 Whoopie pies.
Calories:
565
kcal
,
Carbohydrates:
41
g
,
Protein:
11
g
,
Fat:
44
g
,
Saturated Fat:
27
g
,
Polyunsaturated Fat:
1
g
,
Monounsaturated Fat:
2
g
,
Trans Fat:
1
g
,
Cholesterol:
33
mg
,
Sodium:
102
mg
,
Potassium:
431
mg
,
Fiber:
7
g
,
Sugar:
26
g
,
Vitamin A:
48
IU
,
Vitamin C:
2
mg
,
Calcium:
116
mg
,
Iron:
4
mg
Love these Gluten Free Whoopie Pies? You can sign up here to receive healthy meal plans and new recipes!