PALEO CHOCOLATE CAKE
(GRAIN FREE, GLUTEN FREE, DAIRY FREE, PALEO)
My love for chocolate is anything but subtle.  And let me tell you – this cake is far from subtle!  It's rich, decadent, and filled with the most heartwarming chocolate flavor.  I've always been a chocolate over vanilla person, especially when it comes to cakes.  Vanilla just seems so boring.  This chocolate cake is anything but boring.  It has two soft and fluffy cake layers and the most smooth and creamy dark chocolate frosting in between.  It's surprisingly easy to make and will wow your friends and family.  I hope you're ready for all things chocolate!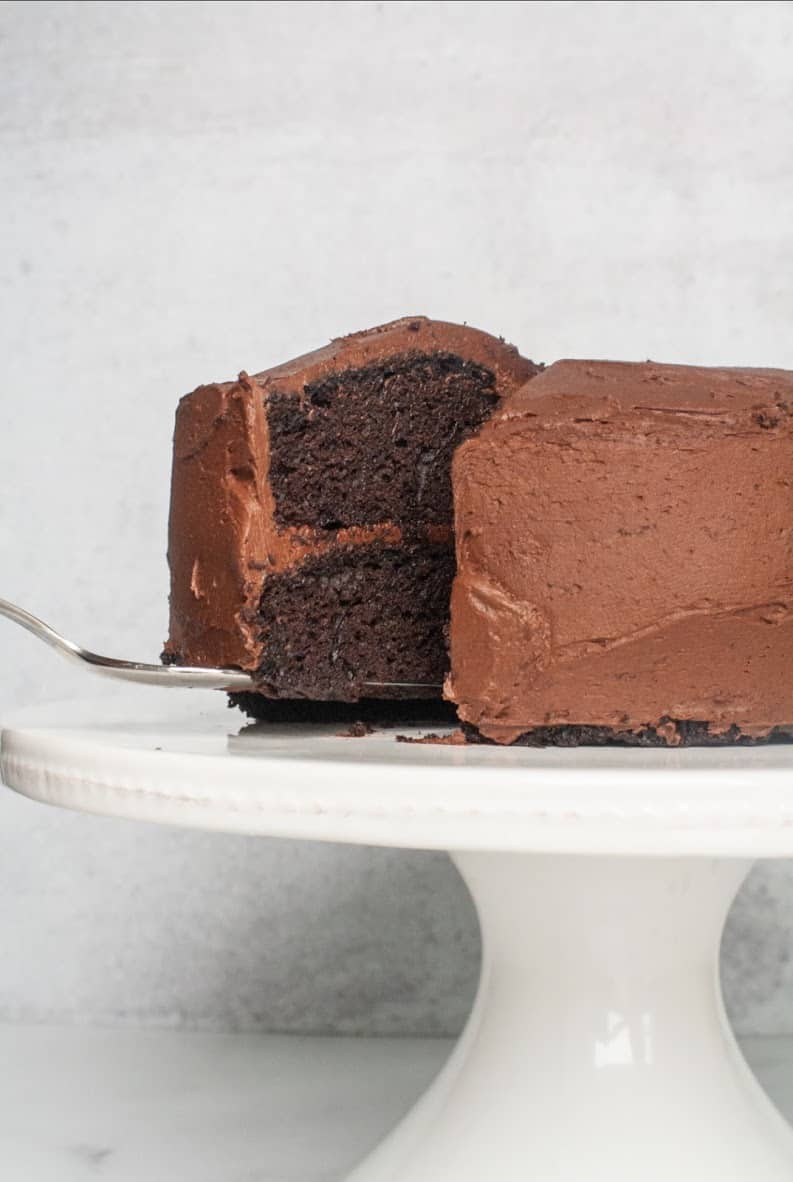 The first step is to make the frosting.  It is made with only 4 ingredients, which are all added to a skillet and brought to a boil.  Once it's boiling, reduce heat and allow to simmer.  This will be refrigerated while we make the cake layers.  The cake comes together quickly and easily.  Once all the ingredients have been combined, pour the batter between the two pans equally and bake them.  Note: I like to add a layer of parchment to the bottom of each cake pan.  I do this by placing the cake pans on a large piece of parchment paper and drawing a circle around each pan.  Then I take scissors and cut the circles out and place them in the bottom of the pans.  This will help the cakes pop right out when they're done cooling.  Once the cakes look firm and a toothpick inserted comes out clean, it's time to let them cool.  To assemble the cake, remove from cake pans.  Frost the first cake and add the second cake on top.  Then, frost the top and all sides.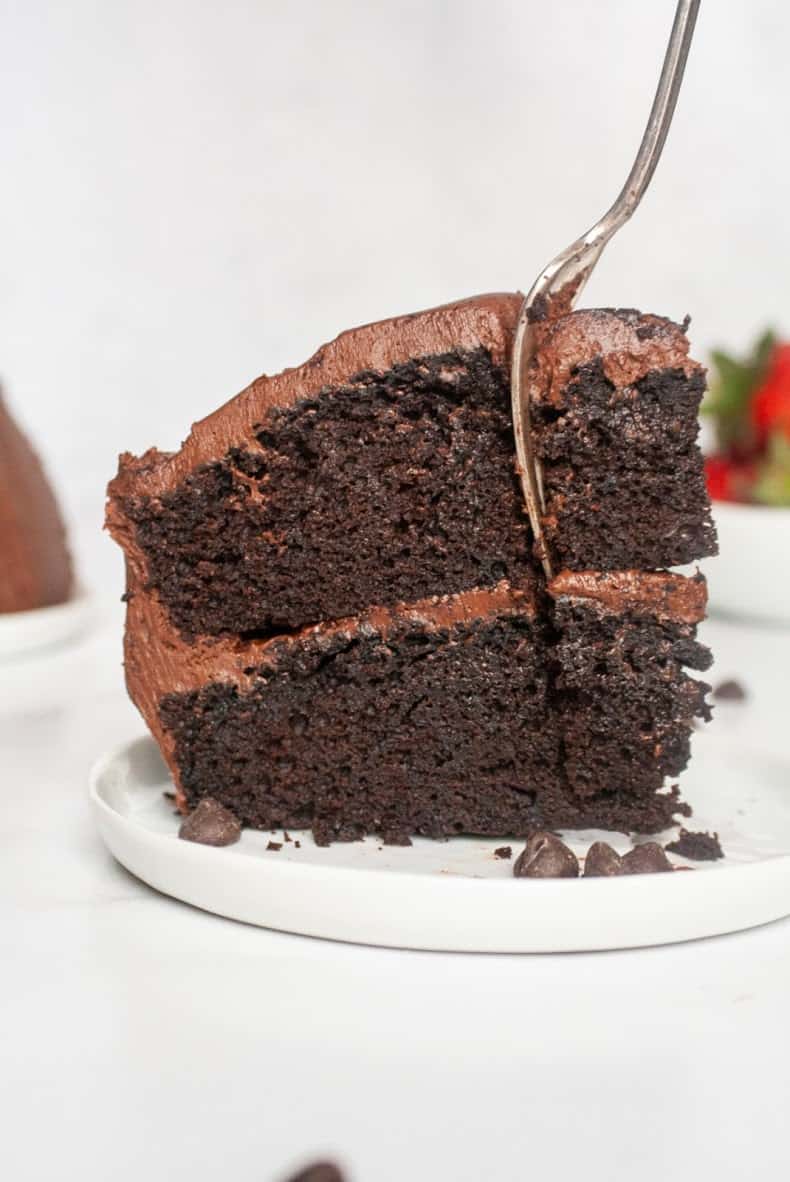 This cake is a showstopper.  It's great for birthdays, holidays, parties, or any celebration.  It is also fun for any day and makes for a great rainy day baking project.  The cake itself is soft and fluffy and the frosting is smooth and creamy.  My family had no idea that this cake was gluten, grain and dairy free!  They devoured it and we all really enjoyed it.
Prep Time: 10 minutes
Cook Time: 20-25 minutes
Total Time: 30-35 minutes
Course: Dessert, Snack
Servings: 10 pieces
Ingredients:
CAKE:
1.5 cups almond flour
1/4 cup tapioca flour
1/2 cup cocoa powder
4 eggs
1/2 cup coconut milk
1 tsp vanilla
1 tsp baking soda
2/3 cup coconut sugar
1 TBL maple syrup
1/2 cup ghee, melted
Pinch sea salt
FROSTING:
1 cup dark chocolate chips
3 TBL full fat coconut milk
1/4 cup coconut oil
1 tsp vanilla
Directions:
Preheat oven to 350 degrees Fahrenheit.  Spray two 8 inch cake pans with coconut oil spray.  I also like to line the bottom of the pans with parchment paper. Simply place cake pan over parchment paper, draw a circle around its edges and cut the circle out.  Place the circle in the bottom of each cake pan.
First, make the frosting.  Add all ingredients to a skillet and bring to a slight boil.  Reduce heat to low and let simmer for about 10 minutes.  Place skillet in fridge and allow to cool and harden while you make the cake.
In a large mixing bowl or KitchenAid, add almond flour, tapioca flour and cocoa powder.  Stir to combine.  Add eggs and coconut milk and continue to stir until just combined.  Add remaining ingredients and stir until mixed.
Pour batter equally between the two pans.  Bake for 20-25 minutes or until a toothpick inserted comes out clean.
Allow cakes to cool completely before frosting them.  I let mine sit on the counter for 3-4 hours.  You can also refrigerate the cakes to speed up the process.
When you're ready to frost, remove frosting from fridge.  Using a butter knife, mix the frosting to loosen it up a bit.
Frost cake.  I did a layer of frosting between the two layers of cake and more frosting on top.
Enjoy!