PALEO PUMPKIN PIE
(GRAIN FREE, GLUTEN FREE, DAIRY FREE, PALEO)
I can't let October pass by without making a Paleo Pumpkin Pie!  I turned to my beloved homemade pie crust (full directions HERE) which never lets me down.  The smooth and creamy pumpkin pie filling is very reminiscent of all those pies I grew up eating – but it's made without gluten or dairy.  This pie will be on my Thanksgiving table every year going forward!

MAKE THE PALEO PIE CRUST
First start with making the pie crust.  I have a full detailed post all about that HERE but there are a few things to note.  I highly suggest making the crust the night before so that it has time to chill overnight in the refrigerator.  This really helps the crust to firm up.  Since a pumpkin pie has a custard filling, it's vital to have a sturdy crust.  Once the dough has been made and chilled, sprinkle some tapioca flour onto your kitchen counter.  Place a piece of parchment paper on the bottom and over the top of the dough.  Carefully roll out into a 12 inch circle.  If the pie crust tears or rips, use your hands to mend it.  Since it's gluten free, it's nearly impossible to "overwork" the dough.  It repairs easily.  Lastly, remove a piece of parchment paper and carefully invert the crust into your greased pie dish.  Set aside while you make the filling.

PUMPKIN PIE FILLING
It's time to make the filling!  This smooth and creamy filling is SO good.  I usually lick the bowl clean.  This filling is as easy as blending all the ingredients together.  Blend until uniform and smooth.  Next, pour the filling into the crust.  Place a piece of aluminum foil over the top of the pie.  Then place your pie into the oven.  After 10 minutes, reduce the oven temperature to 350 degrees and continue baking about 45-50 minutes.  The pie is done when the middle is set and not "jiggly".  Remove from oven and serve warm.  Alternatively, wait until pie has cooled and serve cold.  Both are delicious!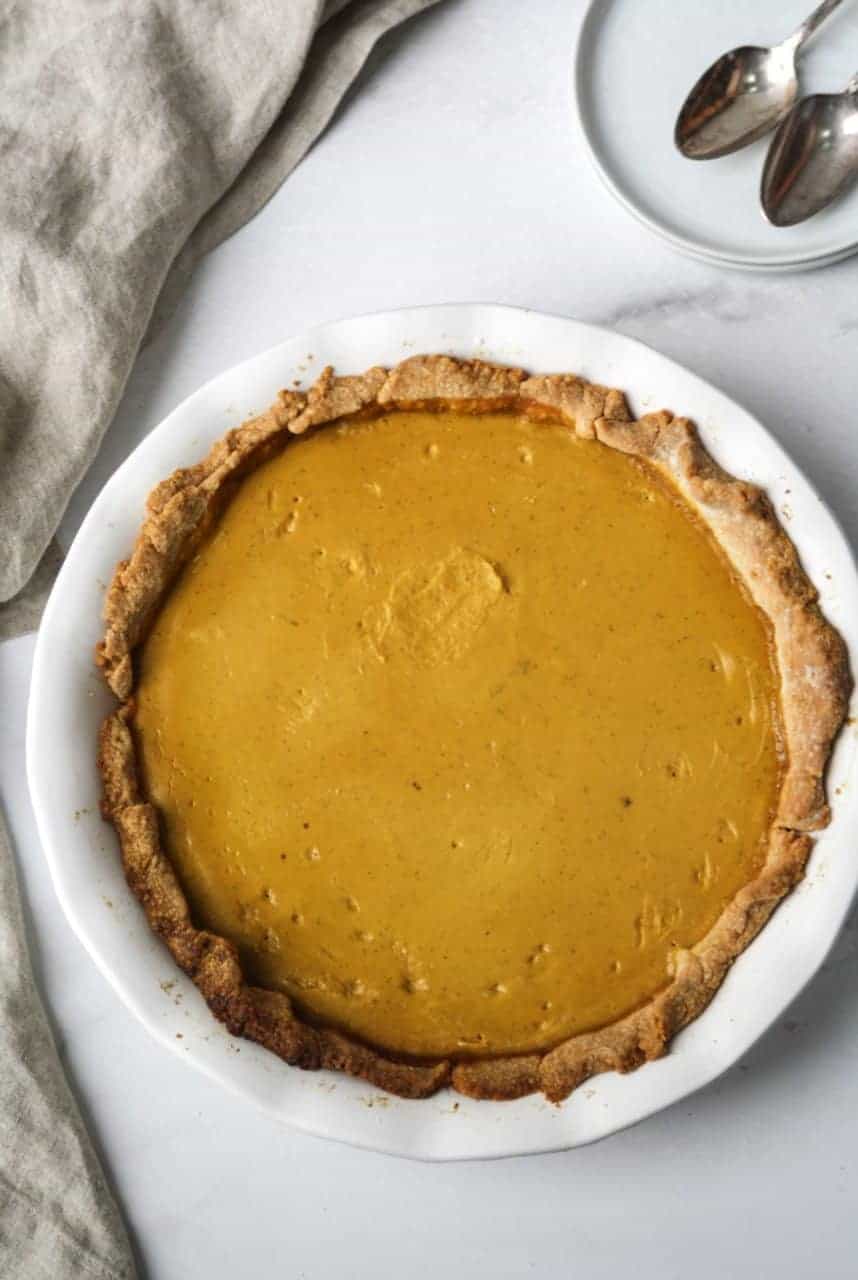 This Paleo Pumpkin Pie is rich and decadent.  The buttery and sturdy pie crust is the perfect complement to the custard pumpkin filling.  Top this pie with a little homemade whipped coconut cream.  You can see that recipe HERE where I made it for chocolate cheesecake.  You will love this pie!
Prep Time: 20 minutes
Cook Time: 60 minutes
Total Time: 1 hour, 20 minutes (plus overnight chill)
Course: Dessert, Snack
Servings: 10 pieces
Ingredients:
CRUST:
1 cup almond flour
3/4 cup tapioca flour
1 eggs
1/2 cup grass fed butter, cold
1 TBL maple syrup
1 tsp maple sugar or coconut sugar
FILLING:
15 ounces pumpkin purée (not pumpkin pie filling)
1/2 cup maple syrup or honey
3 TBL nut or seed butter (I used Sunbutter)
1/2 tsp cinnamon
1/4 tsp nutmeg
Pinch pumpkin pie spice
1 tsp vanilla
3/4 cup almond milk
1/4 cup arrowroot powder
Directions:
Preheat oven to 425 degrees Fahrenheit and spray a 9 inch pie plate with nonstick spray.
Chop cold grass fed butter into small 1/2 inch cubes.  Add all ingredients to a food processor or KitchenAid.  Mix until combined.
Form dough into a large balls and flatten it into a disc shape.  Then place cling wrap around the disc of dough and refrigerate overnight.
When you're ready to begin making the pie, unwrap dough.  Sprinkle a little extra tapioca flour on the dough and some on a piece of parchment paper.
Add another piece of parchment paper on top of the dough and carefully roll out the dough.  The crust will be about 12 inches in diameter.  If it breaks, simply mend it back together with your hands.
Once rolled out, remove top piece of parchment paper.  Place pie dish upside down on top of crust.  Then, invert pie dish so that the crust lands in the pie plate.
Smooth any cracks with your hands.  Pinch the edges of the pie crust.
Next, make the pie filling.
Combine all ingredients in a blender or food processor.  Blend until smooth and creamy.
Pour filling into prepared crust.  Cover with a piece of aluminum foil.
Next, bake for 10 minutes at 425 degrees Fahrenheit then lower the temperature to 350 degrees and bake for 45-50 minutes.
Pie is done when the middle is set.
Serve warm or cold.
Find my homemade whipped coconut cream topping HERE.