PALEO VEGAN PEACH COBBLER
(VEGAN, GRAIN FREE, GLUTEN FREE, DAIRY FREE, PALEO)
Peach cobbler is such a classic summertime dessert. This paleo version is everything that I hoped it would be: a juicy and sweet filling topped with a crumbly and crispy almond flour topping. I love that each bite has the best of both worlds. I am typically a chocolate for dessert person, but in all honesty I couldn't stop eating this. There's just something about sweet juicy peaches in the peak of summertime. This peach cobbler is the real deal; the sweet peach filling is juicy and flavorful while the crumbly topping adds just the right amount of texture and crisp. The combination between the filling and the topping is to die for!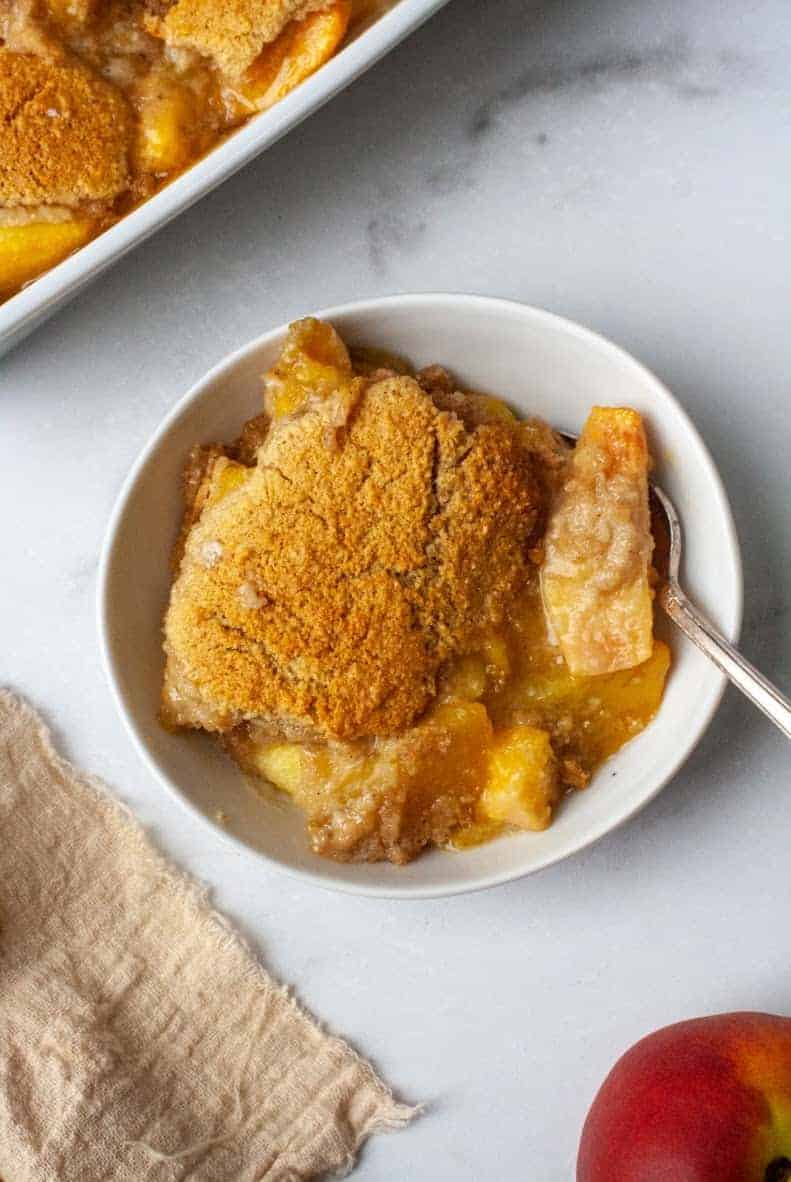 To start, make the peach filling first. Peel and then slice your peaches into about 16 or so pieces. This doesn't have to be exact but you'll want each peach piece to be about an inch long. The peaches need to be somewhat substantial so that you're able to scoop them out of the dish after it's done baking, but you don't want them too big because they won't cook through. Baking is such a fun science! The tapioca flour in the filling will help to soak up all the liquid from the peaches and provide some structure to the filling. Note: if you only have access to frozen peaches, let them thaw completely (or microwave them) and be sure to squeeze out all the excess moisture. After the filling is made, mix together all the crumble topping ingredients. Drop the topping in clumps on top of the peach filling and bake! Start to check on the cobbler at around the 20 minute mark to make sure the topping isn't burning or turning too golden. It'll be done when the topping is slightly golden and the peaches are soft and tender.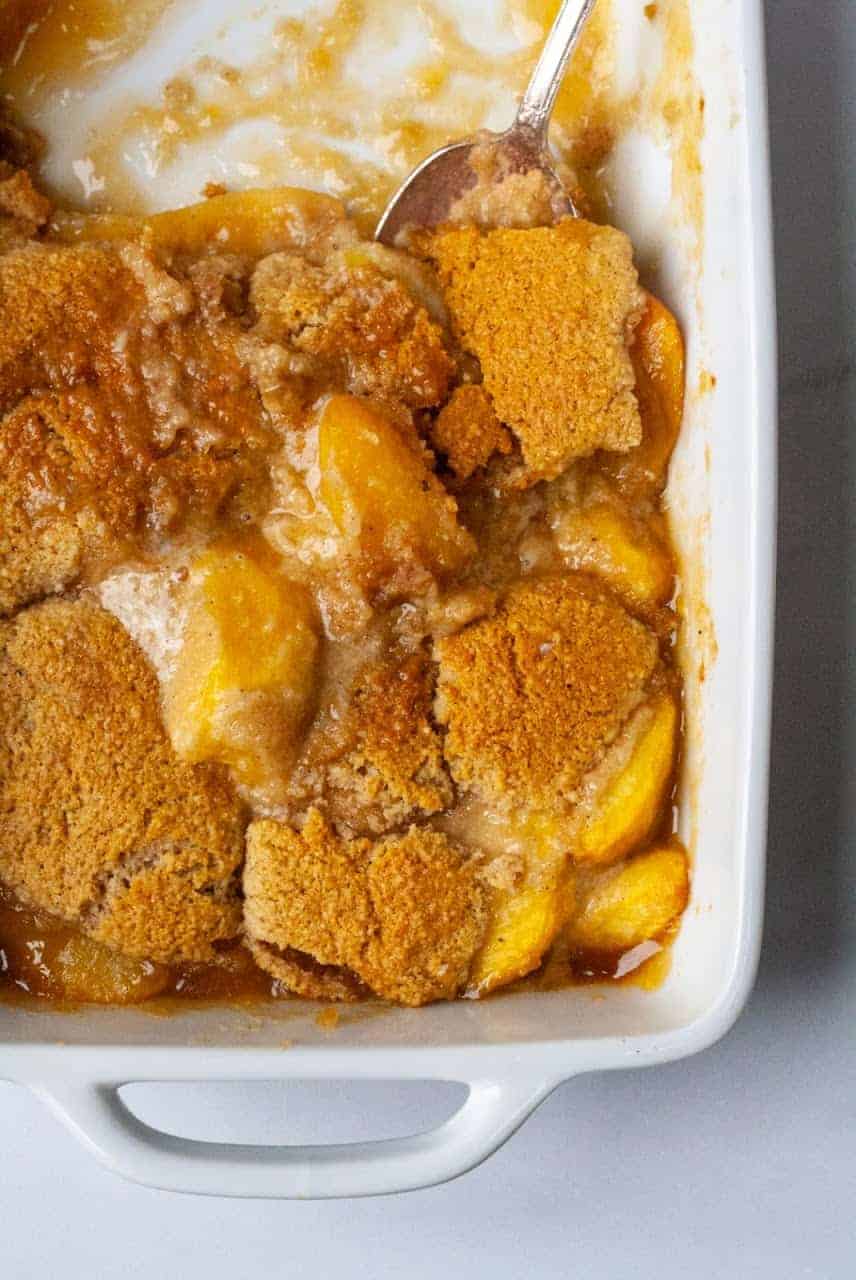 This peach cobbler will blow your mind!  It's a seemingly simple and straightforward dessert but it tastes every bit as decadent and rich as any chocolate dessert out there!  This is great for feeding a crowd because everyone seems to like it.  Pair it with some coconut milk ice cream, whipped coconut cream or just by itself.  I can confirm that it tastes delicious warm from the oven or chilled from the fridge.  You really can't go wrong!  Your summer (or any season!) needs this peach cobbler.
You May Also Like
WHOLE30 PEACH GLAZED CHICKEN
Prep Time: 10 minutes
Cook Time: 25 minutes
Total Time: 35 minutes
Course: Dessert, Snack
Servings: 8
Ingredients:
Bottom Layer:
4 cups peaches, peeled and sliced
3 TBL maple syrup
1 tsp cinnamon
Pinch sea salt
2 TBL tapioca flour
1 tsp lemon juice
Cobbler Topping:
3/4 cup almond flour
1/3 cup tapioca flour
3 TBL coconut sugar
Pinch cinnamon
1 tsp baking soda
1/4 cup coconut oil, room temperature
2 TBL almond milk
1 tsp vanilla
Directions:
Preheat oven to 400 degrees Fahrenheit and spray a baking dish with coconut oil spray.
Make the bottom layer first. Peel and core peaches. Slice into 16 or so pieces each.
Mix peaches with remaining bottom layer ingredients in a bowl. Pour into a pie or baking dish.
Add all cobbler topping ingredients to a bowl and mix. Batter should be thick. Drop topping in clumps on top of peach layer.
Bake for 24-25 minutes or until topping is slightly golden and peaches are tender.