PALEO VEGAN BERRY COBBLER
(VEGAN, GRAIN FREE, GLUTEN FREE, DAIRY FREE, PALEO)
It's no secret that cobbler is my favorite summertime dessert.  It's light and fresh enough for the warm weather temperatures but it's also comfy and cozy enough for a post dinner treat.  The sweet juicy fruit filling is perfectly complemented by the crumbly crust topping.  A little bit of both textures in every bite – so good!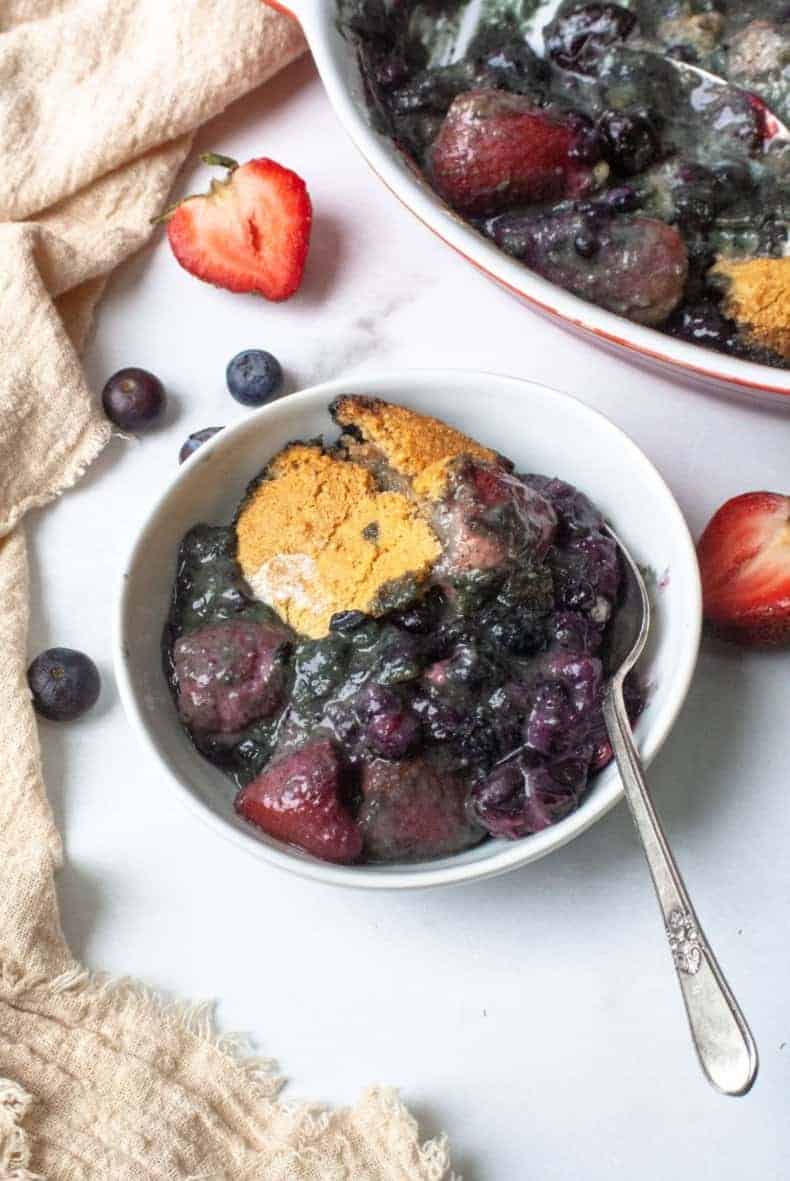 One of my favorite things about making a cobbler is just how easy and simple they are!  The end result tastes decadent but they're incredibly quick and straightforward to make.  You're essentially making the filling, dumping it into a pan and then making a quick topping.  For this cobbler, I used a mix of strawberries, blueberries and cherries.  I have also used raspberries in this recipe before and it turned out well!  Pick your favorite berries.  If the berries are frozen, allow them to thaw completely.  Then, taking the berries between two sheets of paper towel, squeeze out the excess water.  Frozen berries tend to hold a ton of moisture; this will affect the end result if not discarded.  Once the filling ingredients are mixed together, pour them into a baking dish or pie plate.  Set this aside while you make the topping.  To make this, combine the ingredients in a mixing bowl.  The batter will be somewhat thick.  Dollop this over the berries and bake!  After about 24-25 minutes, the topping will be golden and crispy and the fruit filling will be bubbly.  Remove from the oven and serve warmed with coconut milk ice cream or store leftovers in the fridge, covered, for 3-4 days.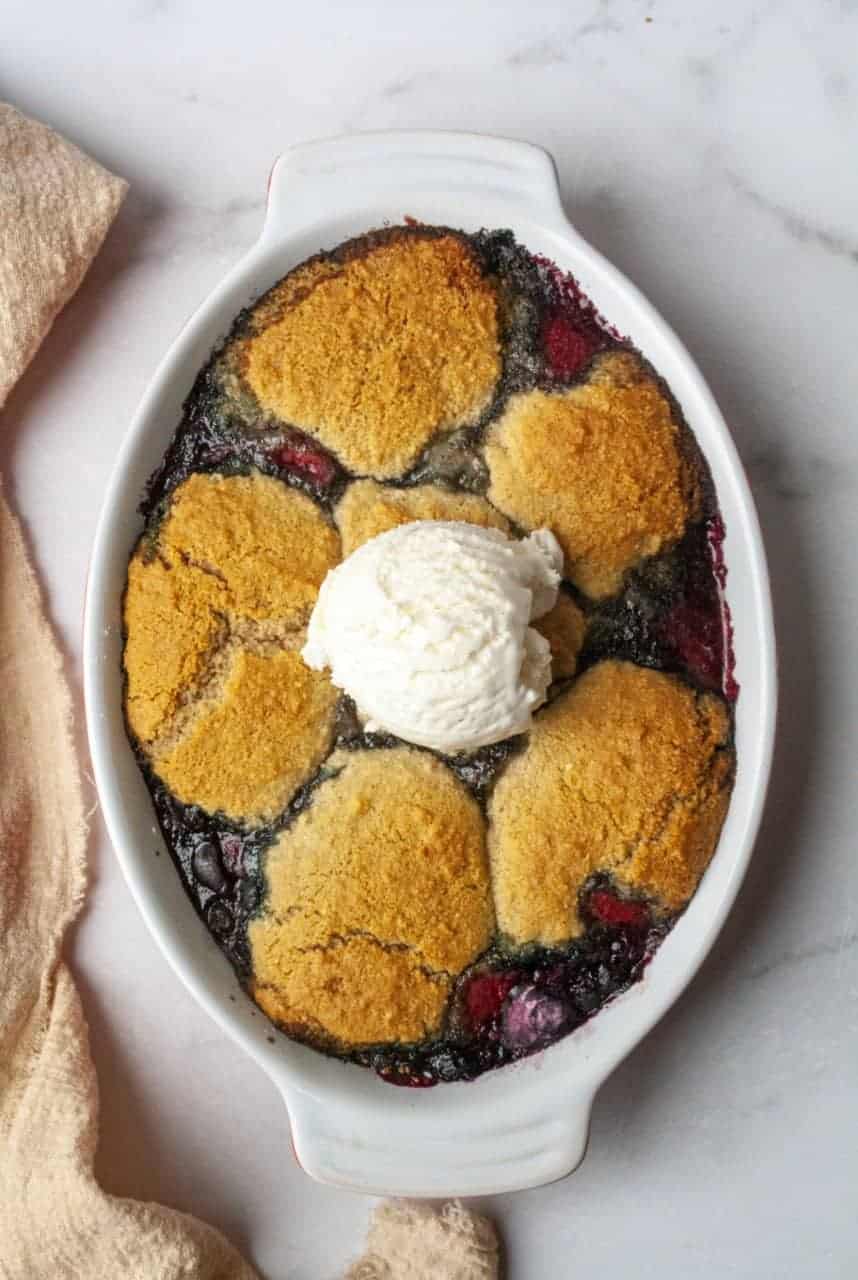 This cobbler has so many great light and fresh summer flavors.  I've made it year round (cobbler deserves to be eaten 12 months per year) and it's just so delicious every single time.  I find myself digging in with a spoon every time I open the fridge!
Prep Time: 10 minutes
Cook Time: 25 minutes
Total Time: 35 minutes
Course: Dessert, Snack
Servings: 8
Ingredients:
Bottom Layer:
4 cups berries (I used strawberries, blueberries and cherries)
3 TBL maple syrup
1/2 tsp cinnamon
Pinch sea salt
23TBL tapioca flour
1 tsp lemon juice
Cobbler Topping:
3/4 cup almond flour
1/3 cup tapioca flour
3 TBL coconut sugar
Pinch cinnamon
1 tsp baking soda
1/4 cup coconut oil, room temperature
2 TBL almond milk
1 tsp vanilla
Directions:
Preheat oven to 400 degrees Fahrenheit and spray a baking dish with coconut oil spray.
Make the bottom layer first. Cut strawberries in half and pit cherries.  Mix all ingredients in a bowl.  Toss until berries are coated in tapioca flour.  Pour into a pie or baking dish.
Add all cobbler topping ingredients to a bowl and mix.  Batter should be thick.  Drop topping in clumps on top of berry layer.
Bake for 24-25 minutes or until topping is slightly golden and berries are tender.  The cobbler will be bubbling.
Carefully remove from oven and serve.  Serve warm with coconut milk ice cream or chilled from the fridge.