Keto Pancakes
These keto pancakes have a light and fluffy texture! They each contain just 100 calories and 1 net carb. This quick and easy recipe takes only 15 minutes in total. Great for busy weekdays, weekend brunch, or breakfast for dinner. You and your family will love them!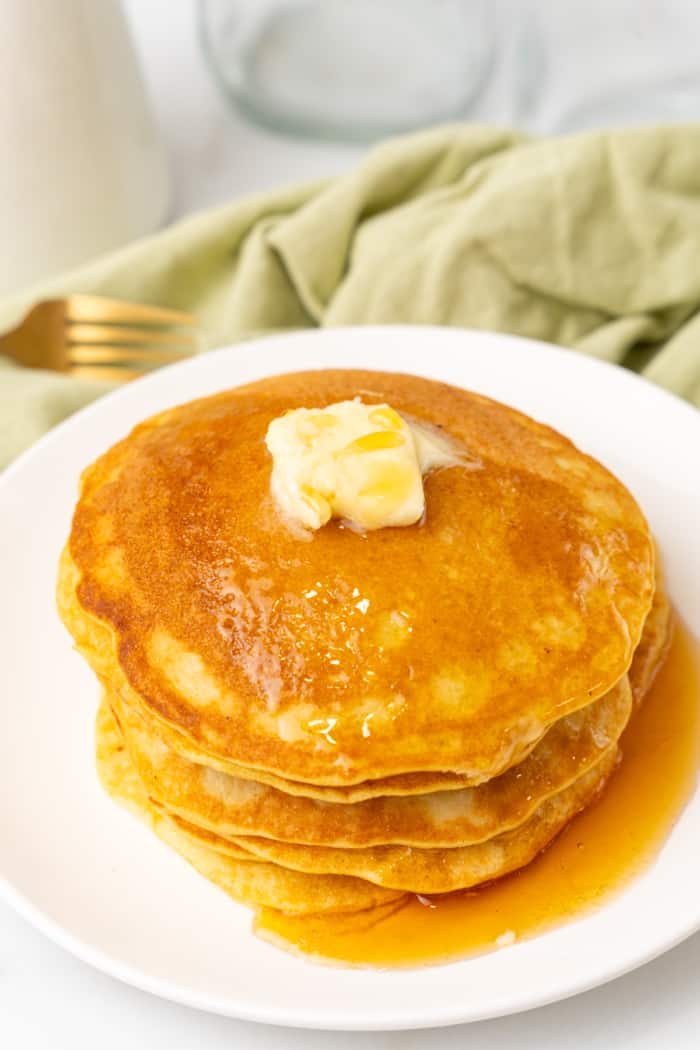 For other pancake recipes, check out these gluten free pancakes and these incredible sourdough pancakes. So delicious!
Why You'll Love This Recipe
These keto pancakes are light and fluffy.
They taste just as good as regular pancakes.
Keto pancakes make a great low carb snack, breakfast, or brunch.
These pancakes contain no added refined sugars.
They are lower in calories and lower in carbs.
This recipe is also grain free, gluten free, low carb, and refined sugar free.
They are a great base to add other ingredients and toppings.
Perfect for the whole family. Kids will love them!
Check out this Keto Bread and these Keto Waffles for another great recipe.
What is Keto?
Keto is a popular way of eating that involves consuming a lot of fats, some protein, and very few carbohydrates. Keto is short for "ketogenic."
The main goal is to put the body into a state of ketosis. When this happens, the body uses fat instead of carbohydrates as energy. The process can lead to fat burning and weight loss.
Taste and Texture
These keto pancakes taste similar to regular pancakes.
They also have a little coconut and almond flavor from the flours. They have a vanilla taste and are slightly sweet.
Texture wise, these keto pancakes are soft and fluffy.
Ingredients and Substitutions
These are the ingredients and substitutions for these keto pancakes. Scroll down to the recipe card below for the full recipe.
Use four large eggs for this recipe. Do not substitute for the eggs. These pancakes will not work without them.
Use any milk except oat milk. Use unsweetened milk.
These keto almond flour pancakes are made with a blend of coconut and almond flour. Both add a great taste to these healthy pancakes. I do not recommend any other flour.
Melted butter adds moisture and a delicious buttery flavor. For dairy free, use melted coconut oil.
To sweeten the batter, use granulated erythritol. Monk fruit works well too.
Baking powder helps these pancakes rise.
Vanilla extract adds a classic pancake taste.
Choose a sugar-free syrup or some berries for the optional topping.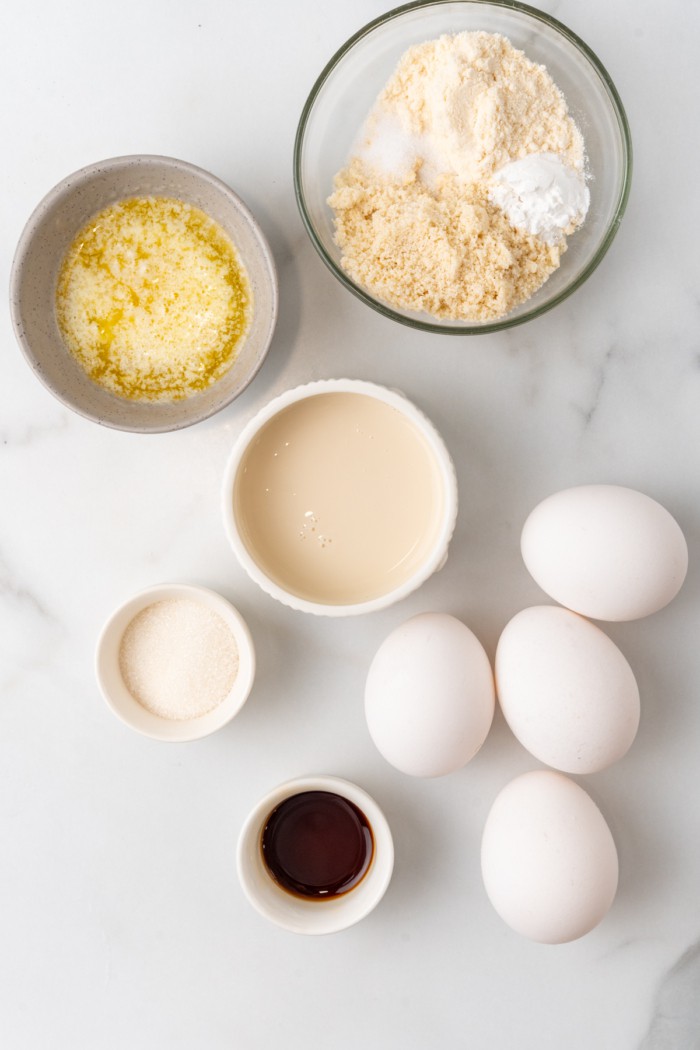 How to Make
Step 1
First, mix the eggs, almond milk, melted butter or coconut oil, and vanilla extract in a mixing bowl.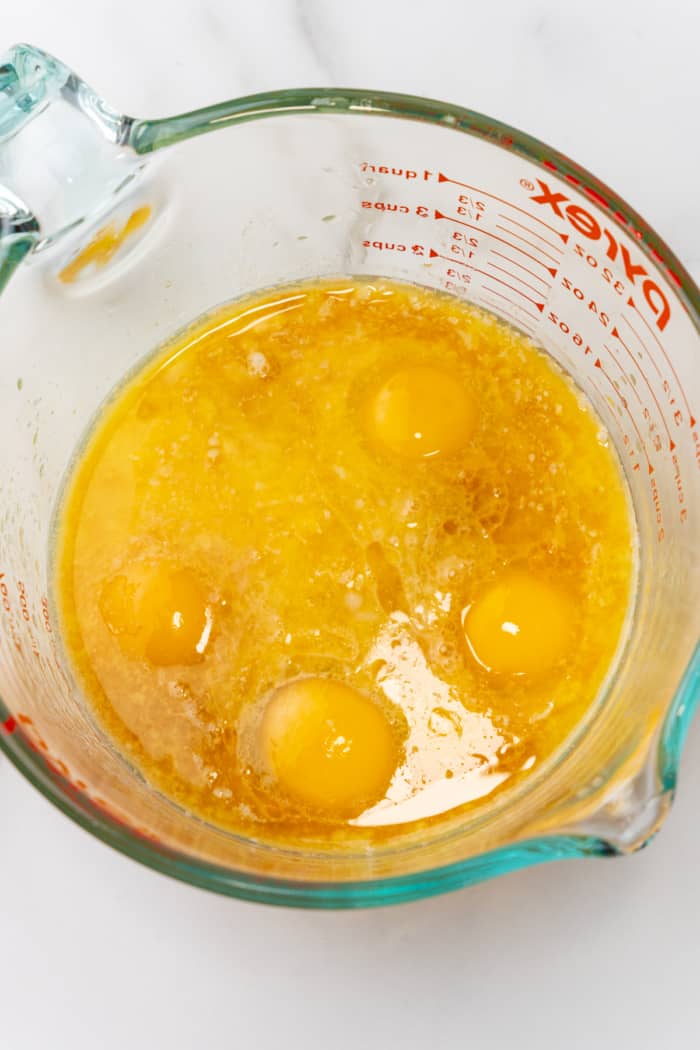 Step 2
Secondly, combine the coconut flour, almond flour, erythritol, baking powder, and salt in another bowl. Mix well to remove any lumps.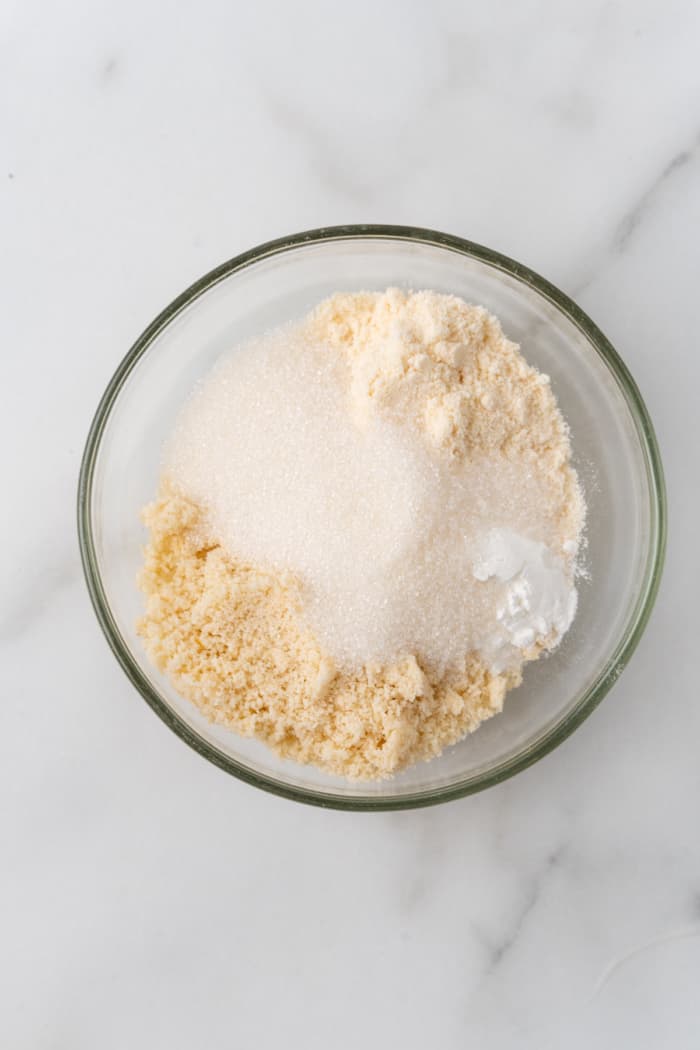 Step 3
Next, slowly add the dry ingredients to the wet ingredients, whisking until the batter is smooth and well combined. Let the batter sit for 5 minutes to allow the flour to absorb the liquids.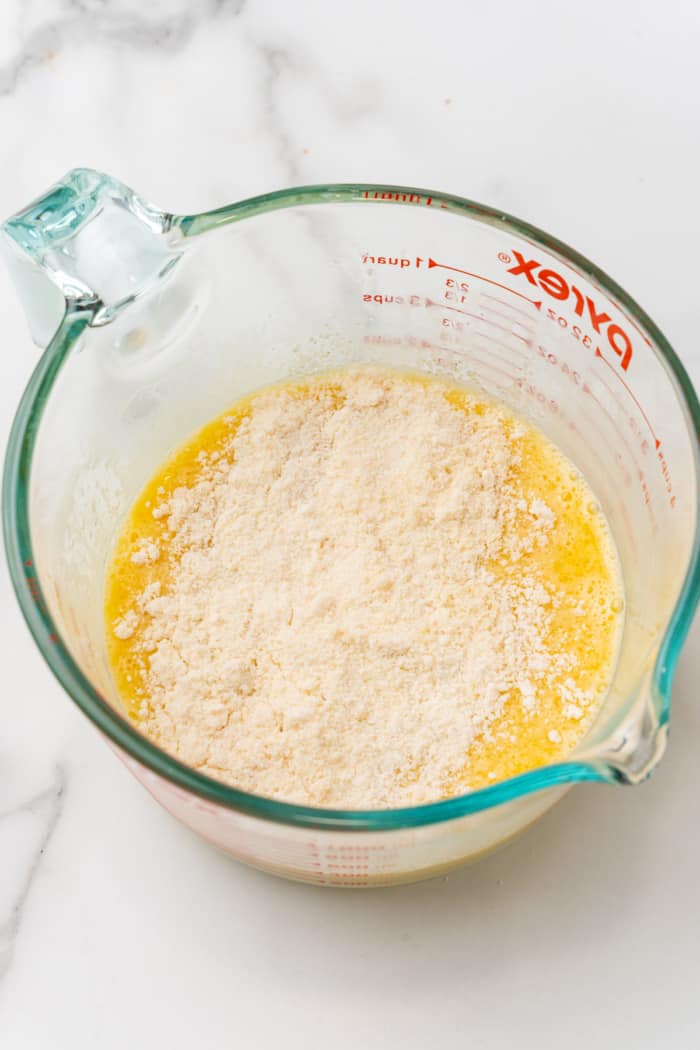 Step 4
Heat a non-stick skillet or griddle over medium low heat. Grease the cooking surface with butter or coconut oil.
Step 5
Pour about ¼ cup of batter onto the hot skillet for each pancake. Cook until bubbles form on the surface, then flip and cook for 1 to 2 more, or until golden brown.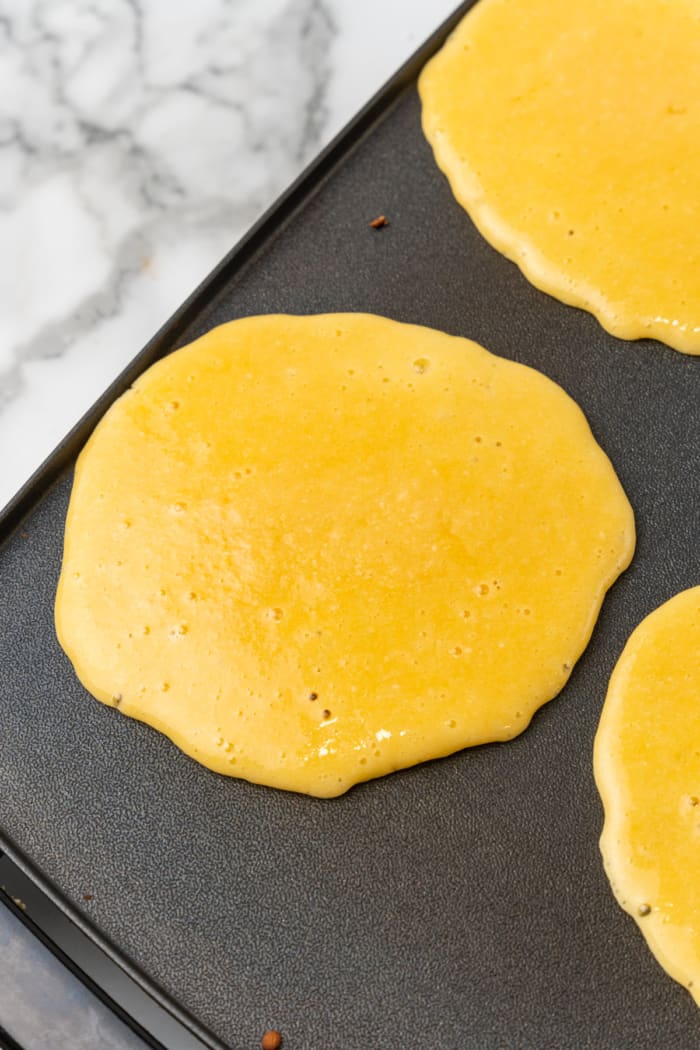 Step 6
Remove the cooked pancakes from the skillet and keep them warm. Repeat the process with the remaining batter, greasing the skillet as needed.
Step 7
Serve the keto pancakes with sugar free syrup or fresh berries if desired.
Expert Tips and Tricks
Follow these tips and tricks to make the best keto almond flour pancakes.
Combine and mix the ingredients gently and avoid overmixing. Everything should be folded together lightly rather than beaten for a long time.
Let the batter rest for 5 minutes before cooking it. This will make the batter easier to handle and give it a better texture.
The batter should look like regular pancake batter. If it is too thick, add a little more almond milk to thin it out.
Ensure the pan or skillet is greased well to avoid the low carb pancakes from sticking and breaking. Use a lightly greased layer to acheive golden brown keto pancakes.
Make small pancakes and cook them in batches. Doing this makes the whole process a lot easier. The pancakes will be a lot more manageable and cook evenly.
Cook on medium to low heat. Pancakes with almond flour are more delicate than regular pancakes, like the ones made with a Birch Benders premix. These grain free pancakes can burn more easily.
Wait until the little bubbles appear on the surface and edges of the pancakes before flipping them. This is a sure sign that they are ready to be turned!
This keto pancake batter can be made ahead but the baking powder must be left out until just before cooking.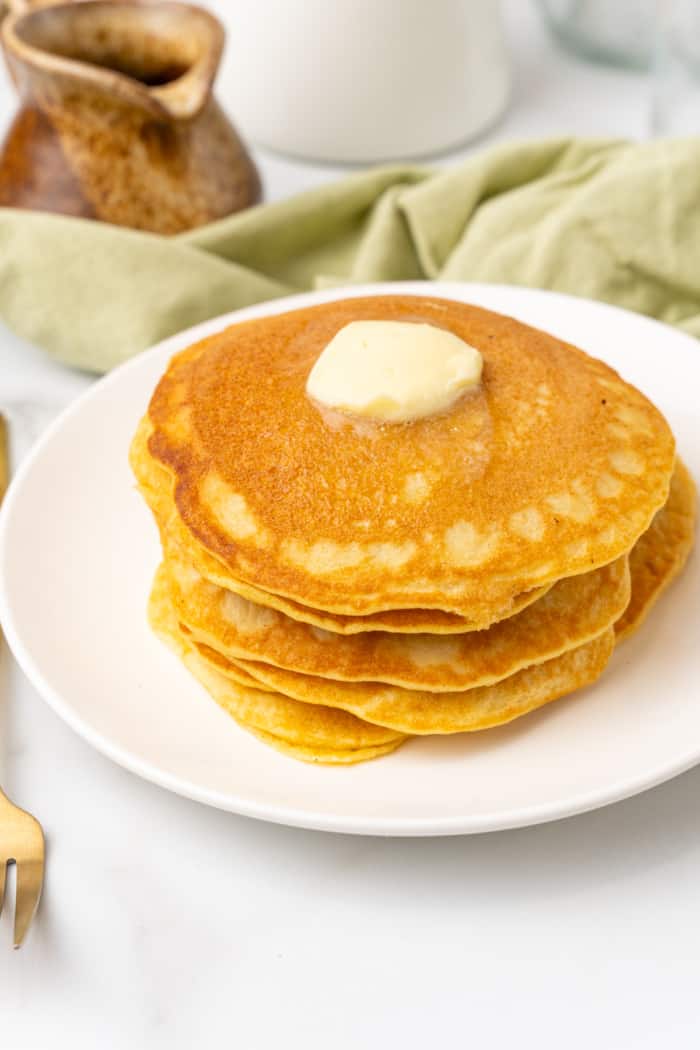 Flavor Variations and Add-ins
These are some fun ways to switch up the flavors of your keto pancakes.
Keto-friendly berries. blueberries, diced strawberries, crushed raspberries, and blackberries. Fold them into the batter or top the keto pancakes with them at the end.
Chopped and toasted nuts and seeds. Walnuts, almonds, and macadamia nuts are full of healthy fats.
Peanut butter and chocolate. Top with peanut butter and sugar free chocolate.
Citrus zest. Grate some lemon and orange zest into the batter for a bright, fresh flavor.
Toasted coconut and chia seeds. Chia seeds are full of protein and omega-3 fatty acids.
Sugar-free chocolate chips. For a treat, these can turn these pancakes into keto chocolate chip pancakes.
Cheese. Stir in or top the pancakes with high protein, full fat cheeses like cottage cheese, cream cheese, or ricotta cheese.
Protein powder. Replace some of the coconut flour with some protein powder. Choose a flavored protein powder to make your recipe taste even more delicious.
How to Serve and Store
Serve these keto pancakes warm for breakfast, brunch, or as a snack.
To store, cool the pancakes first. Next, pack them into an airtight container. They stay fresh in the fridge for about 2 days.
Warm them in a skillet with butter until heated through.
To freeze them, pack them into a freezer friendly bag or container. Layer sheets of parchment paper between them to avoid them sticking together. They will keep for about 2 months in the freezer.
Frequently Asked Questions (FAQs)
What are keto pancakes made of?
Low carb pancakes are made with almond flour, coconut flour, milk, and eggs.
What flours are keto?
Almond flour and coconut flour are both keto in small quantities.
Is almond flour good for keto?
Yes, almond flour is higher in protein and lower in carbs than white flour. Therefore, it is a good option for keto.
Does Birch Bender have keto pancakes?
Yes, Birch Bender has keto pancake mix.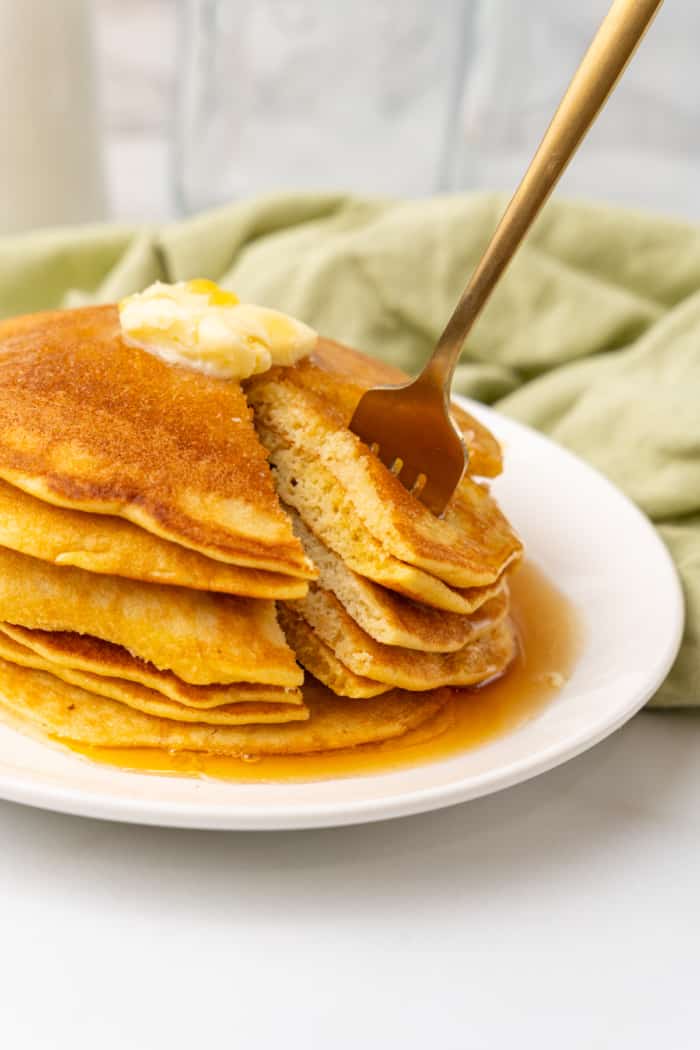 Equipment Needed
Pyrex Glass Measuring Cups: Use these measuring cups for measuring out the ingredients. They are durable, sturdy and easy to clean.
Whisk: Whisk together the pancake batter.
Spatula: Use a spatula to flip the pancakes.
Nonstick Skillet: This is my favorite nonstick skillet for any recipe.
Check out all of my kitchen favorites!
You May Also Like
If you make this easy keto pancake recipe, I would really appreciate a review! You can find me on Instagram, Facebook, and Pinterest. Join my exclusive Facebook Group for a behind the scenes look. I would love for you to follow along! For more ideas, check out these Breakfast Recipes.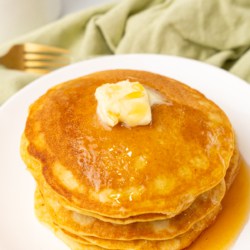 Get the Recipe:
Keto Pancakes
These keto pancakes are soft, fluffy, and buttery! This quick and easy recipe is great for breakfsat, brunch, or breakfast for dinner. These low carb pancakes are flavorful and delicious!
Ingredients
Instructions
First, in a mixing bowl, whisk together the eggs, almond milk, melted butter, and vanilla extract.

In a separate bowl, combine the coconut flour, almond flour, erythritol, baking powder, and salt. Mix until no lumps remain.

Gradually add the dry ingredients to the wet ingredients, whisking until the batter is smooth. Allow the batter to sit for 5 minutes.

Then, heat a nonstick skillet or griddle over low medium heat. Grease the cookie surface with butter.

Pour approximately ¼ cup of the batter onto the skillet for each pancake. Cook until bubbles form on the surface. Then, flip and cook for another 1 to 2 minutes, or until golden brown.

Remove the pancakes from the skillet or griddle. Repeat with the remaining batter, greasing the skillet as needed.

Finally, serve these keto pancakes with sugar free maple syrup!
Notes
Feel free to use another granulated keto sweetener if desired.
The pancake batter will be thin.
Allow the butter to become warm on the skillet or griddle before adding the pancake batter.
Carefully flip once the pancakes have little bubbles on top.
Store these pancakes in the fridge for up to 2 days.
Reheat in a warm skillet or toaster oven.
Calories:
100
kcal
,
Carbohydrates:
2
g
,
Protein:
5
g
,
Fat:
8
g
,
Saturated Fat:
4
g
,
Polyunsaturated Fat:
1
g
,
Monounsaturated Fat:
2
g
,
Trans Fat:
0.2
g
,
Cholesterol:
119
mg
,
Sodium:
147
mg
,
Potassium:
42
mg
,
Fiber:
1
g
,
Sugar:
0.4
g
,
Vitamin A:
275
IU
,
Calcium:
62
mg
,
Iron:
1
mg
Love these keto pancakes? You can sign up here to receive healthy meal plans, exclusive new recipes, and updates!