Best Keto Salsa
This Keto Salsa is bold, flavorful, and spicy! It is incredibly easy and takes only 5 minutes from start to finish. This low carb salsa is great for appetizers, dips, sauces and garnishes. It is always a party favorite!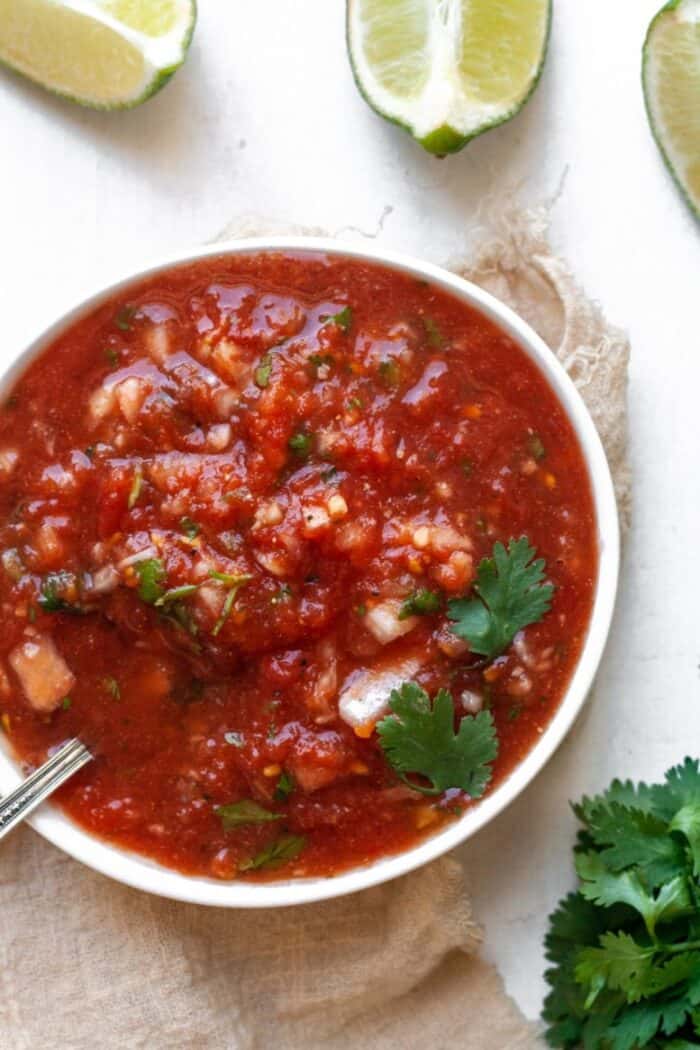 Why You'll Love This Salsa
This Keto salsa takes 5 minutes to make.
There is no cooking involved.
Everything is made in a food processor.
It tastes spicy, fresh, and so flavorful.
Unlike many store bought salsas, this version is low carb and sugar free.
It is made without peppers.
It pairs well with tacos, enchiladas, nachos, chips and burritos.
Check out this Mango Habanero Salsa for another fun idea!
This low carb salsa is great for dipping, chicken, and more!
This recipe is Whole30 compliant, Paleo, Gluten Free, Dairy Free, Vegan, Low Carb and Keto.
Ingredients List & Nutritional Benefits
These are the ingredients and substitutions for Keto salsa. Scroll down to the recipe card for the full recipe.
Canned whole peeled tomatoes are significantly lower in carbs than fresh tomatoes. Check labels to ensure sugar free.
Diced white onion adds a punch of flavor and freshness. In addition, onions are great for heart health and gut health.
Minced garlic is an anti-inflammatory nutritional powerhouse! It adds so much flavor to this Keto salsa. A little bit goes a long way.
Use as much of the jalapeño as desired. With the whole jalapeño, this salsa is medium. Without it, the salsa tastes very mild. They are high in antioxidants and vitamins A and C.
Fresh cilantro smells amazing and adds a freshness to this salsa. Additionally, cilantro is great for reducing the risk of heart disease and obesity.
The sea salt, cumin and lime juice are great for adding some flavor! Feel free to adjust these amounts to suit your taste.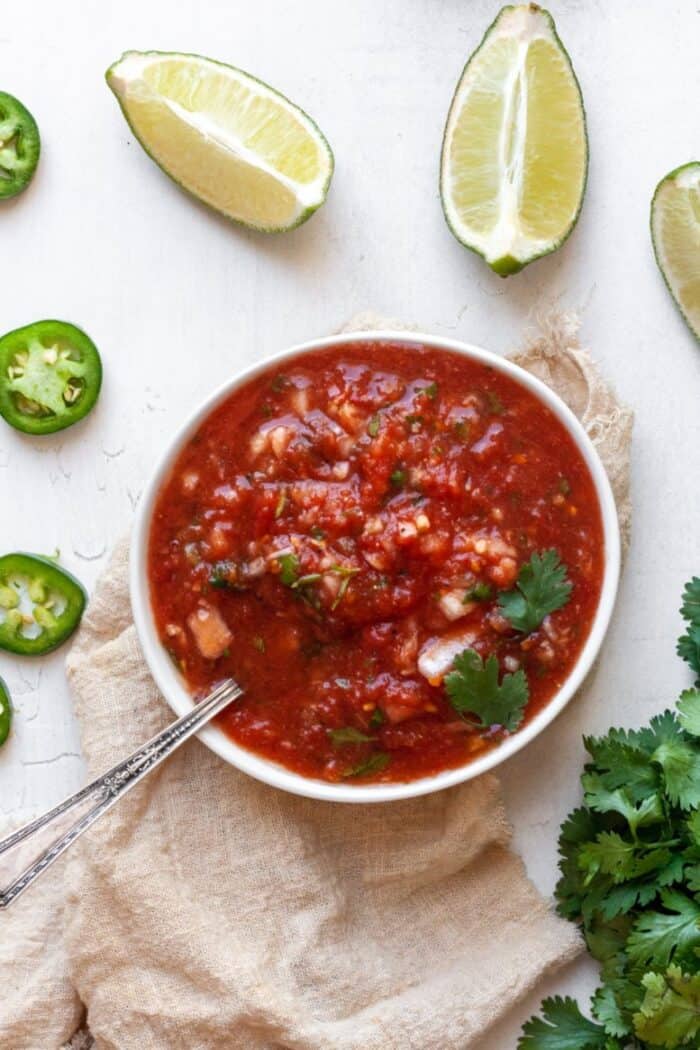 Is Salsa Keto?
Overall, salsa is a Keto friendly food. It is naturally low in carbs, but pay attention to nutrition labels. Many store bought brands add unnecessary sugars and preservatives to their salsas, making them higher in carbs.
Tomatoes add the most amount of carbs to salsa. By using canned whole peeled tomatoes, this salsa is Keto and low carb.
To keep this salsa Keto friendly, use pork rinds, low carb chips, or low carb veggies as dippers.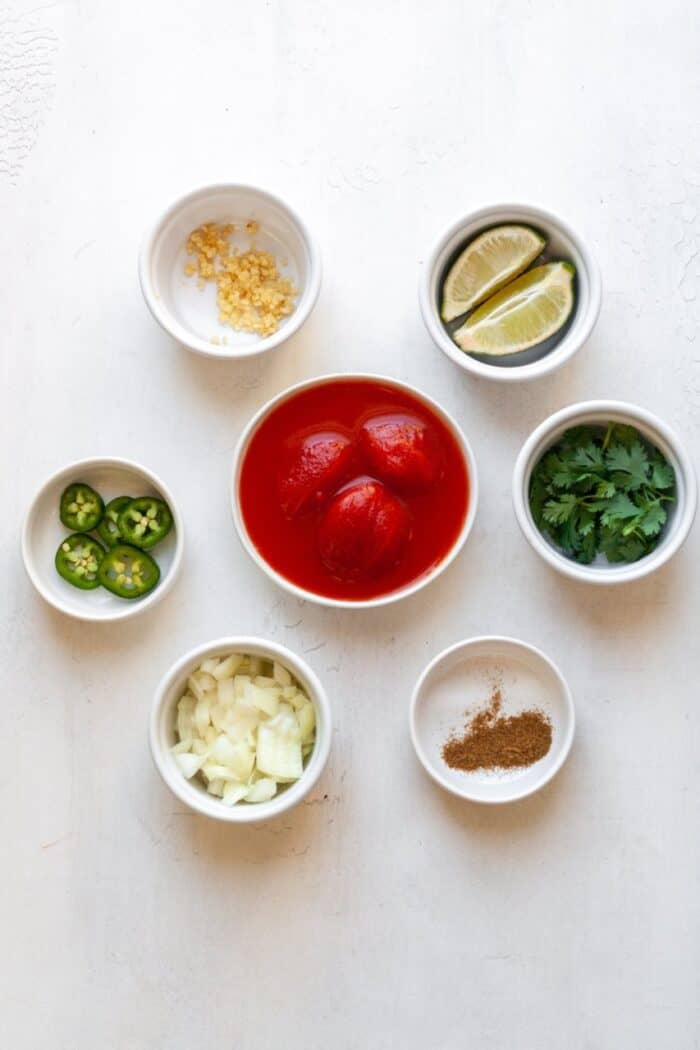 How To Make
Step 1
First, add all ingredients to a blender or food processor.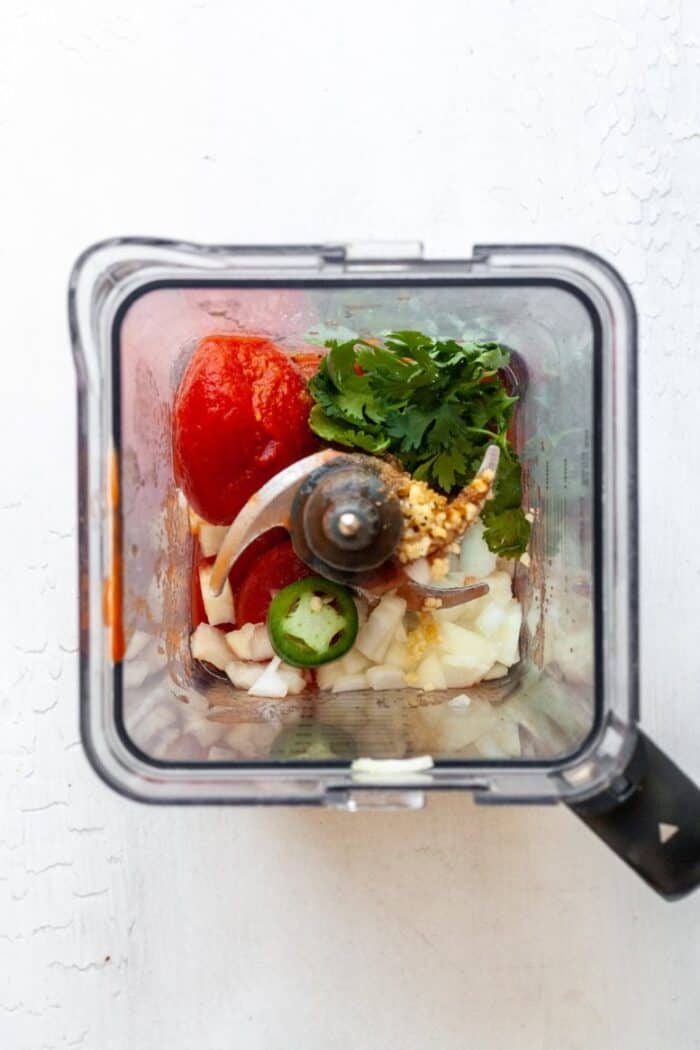 Step 2
Blend for 5 to 20 seconds, or until salsa has reached desired consistency.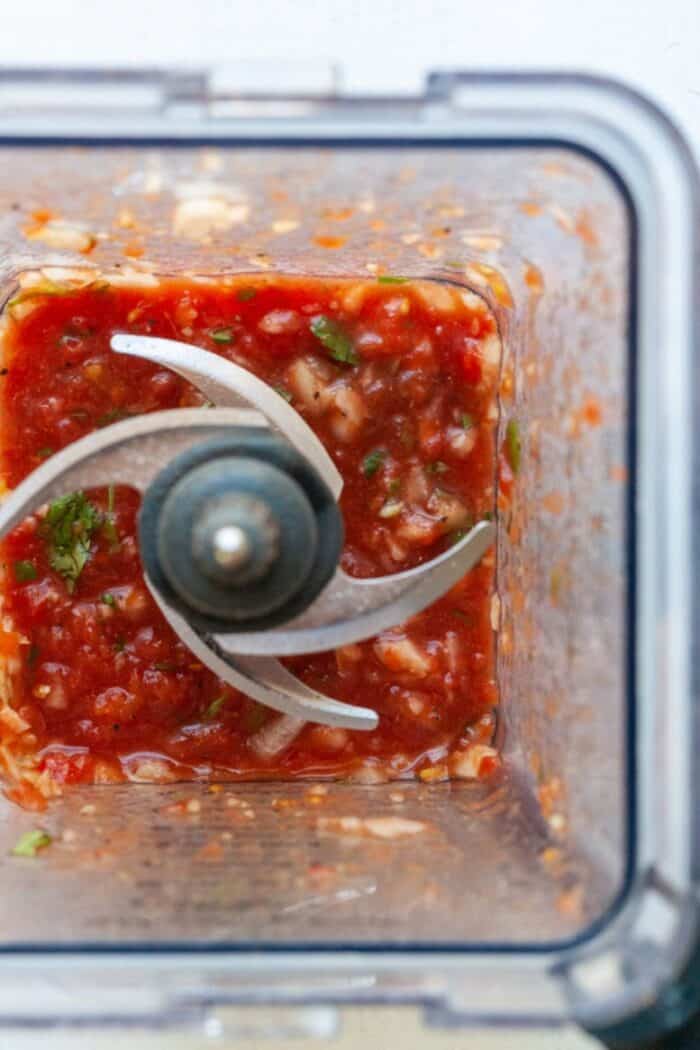 Step 3
Finally, pour Keto salsa into a bowl and serve!
Expert Tips and Tricks
The more jalapeño used, the more spicy this low carb salsa will become. Feel free to omit entirely for a mild taste.
Be careful with blending! Only 5 to 10 seconds is usually enough. I like to start by blending for 5 seconds then evaluating to see if it needs more blending.
The longer you blend for, the more smooth this salsa will become.
Use a sugar free whole canned peeled tomatoes for Keto.
Use fresh cilantro, fresh jalapeño and fresh lime for best results.
Frequently Asked Questions
Is salsa healthy?
Yes, homemade salsa is made with wholesome healthy ingredients. Homemade is significantly healthier than store bought.
Is salsa a condiment?
Yes, salsa is a condiment. It is used as a sauce for meats, salads, and dips.
How long does it last?
This salsa lasts about 2 weeks in the fridge and a few months frozen.
Can I freeze this?
Yes, this salsa freezes well. Thaw at room temperature before eating.
Can I can salsa?
I have no experience with canning, but I imagine that this salsa would do well!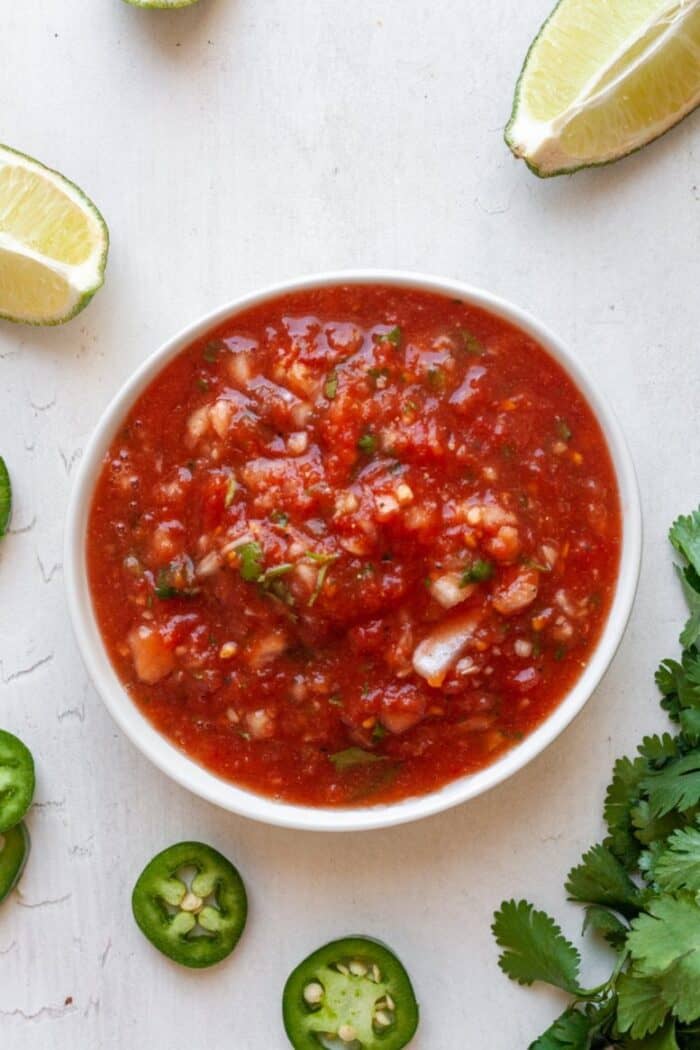 What To Serve With
This salsa is great with low carb vegetables! Dip celery, broccoli or zucchini into it.
It is also great with low carb tacos and burritos. Moreover, this salsa is great on top of taco salad! I prefer it paired with these Keto Carnitas!
Serve with these Cheese Quesadillas!
Lastly, low carb chips and pork rinds are both great things to dip in.
You May Also Like
If you make this homemade low carb salsa recipe, I would really appreciate a review! You can find me on Instagram, Facebook, and Pinterest. I would love for you to follow along! For more recipes and ideas, check out these Side Dishes.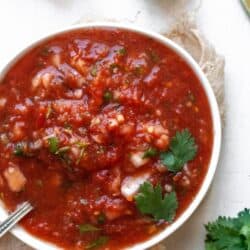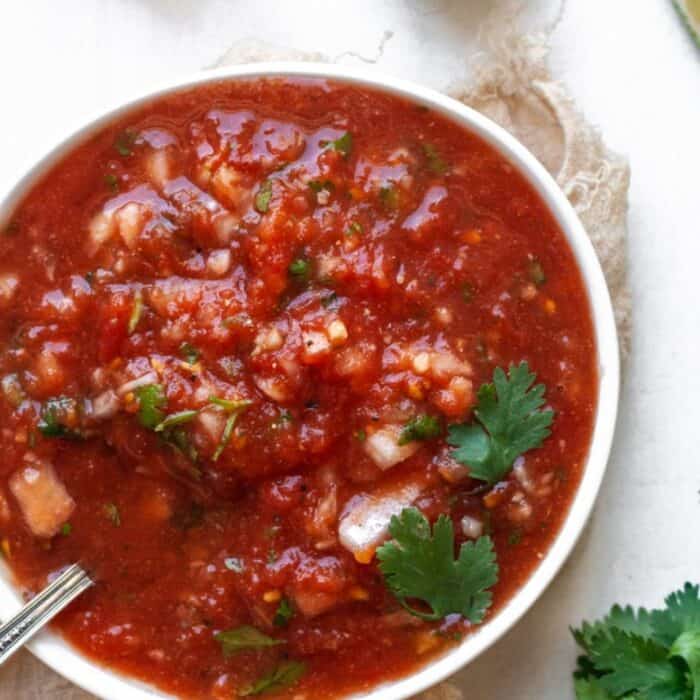 Get the Recipe:
Keto Salsa
This Keto Salsa is bold, spicy and flavorful! It takes only 5 minutes to make and comes together quickly and easily. This low carb salsa is great for low carb chips, celery, pork rinds, and chicken!
Ingredients
Instructions
First, add all ingredients to a blender or food processor.

Blend on high for 5 to 20 seconds, or until salsa has reached desired consistency.

Pour into bowl and serve!
Notes
Use sugar free canned whole tomatoes for Keto.
Use less jalapeño for a milder taste.
Blend until salsa reaches desired consistency.  I blended mine for about 7 to 8 seconds.
Store leftovers in an airtight container in the fridge for up to 2 weeks.
Salsa can be frozen if needed.
If using the whole jalapeño, this salsa is medium.
If not using any jalapeño, this salsa is mild.
Calories:
12
kcal
,
Carbohydrates:
3
g
,
Protein:
1
g
,
Fat:
1
g
,
Saturated Fat:
1
g
,
Polyunsaturated Fat:
1
g
,
Monounsaturated Fat:
1
g
,
Sodium:
62
mg
,
Potassium:
102
mg
,
Fiber:
1
g
,
Sugar:
1
g
,
Vitamin A:
122
IU
,
Vitamin C:
6
mg
,
Calcium:
18
mg
,
Iron:
1
mg
Do you love this Keto Salsa? You can sign up here to receive healthy meal plans and new recipes!