Whole30 BBQ Chicken Bowls
(WHOLE30, GLUTEN FREE, DAIRY FREE, PALEO)
I'm convinced that eating anything out of a bowl is more fun.  There's just something about my whole meal being tucked inside the same bowl that's comforting to me.  It's funny because as a child (and honestly until college…) I did NOT like any food touching.  I wouldn't eat something if another food on my plate had touched it.  Dramatic, I know.  Now? I love when everything is piled on top of each other.  These BBQ Chicken Bowls are filled with all the classic flavors of a backyard BBQ: sweet and savory BBQ chicken, crispy roasted sweet potatoes and coleslaw.  They are super easy to make and they're always a big hit.  Let's get started!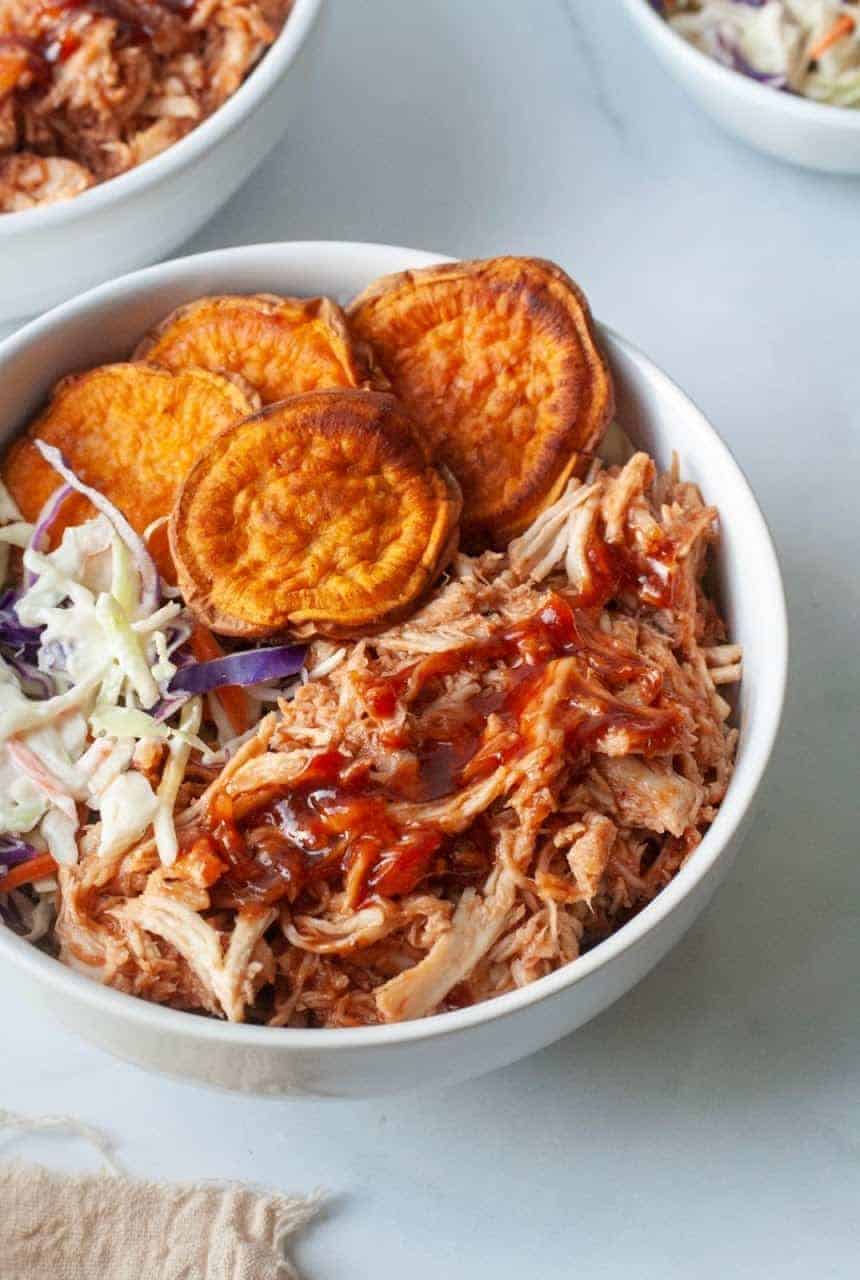 This recipe is super easy if you already have cooked chicken on hand.  If you do, simply take two forks and shred it.  If you don't, check out my quick and easy recipe here that uses my Instant Pot.  Meanwhile, you'll want to make the sweet potatoes.  I like to cut mine into rounds or home fries and either option works well.  Either way, these sweet potatoes will be tossed with melted coconut oil before being baked until crispy.  I like to use coconut oil as the fat of choice here because it adds just a subtle sweetness to the sweet potatoes.  It also has a high melting point so I find that the sweet potatoes don't burn.  Once those are in the oven, it's time to mix together the coleslaw.  I always buy a bag of the coleslaw mix but you could also used chopped cabbage and carrots.  A simple little dressing ties that together and now it's time to assemble!  I place the shredded BBQ chicken in first and then supplement with the coleslaw and sweet potatoes.  These bowls are totally customizable and you can add more or less of your favorite ingredient.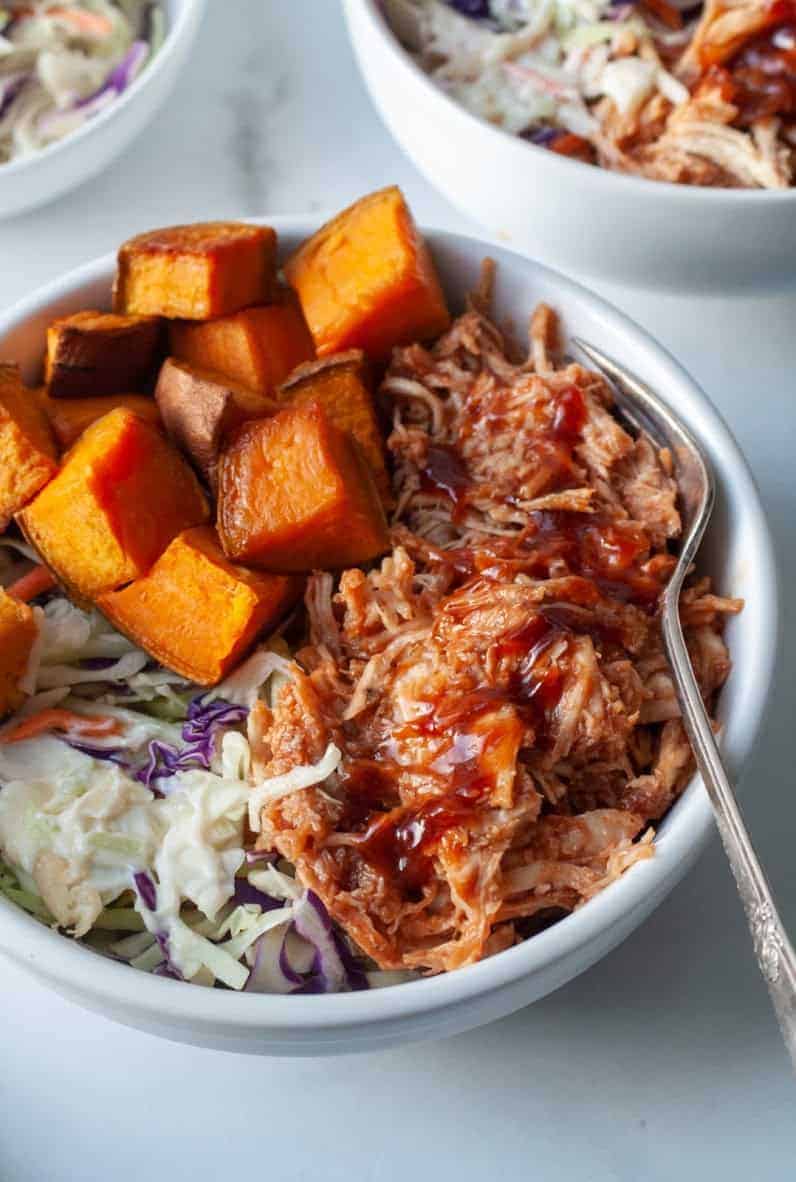 These BBQ Chicken bowls are perfect for any night of the week.  They're quick and simple enough for any weeknight but they're also fun and festive for a weekend.  They've been a big hit at my backyard BBQs and both adults and children love them.  They are also super easy to make ahead of time.  Just simply prep the chicken and sweet potatoes as mentioned and leave the dressing off the coleslaw until it's almost time to serve.  The perfect lunch or dinner for any time!
Prep Time: 15 minutes
Cook Time: 40 minutes
Total Time: 55 minutes
Course: Lunch, Dinner
Servings: 4 servings
Ingredients:
CHICKEN:
1.5 lbs shredded chicken (see my Instant Pot method here)
3/4 cup Whole30 BBQ sauce
SWEET POTATOES:
4 large sweet potatoes, sliced
2 TBL coconut oil or ghee, melted
COLESLAW:
1 bag (3-4 cups) coleslaw mix or chopped carrots and cabbage
2/3 cup Whole30 mayonnaise
1/2 teaspoon Whole30 mustard
Pinch sea salt
Pinch black pepper
Directions:
Preheat oven to 400 degrees Fahrenheit and line a baking sheet with parchment paper.  In a large bowl, add sliced sweet potatoes and melted coconut oil.  Toss to combine.  Lay sweet potatoes out on pan so that none are touching.
Bake for 40 minutes, flipping after 20 minutes.
Meanwhile, toss shredded chicken with BBQ sauce in a mixing bowl until coated.
To make the coleslaw, combine all the ingredients and set aside.
To assemble: in 4 bowls, add shredded chicken, sweet potatoes and coleslaw.  Serve!