PALEO CARAMEL TURTLE BROWNIES
(GRAIN FREE, GLUTEN FREE, DAIRY FREE, PALEO)
These are no ordinary brownies.  They have all the qualities I love about a brownie: crispy edges, a soft warm and gooey center and dark chocolate throughout.  They're not cakey (who even likes cakey brownies anyway?) but they're super fudgy instead.  Unlike traditional brownies, these have a caramel layer in the middle and they also have pecans and chocolate chips throughout.  They are smooth and creamy but the pecans add a nice crunch.  Once you make these, it'll be impossible to go back to normal brownies!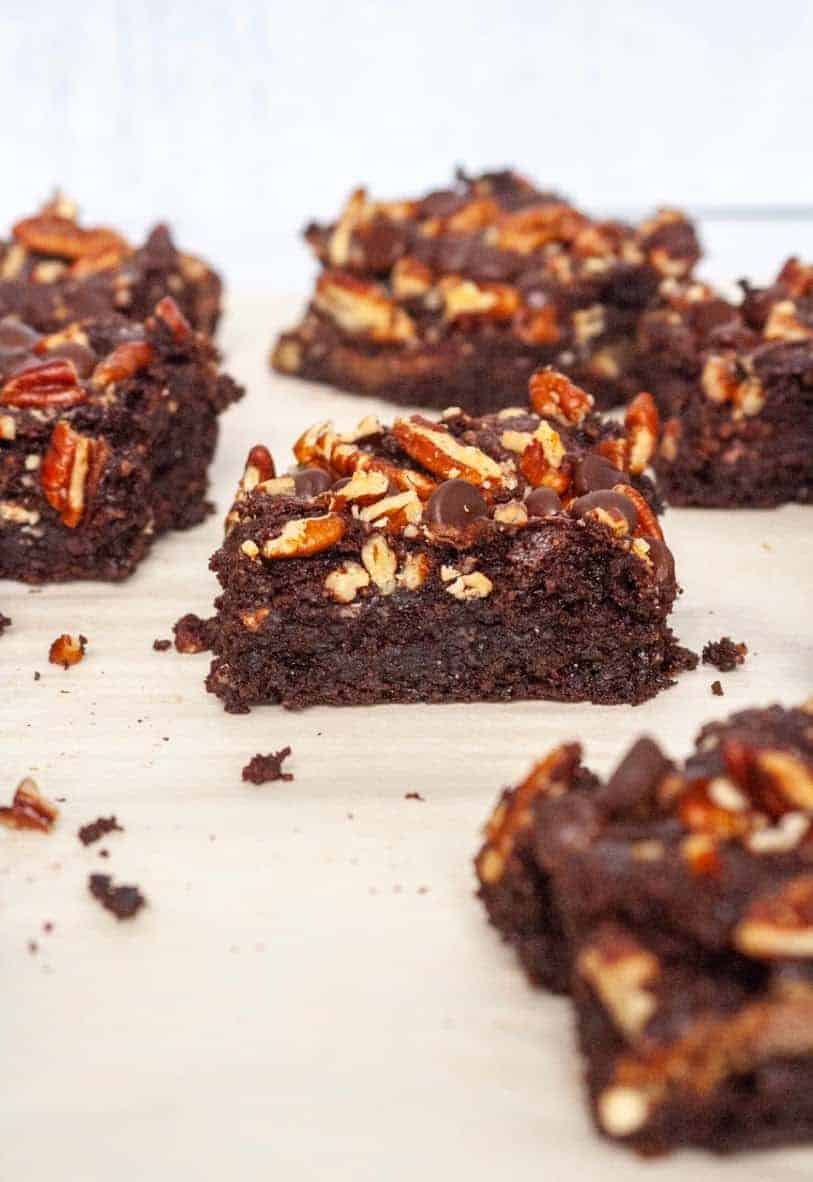 These brownies are a little more involved than your average brownies but I promise they are worth every second.  We will first make the brownie batter.  This part is super easy and straightforward.  Once the batter has been made, pour half of that into the brownie pan and bake until just barely set in the middle.  It shouldn't be jiggly but it also shouldn't look cooked through.  While the bottom brownie layer is baking, it's time to make the homemade caramel sauce.  I love using date syrup here which is just ground up dates.  It has the same consistency as honey or a thick maple syrup.  Actual dates can be used here but might require some extra blending time to make the sauce smooth.  The caramel sauce ingredients are all added to your blender and blended until smooth.  Once the bottom layer of brownies is done, you'll pour the caramel sauce on top of the brownies.  I like to reserve a little caramel sauce for topping the brownies later, but that's a total preference of mine.  Sprinkle some of your pecans and chocolate chips atop the caramel layer and then pour over the remaining brownie batter.  Sprinkle the rest of the pecans and chocolate chips on top and return to the oven.  Mine baked for about 25 minutes until a toothpick inserted in the middle came out clean.  It's very important to let these brownies cool completely before cutting into.  I like to let them sit for at least a couple hours in the fridge.  Then, I top with a drizzle more of caramel sauce and dig in!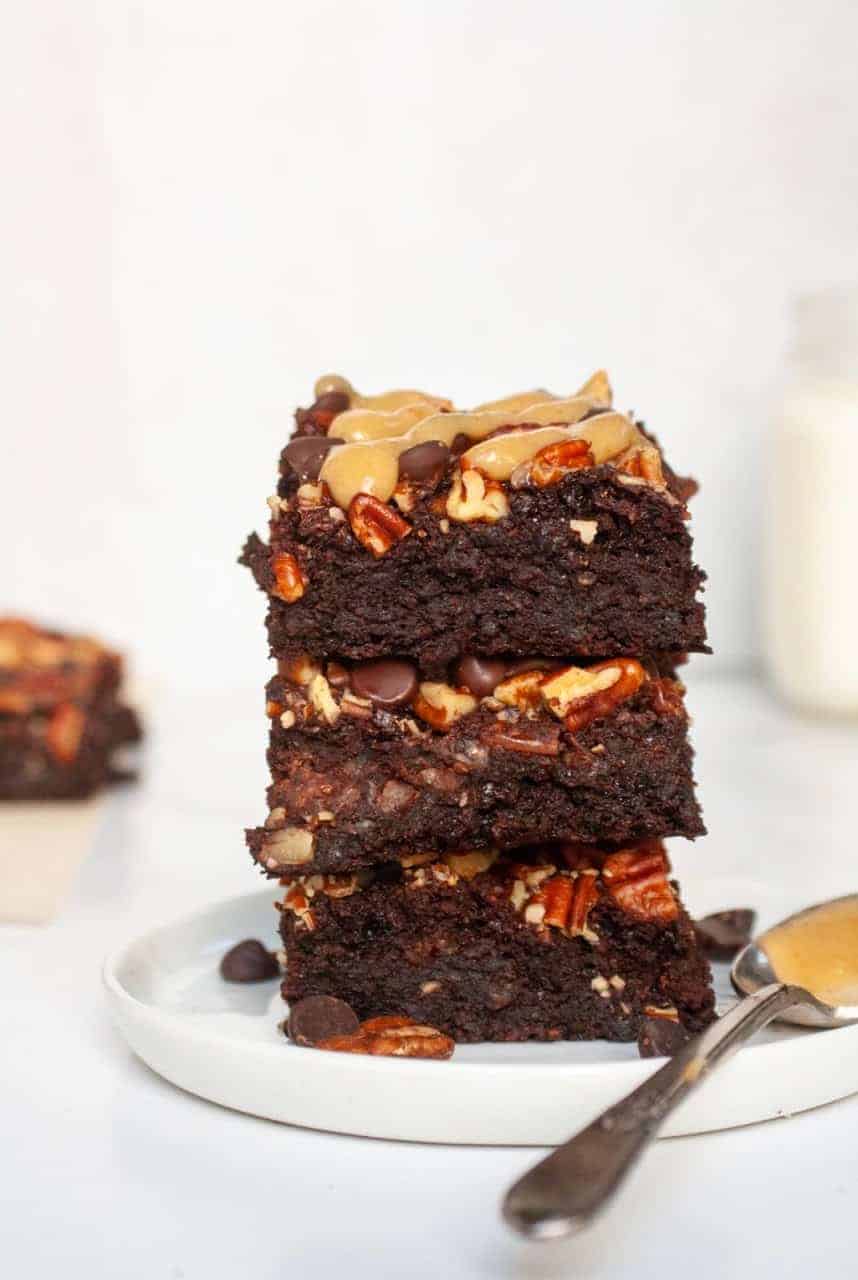 Yes, these brownies require some work in the kitchen but YES, they are totally decadent.  They are definitely for the chocolate lovers!  The brownies themselves are rich and gooey but the pecans provide a nice crunch.  These are an elevated and sophisticated twist on the classic brownie.  Make these for your next gathering and I promise they'll be gone so fast!  You will definitely wow your family and friends with this recipe.  Enjoy!
Prep Time: 15 minutes
Cook Time: 45 minutes
Total Time: 60 minutes
Course: Dessert, Snack
Servings: 9 brownies
Ingredients:
BROWNIES:
1/2 cup dark chocolate chips
4 TBL coconut oil
1/2 cup almond flour
2 TBL cocoa powder
1 tsp baking soda
1/2 cup coconut sugar
1 tsp vanilla
2 eggs
1/2 cup pecans, slightly crushed
1/3 cup dark chocolate chips
CARAMEL:
1/2 cup date syrup (or 1/2 cup dates)
2 tsp coconut oil
1/3 cup water
Pinch sea salt
Directions:
Preheat oven to 350 degrees Fahrenheit.  Line an 8×8 baking pan with parchment paper and set aside.
In a microwaveable bowl, melt 1/2 cup dark chocolate chips with 4 TBL coconut oil in 30 second increments, stopping to stir in between.
In a large mixing bowl or KitchenAid, add melted chocolate.  Stir in coconut sugar, vanilla, and eggs.  Once smooth, add in almond flour, cocoa powder and baking soda.
Pour half of the brownie mixture into the baking pan.  Set aside remaining batter.  Bake for 14-16 minutes or until just barely set in the middle.
Meanwhile, make your caramel sauce.  Add all ingredients to a blender and blend until smooth.  Add more water if it's too thick.
Once brownies have just set, remove from oven.  Pour caramel sauce on top and sprinkle with 1/4 cup pecans and 2 TBL chocolate chips.
Pour remaining brownie batter over caramel and pecans and then sprinkle your remaining pecans and chocolate chips on top.
Return to the oven for about 25-27 minutes or until a toothpick inserted comes out clean.
Allow brownies to cool completely (about 1-2 hours) before topping with extra caramel sauce if desired.