PALEO CHOCOLATE DIPPED COOKIES
(GRAIN FREE, GLUTEN FREE, DAIRY FREE, PALEO)
These chocolate dipped cookies are as easy as they are delicious!  I took my beloved three ingredient cashew butter cookies and gave them a fun chocolate twist!  These cookies have that same super easy three ingredient cookie but they're dipped in melted dark chocolate and sprinkled with chopped cashews.  The chocolate and cashews add some extra fun, flavor and crunch!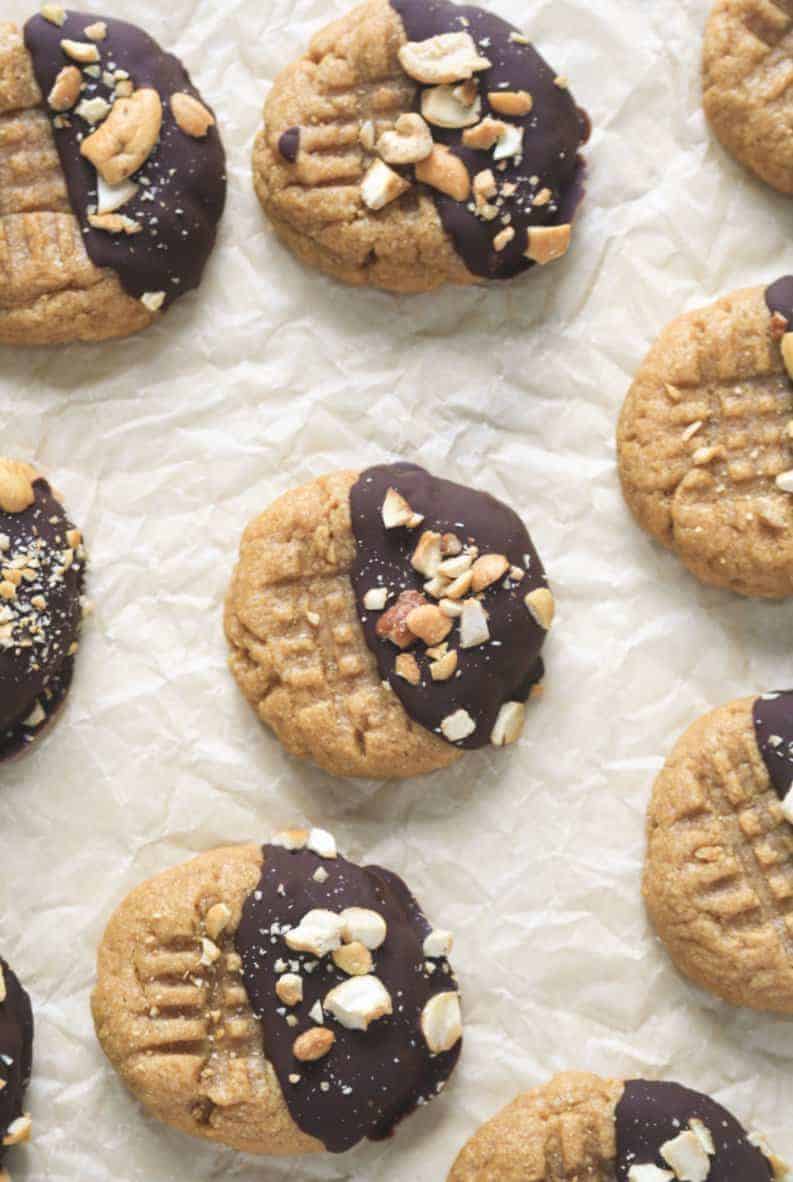 These cookies have become a go to for me!  Since they're so quick and easy, I can easily throw them together for any occasion.  First start with making the cashew butter cookies.  This is as simple as combining the cashew butter, coconut sugar and egg.  Please note: I highly suggest using a nut butter that contains only nuts and salt.  Using one with honey, oil, or anything else will yield different results.  Roll the dough into 1 inch sized balls and place on a parchment lined baking sheet.  These cookies only take about 9-10 minutes to bake.  The edges will become lightly golden and the middle will be set when they are done.  Allow the cookies to cool before making the chocolate coating.  Melt together the dark chocolate chips with coconut oil in the microwave in 30 second increments.  I use a spoon to stir this together between the 30 second increments.  My chocolate is usually completely melted in the first 30 seconds.  Once it's smooth, dip each cookie in the chocolate and place back on the parchment lined baking sheet.  Sprinkle the chopped cashews on top and place in the fridge to allow them to cool.  Once the chocolate has hardened (about 30 minutes), dig in!  These cookies can be stored at room temperature for 2-3 days, but if it's hot and/or humid, you'll want to keep these in the fridge.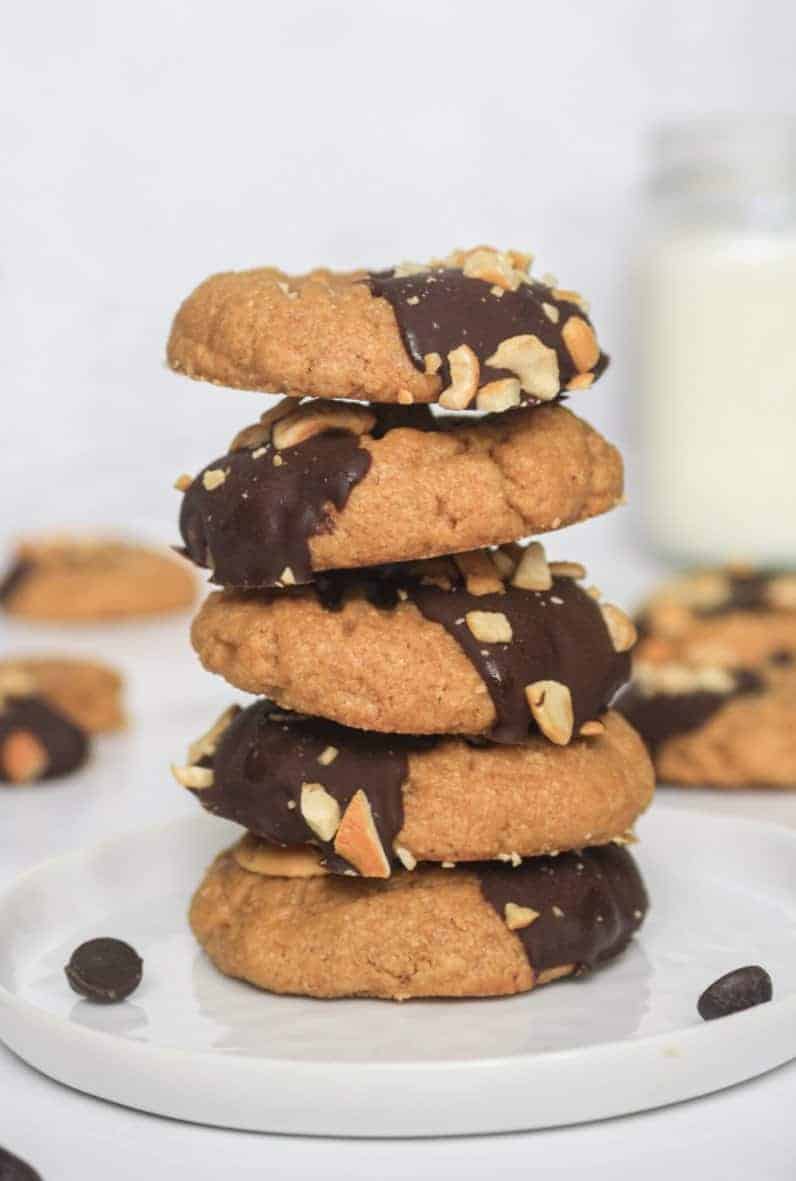 These cookies are SO easy – I know I keep saying that but it blows my mind every time I make them!  They're soft and chewy.  The chocolate dip adds a nice smooth and creamy texture to them while the cashews add a nice crunch.  This is such a fun baking project for anyone – kids and adults!  They are fun for everyday baking but they're great for holidays as well.  My family always asks for these at Christmas!
Prep Time: 5 minutes
Cook Time: 10 minutes
Total Time: 15 minutes (plus time to chill)
Course: Dessert, Snack
Servings: 15 cookies
Ingredients:
1 cup cashew butter
3/4 cup coconut sugar
1 egg, room temperature
1/2 cup dark chocolate chips
1 TBL coconut oil
Chopped cashews for garnish
Directions:
Preheat oven to 350 degrees Fahrenheit and line a baking sheet with parchment paper.
Combine cashew butter, coconut sugar and egg in a mixing bowl.  Roll out quarter sized balls of dough.  Take a fork and lightly press on top of dough balls.
Bake for 9-10 minutes or until edges are lightly golden and the middle is set.
Allow cookies to cool for 5 minutes on the pan before carefully removing to a cooling rack.
In a small microwavable bowl, melt dark chocolate and coconut oil in 30 second increments, stopping to stir in between.
Take each cooled cookie and dip half in chocolate.  Place on parchment lined baking sheet.  Repeat for all cookies.
Sprinkle chopped cashews over the chocolate dip and stick the pan in the fridge.  Refrigerate until chocolate is hardened (at least 30 minutes).
Cookies can be stored at room temperature for 2-3 days, but refrigerate for best results.