WHOLE30 VEGAN LO MEIN
(VEGAN, WHOLE30, GLUTEN FREE, GRAIN FREE, DAIRY FREE, PALEO)
After going gluten free years ago, I started to make my favorite takeout dishes at home.  Unfortunately most Asian dishes are made with soy sauce, which contains gluten.  That means I had to say a sad farewell to my weekly Chinese takeout.  Creating these recipes at home has become one of my favorite things!  I love the challenge of it.  This Veggie Lo Mein has all the bright colors and bold flavors of a traditional Lo Mein.  It's made without gluten, dairy or sugar but it's packed full of flavor.  This is a healthier and cheaper way to eat your favorite takeout at home!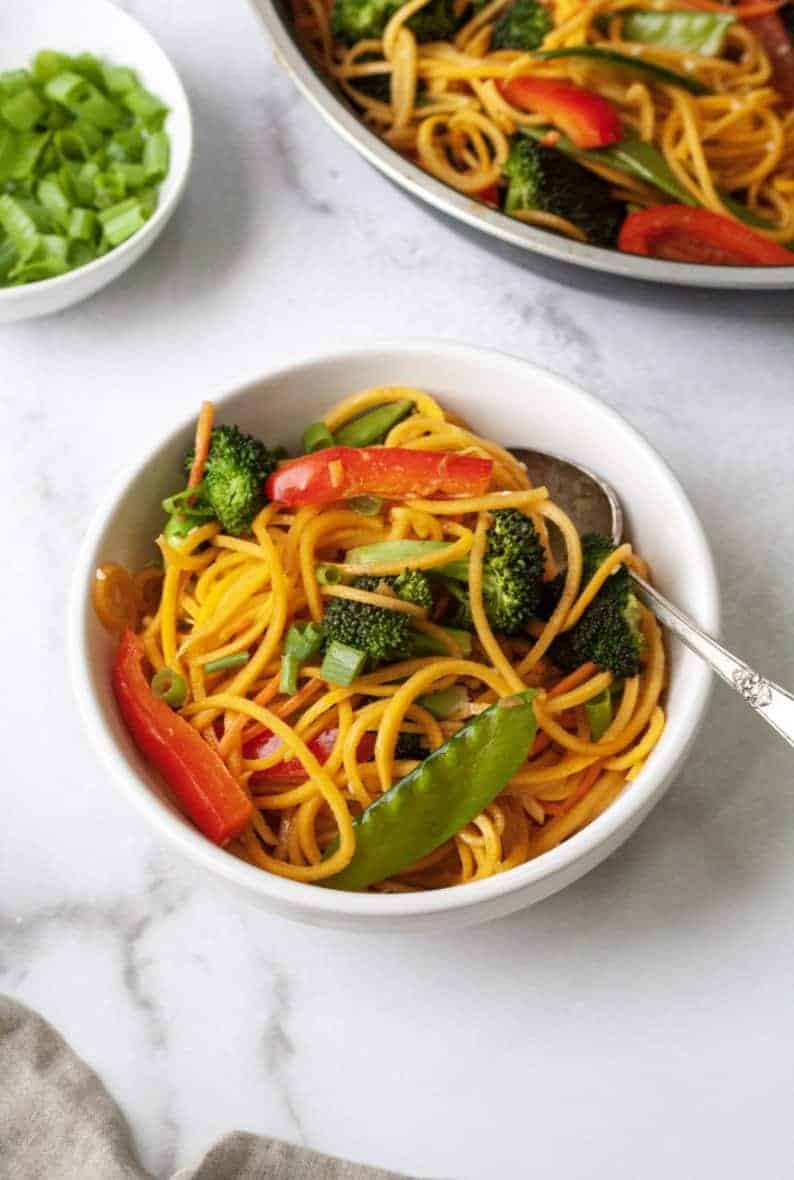 Traditional Lo Mein is made with noodles but once again – gluten!  I decided to use butternut squash noodles because I love the texture and taste of them.  They have a slightly sweeter and more firm texture than their zucchini counterpart.  In a dish like Lo Mein, it's important for the "pasta" to have a sturdy texture.  I have also tried this dish using sweet potato noodles and really enjoyed it!  Next up, I'm going to sub in spaghetti squash and see how that goes.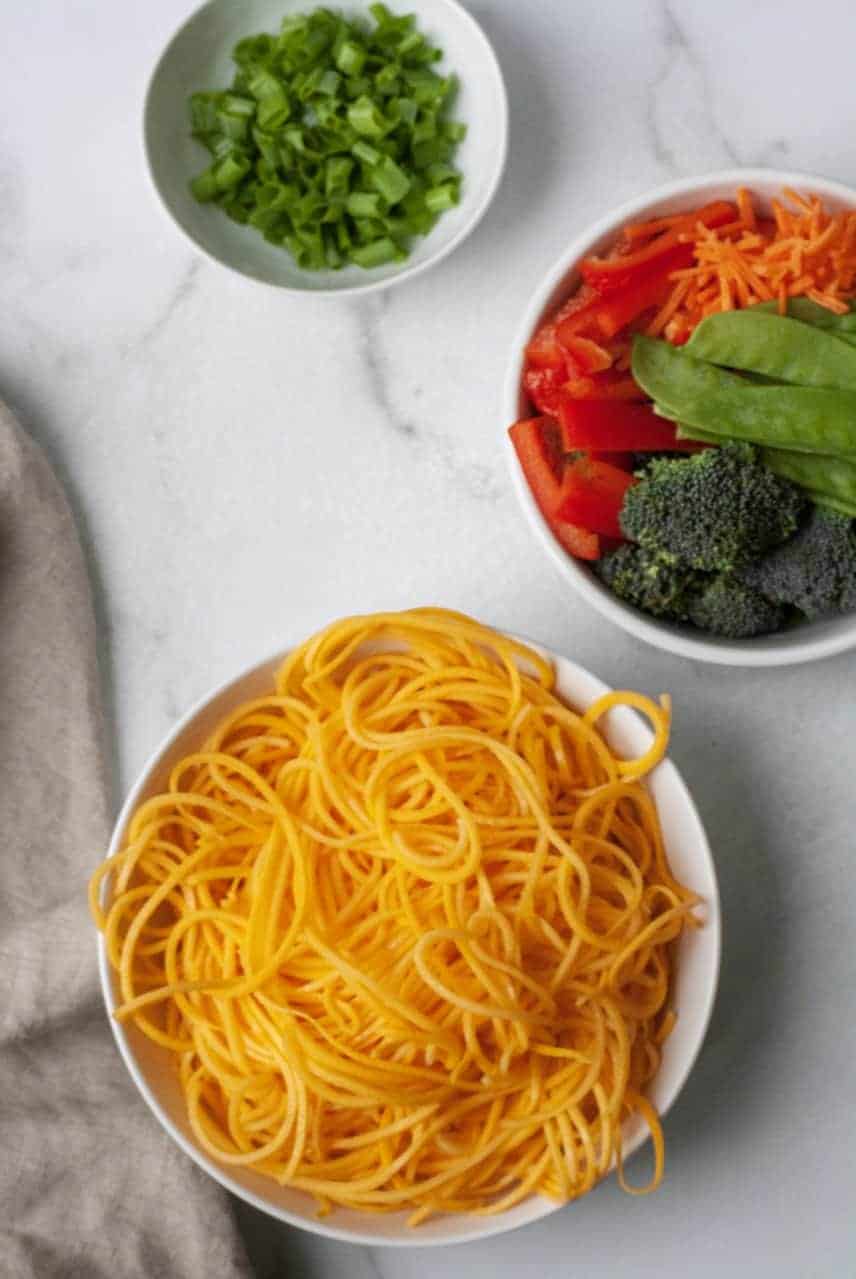 First up, we will add all of the veggies and the noodles to the skillet with some olive oil.  This cooks together for about 7-8 minutes.  This will yield slightly crisp veggies.  If you prefer softer veggies, continue cooking for 2-3 more minutes.  In a small bowl, combine the ingredients for the sauce and pour over the skillet.  Mix around until the veggies and noodles are all coated in sauce.  Cook for 2-3 minutes.  Remove from heat and garnish with sesame seeds and green onions.  This can be eaten straight away as a warm Lo Mein but it's also great cold as leftovers!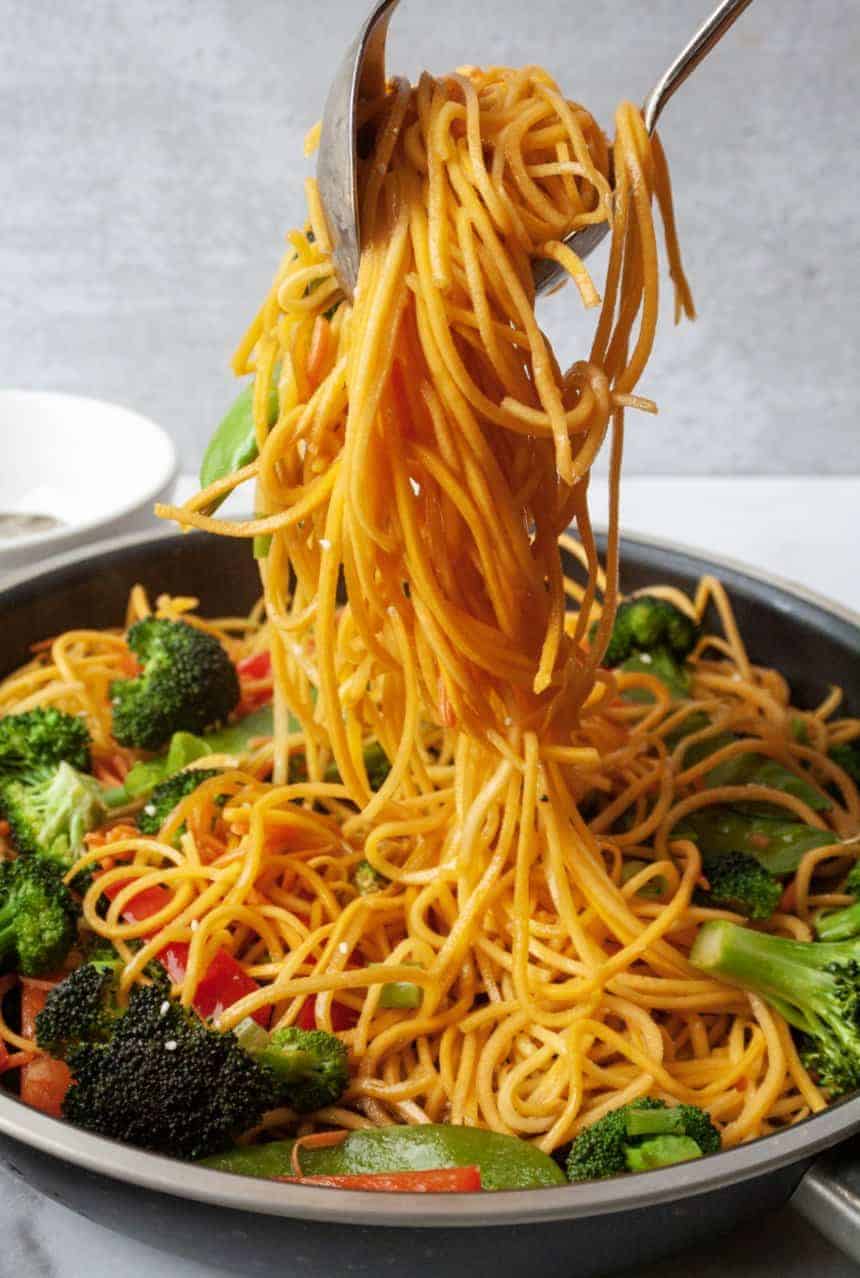 I don't feel like I'm missing out when I'm able to eat my favorite foods in a gluten free way.  This dish really brought me back to all those Chinese takeout days.  You can totally customize this and add your favorite protein – scrambled eggs with pork or chicken sounds delicious!  This Lo Mein is super quick and easy to whip up which makes it perfect for busy weeknights.  It's great as leftovers too.  Either way, you can enjoy this Asian classic in a healthy and delicious way!
Prep Time: 10 minutes
Cook Time: 15-20 minutes
Total Time: 25-30 minutes
Course: Lunch, Dinner
Servings: 4
Ingredients:
4 cups spiral veggie noodles (I used butternut squash noodles)
2 TBL olive oil
1 red pepper, diced
2 cups broccoli
1 cup diced carrots
1 cup snap peas
1 TBL minced garlic
1/2 cup Big Tree Farms Coconut Aminos
2 TBL rice vinegar
Pinch ginger
2 TBL tapioca flour
Green onions, for garnish
Sesame seeds, for garnish
Directions:
In a skillet over medium heat, add olive oil, spiral noodles, red pepper, broccoli, carrots, snap peas and garlic.  Cook for 7-8 minutes, flipping every couple minutes.
Cook until veggies are softened.  At this point, the noodles should be getting soft.  For a very soft noodle and tender veggies, continue cooking for 2-3 more minutes.
In a small bowl, mix coconut aminos, rice vinegar, ginger and tapioca flour until combined.  Pour this sauce in the skillet.
Stir veggies and sauce together.  Cook for 2-3 minutes.
Remove from heat and garnish with green onions and sesame seeds if desired.