WHOLE30 BEEF BURRITO BOWLS
(WHOLE30, GLUTEN FREE, GRAIN FREE, DAIRY FREE, PALEO)
A delicious dinner that's ready in 30 minutes or less?  Yes please!  Not only are these beef burrito bowls super quick and easy, but they're so flavorful!  I am convinced that eating out of a bowl instantly makes it more fun.  I love having everything all together in one place so that the flavors can join together.  In this case, I love taking a bite with a little ground beef, a little veggies, a little cauliflower rice and a little guacamole.  The combination of flavors and textures is out of this world!
These bowls are super simple and easy to make!  You'll first brown the ground beef in a skillet.  Add the seasonings and some water to the skillet and stir to combine.  I used a cast iron skillet but any skillet will work.  Once the beef has browned, remove the meat to a plate and discard excess fat.  In the same skillet, add the veggies and the olive oil, sautéing until the veggies become soft.  While the veggies are cooking, add your riced cauliflower (I buy mine already riced and frozen) to another skillet with some olive oil.  The cauliflower rice only takes a few minutes to defrost and cook.  I like mine to still have a bit of a crunch to it, so I only cook it for a few minutes.  If you want softer cauliflower rice, cook it for 4-5 minutes.  Now it's time to assemble!  Place the cauliflower rice in the bottom of your bowls and top with the ground beef mixture, veggies, and jalapeños if desired.  I always top mine with some Guacamole but that's "optional"!  I also enjoy a little squeeze of lime juice to top everything off.  Yum!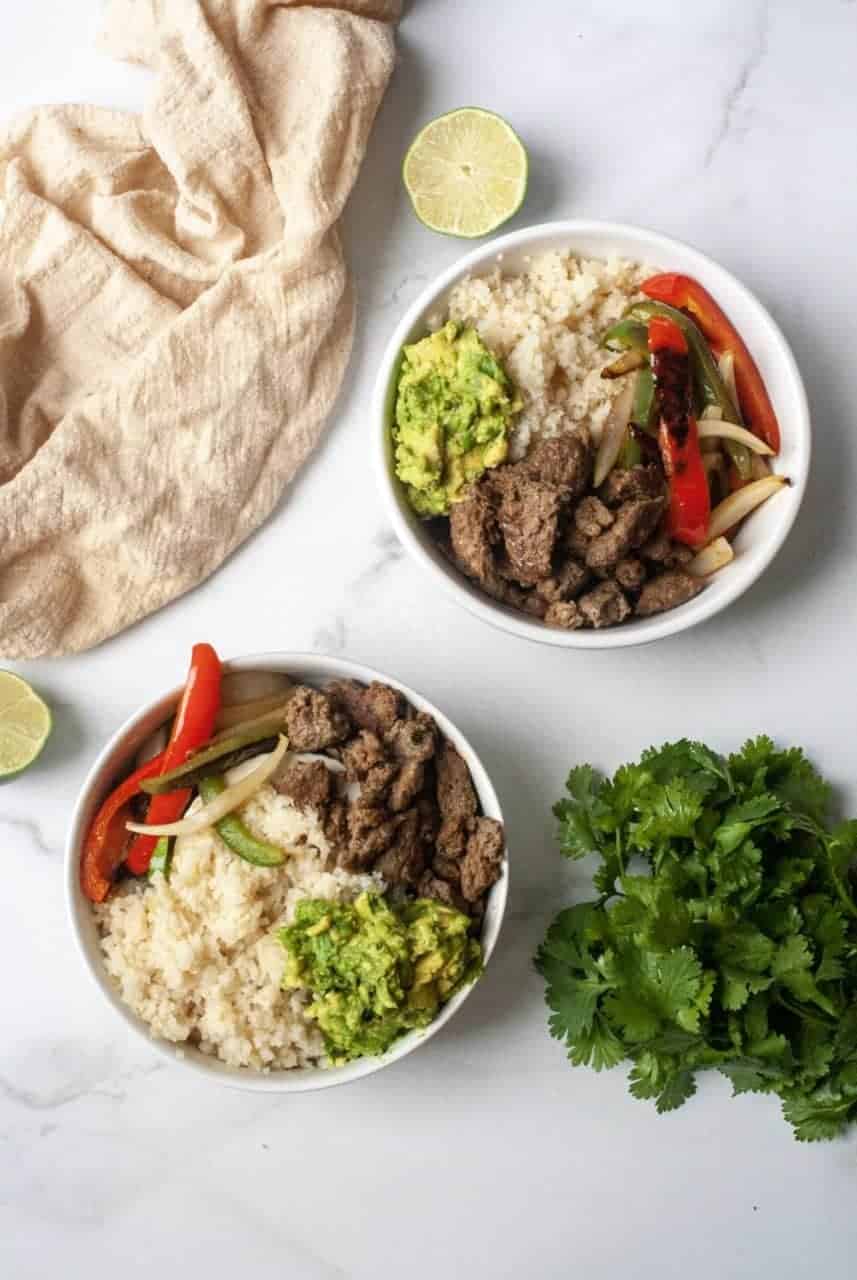 Dinner in one easy and delicious bowl!  These dinner bowls have become my favorite because they're easy to make and they pack quite the flavor punch.  I also love that the topping possibilities are endless and everyone can customize their bowl to their liking.  No two bowls have to be the same!  These are a great weeknight family dinner, they're kid approved and they're bound to become a favorite of yours too!
Prep Time: 10 minutes
Cook Time: 20 minutes
Total Time: 30 minutes
Course: Lunch, Dinner
Servings: 4-6
Ingredients:
2 pounds ground beef (I love Porter Road)
2 TBL ghee or olive oil
1/4 tsp ground pepper
1/4 tsp sea salt
2 tsp cumin
1/2 tsp chili powder
1.5 tsp paprika
1/2 tsp garlic powder
1/2 tsp onion powder
1/4 cup water
1 large red pepper, chopped
1 large green pepper, chopped
1 large white onion, chopped
4 cups cauliflower rice
Squeeze lime juice
Jalapeños, for garnish
Guacamole, for garnish
Directions:
In your cast iron skillet, add ground beef over medium heat.  Sprinkle the seasonings (pepper, salt, cumin, chili powder, paprika, garlic powder and onion powder) on top of ground beef.  Add in about 1/4 cup of water and stir to mix.  Cook 4-5 minutes until browned.  Remove excess fat.
Remove meat to a large plate and set aside.
Add chopped peppers, onion and 1 TBL of the olive oil to the skillet. Sauté about 5-6 minutes, until veggies are soft. Remove from heat.
Meanwhile, add cauliflower rice and other 1 TBL of olive oil to a small skillet.  Cook 2-3 minutes, until heated through.
To assemble: add cauliflower rice, ground beef and veggies to a bowl.  Top with jalapeños and guacamole, if desired.  Squeeze lime juice on top if desired.
Enjoy!