WHOLE30 SWEET SAUSAGE HASH
(WHOLE30, GRAIN FREE, GLUTEN FREE, DAIRY FREE, PALEO)
Sweet and savory breakfasts are my favorite and this hash fits the bill perfectly!  It's packed with hearty flavors from the sausage, onion and spinach.  The sweetness of the sweet potatoes and apples balance it out.  Everything cooks together in one pan which makes this hash super easy and convenient.  It only takes about 20-25 minutes from start to finish, meaning it's totally doable any day of the week.  It's packed with tons of healthy proteins and fats and will keep you full for hours.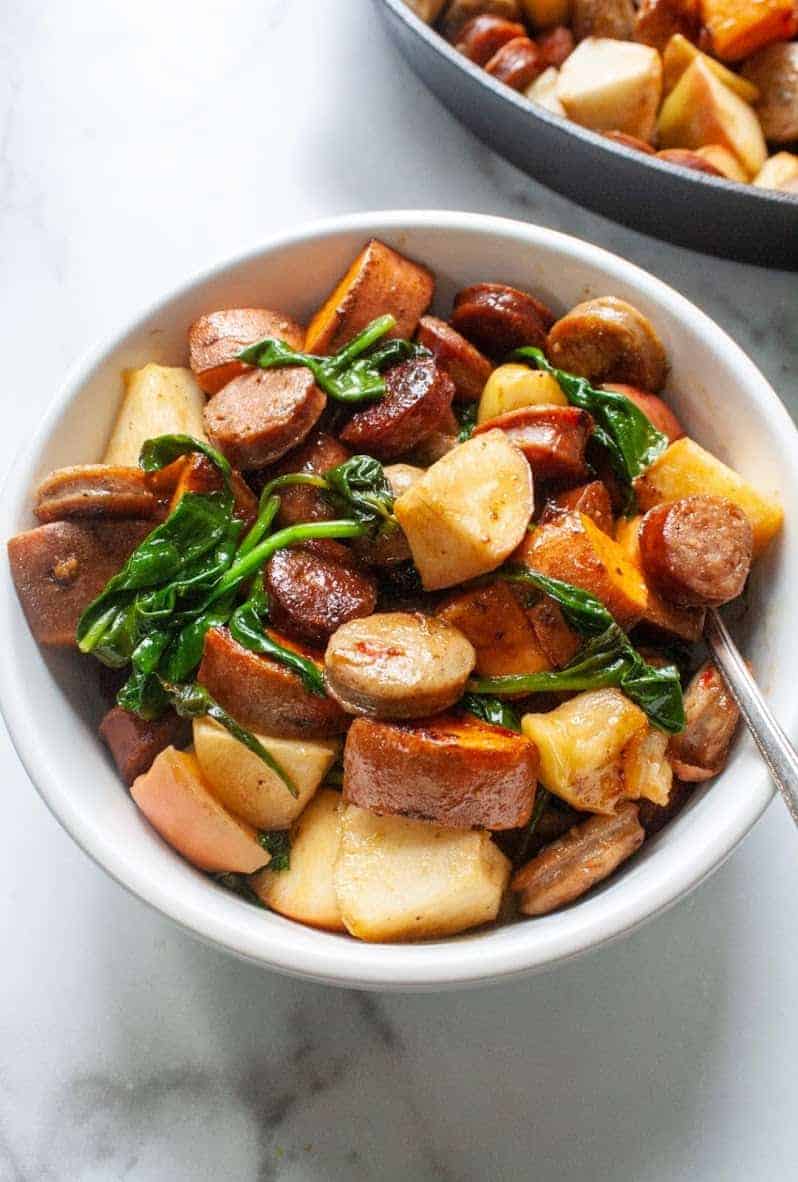 This hash really couldn't be any easier!  In fact, it's foolproof.  The first step is deciding on sausage.  I have some favorites that are Whole30 but feel free to use whichever you prefer.  Once your veggies and apples are chopped, it's time to get cooking!  I like using olive oil or ghee as my cooking fat because they really provide a nice sear on whatever is cooking with them.  I much prefer ghee since it gives off that buttery flavor but olive oil will work just as well.  Once the sausage and sweet potatoes have crisped up a bit, add the apples and onion and continue cooking until sweet potatoes are soft in the middle and onions are translucent.  A few minutes before you're ready to eat, add in the spinach.  It will only takes a minutes or two for it to cook down, but feel free to remove the pan from heat when you see fit.  The longer the spinach cooks, the more it will wilt.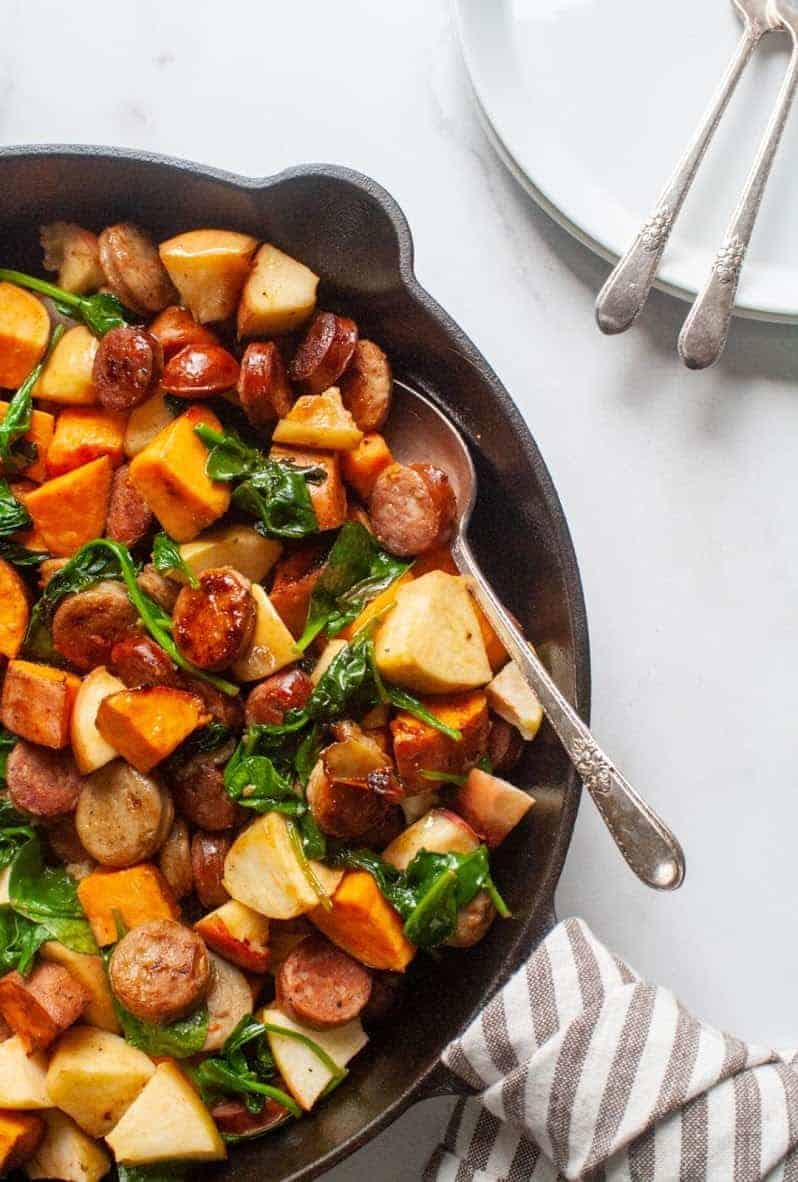 This easy hash is great for any meal of the day.  Since it has so much protein, it can definitely be enjoyed for lunch or dinner as well.  It stores well in the fridge and reheats beautifully.  I typically double this recipe to have on hand throughout the week; it's a delicious grab and go option for busy mornings or nights.  It really doesn't get better than a recipe that is easy, healthy and delicious!
Prep Time: 5 minutes
Cook Time: 15-20 minutes
Total Time: 20-25 minutes
Course: Breakfast, Snack
Servings: 4 servings
Ingredients:
2 large Whole30 sausage, cut up
2 large sweet potatoes, diced
2 TBL olive oil or ghee
2 apples, diced
1/3 cup white onion, chopped
2 cups spinach
Directions:
Add sausage, sweet potatoes and olive oil to a large skillet over medium low heat.  Cook for 5 or so minutes, flipping several times.
Add in chopped apples and onion and continue cooking for 10-15 minutes.
Add spinach 2-3 minutes before serving.  Continue flipping until spinach is wilted.
Sprinkle with sea salt and pepper if desired.
Remove from heat and enjoy!
Products That I Use: