WHOLE30 SLOPPY JOE SLIDERS
(WHOLE30, GRAIN FREE, GLUTEN FREE, DAIRY FREE, PALEO)
These sliders are SO much fun!  They're fun to make, even more fun to eat, and are a great family friendly dinner.  These sweet potato "buns" have become my favorite way to make sliders.  They're much better tasting (in my opinion) than any sort of traditional bread bun.  They provide a subtle sweetness that really stands up to the hearty sloppy joe mixture.  I hope these become your new favorite sliders!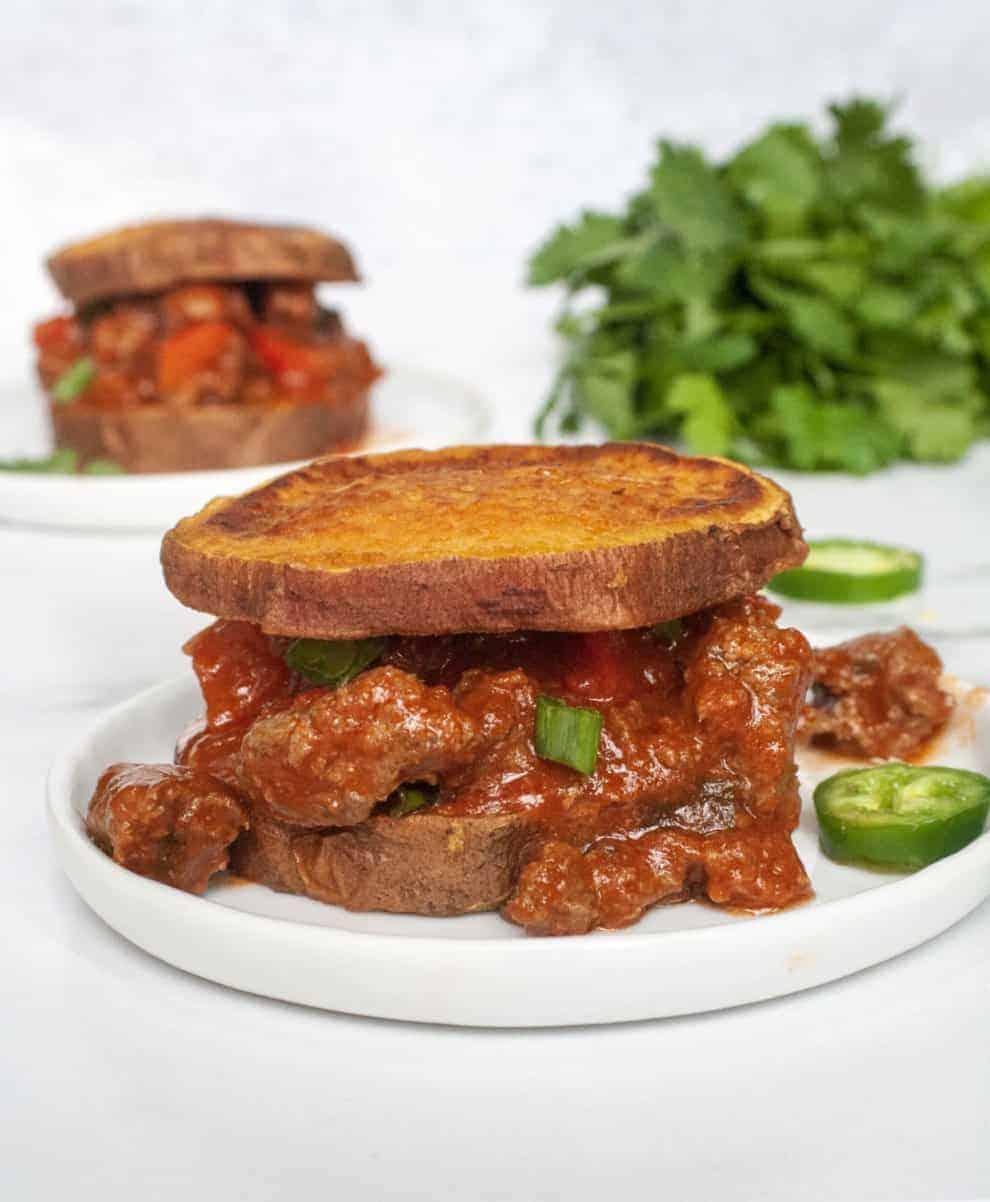 The first step is roasting the sweet potatoes.  I like to chop mine horizontally into 1/4 inch circular rounds.  Simply lay your sweet potato on its side and carefully slice with a sharp knife.  Melted coconut oil is then brushed on the sweet potatoes before they bake.  This gives them just a subtle sweetness and allows the sweet potatoes to get crispy.  After the sweet potatoes go in the oven, make the sloppy joe mixture.  The veggies are first softened in the skillet and then everything simmers together which makes it super easy.  If the mixture becomes too dry, simply add more water and continue simmering.  Once both the sweet potatoes and the sloppy joes are done cooking, it's time to assemble.  Place a sweet potato "bun" down on your plate and add the sloppy joe mixture on top.  Top off the sloppy joe mixture with another sweet potato.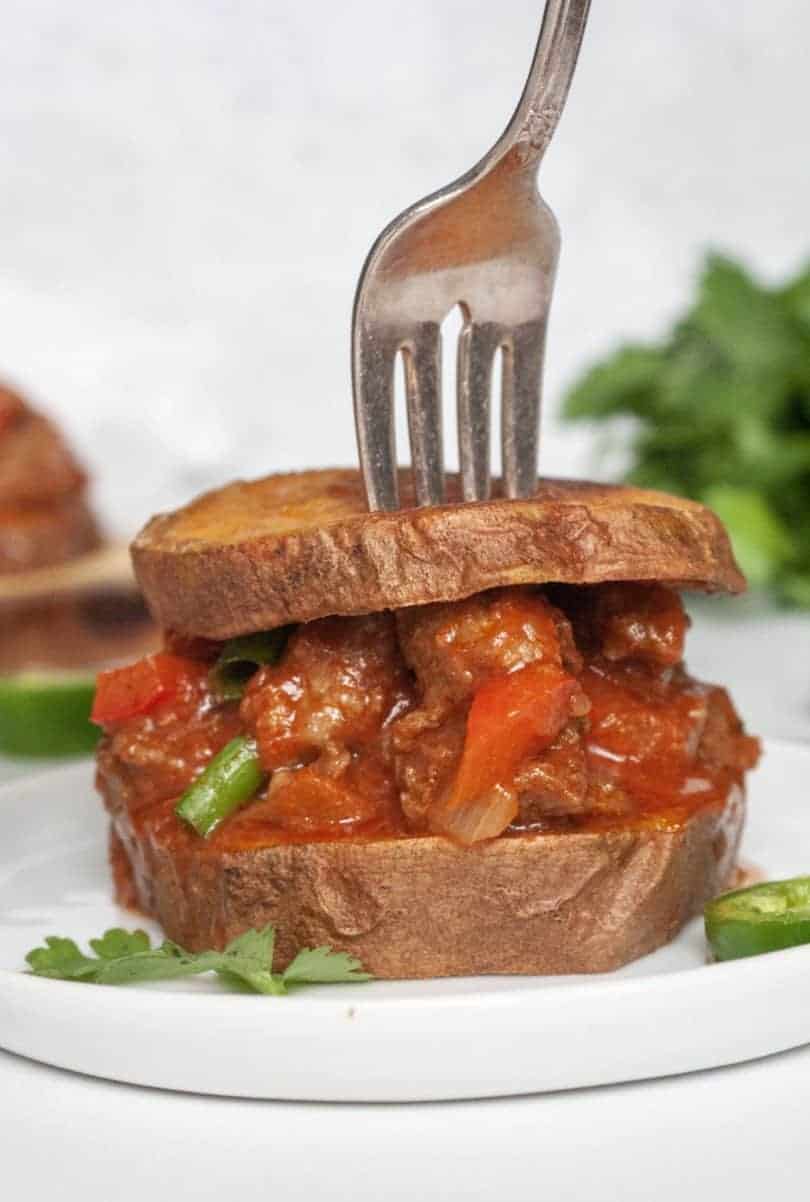 Once you have sliders with sweet potato buns, you won't want to make them any other way.  The sweet potatoes add a ton of flavor and texture that a traditional slider bun does not. They're crispy on the outside and warm and smooth on the inside.  The buns are a perfect complement to the hearty sloppy joe mixture.  This is such a fun meal to make – kid and family approved!
Prep Time: 10 minutes
Cook Time: 30 minutes
Total Time: 40 minutes
Course: Lunch, Dinner
Servings: 8 servings
Ingredients:
Sloppy Joes:
1 large red pepper, diced into very small pieces
1 white onion, diced into very small pieces
2 TBL olive oil
2 pounds ground beef (I love Porter Road)
1 6 ounce can tomato paste
3 TBL coconut aminos
1 tsp paprika
1 tsp black pepper
1 cup water (plus more as needed)
Sweet Potatoes:
2 large sweet potatoes, cut into rounds
2 TBL coconut oil, melted
Jalapeños, cilantro, green onions to garnish
Directions:
Preheat oven to 400 degrees.  Slice sweet potatoes about 1/4 inch thick and arrange on a large baking sheet.
Brush melted coconut oil over both sides of each sweet potato round and bake for 30 minutes, flipping after 20 minutes.
Meanwhile, in a large skillet, add red pepper, onion and olive oil.  Sauté for about 7-8 minutes or until onions become soft.
Add in ground beef and cook on medium until brown and crumbly.
Discard excess fat from pan.  Add in remaining ingredients and bring to a boil.
Reduce heat and let simmer for at least 15-20 minutes, adding more water if mixture becomes too dry.
To assemble: top sweet potato bun with sloppy joe mixture then the top sweet potato bun.
Enjoy!