WHOLE30 CASHEW CHICKEN
(WHOLE30, GLUTEN FREE, GRAIN FREE, DAIRY FREE, PALEO)
My hometown has the best Chinese restaurant; it's truly the best Chinese food I've ever had.  One of my favorite dishes to order growing up was cashew chicken.  I love the sweet and savory sauce, the tender chicken, and the crunchy cashews.  I set out to make a Whole30 version and the result was so delicious.  The hearty chicken is complemented by the bold flavors of the veggies and the crunch of the cashews.  This Whole30 approved dish is simmered in a sweet and savory sauce that really ties everything together perfectly.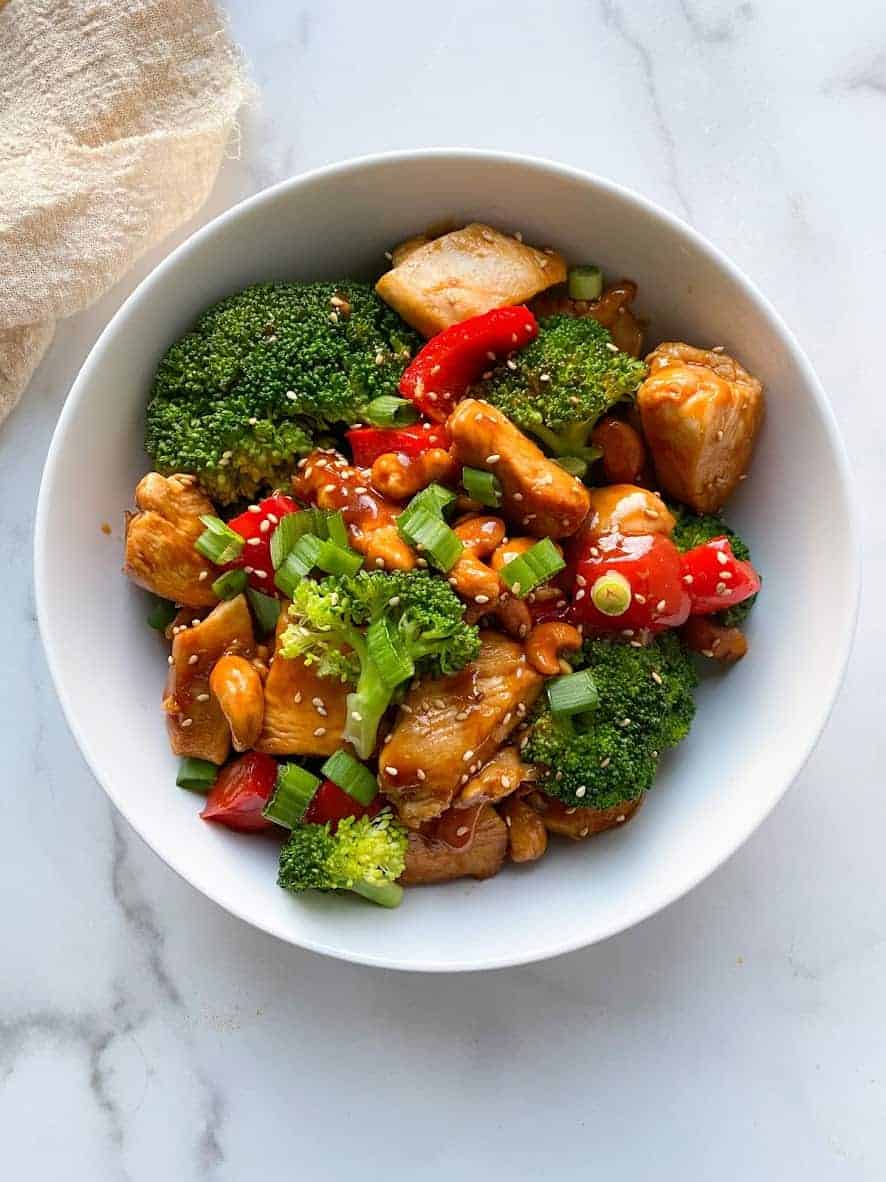 We begin by adding olive oil to a large skillet (I love my cast iron skillet for this) and letting it heat over medium heat.  Add the chopped chicken and let it sear for 2-3 minutes per side.  To make the sauce, just simply combine the ketchup, coconut aminos, rice vinegar, ginger and garlic.  Once the sauce and veggies are added, everything simmers together.  This allows the chicken to really soak in the sauce which elevates the flavor.  Feel free to add the cashews during the last couple minutes before serving to allow them to simmer in the sauce.  If you prefer extra crunchy cashews, use them as a garnish once the chicken and veggies are done cooking.  I also like adding some sesame seeds and chopped green onions for some added texture and flavor.  The best part about this cashew chicken is how easy it is!  It comes together quickly and easily and the leftovers are even better the next day.  I promise this will satisfy your Chinese food cravings in a healthy and delicious way.  I love having mine over cauliflower rice but it's also great on its own.  Easy, family friendly, and better than takeout!
Prep Time: 5 minutes
Cook Time:  20 minutes
Total Time: 25 minutes
Course: Lunch, Dinner
Servings: 4 servings
Ingredients:
2 large chicken breasts, cut into 1 inch cubes
1 TBL olive oil
1/2 cup ketchup
1/2 cup coconut aminos
1/4 cup rice vinegar
1 tsp ginger
2 tsp minced garlic
1 red pepper, chopped
1 cup broccoli
1/3 cup cashews
Sesame seeds, to garnish
Green onion, to garnish
Directions:
Add cubed chicken and olive oil to a skillet over low medium heat.  Cook until chicken is browned, 2-3 minutes per side.
While chicken is cooking, combine ketchup, coconut aminos, rice vinegar, ginger and garlic in a bowl.
Once chicken is no longer pink, pour sauce over chicken.  Add in broccoli, cashews and red pepper.
Let simmer on low medium heat for about 10-15 minutes.  Chicken should be no longer pink and the veggies should be soft.
Garnish with sesame seeds and green onion if desired.