PALEO DOUBLE CHOCOLATE CHIP COOKIES
(GRAIN FREE, GLUTEN FREE, DAIRY FREE, PALEO)
My favorite kind of dessert is one that is loaded with chocolate.  In my world, the more chocolate, the merrier.  These double chocolate cookies have a chocolate base and then are studded with dark chocolate chips.  There is plenty of chocolate in every single bite.  They have crispy chewy edges and a warm soft center – the best of both worlds!  These double chocolate cookies definitely aren't for the faint of heart.  They're rich, decadent, and filled with an intense chocolate flavor.  I've never been one to shy away from my love of dark chocolate and well, these cookies showcase that perfectly.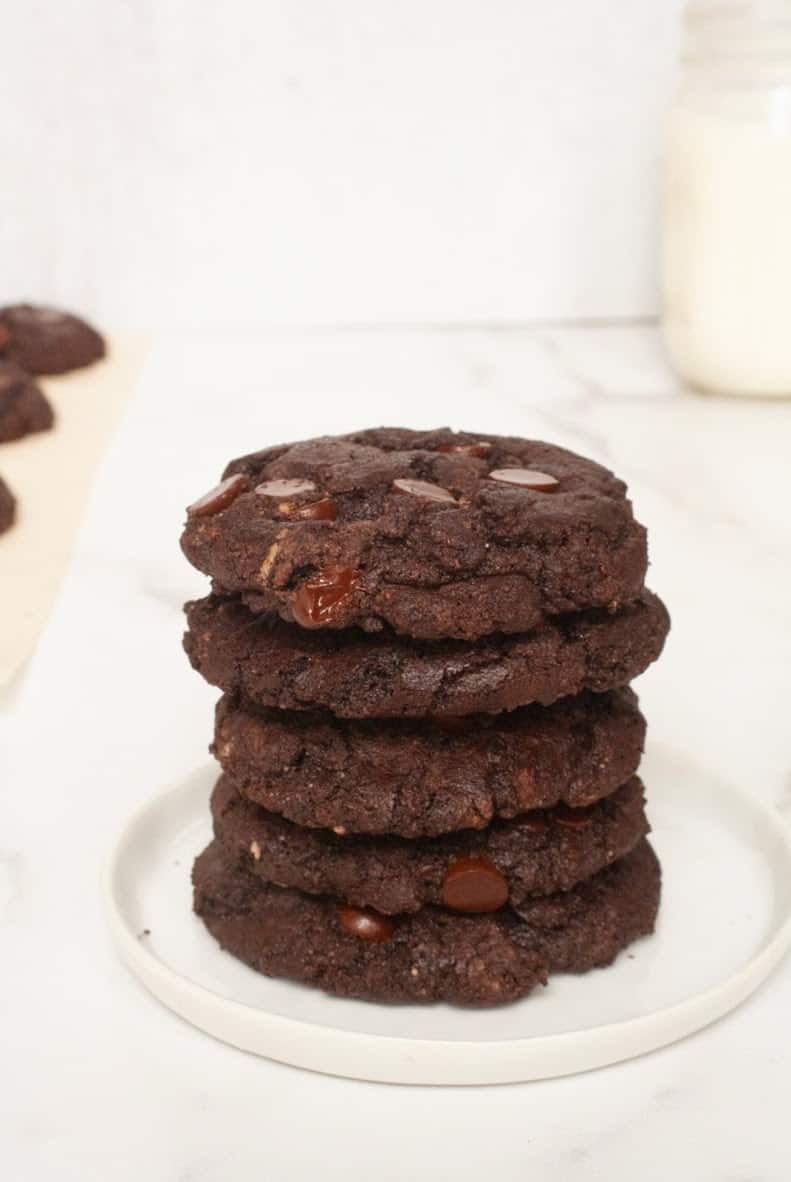 To make these cookies, we will first mix together the ghee, coconut oil and coconut sugar.  Think of this as the mixing "sugar and butter" phase.  Once that's mixed, simply add in the remaining ingredients and carefully fold in the chocolate chips.  After everything is combined, I like to refrigerate my dough for best results.  This allows the ingredients to fully mix together and usually lends to a sturdier cookie.  I have tested this recipe with refrigerating the dough and without.  Both produce a delicious tasting cookie, but the refrigerated dough will lead to a cookie that holds together better.  I also love sprinkling some sea salt on top of each cookie before baking but this is a completely optional step.  Sea salt and chocolate is a decadent combo!  These bake for about 9-11 minutes but I like to keep an eye on them so they don't overcook.  The edges will appear a bit crispy but you want the middle to seem just a tad underdone.  They will firm up a bit as they cool down.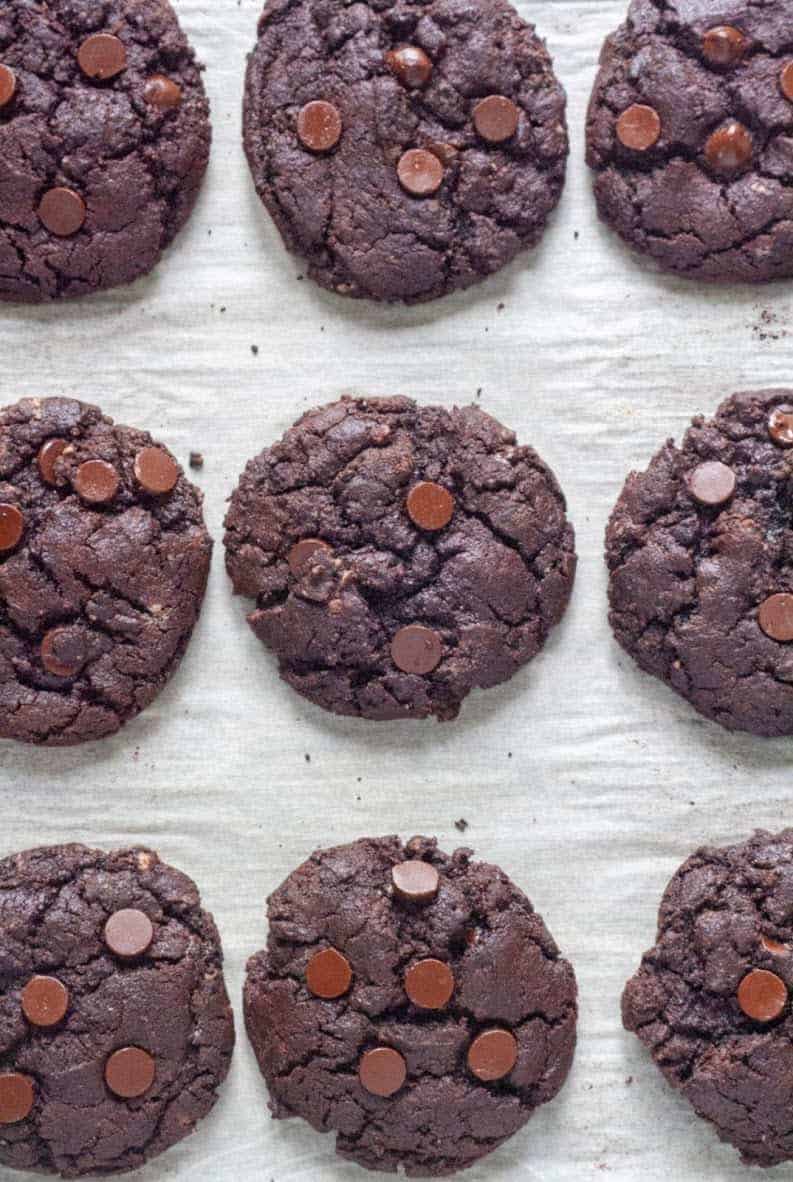 My favorite way to store and eat them is straight out of the freezer.  There's something so refreshing about super cold dark chocolate.  They can be stored at room temperature in a sealed container for 3-4 days (if they last that long!).  They can also be stored covered in the fridge for 4-5 days.  If you're looking for one showstopper of a cookie, I've got you covered.  I promise nobody will complain that these are lacking in flavor!
Prep Time: 30 minutes (plus 1 hour refrigeration)
Cook Time: 10 minutes
Total Time: 40 minutes
Course: Dessert, Snack
Servings: 12 cookies
Ingredients:
1 cup almond flour
1/4 cup coconut flour
2 eggs, room temperature
1/4 cup ghee, room temperature
1/4 cup coconut oil, softened
3 TBL cocoa powder
1 tsp baking soda
1 tsp vanilla
1/2 cup coconut sugar
1 cup dark chocolate chips
Sea salt, to sprinkle
Directions:
Add ghee, coconut oil, and coconut sugar to your mixing bowl or KitchenAid.  Stir to combine. Once combined, add all remaining ingredients except chocolate chips.
Gently fold in chocolate chips.  At this point, I let my dough refrigerate for an hour (optional step).
Preheat oven to 350 degrees.
Place cookies on nonstick pan (sprinkle with sea salt if desired) and bake for 9-11 minutes.
Allow cookies to cool on the pan for 5 minutes before moving them to a cooling rack.
I store mine in the fridge to keep them firm.  They're also delicious out of the freezer!
Products That I Use: