WHOLE30 CHICKEN FAJITA BOWLS
(WHOLE30, GLUTEN FREE, GRAIN FREE, DAIRY FREE, PALEO)
These chicken fajita bowls are packed full of flavor!  I've always believed that everything tastes better in a bowl.  Eating from a bowl like this allows all the flavors and ingredients to marry.  You can get a little bit of everything in every bite.  For these fajitas, that means some hearty spicy chicken, soft vegetables, cauliflower rice, and some guacamole!  I mean, what's not to love?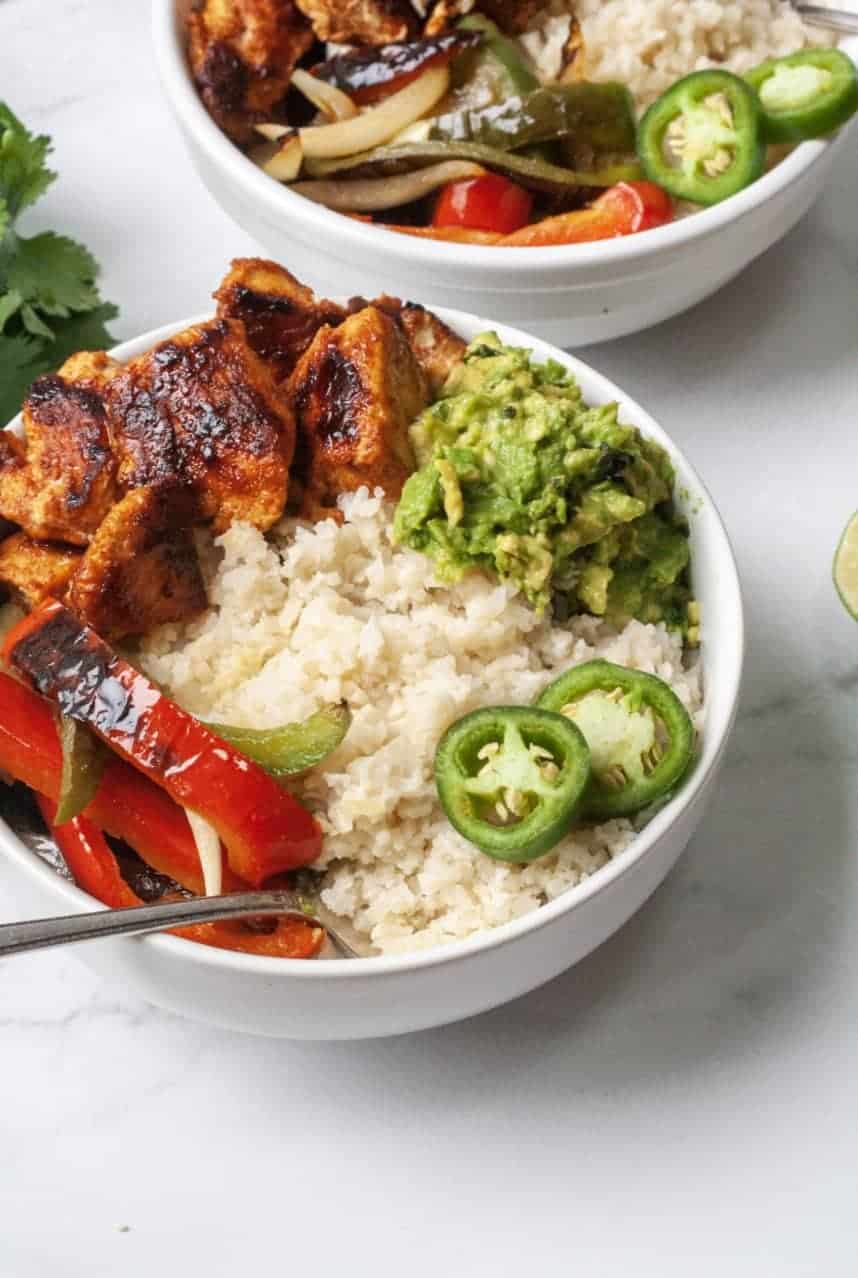 To begin, I add the olive oil or ghee and the veggies to a cast iron skillet.  This way, they get nice and crispy.  After the veggies have cooked for about 5-6 minutes and they're tender, remove them from the heat.  Before adding the chicken to the pan, pat it dry and add the seasoning.  Patting chicken dry with paper towels allows the dry rub to adhere better. It also allows the chicken to get a nice sear when it hits the warm cast iron skillet.  After the chicken has been seasoned, add it to the pan.  If your pan is dry, add another drizzle of olive oil.  Cook the chicken for about 3-4 minutes on each side, until completely cooked through. While the chicken is cooking, add the cauliflower rice and remaining olive oil to a skillet and cook until warmed.  I typically buy pre-riced frozen cauliflower and dump it into the pan. Super easy!  Once everything is cooked through, it's time to assemble these bowls!  I like to lay a nice foundation of the cauliflower rice and then load it with toppings.  I always make a serving of my Whole30 guacamole to go alongside these bowls.  The creamy guacamole pairs perfectly with the bold flavors of the chicken.  For some added heat, chop up some jalapeños and use them as a garnish.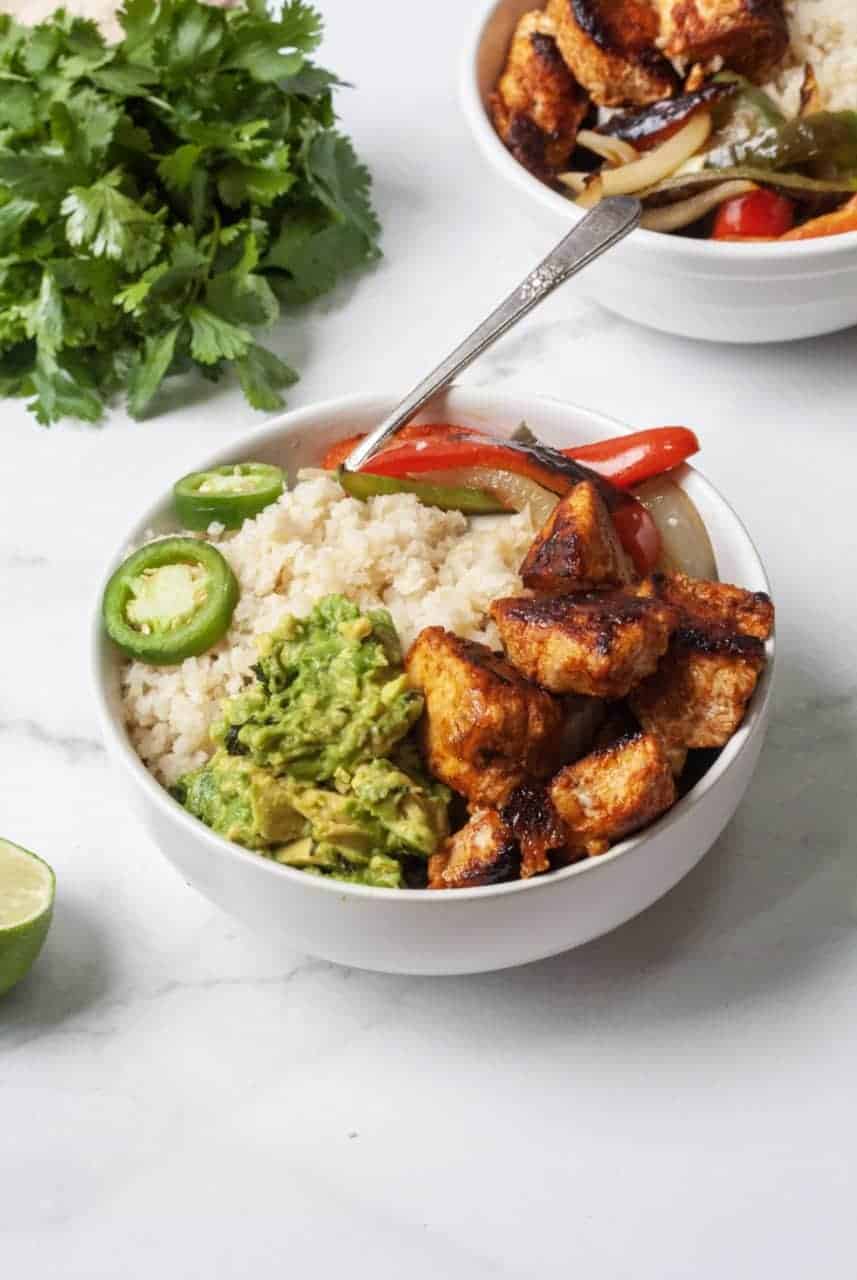 I've always been a huge fan of spicy flavors and these chicken fajita bowls hit the spot!  They're super flavorful and filled with the best textures.  They're very similar to my Whole30 Chicken Fajitas but they're in a fun bowl form.  These bowls are great when feeding a crowd or family since everyone can customize their bowl and toppings.  They're also a super delicious meal prep option!  Simply make each ingredient and store in the fridge.  When it's time to eat, assemble the bowls.  I know you're going to love these as much as I do!
Prep Time: 10 minutes
Cook Time: 25 minutes
Total Time: 35 minutes
Course: Lunch, Dinner
Servings: 4-6
Ingredients:
2 pounds chicken breast
1 TBL ghee or olive oil
1/4 tsp ground pepper
1/4 tsp sea salt
1 tsp cumin
1/2 tsp chili powder
1 tsp paprika
1/2 tsp garlic powder
1/2 tsp onion powder
2 TBL olive oil
1 large red pepper, chopped
1 large green pepper, chopped
1 large white onion, chopped
4 cups cauliflower rice
Jalapeños, for ganish
Guacamole, for garnish
Directions:
In your cast iron skillet, add ghee or 1 TBL olive oil over medium heat.
Add chopped peppers and onion to the skillet. Sauté about 5-6 minutes, until veggies are soft. Remove from heat.
Pat chicken dry with paper towels.  Cut into small 1 inch pieces.
Combine pepper, sea salt, cumin, chipotle chili powder, garlic powder and onion powder in a small bowl.  Rub this mixture all over the chicken.
Add chicken to pan and sear for 3-4 minutes on each side, until cooked through.  Remove chicken from pan.
Meanwhile, add cauliflower rice and other 1 TBL of olive oil to a small skillet.  Cook 2-3 minutes, until heated through.
To assemble: add cauliflower rice, chicken and veggies to a bowl.  Top with jalapeños and guacamole, if desired.
Enjoy!