PALEO RASPBERRY BROWNIES
(GRAIN FREE, GLUTEN FREE, DAIRY FREE, PALEO)
I hardly ever eat raspberries by themselves, but add them to brownies and I'm sold!  These extra fudgy brownies have crispy edges, a soft warm center and pops of tart raspberries throughout.  These brownies look impressive and fancy but they're actually pretty straightforward.  The chocolate and raspberry combination is absolutely to die for.  The intense dark chocolate is balanced out perfectly by the tartness and sweetness of the raspberries.  This jam is super quick and easy and it's great for many other uses as well.  Let's get baking!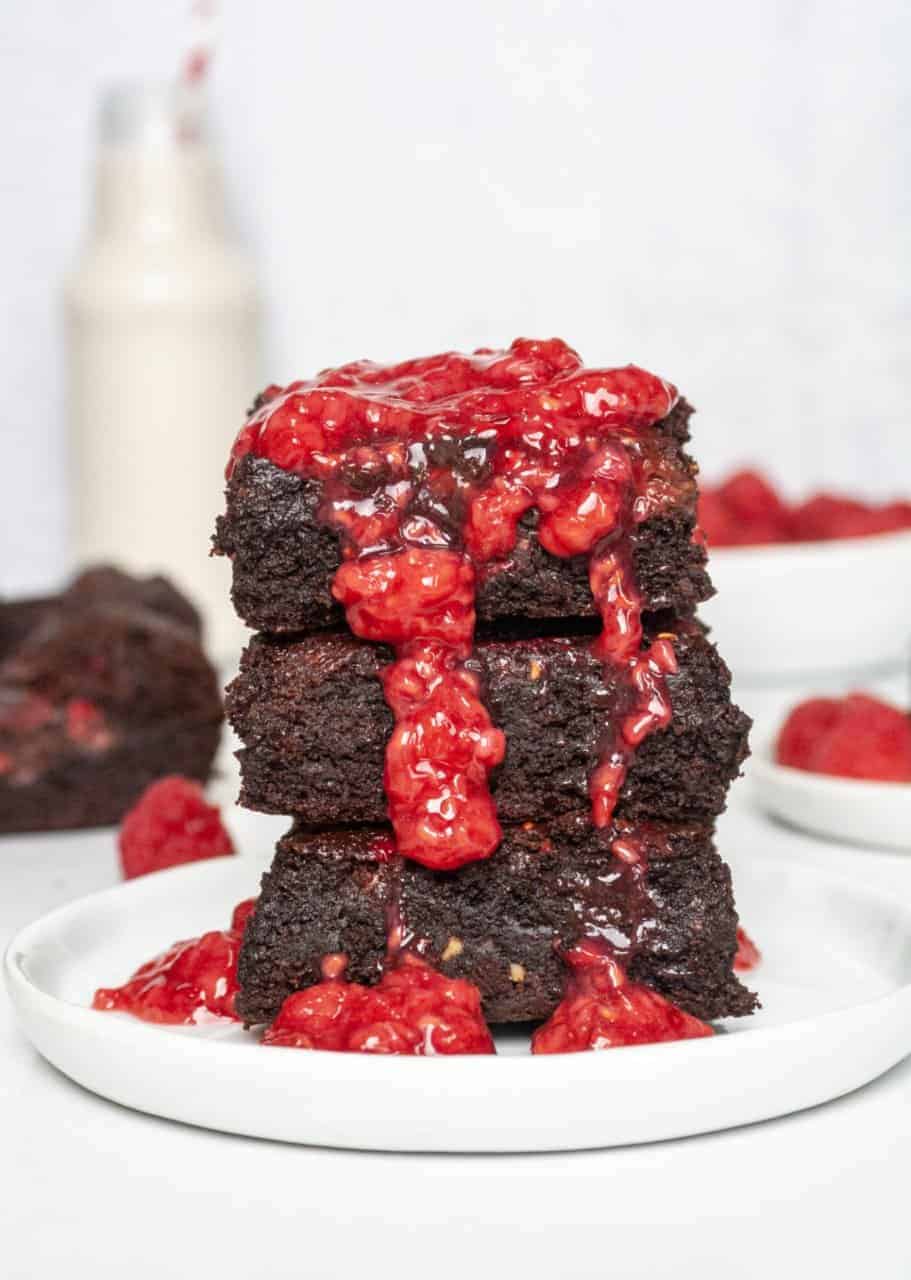 To make these brownies, we will first make the brownie batter then swirl in the raspberry jam.  Melt the chocolate chips with grass fed butter or coconut oil.  Set this mixture aside while you combine the remaining brownie ingredients.  Once the remaining ingredients are mixed together, slowly add in the melted chocolate.  The batter is pretty thick and dark in color.  Add this batter to your parchment lined baking pan and set aside while you prepare the raspberry jam.  To make the jam, simply add the ingredients to a saucepan over low medium heat.  Continue to stir so that it doesn't burn.  After about 3-4 minutes it'll start to thicken up.  At this point, the raspberries will have broken down and the sauce will resemble jam.  Take this jam and add about 2/3 of it over the top of the brownies.  Use a knife to swirl in the jam to the top layer of the brownies.  These brownies bake for about 25 minutes or so.  They are done when a toothpick inserted comes out clean.  They are super fudgy so I highly suggest allowing them to cool fully in the fridge before cutting into.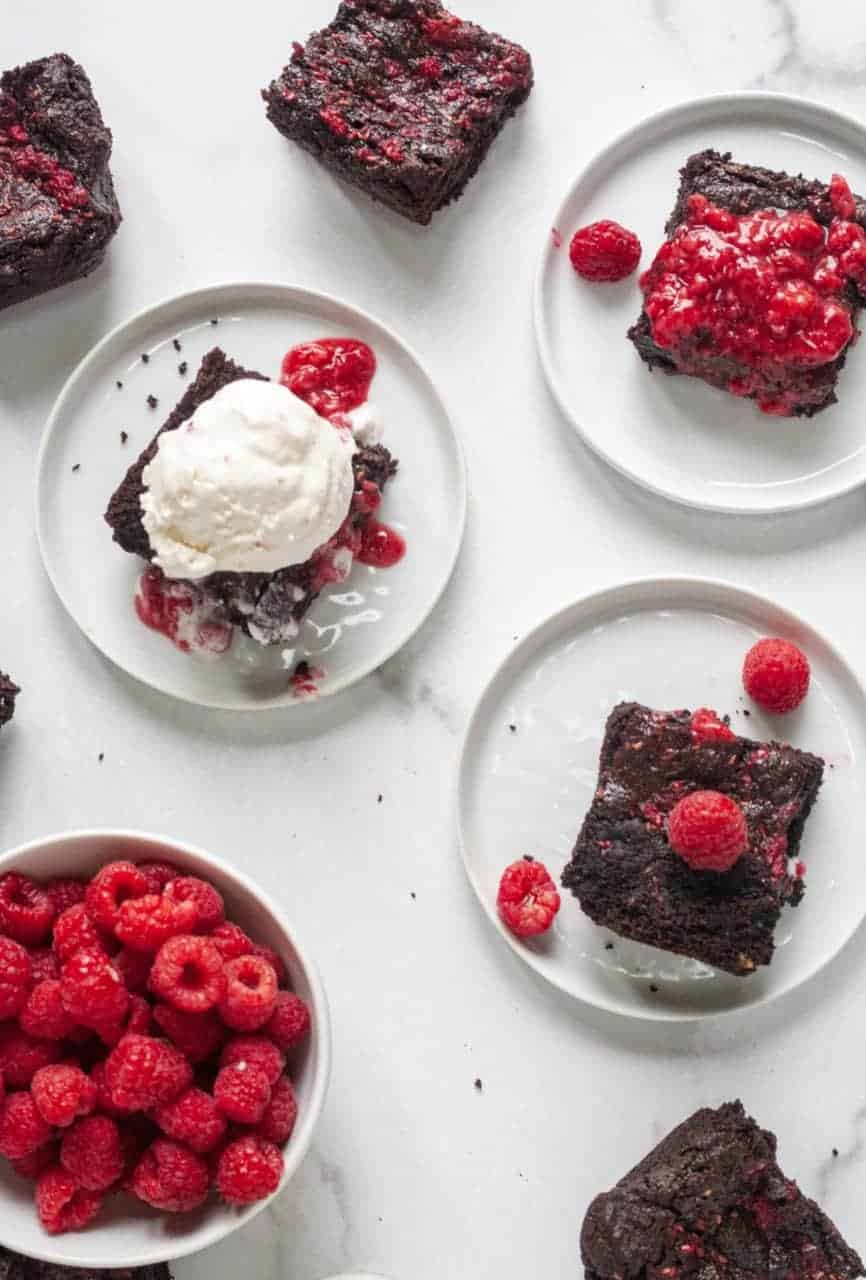 I love that these brownies are fudgy and chocolaty like a traditional brownie, but they have that extra pop of raspberry flavor.  It's just enough to set these brownies apart.  They're filled with the best flavors!  The extra jam can be used as a garnish or store it in your fridge for other uses.  My favorite way to enjoy these brownies is warmed up with a big scoop of coconut milk ice cream and a drizzle of the jam on top.  Can you say over the top?
Prep Time: 10 minutes
Cook Time: 25-30 minutes
Total Time: 35-40 minutes
Course: Dessert, Snack
Servings: 10 pieces
Ingredients:
Brownies:
2 eggs, room temperature
1 cup almond flour
1/2 cup cocoa powder
1 tsp baking soda
2/3 cup coconut sugar
1/3 cup dark chocolate chips
1/3 cup grass fed butter or coconut oil
1/2 cup creamy almond butter
1/4 cup maple syrup
1 tsp vanilla
Pinch sea salt
Raspberry Jam:
1 cup raspberries, fresh
1 tsp tapioca flour
1 TBL maple syrup
1/2 tsp lemon juice
1 tsp vanilla
Directions:
Preheat oven to 350 degrees Fahrenheit and line an 8×8 baking pan with parchment paper.
Melt chocolate chips with butter (or coconut oil) in a microwave safe bowl.  Microwave in 30 second increments, stirring each time.  Set aside.
In a large mixing bowl or KitchenAid, add remaining brownie ingredients.  Stir to combine.  Slowly add in melted chocolate mixture.
Once combined, pour brownie batter into baking pan.
Add all raspberry jam ingredients to a saucepan over low medium heat.  Stir frequently for 3-4 minutes, until raspberries are broken down and sauce has thickened.  If the sauce is too runny, add one more teaspoon of tapioca flour.
Remove from heat.  Using a knife, swirl 2/3 of the raspberry jam into the top layer of brownie batter.  Save the rest of the jam for garnish.
Bake 24-25 minutes, until a toothpick inserted comes out clean.  Allow to cool completely before cutting into.