PALEO VEGAN MAGIC COOKIE BARS
(VEGAN, GRAIN FREE, GLUTEN FREE, DAIRY FREE, PALEO)
These magic cookie bars are truly magical!  They are bursting with so many flavors and textures.  The shortbread layer provides a nice and sturdy base for all the toppings. This is then topped with a cream coconut layer, coconut flakes, pecans and dark chocolate chips.  The end result is a little crunchy, a little creamy, and a little chocolaty.  Truly the best combo!  These magic cookie bars are rich and decadent enough that nobody will know they're made with good for you ingredients.  They're Vegan and Paleo – but I promise you could fool anyone into thinking they're the real deal!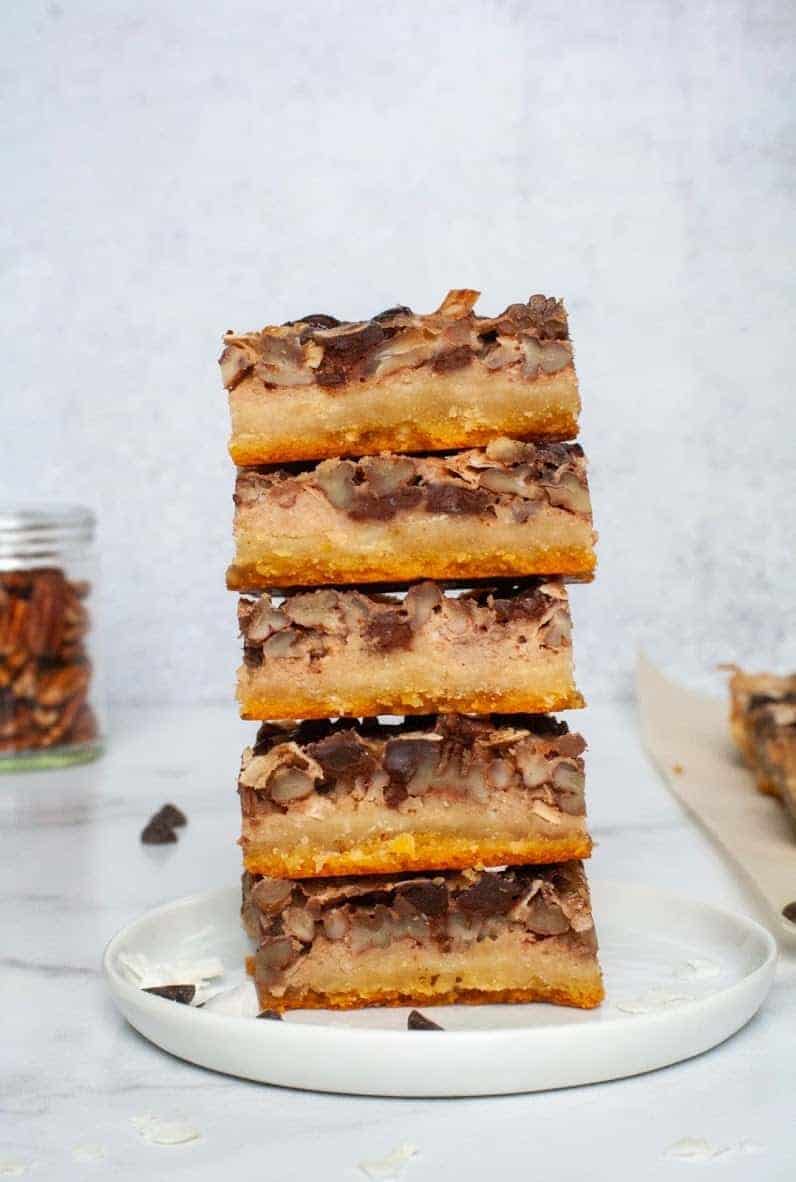 To get started, we will first make the coconut cream sauce.  Typically, magic cookie bars use a sweetened condensed milk layer but I've recreated that using coconut cream.  Coconut cream is basically just full fat coconut milk.  It comes in a can and is very thick.  Be sure to stir the can of coconut cream with a spoon before emptying into the skillet.  Along with the coconut cream, you'll add maple syrup and vanilla to a skillet and allow it to boil then simmer.  Make sure to keep a close eye on this to prevent burning.  Meanwhile, combine the ingredients for the shortbread base layer and evenly press that into a pan before baking.  After about 17-18 minutes it'll have golden edges.  Remove from the oven and top with coconut cream layer.  Then, sprinkle remaining toppings down and return to the oven.  The bars will continue to bake for about 23-24 minutes.  Make sure they are set in the middle before removing from the oven.  These bars are gooey as is, so be sure not to under bake them.  To test your patience, you'll want these to cool completely before slicing into.  Like I previously mentioned, they are gooey and sticky so they won't hold together if they're still hot from the oven.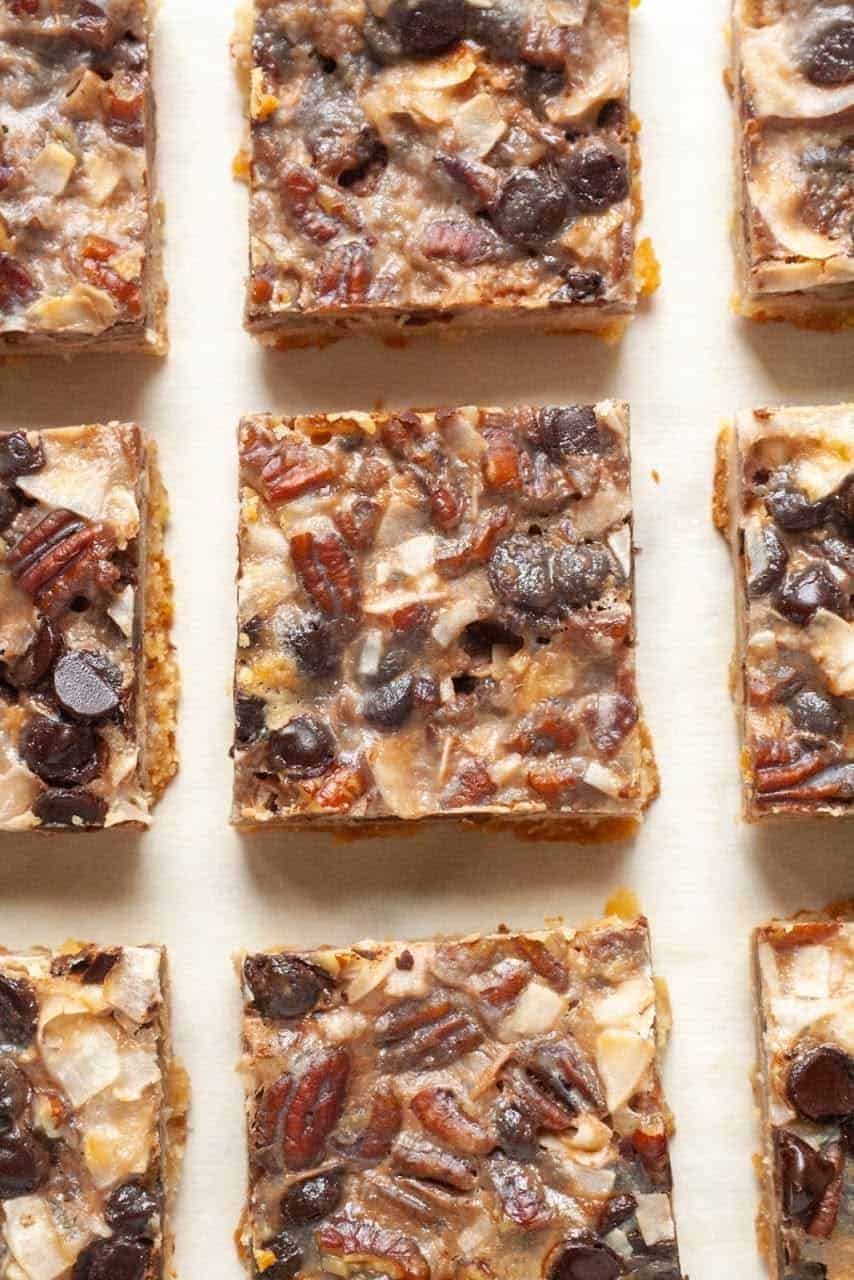 These magic cookie bars have quickly become a favorite of mine because there's just so much to love!  I love the balance of the dry crumbly shortbread layer with the creamy coconut cream layer and the crunch of all the toppings.  These bars are the perfect dessert – everyone loves them and they're simple to make!
Prep Time: 10 minutes
Cook Time: 20 minutes
Total Time: 30 minutes
Course: Dessert, Snack
Servings: 9 servings
Ingredients:
Shortbread layer:
2 1/4  cups almond flour
1/3 cup coconut oil, melted
3 TBL coconut flour
6 TBL maple syrup
1/2 tsp vanilla
Topping:
1.5 cups coconut cream
1/4 cup maple syrup
1 teaspoon vanilla
3/4 cup unsweetened coconut flakes
2/3 cup pecan halves
3/4 cup dark chocolate chips
Directions:
Preheat oven to 350 degrees Fahrenheit.  Line an 8×8 baking pan with parchment paper.  Set aside.
In a skillet over medium heat, add coconut cream, maple syrup and vanilla.  Stir to combine.  Bring to a light boil then reduce heat to low.  Allow to simmer while you make and bake the shortbread layer.  Keep a close eye to make sure it doesn't burn.  I like to stir mine every 30 seconds or so.
To make the shortbread layer, combine all ingredients in a large mixing bowl.  Press mixture down into the parchment lined baking pan in an even layer.  Bake for 17-18 minutes or until set in the middle and slightly golden around the edges.
Once the shortbread layer has baked, pour coconut cream mixture on top.  Sprinkle the coconut flakes, pecans and chocolate chips over everything.
Bake for about 23-24 minutes or until middle is set.
Allow to cool completely (several hours at room temperature or 1-2 hours in the fridge) before slicing into.