PALEO SAUSAGE BREAKFAST CASSEROLE
(WHOLE30 FRIENDLY, GLUTEN FREE, GRAIN FREE, DAIRY FREE, PALEO)
This breakfast casserole isn't just any old breakfast casserole.  It's filled with so many hearty flavors.  The sweet potato "crust" adds some sweetness and additional flavor to the dish.  The Al Fresco Sundried Tomato Chicken Sausage contributes a nice pop of color and texture.  With just a little bit of prep work, this casserole bakes to golden crispy perfection!  It's an easy and healthy breakfast, lunch or dinner.  Talk about versatility!  #OnePan #Ad @alfrescochicken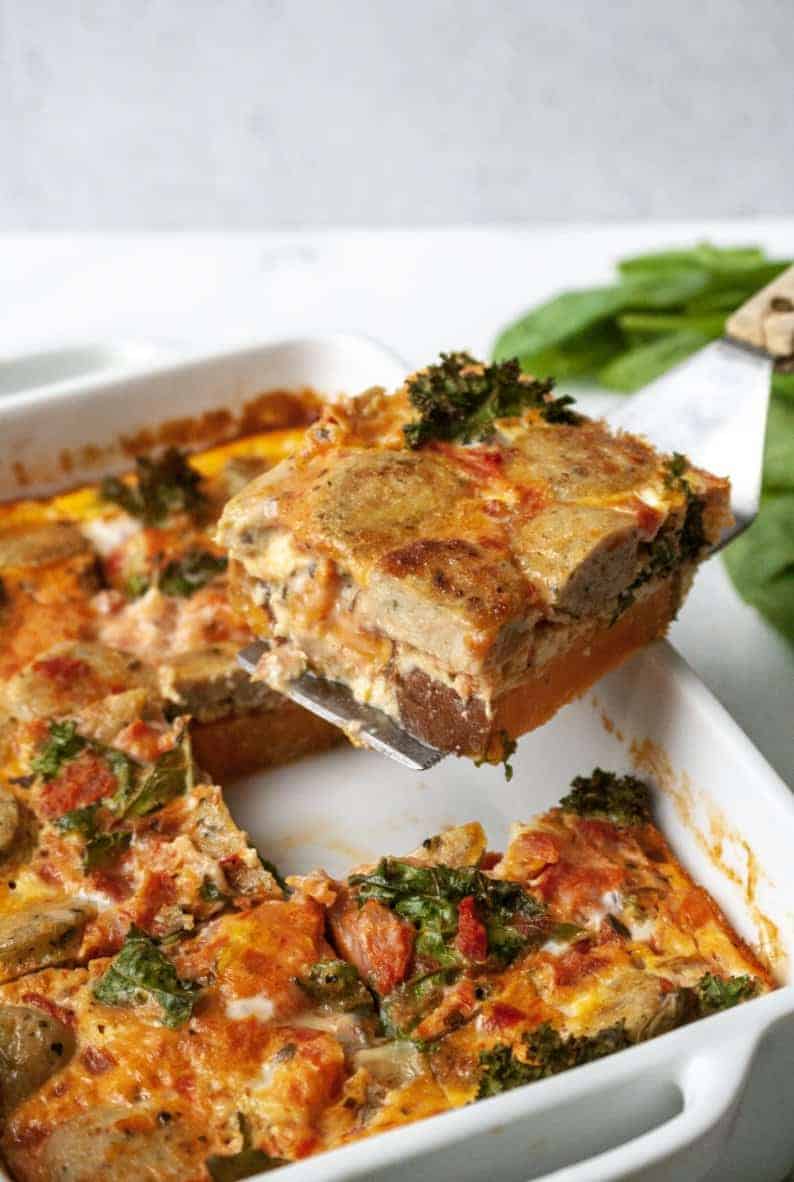 To start, cut your sweet potatoes into disc shapes.  Place sweet potatoes in a single layer on the bottom of your casserole dish.  Note: my casserole dish is 8×5 inch.  Bake the sweet potato layer for 12 minutes.  They will just have started to soften.  Meanwhile, we will cook the sausage and onions in some ghee or olive oil.  This allows the onions to soften and begin to caramelize; the sausage will get a nice sear on the outside.  After 3-4 minutes, flip sausage and cook for an additional 3-4 minutes.  Once the sweet potatoes are done roasting and the sausage has browned, it's time to start assembling.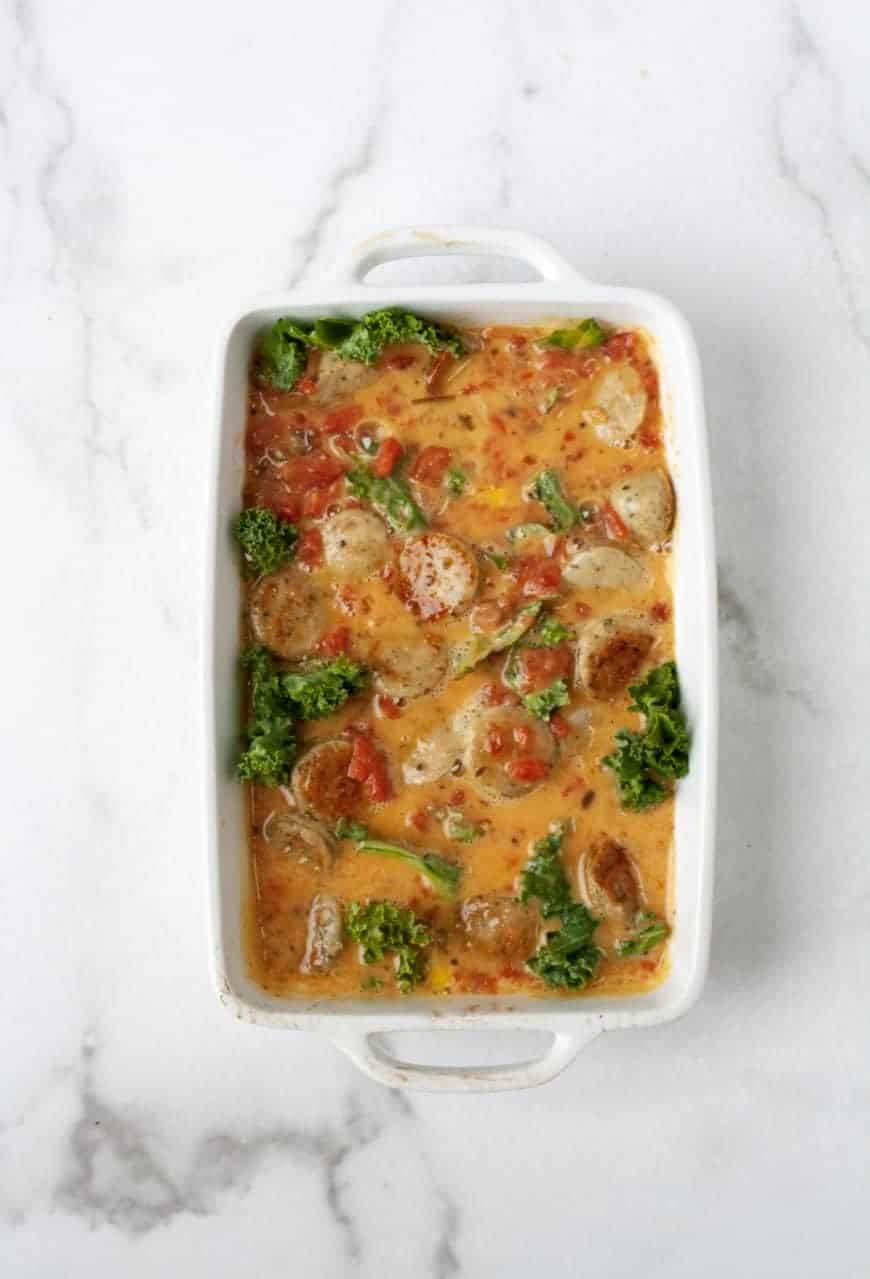 Add chopped kale (spinach works well too) over the sweet potato crust layer.  Add the sausage and onions on top of the kale.  In a small bowl, whisk eggs.  Add salsa, salt and pepper to the bowl and stir until combined.  Pour this egg mixture over the sausage in the casserole dish.  This will all bake for 20-22 minutes, until the eggs are set in the middle.  Remove from oven and allow to cool for 5 minutes before slicing into.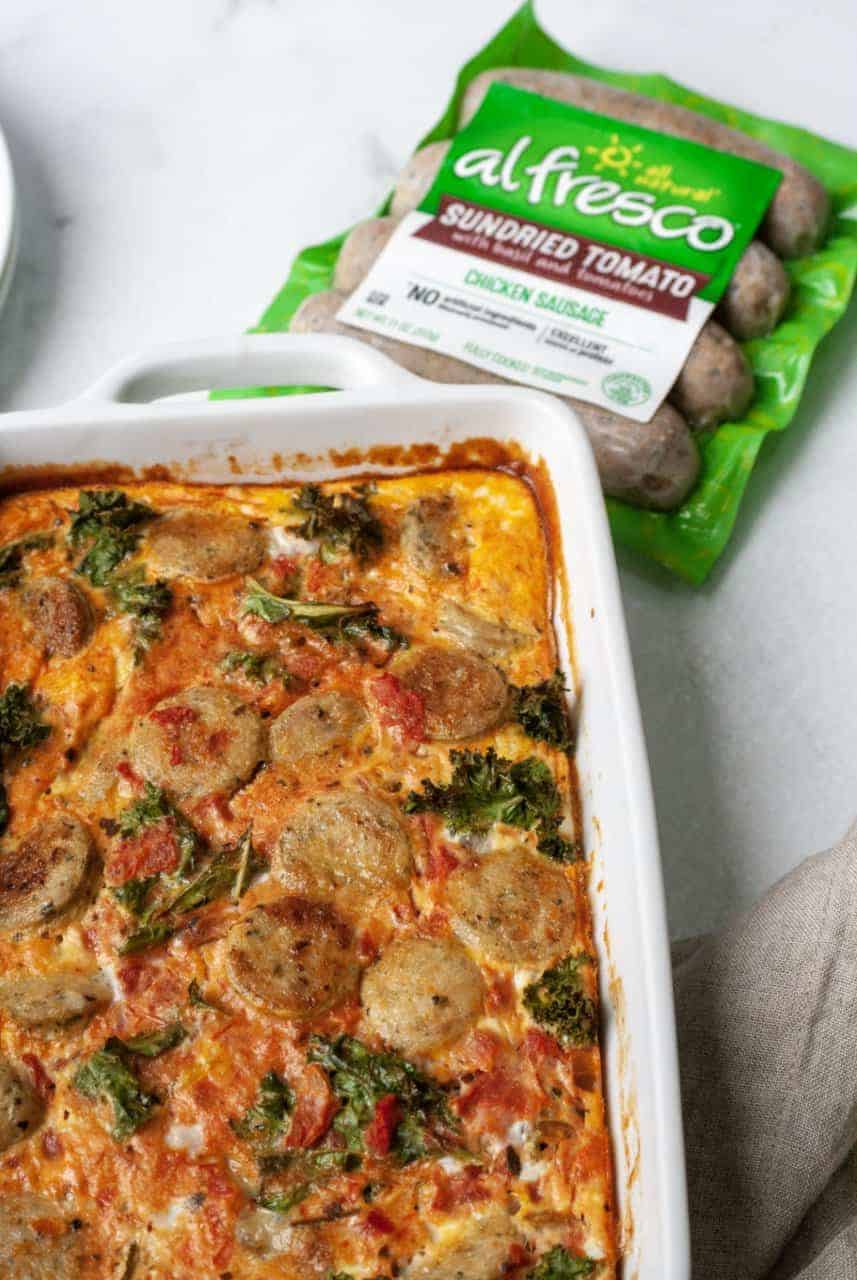 This breakfast casserole will you excited to wake up in the mornings!  It's filled with healthy and delicious ingredients.  It's great to have on hand for the week.  Mine stays fresh for about 3 days in the fridge.  I love that Al Fresco sausages are already fully cooked and ready to go.  It is such a time saver for busy days and weeknights.  This casserole is great for breakfast but it's hearty and filling enough for lunch or dinner too.  It's just as quick and easy as it is tasty!
Prep Time: 10 minutes
Cook Time: 30 minutes
Total Time: 40 minutes
Course: Breakfast, Lunch, Dinner
Servings: 6
Ingredients:
2 packages Al Fresco Sundried Tomato Chicken Sausage
1/4 cup chopped onion
2 TBL ghee or olive oil
1 large sweet potato
1 cup kale or spinach, chopped
6 eggs
1/2 cup salsa
1/4 tsp ground pepper
1/4 tsp sea salt
Directions:
Preheat oven to 350 degrees Fahrenheit.
Slice a sweet potato into rounds and lay these rounds down into your casserole dish (mine was 8×5 inch).  There can be some overlap; the sweet potatoes will shrink slightly when cooked.  Bake for 12 minutes.  Remove from heat.
In your cast iron skillet, add 1 TBL olive oil or ghee over medium heat.  Chop sausage into coins and add to the pan along with the chopped onion.  Cook for 3-4 minutes on each side.  Remove from heat.
Add chopped kale on top of the sweet potato layer.  Add sausage and onions on top of the kale.
In a large bowl, whisk eggs.  Stir in salsa, sea salt and pepper.  Pour this mixture into the casserole dish.
Bake for 20-22 minutes, until the middle is set and eggs are cooked.