WHOLE30 GREEK CHICKEN SKILLET
(WHOLE30,GRAIN FREE, GLUTEN FREE, DAIRY FREE, PALEO)
When it comes to dinnertime, it doesn't get much better than a one pan meal!  This Whole30 Greek Chicken is all made together in one skillet.  This means minimal clean up and maximum flavor.  In this case, there are a ton of different flavors. Everything cooks up nicely together and leaves you with the most delicious dinner!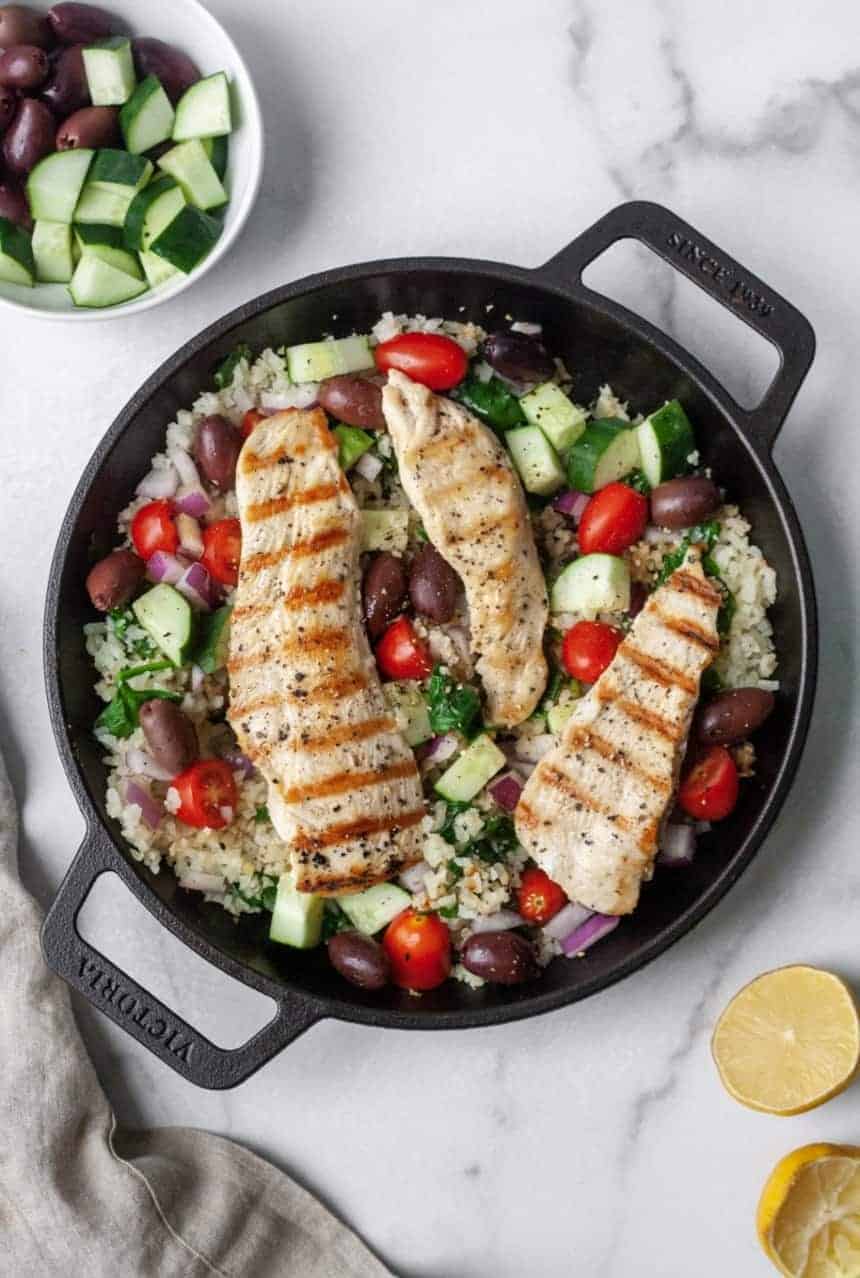 To begin, pat your chicken dry with paper towels.  This allows the seasonings to adhere to the chicken better.  It also allows the hot skillet to sear the chicken.  Hello grill marks!  Sear the chicken for 4-5 minutes per side, until cooked through and no longer pink in the middle.  Depending on the thickness of your chicken, you may need to cook it a little longer.  Slice into the thickest piece to make sure it's completely cooked.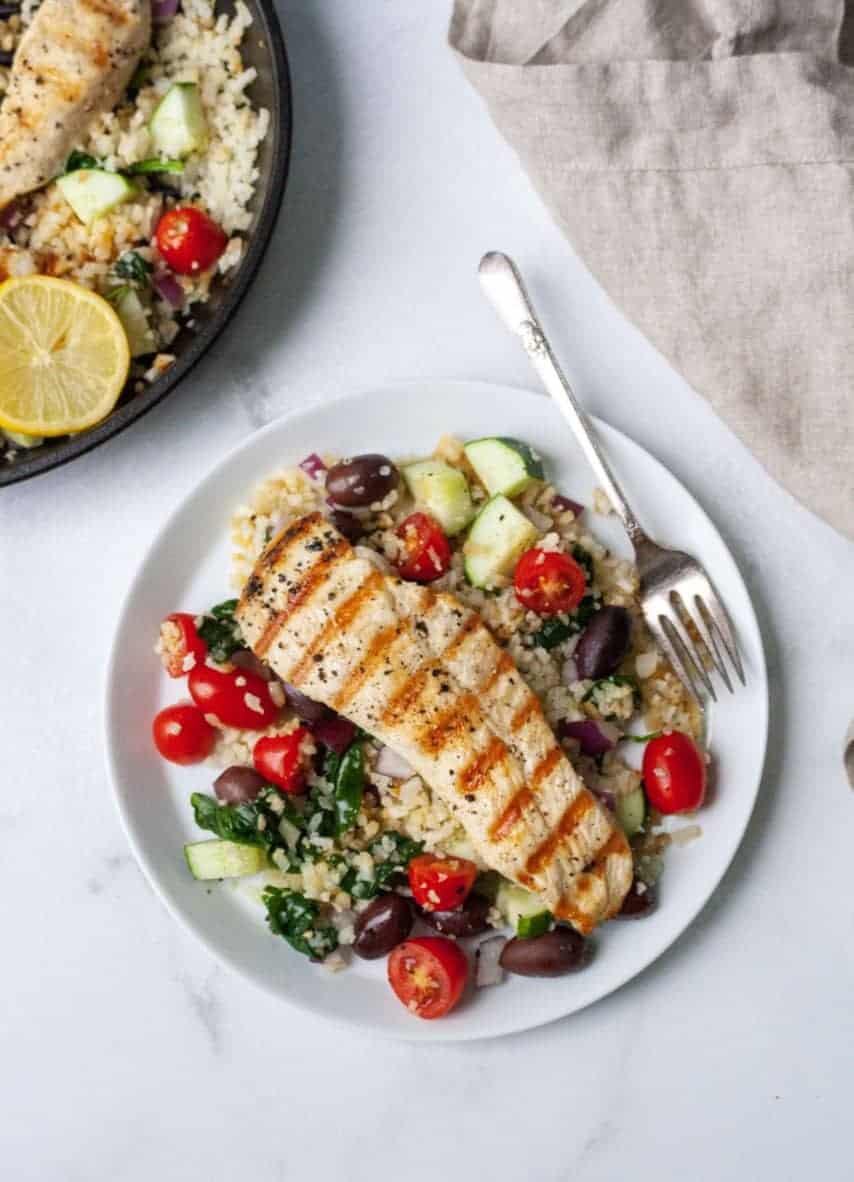 Remove the chicken from the pan and add in the remaining olive oil, garlic, cauliflower rice, kale, chicken broth and lemon juice.  Once this mixture has started to warm throughout, add in the tomatoes, red onion, cucumber and olives to the skillet.  Note: if you're using frozen cauliflower rice, add an extra couple minutes of cooking time.  I used frozen pre-riced cauliflower and it usually takes a few minutes to thaw out in the pan.  Next, return the chicken to the pan and allow it all to cook together for 2-3 minutes.  If you wish for your vegetables to be more cooked through, add 2-3 more minutes to your cook time.  I like to keep mine slightly crisp and firm so I only did a couple minutes total.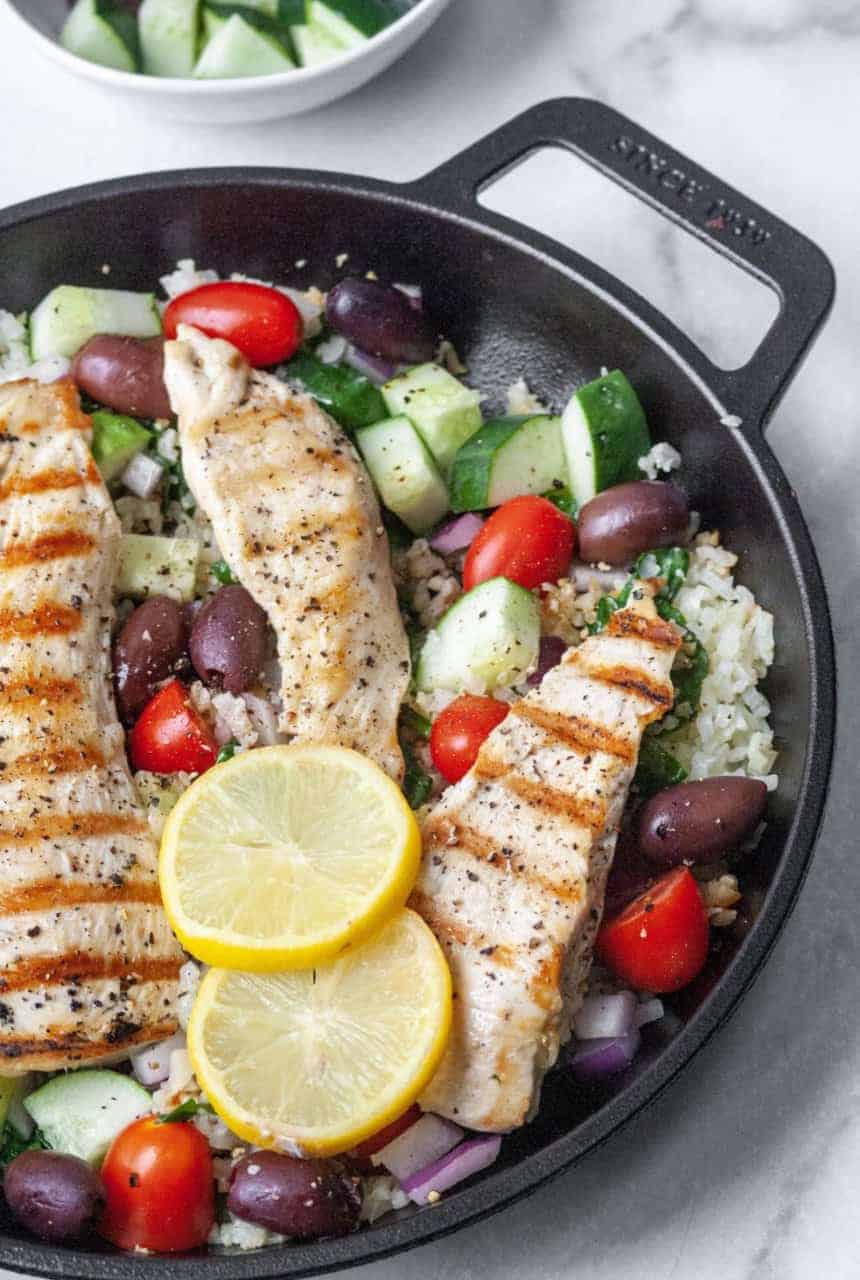 This one skillet dinner is perfect for any night of the week.  It comes together quickly and easily which makes it a great weeknight option.  I can assure you that the leftovers are delicious the next day!  Since there are so many great flavors, it's definitely fancy enough for a weekend meal.  This Greek chicken is healthy and delicious – you won't even realize you're eating so many vegetables.  Easy, healthy and delicious!  What more could you ask for?
Prep Time: 5 minutes
Cook Time: 20 minutes
Total Time: 25 minutes
Course: Lunch, Dinner
Servings: 4 servings
Ingredients:
1 pound chicken breasts or thighs
3 TBL olive oil
1/4 tsp ground pepper
1/4 tsp sea salt
1 tsp oregano
Zest and juice of 1 lemon
2 TBL minced garlic
3 cups cauliflower rice (can be frozen)
3 cups kale, chopped
1/4 cup chicken broth
1/2 cup kalamata olives
1/4 cup baby tomatoes, halved
1/2 cup cucumber, chopped
1/4 cup red onion, chopped
Directions:
Pat chicken dry on both sides with paper towels.  Season chicken with ground pepper, sea salt and oregano.
In a skillet over medium heat, add 2 TBL olive oil and chicken.  Cook 4-5 minutes each side until completely cooked through.  Remove from heat.
Add to your skillet the remaining 1 TBL olive oil, garlic, cauliflower rice, kale, broth and lemon juice.  Cook for 2-3 minutes, until cauliflower is warmed and kale has started to soften.
Add olives, tomatoes, red onion and cucumber to the pan.  Add chicken back in and cook for 2-3 minutes, until everything has warmed.
Garnish with lemon zest, if desired.