PALEO STRAWBERRY RHUBARB PIE
(GRAIN FREE, GLUTEN FREE, DAIRY FREE, PALEO)
This pie is at the corner of comfort food and fresh and light flavors!  There's nothing more classic than a homemade pie and this one is sure to please.  This pie crust (full directions HERE) is truly the best I've ever had.  No one can tell that it's made with healthy ingredients.  The filling is just sweet enough – the strawberries and rhubarb provide a natural sweetness and a ton of flavor.  This pie is delicious in the summer!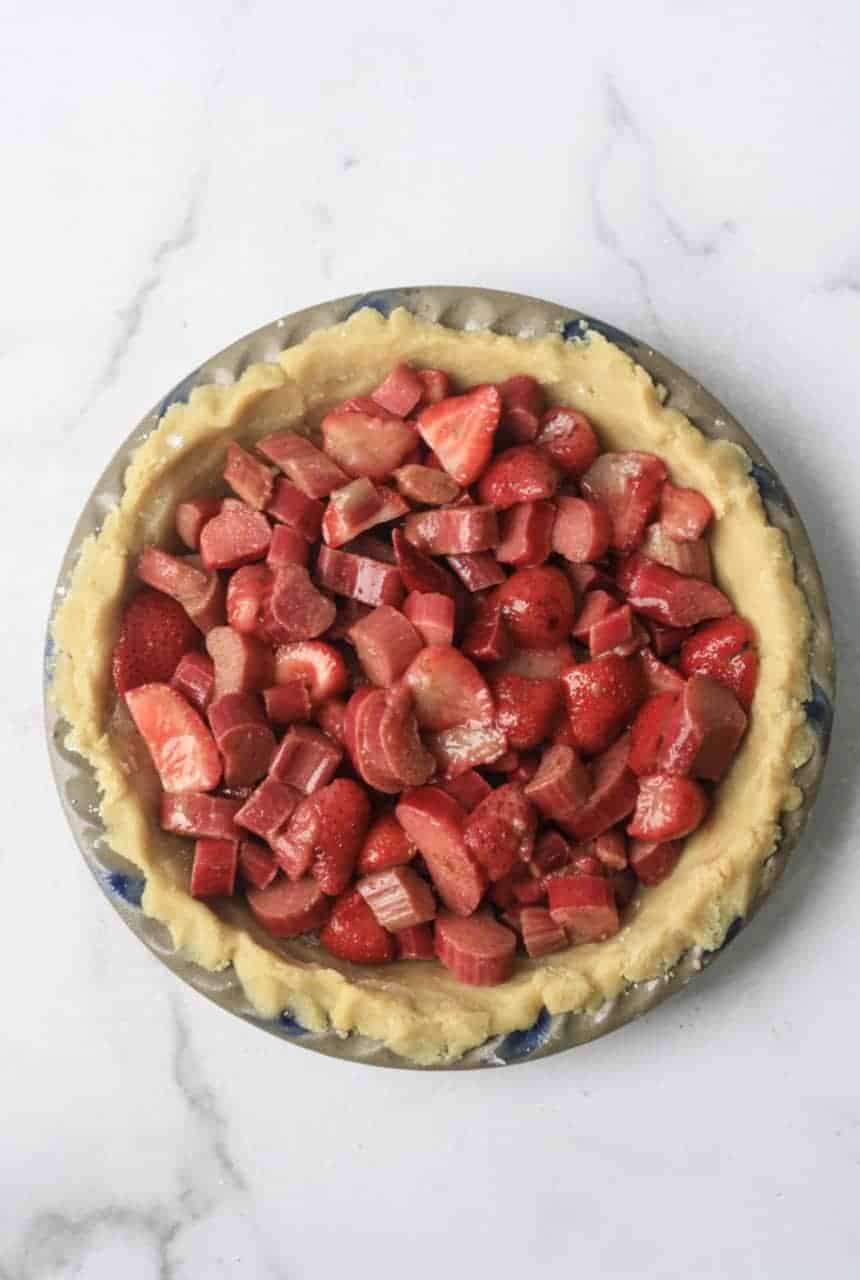 This pie is a little more involved but it's SO worth it.  Here, I doubled my Paleo pie crust recipe to accommodate for both the bottom crust and the lattice topping.  I have included very detailed directions below but there are a few things to note.  I HIGHLY recommend making both crusts the night before so that they have time to chill in the fridge overnight. This really helps them to firm up.  The great thing about working with a Paleo dough is that although it may break, it repairs incredibly easy.  Since there is no gluten, it's almost impossible to overwork the dough.  My crust and lattice topping broke a couple times but I simply used my fingers to smooth the pieces back together.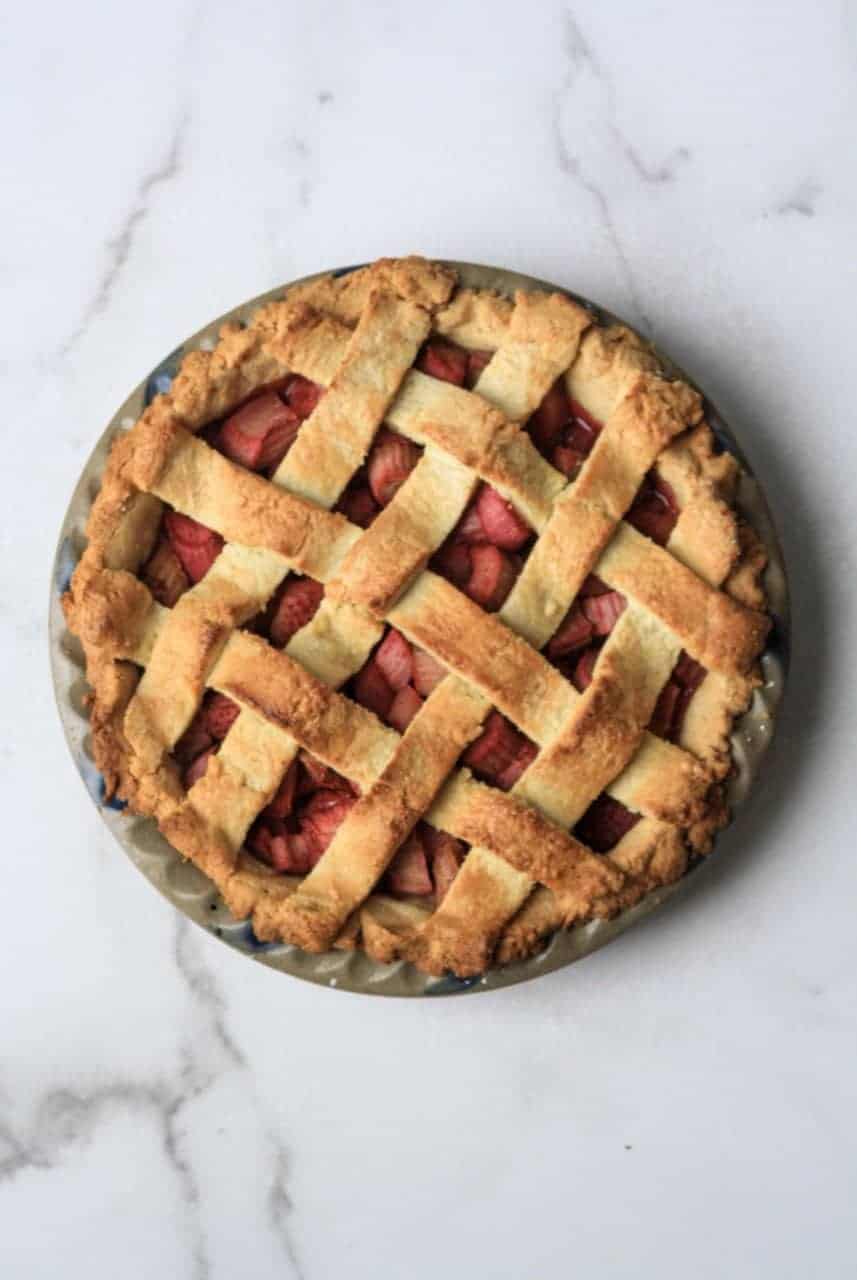 The filling itself is super quick and easy to make.  I used fresh rhubarb and strawberries because they're currently in season but you can definitely use frozen if that's all you have.  If you do use frozen rhubarb and strawberries, be sure to let them thaw and then squeeze out any excess water.  Place the fruit between paper towels and squeeze out the water; doing so allows the filling to not be overly runny.  For the lattice topping, slowly and gently lay out the pie crust strips and weave them together.  There's no right or wrong way to do this; get creative!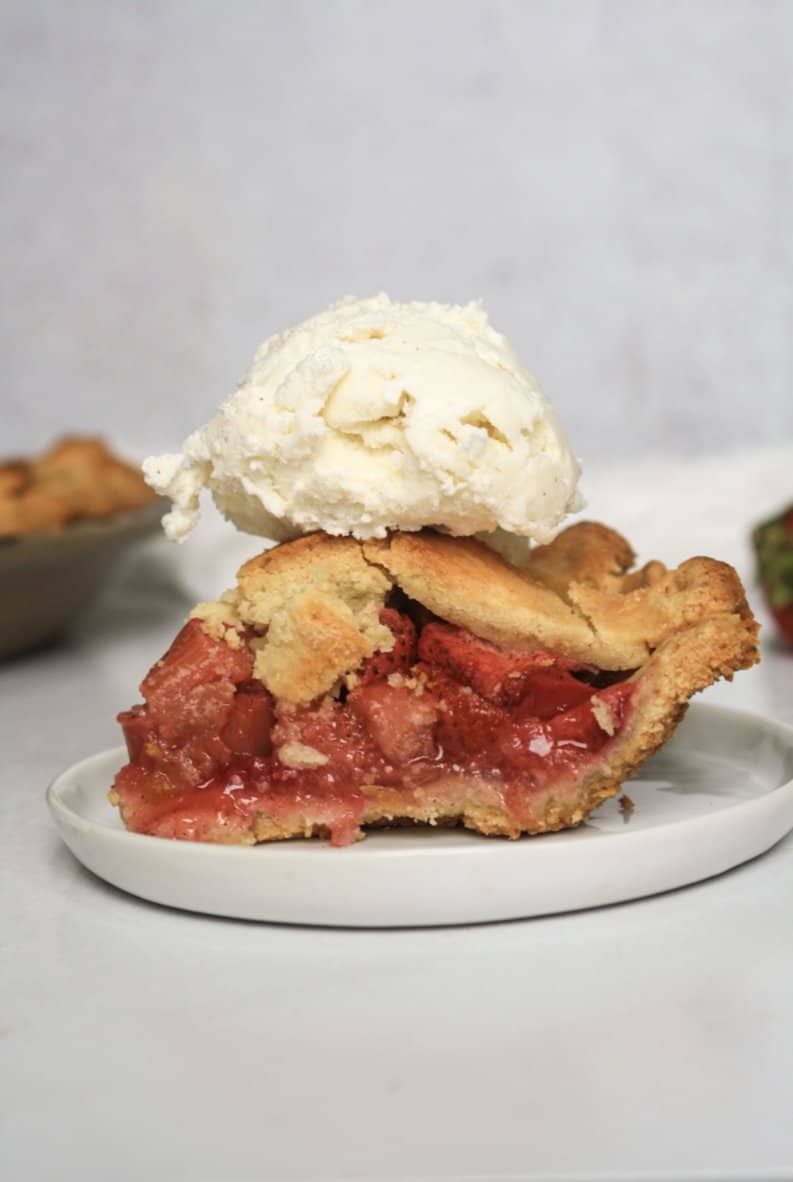 This pie is truly a showstopper!  It's fun to make, filled with the best bright and bold flavors and makes for one delicious dessert.  I consider it healthy enough for breakfast!  The strawberry rhubarb combo is equal parts tart and sweet.  This pie is great with coconut milk ice cream!
Prep Time: 20 minutes
Cook Time: 60 minutes
Total Time: 1 hour, 20 minutes (plus overnight chill)
Course: Dessert, Snack
Servings: 10 pieces
Ingredients:
CRUST:
2 cups almond flour
1.5 cups tapioca flour
2 eggs
1 cup grass fed butter, cold
2 TBL maple syrup
2 tsp maple sugar or coconut sugar
FILLING:
2 cups rhubarb, chopped into 1 inch pieces
2 cups strawberries, cut in half
1/2 cup maple sugar or coconut sugar
1/4 cup tapioca flour
Juice and zest of 1 lemon
1 tsp cinnamon
1/2 tsp nutmeg
1 tsp vanilla
Directions:
Preheat oven to 425 degrees Fahrenheit and spray a 9 inch pie plate with nonstick spray.
Chop cold grass fed butter into small 1/2 inch cubes.  Add all ingredients to a food processor or KitchenAid.  Mix until combined.
Form dough into 2 large balls and flatten it into a disc shape.  Place cling wrap around each disc of dough and refrigerate overnight.
When you're ready to begin making the pie, unwrap dough.  Sprinkle a little extra tapioca flour on each piece of dough and some on a piece of parchment paper.
Add another piece of parchment paper on top of the first piece of dough and carefully roll out the dough.  The crust will be about 12 inches in diameter.  If it breaks, simply mend it back together with your hands.
Once rolled out, remove top piece of parchment paper.  Place pie dish upside down on top of crust.  Invert pie dish so that the crust lands in the pie plate.
Smooth any cracks with your hands.  Pinch the edges of the pie crust.
For the second crust, roll out in the same fashion as above.  Taking a sharp knife, gently slice pie dough into long strips.  Very carefully place these (on top of a piece of parchment paper) into the fridge for 15 minutes to harden.
To make the filling, combine all the ingredients in a large mixing bowl and gently toss.  Toss until rhubarb and strawberries are covered in coconut sugar and tapioca flour.
Pour filling into the bottom crust.  Remove top crust strips from fridge and VERY gently weave them on top.  If one breaks, repair it together using your hands.
Bake at 425 for 15 minutes.  Reduce oven temperature to 350 degrees Fahrenheit and bake for 45-50 minutes, until crust is golden.
Allow to cool for 30 minutes before serving.