WHOLE30 BURGER SLIDERS
(WHOLE30, GRAIN FREE, GLUTEN FREE, DAIRY FREE, PALEO)
My absolute favorite dinner is grilled burgers.  They might be tied with pulled pork – but nevertheless they are right up there!  I love the smoky flavor that the grill gives.  There's truly nothing better in the summertime.  I love grilled burgers so much that I bought an indoor grill so I could indulge in that grilled flavor year round.  These sliders are every bit as fun as they are delicious!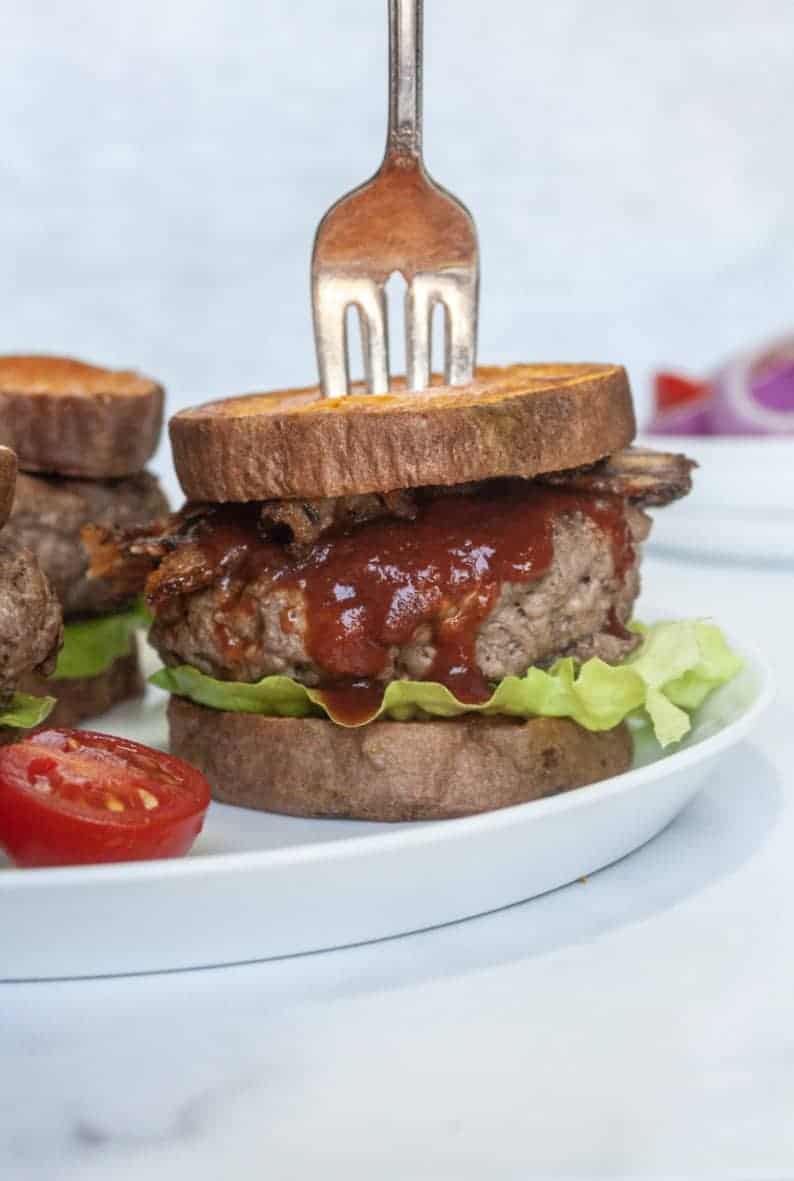 We will start by making the sweet potatoes because those will bake while we cook the burgers.  Carefully slice the sweet potatoes into 1/4 inch rounds.  Place the sweet potatoes on a large parchment lined baking sheet.  Melt the coconut oil and brush that over both sides of the sweet potatoes.  I prefer coconut oil to olive oil or ghee here because it adds just a subtle sweetness to the potatoes.  The coconut oil allows the sweet potatoes to get crispy without burning.  Keep a close eye on the potatoes after about 25 minutes, but mine never burn.  While those bake, make the burgers.  Combine ground beef and ground pepper in a bowl and form into about 12 small burgers.  You can feel free to add any seasonings here as well!  Depending on the size of your burgers, these only need to grill about 2-3 minutes per side.  I like mine a little pink in the center.  Once both the burgers and sweet potatoes are cooked, it's time to assemble!  On top of one sweet potato round, add a piece of butter lettuce, your burger, some BBQ sauce and the cooked bacon.  I like to crumble my bacon.  Top with a second sweet potato round and you've got your slider!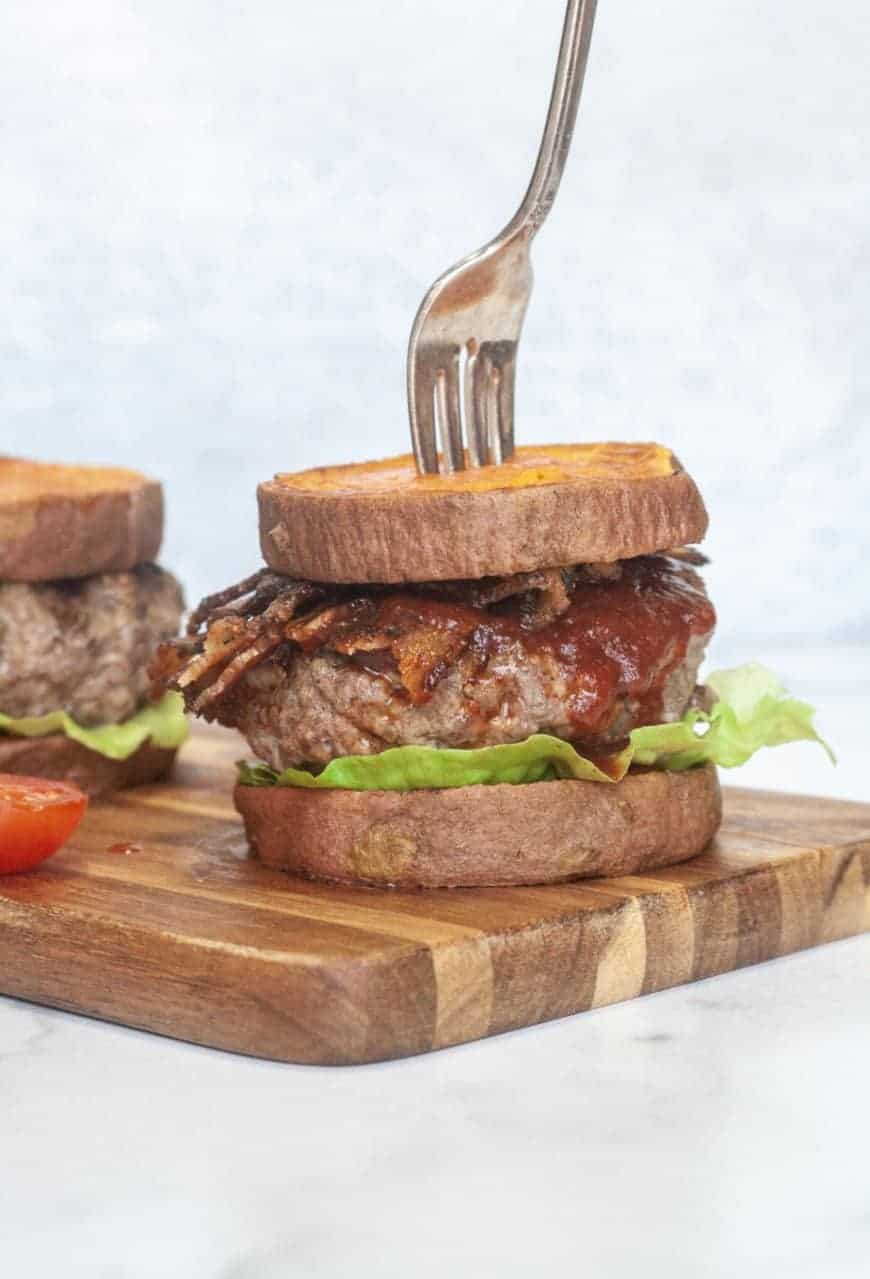 I love how easy and delicious these are!  These sliders are also versatile – they're great for a hearty appetizer, a quick and easy lunch,  or a super fun dinner.  The possibilities are endless when it comes to toppings.  They're great for feeding a crowd since everyone can tailor their sliders to their liking.  They are fun, kid approved, family friendly and just so tasty!
Prep Time: 5 minutes
Cook Time: 30 minutes
Total Time: 35 minutes
Course: Lunch, Dinner
Servings: 12 sliders
Ingredients:
Burgers:
2 pounds ground beef (I love Porter Road)
12 pieces sugar free bacon, cooked
12 pieces butter lettuce
1/2 tsp black pepper
1/2 cup Whole30 BBQ sauce
Optional: sliced tomato
Sweet Potatoes:
2 large sweet potatoes, cut into rounds
2 TBL coconut oil, melted
Directions:
Preheat oven to 400 degrees Fahrenheit.  Slice sweet potatoes about 1/4 inch thick and arrange on a large baking sheet.
Brush melted coconut oil over both sides of each sweet potato round and bake for 30 minutes, flipping after 20 minutes.
Meanwhile, heat grill or indoor grill to 400 degrees Fahrenheit.  In a large bowl, combine ground beef and black pepper.  Form into 12 or so burger sliders.
Spray grill with nonstick spray and add burgers to the grill.  Grill 2-3 minutes each side before removing from heat.
To assemble: top sweet potato with butter lettuce, burger, BBQ sauce and cooked bacon.  Top with sweet potato round.
Serve!