Healthy Puppy Chow Recipe (Paleo)
This healthy Puppy Chow recipe is hands down the easiest, most delicious and addicting snack ever. It is made with only a few ingredients and comes together dangerously quickly. Think crispy, crunchy, chocolaty paradise.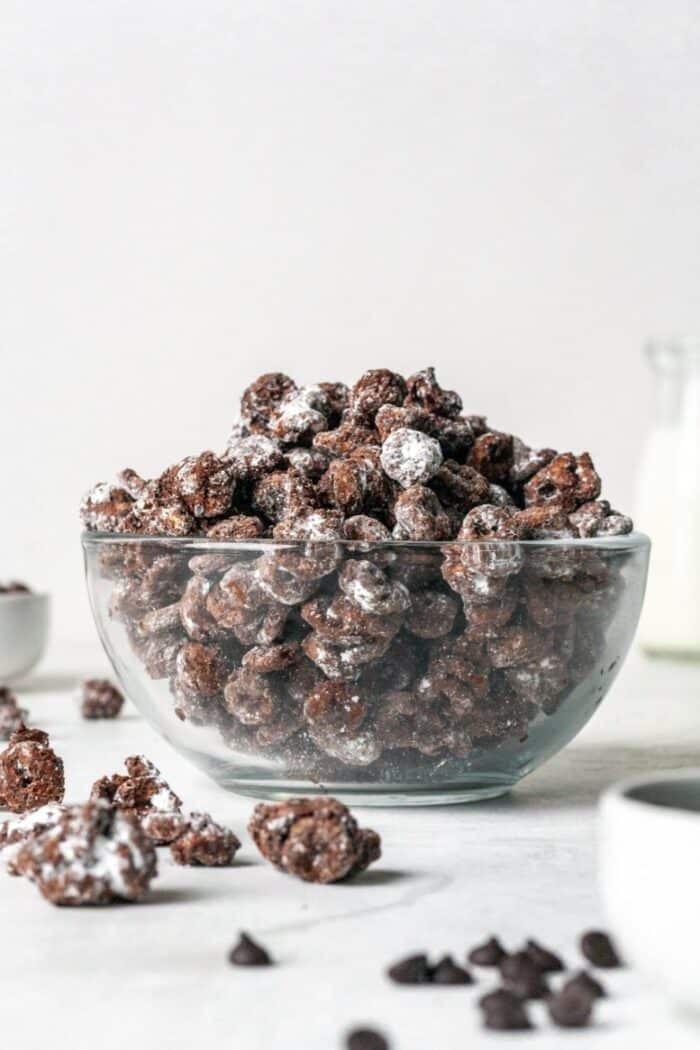 As a food blogger, there are constantly several desserts in my house. I can assure you that none of them disappear as quickly as this healthy puppy chow recipe. I actually have to hide these from my family because they are a hot commodity around here!
Why You'll Love This Recipe
If you've never tried Puppy Chow (or Muddy Buddies as they are sometimes referred to), your world is about to get rocked! If you have tried them, then you know how magical they are. Read on:
This healthy Puppy Chow is easy to make.
Only a few ingredients are necessary.
They are a quick and easy snack for any time of the year.
The almond butter and chocolate combo is insane.
I could go on and on and on… but please take my word for it!
For a Vegan version, check out this Vegan Puppy Chow.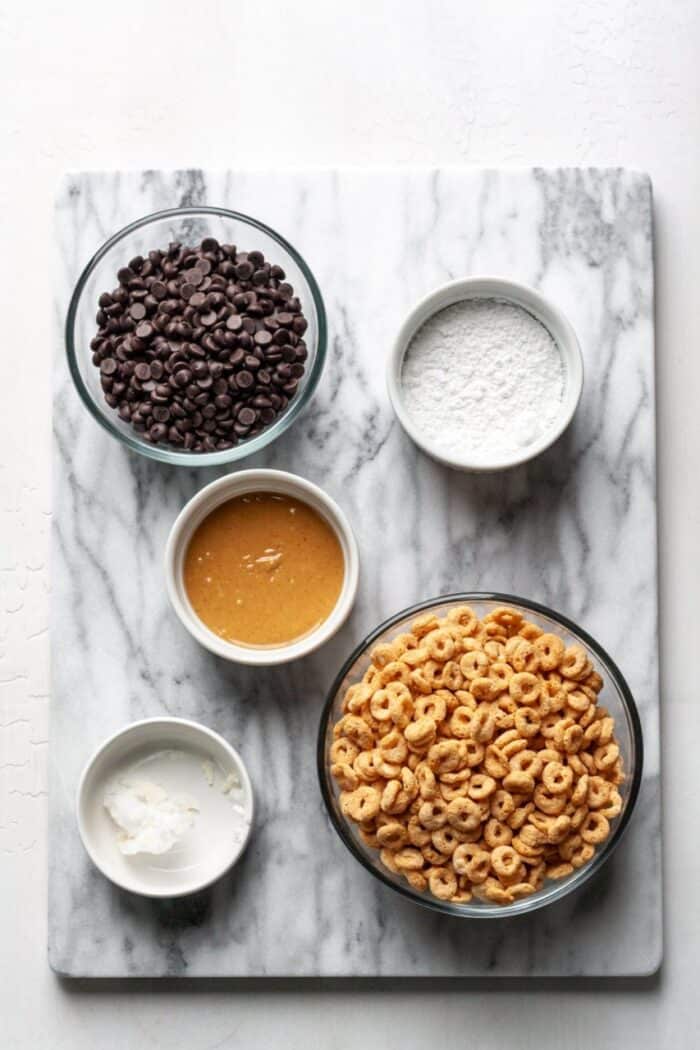 Recipe Steps
Step 1
To make healthy Puppy Chow, first melt chocolate chips, almond butter and coconut oil together.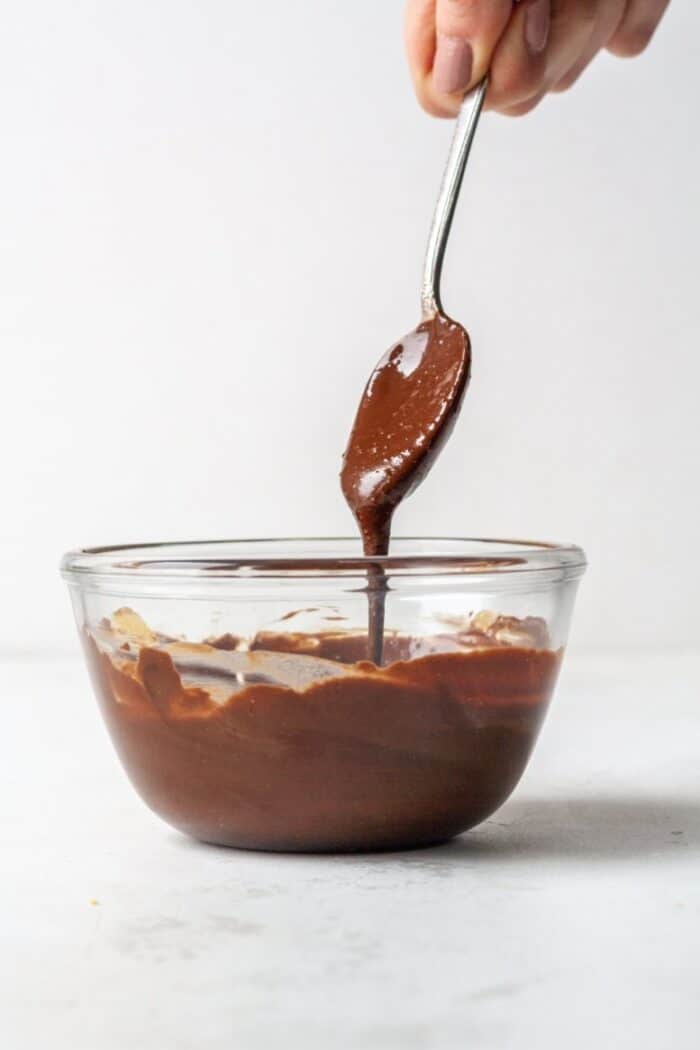 Step 2
Then, pour melted chocolate over Paleo cereal.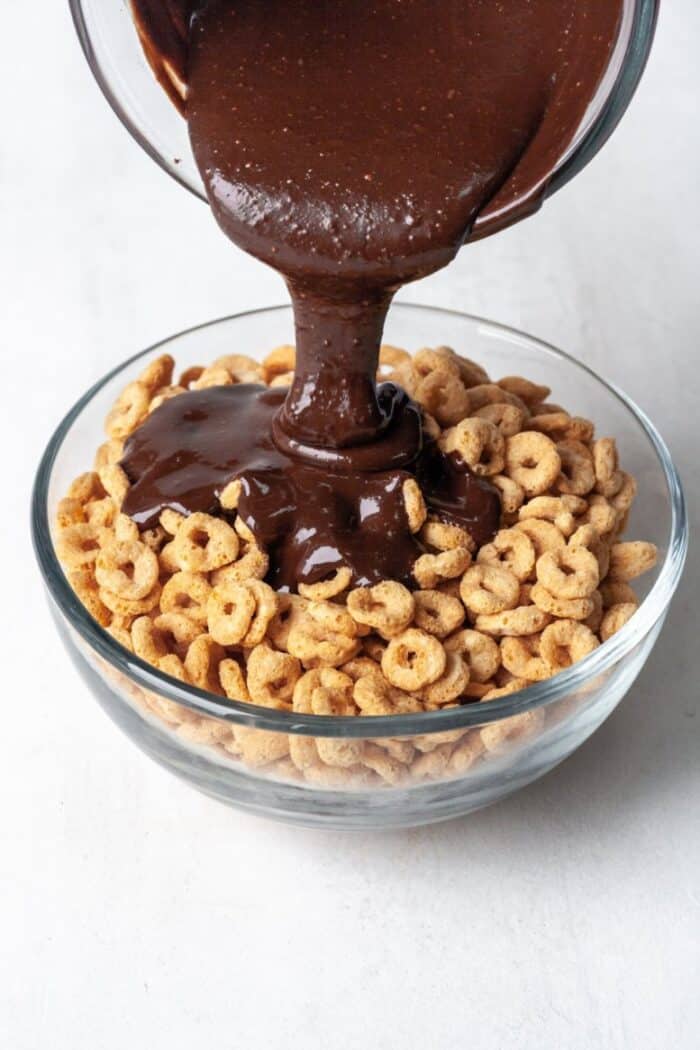 Step 3
Gently toss cereal and chocolate. Once cereal is completely coated, place in fridge.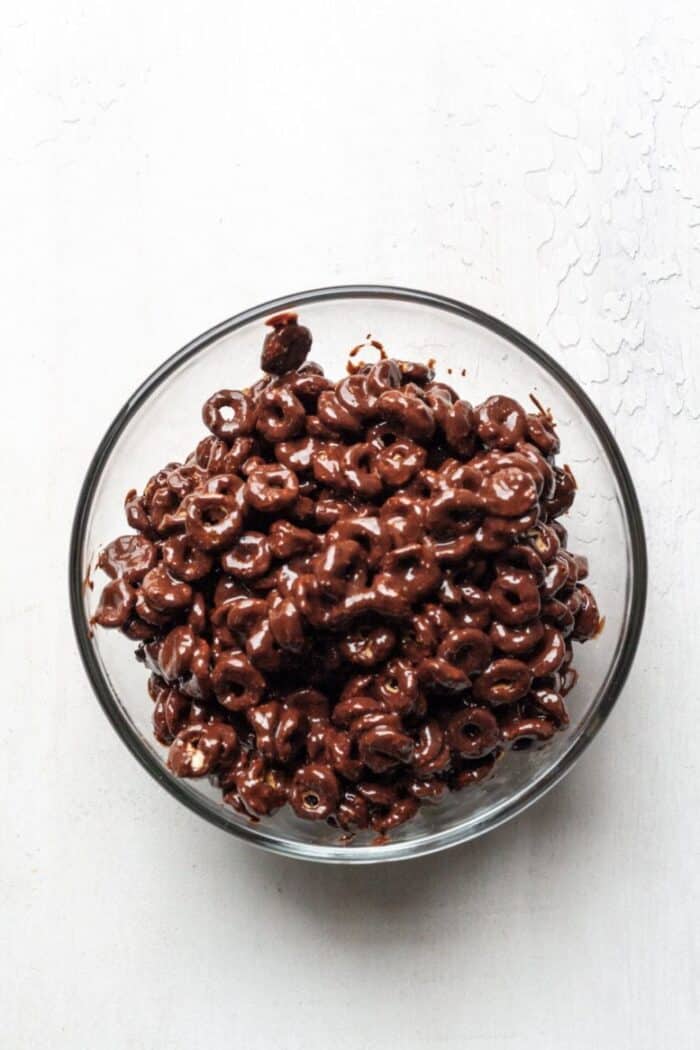 Step 4
Next, make the powdered maple sugar. Blend together maple sugar and tapioca starch.
Step 5
Toss chocolate cereal mixture with powdered sugar until fully coated.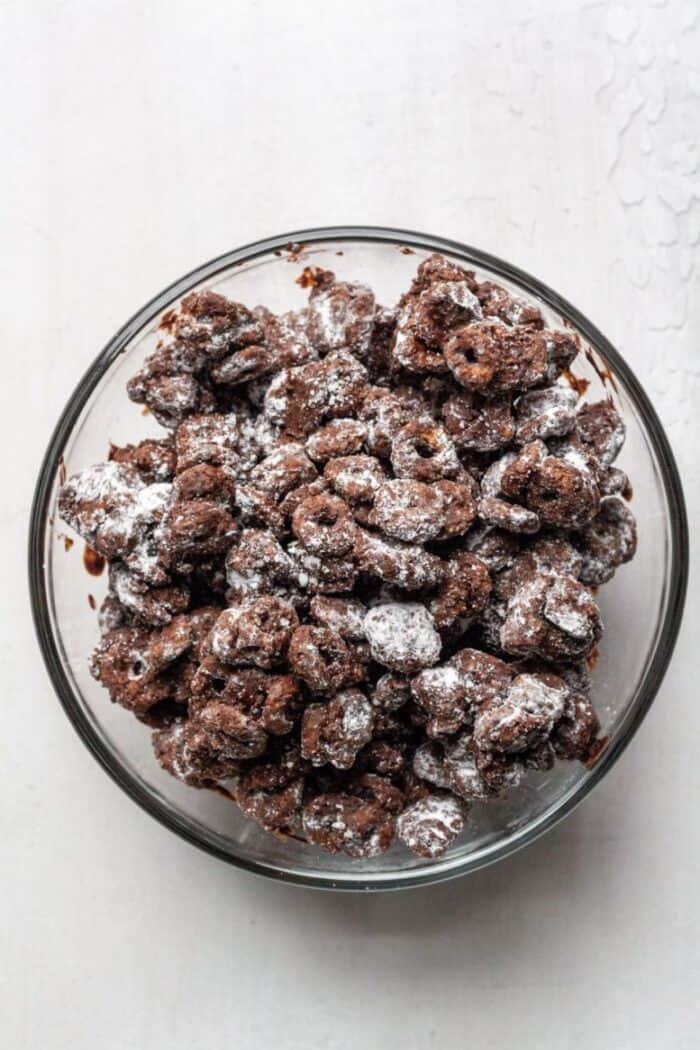 Step 6
Finally, place in fridge for 10 minutes to chill before digging in.
Frequently Asked Questions (FAQs)
Why is it called Puppy Chow?
It is called Puppy Chow because it somewhat resembles dog food. This is NOT suitable for dogs.
What is Puppy Chow made of?
This healthy Puppy Chow is made with a Paleo cereal, almond butter, chocolate chips, coconut oil, and powdered maple sugar.
Can I use real powdered sugar?
Definitely!
Can I use another nut butter instead of almond butter?
Yes, as long as the nut butter is creamy.
How should I store this?
Store leftovers in an airtight container at room temperature for up to 5 days. Hint: we NEVER have leftovers. It gets devoured within a day.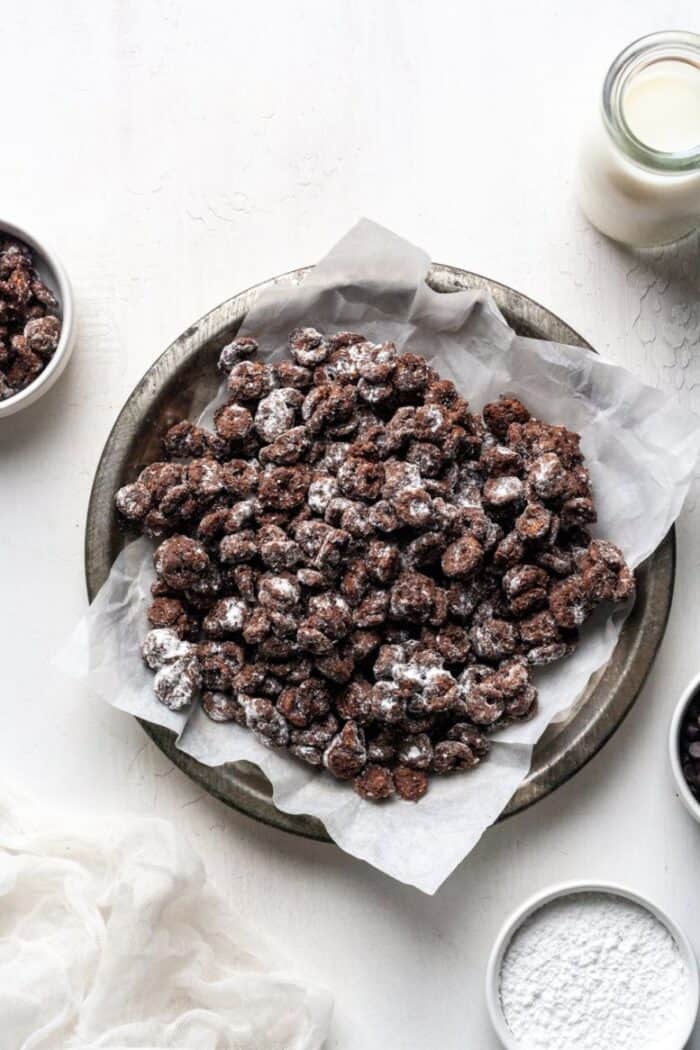 Muddy Buddies or Puppy Chow?
This delicious snack has two names: Muddy Buddies and Puppy Chow. So, which one is it? I think that depends on where you live and what you grew up calling it.
You May Also Like
If you make this recipe, I'd love to see it! You can find me on Instagram, Facebook, and Pinterest. I'd love for you to follow along!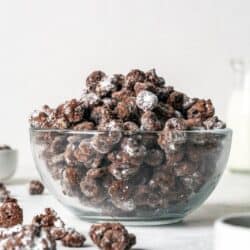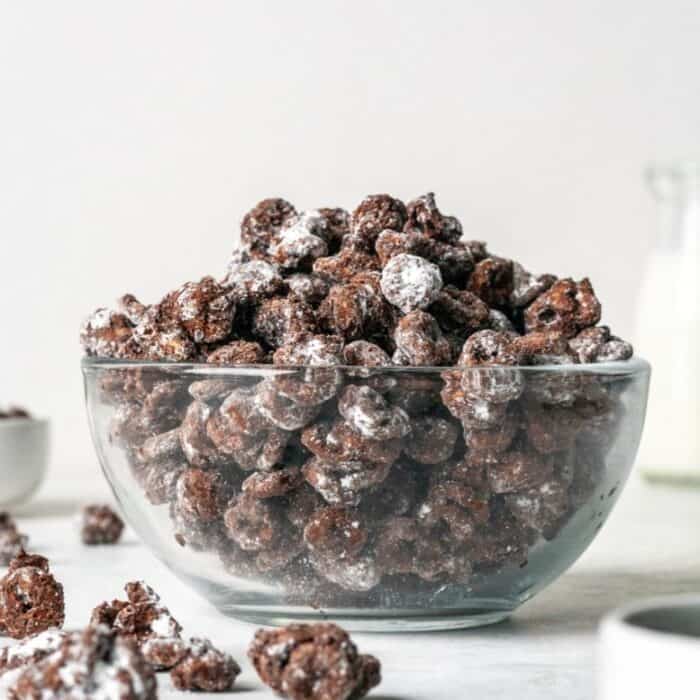 Get the Recipe:
Healthy Puppy Chow Recipe (Paleo)
This healthy Puppy Chow is crispy, crunchy and chocolaty! This is the perfect easy snack or sweet treat. Only six ingredients are needed for this super addicting and delicious recipe!
Ingredients
Instructions
First, add chocolate chips, almond butter and coconut oil to a microwave safe bowl.

Microwave in 30 second increments until melted, stopping to stir between each increment.

Add Paleo cereal to a large mixing bowl. Pour melted chocolate mixture over cereal.

Gently toss until cereal is completely covered with chocolate. Place in fridge while you make the powdered maple sugar.

To make powdered maple sugar, add maple sugar and tapioca flour to a blender. Blend for 1 minute or until powdered.

Then, remove bowl from fridge. Add powdered maple sugar to the bowl. Toss cereal until fully coated. Place back in fridge for 10 minutes to set.

Finally, serve and enjoy!
Notes
My favorite Paleo cereal is Lovebird Cereal.  Code LOVEBIRDADDISON will save you 10%!
Melt chocolate mixture until smooth and creamy.
Gently toss cereal with chocolate mixture.  In addition, gently toss when powdered maple sugar is added.
Powdered maple sugar is slightly off white in color.  Feel free to use organic powdered sugar for a crisp white color.
Do NOT serve to dogs. 
Calories:
369
kcal
,
Carbohydrates:
44
g
,
Protein:
8
g
,
Fat:
21
g
,
Saturated Fat:
8
g
,
Cholesterol:
1
mg
,
Sodium:
92
mg
,
Potassium:
433
mg
,
Fiber:
5
g
,
Sugar:
26
g
,
Vitamin A:
252
IU
,
Vitamin C:
3
mg
,
Calcium:
202
mg
,
Iron:
5
mg
Love this healthy Puppy Chow? You can sign up here to receive healthy meal plans and new recipes!