WHOLE30 TACO SWEET POTATO SKINS WITH AVOCADO CREMA
(WHOLE30, GRAIN FREE, GLUTEN FREE, DAIRY FREE, PALEO)
Sweet potatoes are one of my most consumed foods.  I fell in love with them while marathon training and I haven't looked back since.  I love that there are so many ways to make them and that they're so versatile.  In this case, they serve as the perfect little potato boat to hold the taco meat.  They're the perfect mix between sweet and savory.  These potato skins are filled with bold and hearty flavors.  They make the perfect game day appetizer, fun little lunch or delicious dinner!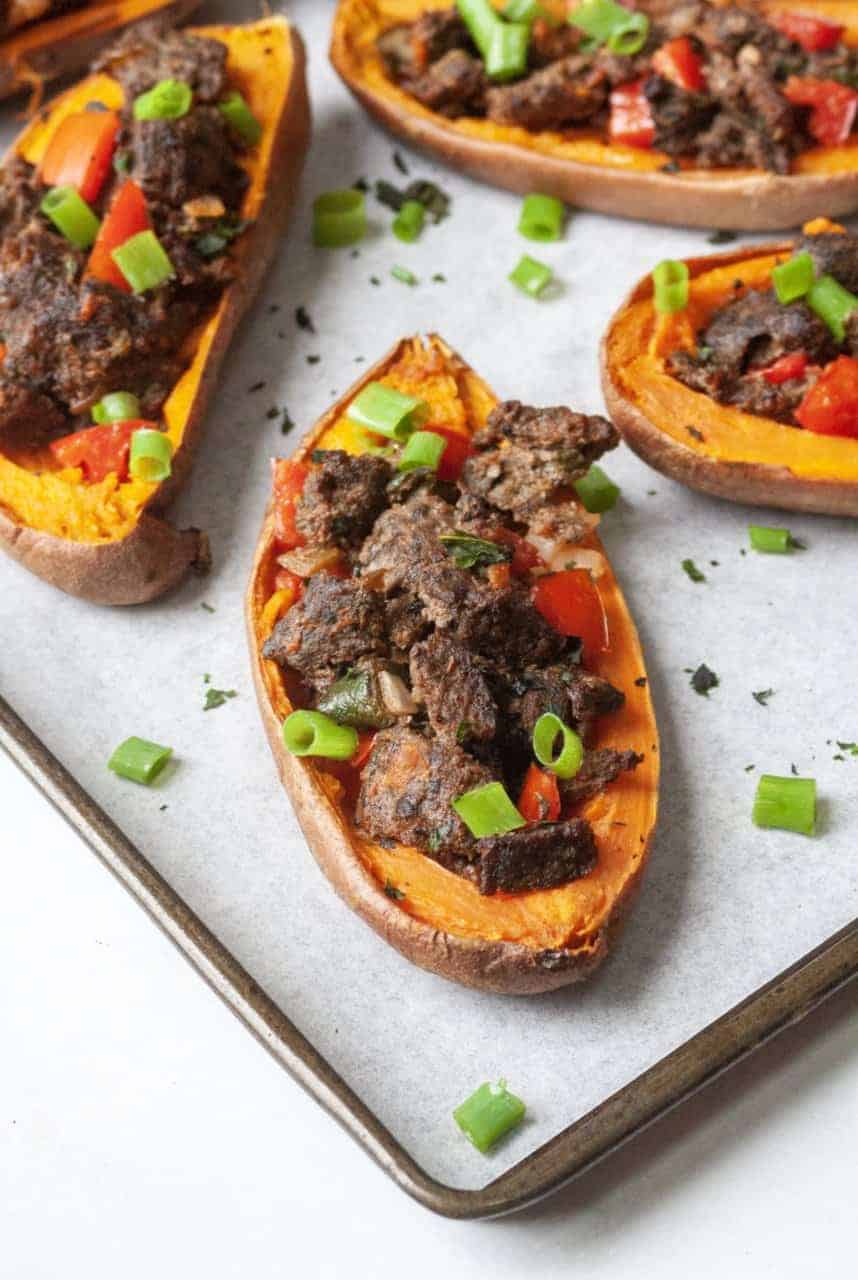 Combining sweet potatoes and taco meat has got to be one of my best savory ideas yet.  The flavors complement each other so well.  Let's get started!  To cook these sweet potatoes, I typically rely on my microwave to get the job done.  They only take 10-12 minutes in the microwave.  If roasting in the oven, line a baking sheet with parchment paper and wrap the potatoes in aluminum foil.  Roast them at 400 degrees Fahrenheit for 45-60 minutes, depending on the size of the potatoes.  Once the potatoes are fork tender, carefully slice them in half lengthwise; leaving half an inch of flesh along the edges of the potatoes, scoop out the rest.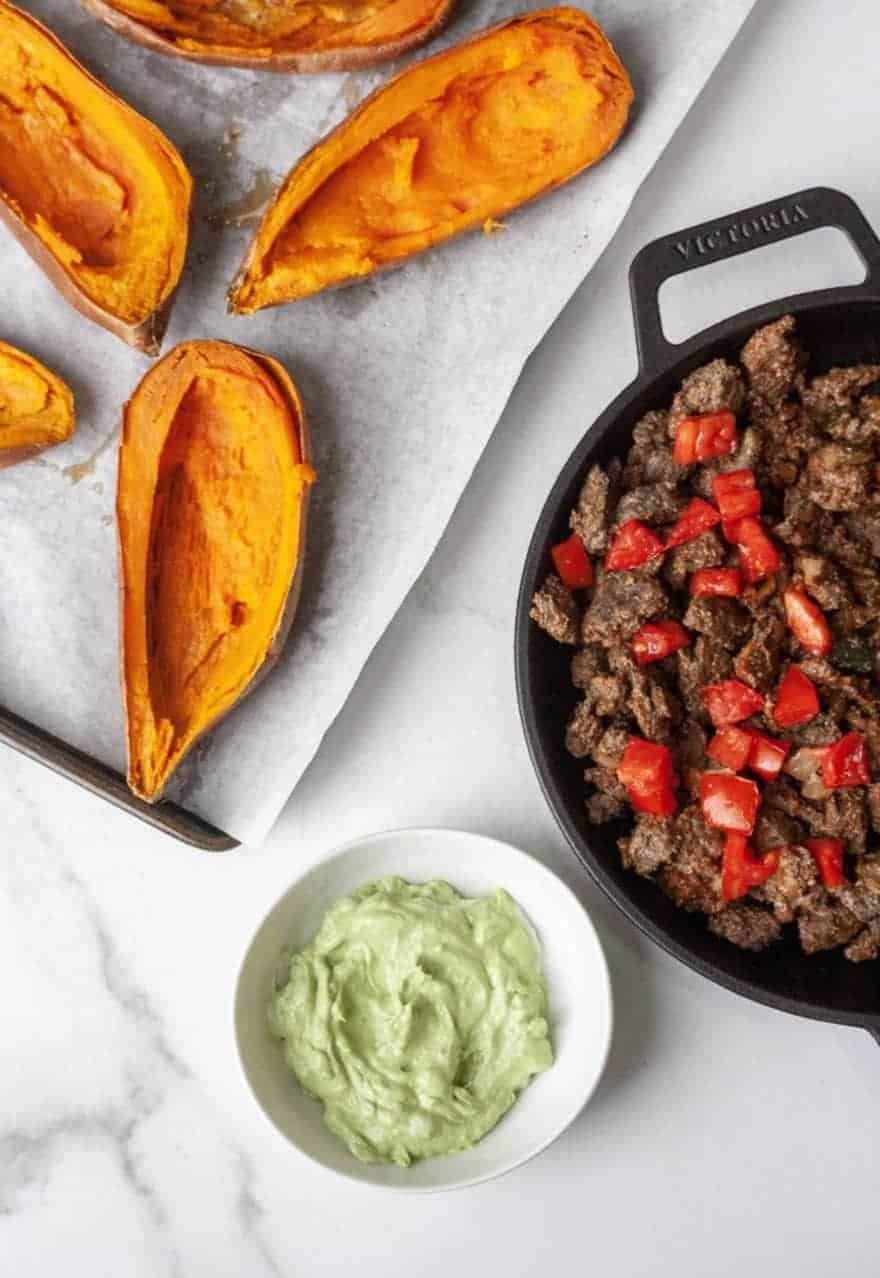 Meanwhile, brown your ground beef over a skillet.  Add in the onions, peppers, spices and salsa.  Melt the ghee and gently brush it into the inside of each sweet potato.  Once this taco mixture is done, fill each sweet potato with the meat.  Bake for 7-8 minutes or until the edges of the sweet potatoes appear to be crispy.  Remove from oven.  To make the avocado crema, simply add the ingredients to a food processor or blender and blend until smooth.  Garnish sweet potato skins with avocado crema, cilantro and green onions.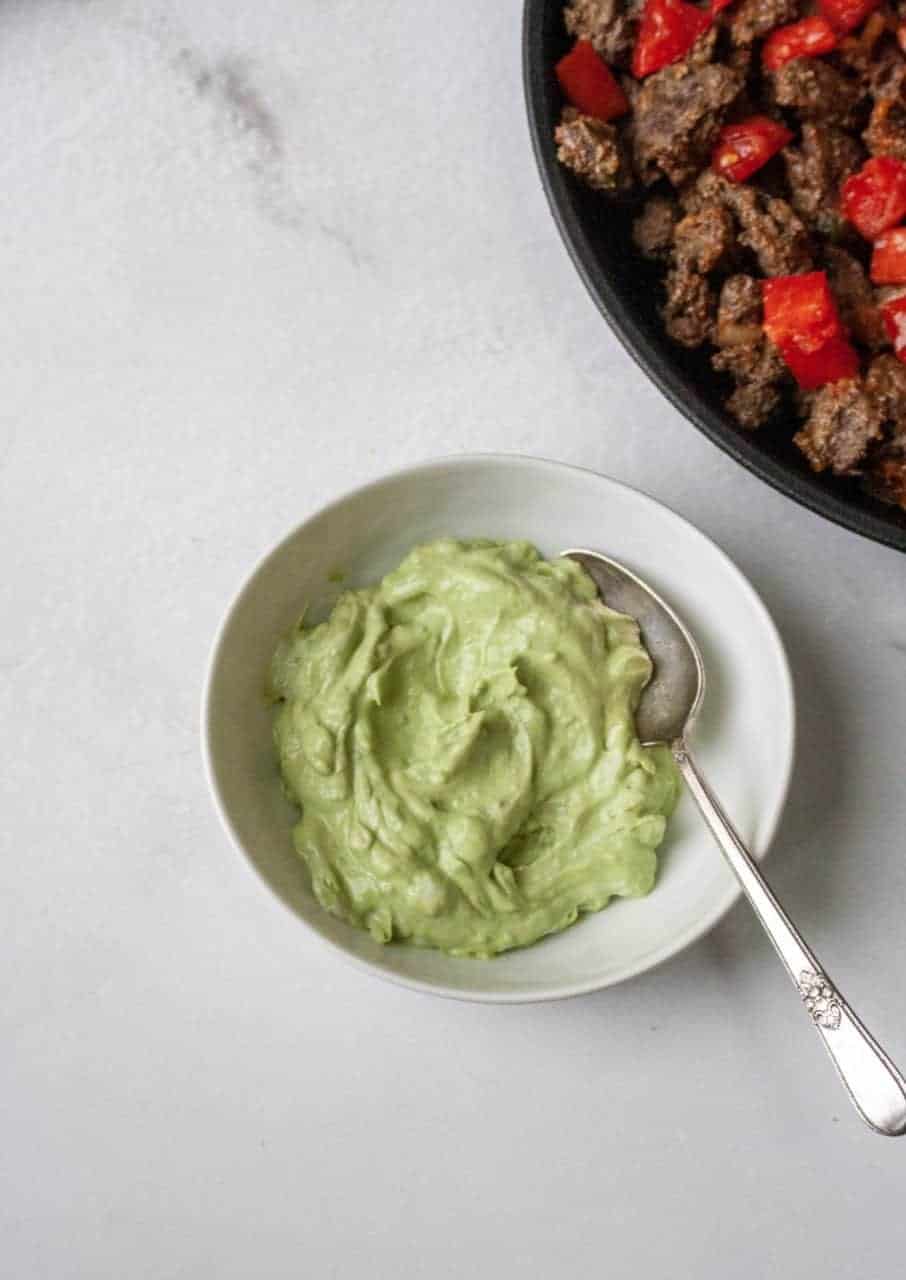 I was blown away by how much I loved these!  I don't know why I was surprised – I am such a sweet potato lover!  And who doesn't love anything taco flavored?  I love that these are great for any occasion.  From game days to weeknight dinners, these are sure to be a crowd pleaser!
Prep Time: 10 minutes
Cook Time: 25 minutes
Total Time: 35 minutes
Course: Lunch, Dinner
Servings: 6 servings
Ingredients:
6 large sweet potatoes
2 TBL ghee
1/2 pound ground meat (I used Teton Waters Ranch Southwest burgers)
1/4 cup onion, chopped
1/4 cup red pepper, diced
1/4 cup green pepper, diced
1/2 tsp paprika
1/2 tsp cumin
1/2 tsp onion powder
1/2 cup salsa
Green onion, for garnish
Cilantro, for garnish
AVOCADO CREMA:
1 avocado, flesh removed
1/3 cup coconut cream, chilled
1/4 tsp minced garlic
Squeeze lime juice
Directions:
Preheat oven to 400 degrees Fahrenheit and line a baking sheet with parchment paper.  Set aside.
On a microwave safe plate, microwave sweet potatoes for 10-12 minutes, until soft and tender.  Be VERY careful handling potatoes; they are extremely hot.
Meanwhile, make taco filling.  Add ground meat to a skillet over medium heat.  Once browned, add in onion, peppers, spices and salsa.  Cook for 4-5 minutes, until peppers are tender.
Carefully slice each sweet potato in half lengthwise.  Scoop out the insides of the sweet potato, leaving about half an inch of filling around the edges.
In a small microwave dish, melt ghee.  Brush melted ghee on the insides and edges of each potato.
Scoop taco filling into each potato.  Bake for 7-8 minutes, until sweet potato skins start to become crispy on the edges.
Remove from oven.  Garnish with cilantro and avocado crema.
To make the avocado crema, add all ingredients to a blender or food processor and blend until smooth.