WHOLE30 SPAGHETTI SQUASH
(GLUTEN FREE, GRAIN FREE, DAIRY FREE, PALEO, KETO-FRIENDLY)
I have only been eating spaghetti squash for about a year or two.  I was intimidated to cook it at first, but once I got over my initial fear, I realized just how delicious and easy it is!  I now prefer it to any other pasta since it's so light and tastes like whatever sauce you pair it with.  In this case, I did a meat marinara sauce (very similar to a bolognese) but a garlic sauce or pesto would be tasty as well.  Hope you're ready to make a delicious spaghetti squash that's easy, flavorful, and makes the best leftovers!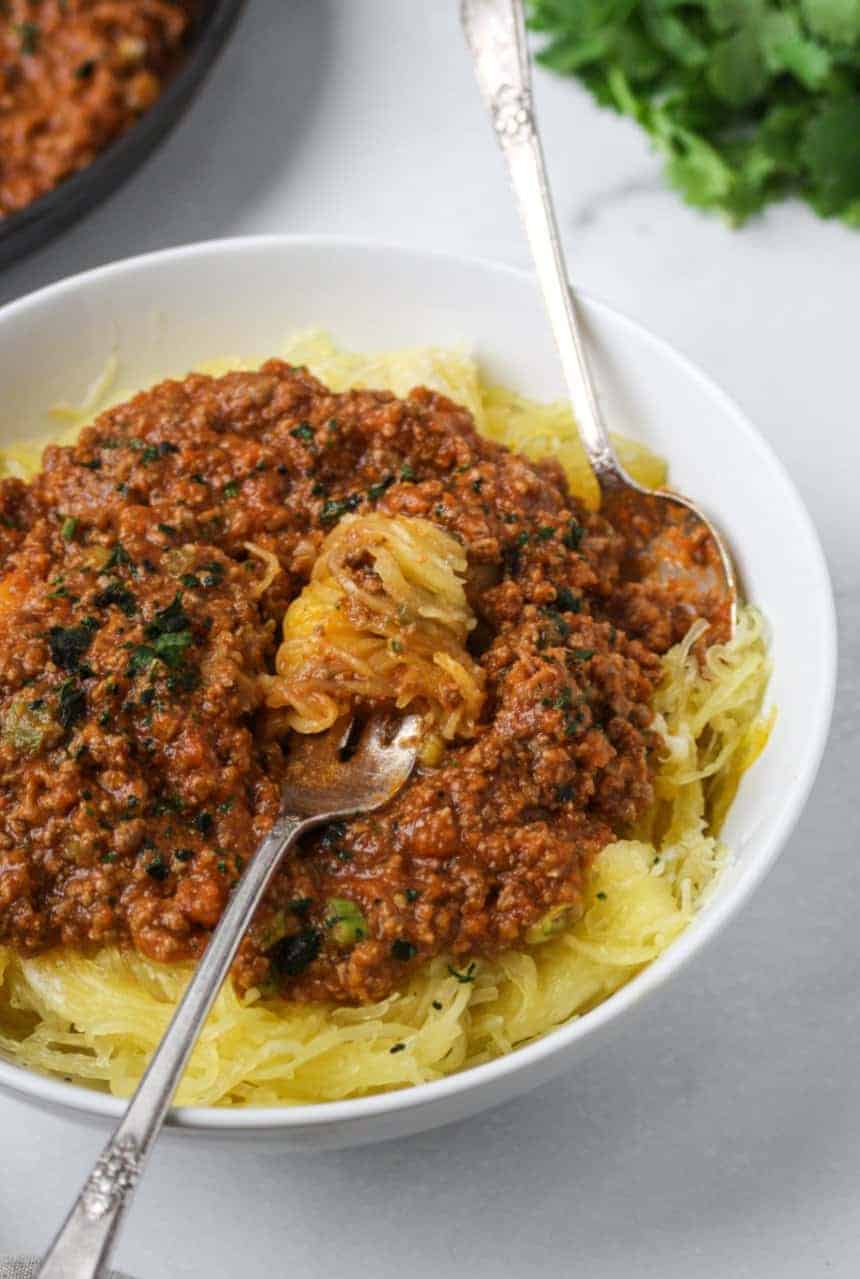 I steered clear of spaghetti squash for a while because I didn't know how to cook it.  I was intimidated by its large shape – how was I going to cut it? Cook it? Eat it?  Spaghetti squash is actually really easy to make.  Using a large shape knife, very carefully cut it in half lengthwise, so you have two "boats".  Use a large spoon to empty out the seeds.  Brush some olive oil on the insides of each half of the spaghetti squash and lay it face down on a parchment lined baking sheet.  Spaghetti squash bakes for anywhere between 30 minutes to an hour depending on its size.  I'd say check it after 30 minutes for smaller squashes and check after 45 minutes for a large squash.  It's done when the insides are easily able to shred using a fork.  The insides shouldn't be crisp – they should be soft and tender.  If you typically prefer your pasta cooked al dente, you might want to bake it for less time to resemble a firmer pasta.  While the squash is roasting, add the ground meat to a skillet and cook until browned and crumbly.  Discard the excess fat and add in the marinara sauce and seasonings.  Let this simmer on low for about 15-20 minutes.  Once the squash is done roasting, use a fork to shred the insides and place these shreds in a large bowl.  Top with marinara meat mixture.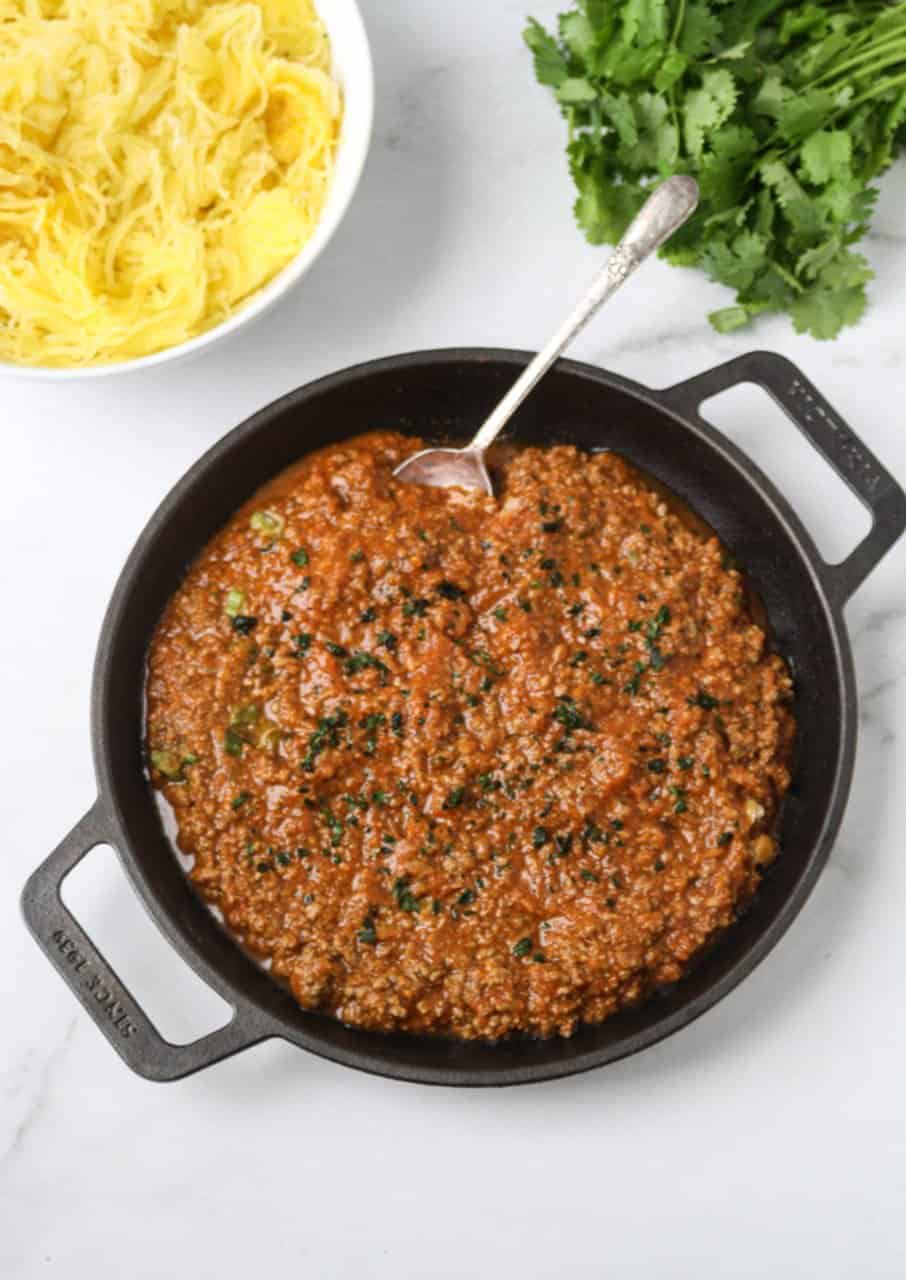 Spaghetti squash is extremely versatile and has made its way to my favorite foods list.  It's light and fresh and pairs well with any flavors.  I love how it can be warm and cozy (like in this recipe) but it's also great with lighter foods as well.  I eat it year round and have truly come to enjoy it!  It's a great way to sneak in a vegetable and I now much prefer it to any gluten free pasta out there.  I hope you give this one a shot!
Prep Time: 5 minutes
Cook Time:  45 minutes
Total Time: 50 minutes
Course: Lunch, Dinner
Servings: 4 servings
Ingredients:
1 large spaghetti squash, cut lengthwise
2 TBL olive oil
1 pound ground meat (I used turkey)
2 cups Whole30 marinara sauce
1 tsp minced garlic
1 tsp oregano
1 tsp basil
Directions:
Preheat oven to 400 degrees Fahrenheit.  Cut spaghetti squash in half lengthwise.
Scoop out the seeds ("insides") of the squash and discard.
Coat inside of squash with olive oil and lay face down on baking sheet.  Bake for about 40-45 minutes or until fork tender.  The squash will be done when the inside is able to be shredded with a fork.
Meanwhile, brown ground meat in a skillet.  Once browned, add marinara sauce and spices and let simmer about 15-20 minutes.
To assemble: top squash with marinara mixture.
Enjoy!