WHOLE30 KOREAN BEEF BOWLS
(WHOLE30, GLUTEN FREE, DAIRY FREE, PALEO, KETO-FRIENDLY)
These Whole30 Korean Beef Bowls are the perfect weeknight dinner: they're super quick and easy, absolutely delicious, and they make the best leftovers.  I've always loved how much flavor Asian inspired recipes have and these beef bowls are no exception.  They could be served over rice, noodles, etc. but I went with my favorite – cauliflower rice.  I hope you give this easy dinner a try!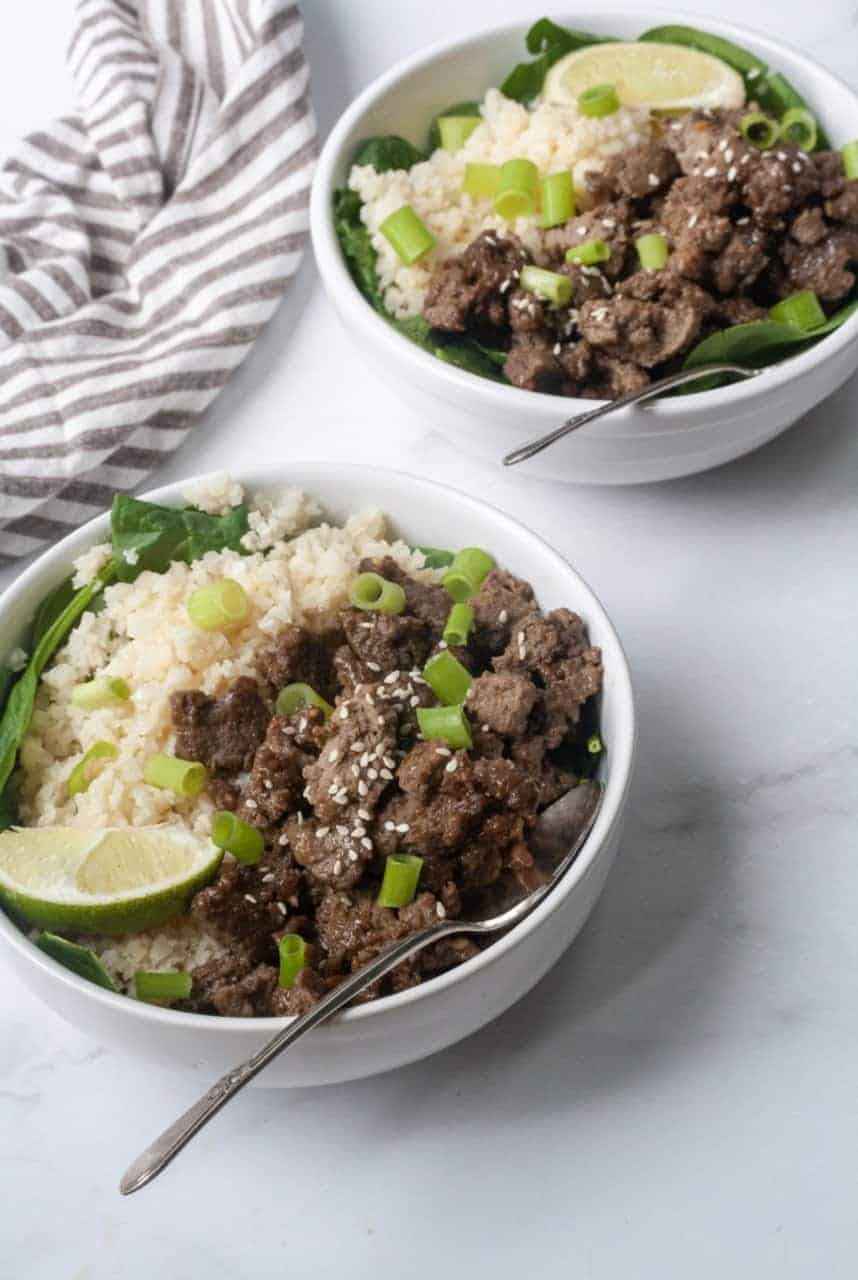 The cauliflower rice cooks in one skillet while the meat mixture simmers in another – since they cook simultaneously, this meal comes together super easily!  I like to cook cauliflower rice straight from frozen.  I always buy frozen pre-riced cauliflower and cook it in some olive oil.  This allows it to get slightly crispy.  Meanwhile, brown the ground beef.  For a super easy option, I like to use Teton Waters Ranch frozen burgers.  I chop these up and brown them in a skillet.  Once browned, remove excess fat and add in the ingredients for the sauce.  The coconut aminos is the soy and gluten free version of soy sauce.  The garlic and ginger provide a nice flavor punch.  This mixture will simmer together for about 10-15 minutes, which allows the flavors to marinate together.  Once this has simmered, it's time to assemble the bowls.  I like to add a little bit of spinach or mixed greens to the bowls before topping with the cauliflower rice and meat mixture.  Garnish with scallions, sesame seeds, and a squeeze of lime juice if desired.  For this optional sauce, mix equal parts Whole30 mayonnaise and hot sauce.  Super easy and so delicious!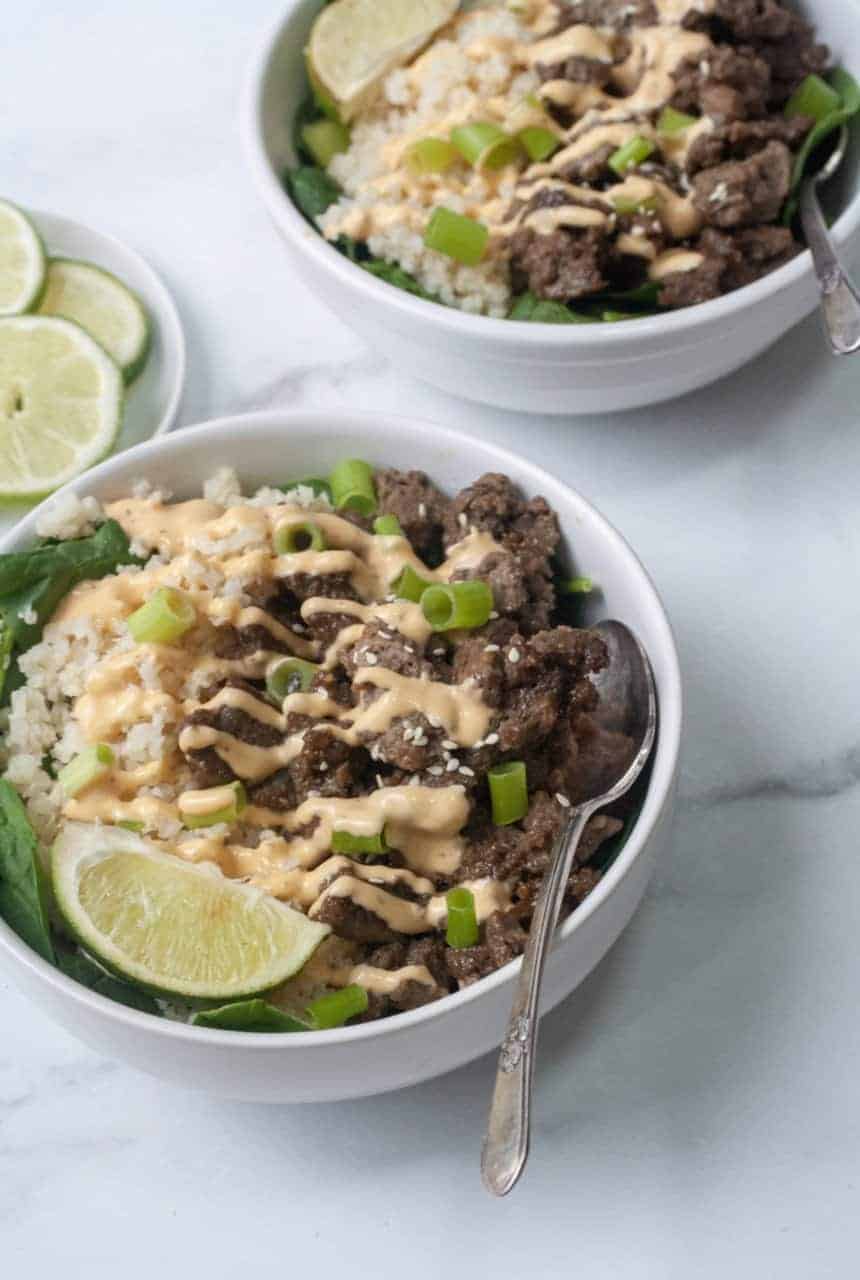 These Korean Beef Bowls are a super easy and quick meal.  They're made with mostly pantry staples and are the perfect busy weeknight dinner.  You can also make both the cauliflower rice and beef beforehand and assemble when you're ready to eat.  If you're storing leftovers, keep the beef and rice separate.  You can't go wrong with these delicious bowls!
Prep Time: 5 minutes
Cook Time:  20 minutes
Total Time: 25 minutes
Course: Lunch, Dinner
Servings: 4 servings
Ingredients:
1.5 lbs ground beef (I used Teton Waters Ranch)
1/2 cup coconut aminos
1/4 cup rice vinegar
2 TBL ginger
2 tsp garlic
3 cups cauliflower rice
2 TBL olive oil
2 TBL sesame seeds, to garnish
Scallions, to garnish
1/4 cup Whole30 mayonnaise
1/4 cup hot sauce
Directions:
In one skillet, add olive oil and cauliflower rice.  Simmer on low for 10 minutes.
In another skillet, brown ground beef.  Once browned, use a strainer to remove fat from skillet.
Add coconut aminos, rice vinegar, ginger, and garlic to the pan with ground beef.  Let simmer for 10-15 minutes.
Add rice to bowls and top with ground beef mixture.  Garnish with sesame seeds and scallions.
For the optional sauce, combine mayonnaise and hot sauce.  Drizzle on top.