WHOLE30 CREAMY SPINACH BACON CHICKEN
(WHOLE30, GLUTEN FREE, GRAIN FREE, DAIRY FREE, PALEO)
I'm such a fan of warm and cozy comfort foods!  This Whole30 approved Creamy Spinach Bacon Chicken combines some of my favorite foods and flavors for one delicious meal.  Everything comes together in the same skillet which makes for maximum flavor and minimal clean up.  This chicken is perfect for any night of the week!

HOW TO COOK CHICKEN THIGHS
First, cook the bacon in a skillet.  Once crispy, remove to a plate and discard all but 1 tablespoon of bacon fat.  Pat chicken dry with paper towels.  This allows the chicken to get extra crispy in the pan.  Season both sides of the chicken with sea salt and pepper.  In the skillet with bacon fat over medium heat, add chicken thighs.  The bacon fat will be hot, which makes the chicken get crispy on the outside.  Cook for 7-8 minutes before flipping.  Cook for another 7-8 minutes on the other side.  Allowing the chicken to cook for this long on both sides will give that crispy exterior!

HOW TO MAKE PALEO GRAVY
After the chicken has seared on both sides, make the gravy.  Add the gravy ingredients to a bowl and stir to combine.  Pour this over the chicken and bring to a light boil.  Once boiling, reduce to a simmer.  Simmer for 10 minutes; this will thicken the gravy.  For an extra thick gravy, continue simmering OR add an extra tablespoon of tapioca flour into the gravy.  Just before serving, cut into a piece of chicken or use a meat thermometer to ensure it's fully cooked.  Add the chopped spinach into the skillet along with the cooked bacon.  Cook for 1 minute.  Then, remove from heat and serve.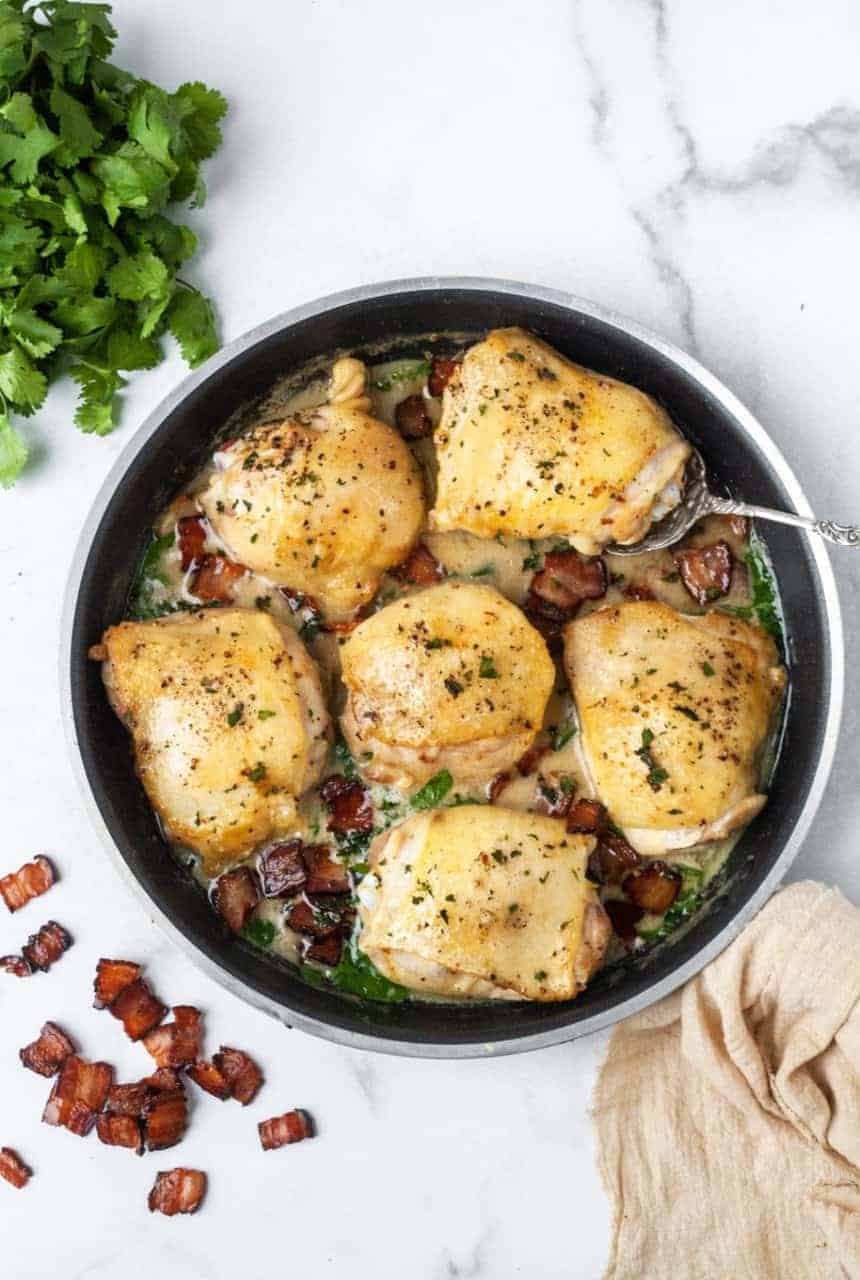 A thick gravy really ties the dish together and provides extra creaminess.  Overall, this dish is bursting with your favorite comfort food flavors. It has plenty of flavor and could absolutely be used when entertaining a crowd too.  The gravy is really the showstopper here: it's thick and so creamy!  I recommend serving this over cauliflower rice or even spaghetti squash.  It would also be great served alongside roasted veggies!  No matter how you choose to serve it, you and your family will love this chicken!
Prep Time: 10 minutes
Cook Time: 30 minutes
Total Time: 40 minutes
Course: Lunch, Dinner
Servings: 4-6
Ingredients:
Chicken:
1.5 pounds chicken thighs
1 TBL ghee or olive oil
1 tsp minced garlic
1/4 tsp ground pepper
1/4 tsp sea salt
3 pieces sugar free bacon, chopped
1 cup chopped spinach
1/2 white onion, diced
Gravy:
1.5 cups chicken broth
1/2 cup full fat coconut milk
1-2 TBL tapioca flour
1 TBL ground mustard
1 tsp garlic powder
Directions:
Chop bacon into 1/2 inch pieces.  In a large skillet over low medium heat, add bacon and cook until crispy.  Then, remove to a paper towel.  Leave 1 TBL of bacon fat in pan, discarding the excess fat.
Pat chicken dry with paper towels.  After, season chicken with salt and pepper on both sides and add to the skillet.  Next, add diced onion to skillet.
Cook chicken for 7-8 minutes each side or until cooked through.  Chicken needs to be 165 degrees Fahrenheit in the middle to be considered fully cooked.
Combine all gravy ingredients in a mixing bowl and mix until smooth.  Then, pour over chicken.  Bring to a slight boil and then lower heat.  Next, simmer for about 10 minutes or until gravy thickens.
Just before serving, add spinach to the skillet.  Then, add bacon back to skillet.  Stir to combine and cook for 1 minute.
Remove from heat.  Enjoy!