PALEO LEMON BLUEBERRY COFFEE CAKE
(GRAIN FREE, GLUTEN FREE, DAIRY FREE, PALEO)
Ever since making my Cinnamon Coffee Cake a couple months ago, I have been craving coffee cake!  This lemon blueberry version is light and fresh – perfect for springtime and summer.  The lemon adds just a hint of tartness and sweetness while the blueberries add an explosion of flavor.  I've always loved the lemon blueberry combo and it truly comes to life in this coffee cake!
This coffee cake is made almost exactly same way as my cinnamon coffee cake.  First up is making the crumbly topping.  Since we are using cold, solid coconut oil or ghee, I like to use my hands to mix these ingredients together.  Once the coconut oil is broken up, the mixture will be crumbly.  Set this aside in the fridge while you make the cake itself.  The coffee cake ingredients are mixed together and then the blueberries are gently folded in.  I used fresh blueberries in this recipe.  Frozen blueberries tend to carry a lot of extra moisture and would make this coffee cake too wet.  If you only have frozen, defrost them and then squeeze all the excess moisture out with paper towels.  Once the coffee cake batter is mixed, add this to an 8×8 inch parchment lined pan.  Add the crumbly mixture on top before baking!  This coffee cake takes around 27-29 minutes to bake. Insert a toothpick in the middle to ensure it's done; toothpick will come out cleanly when baked through.  For the simple lemon glaze, melt the coconut butter with the coconut oil.  Then, maple syrup and lemon zest are added to some sweetness and a subtle hint of lemon flavor.  Drizzle this over the coffee cake and voila – you're done!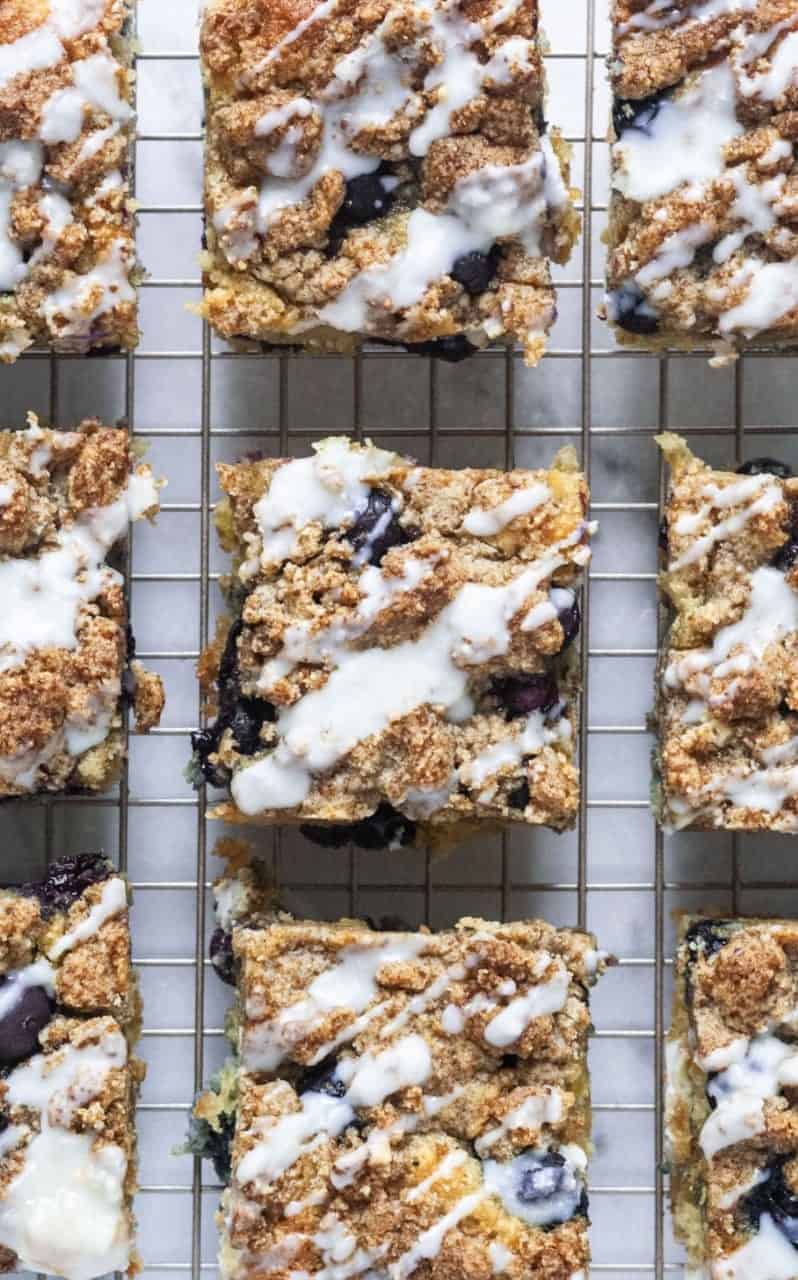 Now that I know just how much I love a paleo coffee cake, I am going to continue making new flavors!  This lemon blueberry version is just sweet enough.  I have enjoyed it for both breakfast, an afternoon pick me up and as dessert.  It's looks fun and fancy and is sure to impress your family and friends.  I love that it comes together pretty quickly and easily!
Prep Time: 10 minutes
Cook Time: 30 minutes
Total Time: 40 minutes
Course: Dessert, Snack
Servings: 9 servings
Ingredients:
Coffee Cake:
2 3/4 cups almond flour
1/3 cup coconut flour
3 eggs, room temperature
1/2 cup ghee (or coconut oil), room temperature
2 TBL coconut oil, softened
2 tsp baking soda
2 tsp vanilla
1/2 cup coconut sugar
Pinch sea salt
1/2 cup blueberries
1 TBL lemon zest
1 TBL lemon juice
Crumb Topping:
1 cup almond flour
1/4 cup coconut sugar
1 tsp cinnamon
3 TBL coconut oil or ghee, solid
Glaze:
3 TBL coconut butter
1 tsp maple syrup
1 tsp coconut oil
1/2 tsp lemon zest
Directions:
Preheat oven to 350 degrees.  Line an 8×8 baking sheet with parchment paper.
Make the crumb topping first.  Combine all ingredients in a mixing bowl.  Gently mix with your hands or a fork.  This mixture isn't meant to be uniform; it will be crumbly.  Set in fridge while you make the cake.
Next, make the coffee cake.  Combine eggs and coconut sugar in a large mixing bowl. Stir to combine.  Add remaining ingredients (except blueberries) and mix until smooth.  Gently fold in blueberries.
Add coffee cake mixture to the baking pan. Sprinkle crumb topping over coffee cake batter.  Very gently press crumb topping into dough.  The crumb topping should remain on top, but should be pressed slightly into the coffee cake.
Bake for 27-29 minutes or until a toothpick inserted comes out clean.  Let coffee cake cool completely before cutting into, at least 2 hours.
To make the glaze, add coconut butter and coconut oil to a small microwaveable dish.  Microwave in 15 second intervals until melted.  Once melted, stir in maple syrup and lemon zest.  Glaze will be runny.  Pour glaze over cooled coffee cake.
Enjoy!