PALEO GINGERBREAD GRANOLA
(GLUTEN FREE, DAIRY FREE, PALEO, VEGAN)
I've always loved granola.  Coconut yogurt parfaits are one of my favorite easy breakfasts to make, and recently I've been eating this granola by itself as a snack or with a little almond butter and fresh fruit mixed in.  It's a lot more crunchy than store-bought granola and it's chunky… which is a great adjective to describe granola!  I love making a homemade version because I can customize which nuts I use.  Here I used almonds, cashews, and pecans but walnuts, sunflower seeds, pumpkin seeds, etc. would all work.  I probably make one batch of this per week because I love having it on hand!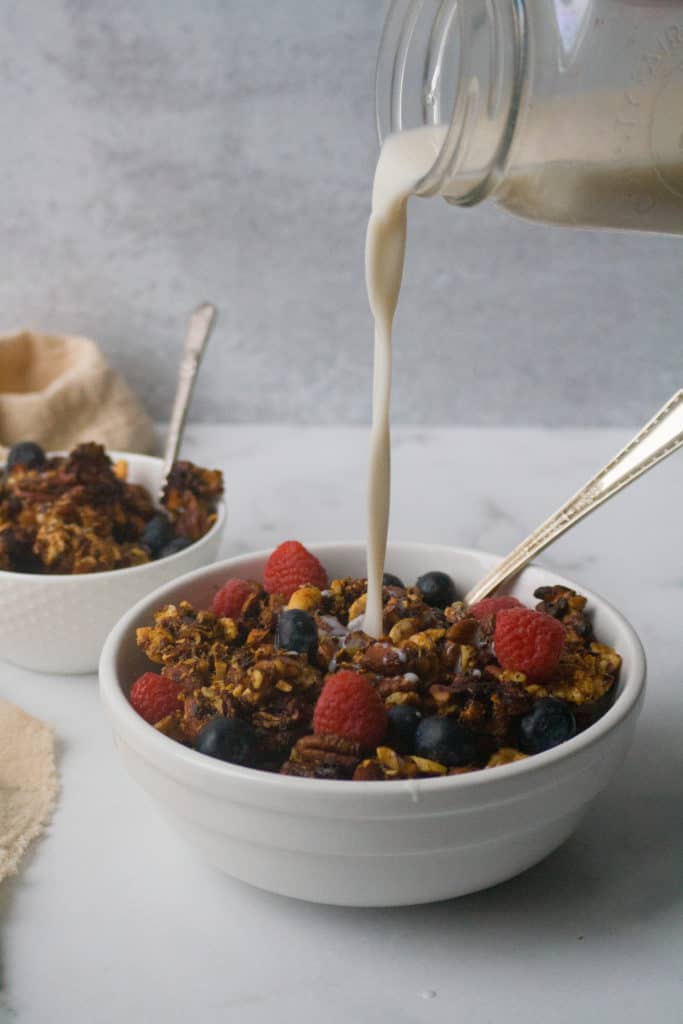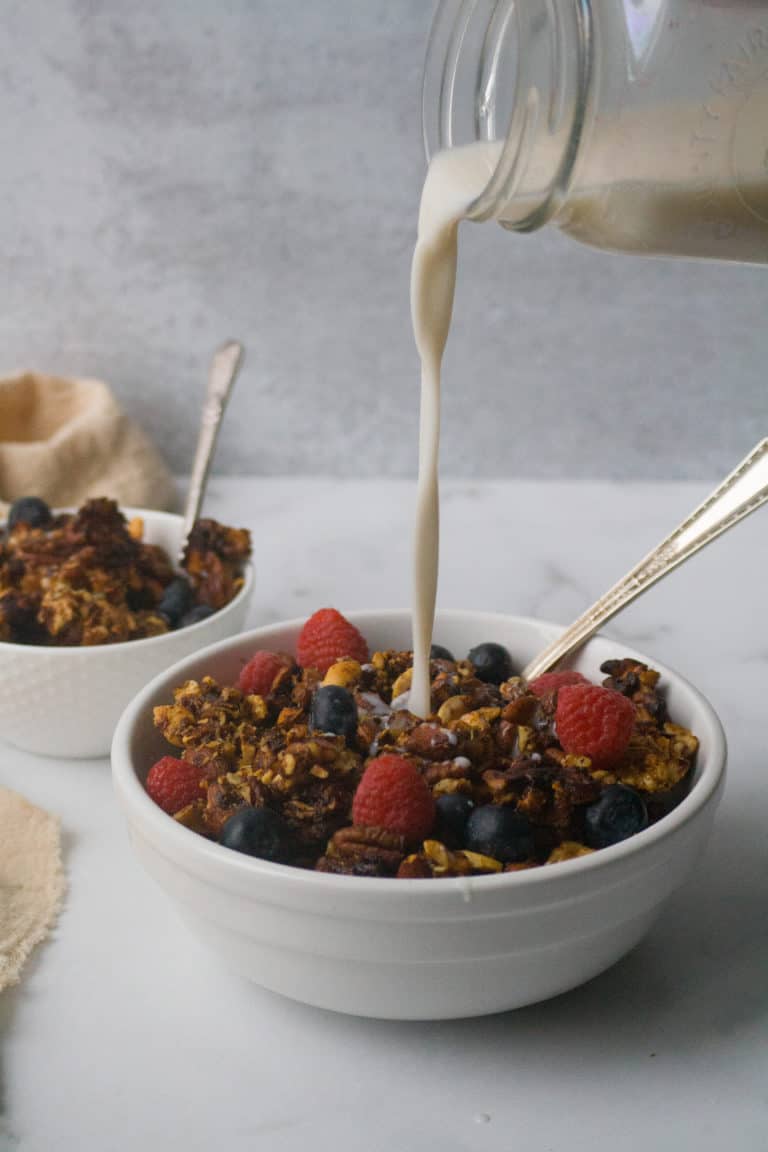 Making this homemade granola really could not be easier.  Start with about 2-3 cups of your favorite nuts and seeds.  I used a combination of cashews, almonds and pecans because those are my favorite.  They are also on the larger side so which leads to a chunkier granola.  I add the nuts to a plastic bag and using a mug or jar, I crush them.  I allow some of the nuts to remain whole.  The more you crush them, the less chunky your granola will be.  After that, just add the remaining ingredients in a large mixing bowl and stir to combine.  I love using molasses here to give the granola some extra flavor but this can be easily replaced with maple syrup or honey.  This granola is totally customizable which I love!  Once everything is mixed together, lay it out in an even layer on a parchment lined baking sheet.  Keep a close eye on this granola since it can easily burn (due to the molasses or maple syrup/honey).  I like to cook mine about 10 minutes before flipping.  I watch the granola to see when it starts to get crispy and then I take it out of the oven.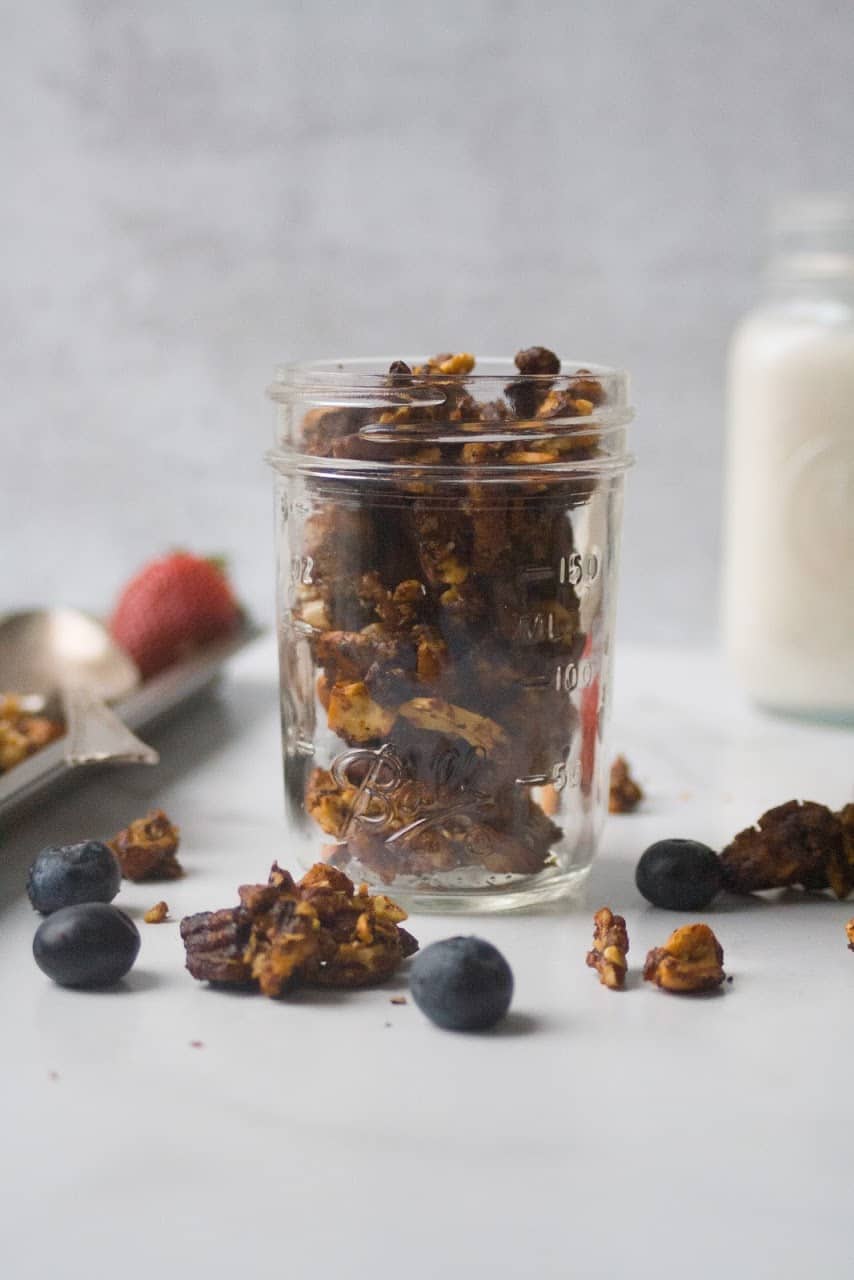 I'll never buy store bought granola again!  This homemade version is super easy to make and just so delicious.  I love that it is customizable; just use whichever nuts or seeds you have on hand.  I eat this with coconut milk yogurt and fresh fruit or with some almond milk.  It's a delicious garnish, fun breakfast or easy snack.  Once you make this, you'll understand why I always have a batch on hand!
Prep Time: 10 minutes
Cook Time: 20-25 minutes
Total Time: 30-35 minutes
Course: Breakfast, Dessert
Servings: makes 2-3 cups total
Ingredients:
1 cup cashews
1 cup almonds
1/2 cup pecans
1 cup unsweetened coconut flakes
1/2 cup molasses
1 tsp ginger
1 tsp cinnamon
1 tsp nutmeg
3 TBL coconut oil, melted
Directions:
Preheat oven to 325 and line cookie sheet with parchment paper.
Add cashews, almonds, and pecans to a large plastic bag.  Take a jar and smash nuts until crushed (I don't crush mine too much which leads to chunkier granola).
Dump crushed nuts into mixing bowl and add molasses, coconut flakes and melted coconut oil.  Stir to combine.
Add spices and toss together.
Spread into one even layer on cookie sheet.
Cook for 10 minutes.  Flip granola using spatula and cook for 5-10 more minutes.  Watch closely to avoid burning.
Let cool then serve.  I store mine in an airtight container on the counter.